Tailored Virtual Staffing Solutions for Real Estate Businesses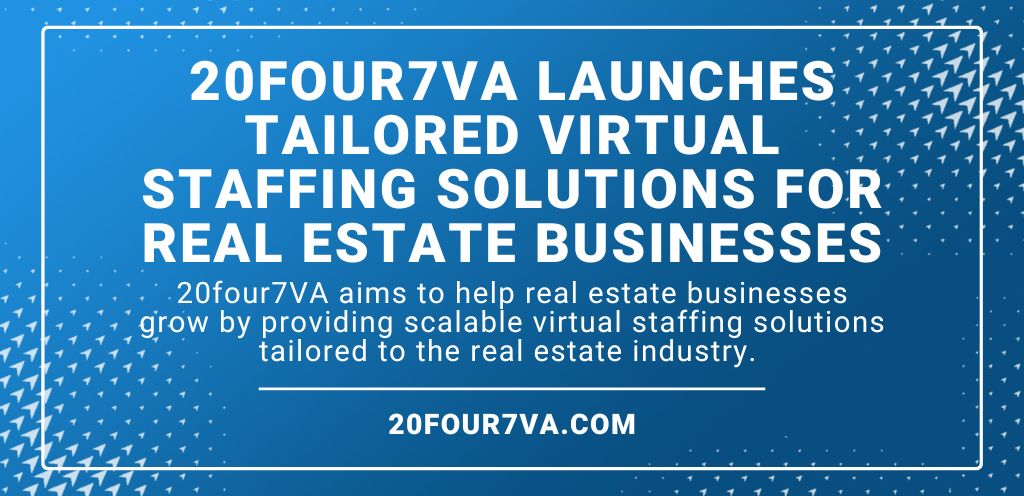 According to the 2022 Inc. 5000 list, remote staffing company 20four7VA is one of America's fastest-growing companies — and the company is showing no signs of stopping.
"Making the Inc. 5000 list is a huge achievement for me and every single member of our team because it's a validation of the hard work we put in day in and day out to make 20four7VA the best it can be," says Catherine vanVonno, 20four7VA President and CEO. "That being said, we want to keep the momentum going by continuing to provide more innovative, cost-effective, and tailored staffing solutions to our clients."
This time, 20four7VA is zeroing in on the real estate industry. The company believes it can provide the tailored remote contract staffing solutions that real estate businesses need to grow. Because the real estate industry is competitive, real estate professionals need a lot of support on back-office administrative and sales tasks. 20four7VA, recognizing this need, formulated a training program specifically for the real estate industry and started training remote workers and augmenting its talent community with pre-vetted real estate virtual assistants.
THE 20FOUR7VA PROMISE
20four7VA has over a decade of experience as a remote staffing agency. It has developed solutions tailored for every client across various industries, making it a partner of choice for businesses across six continents. Every 20four7VA client will have access to the following:
A GLOBAL TALENT POOL made up of pre-vetted and assessed remote talents with various specializations.
A RISK-FREE SERVICE that does not charge any upfront or VA-client matching service fees.
HASSLE-FREE, END-TO-END SOLUTIONS that start from sourcing remote talent to onboarding, VA management, and even payroll processing.
20FOUR7VA'S REAL ESTATE VIRTUAL ASSISTANT PACKAGES
Growth is a major focus for 20four7VA, which is why the company developed these solutions for real estate businesses that aim to stay resilient despite challenges. Here are the types of real estate virtual assistant packages that 20four7VA offers:
Real Estate Administrative VA
Transaction coordination
CRM or client database management
Market research
Loan processing
Calendar management
Real Estate Customer Support VA
Assisting real estate agents with MLS tasks
Handling customer inquiries
Providing chat and email support
Taking inbound calls
Feedback tracking and review management
Real Estate Bookkeeping VA
Recording financial transactions
Verifying transactions
Payroll support
Coordinating with accountants
Spreadsheet management
Real Estate Lead Generation VA
Booking and setting appointments
Prospecting, cold calling, and nurturing leads
Inside Sales Agent (ISA) tasks
Executive assistant tasks
Seller's Performance updates
Real Estate Marketing VA
Social media management
Graphic design
Content writing and proofreading
Email marketing and drip campaigns
Video editing
Interested real estate business owners can visit the 20four7VA Real Estate Service page. Alternatively, they can schedule a free consultation with 20four7VA's Growth Experts to discuss their business needs further.