CEO Catherine vanVonno Joins The NSBA Leadership Council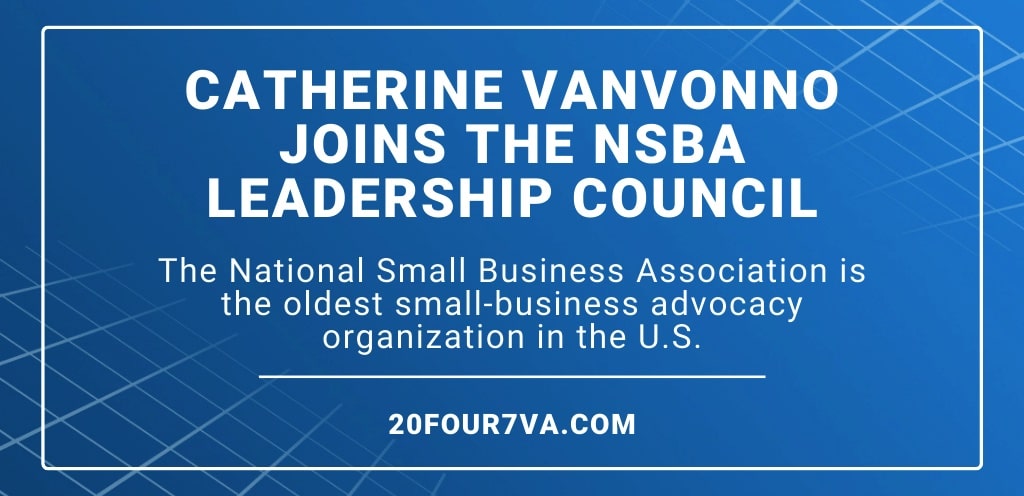 To those who work here, 20four7VA isn't just a business. It's also an advocacy. As we strive to become one of the most trusted offshore contract staffing companies in the world, we're also working to promote the interests of remote workers and small businesses.
This month, 20four7VA President and CEO Catherine vanVonno took this advocacy forward by joining the National Small Business Association (NSBA) Leadership Council. As part of this elite group, vanVonno will be working with other small-business leaders from across the United States to advocate on behalf of the small-business community at every level of government.
What is the NSBA Leadership Council?
Founded in 1937, NSBA is the oldest small-business advocacy organization in the U.S. With over 65,000 members representing all 50 states and every industry, the nonpartisan NSBA is the #1 network for small-business advocates across the nation.
The NSBA Leadership Council is an exclusive and diverse group of small-business activists who work to identify issues important to small businesses and engage with the government and the media. Council members take an active role in the creation of policies pertaining to economic development, health and human resources, taxation, and environmental and regulatory affairs.
20four7VA's mission
vanVonno, a recognized leader in the remote outsourcing industry, had this to say about her participation in the NSBA Leadership Council:
"As a small business owner myself with a client base composed of 90% small businesses, I see the importance of being involved and active when it comes to laws and regulations that would potentially affect our ability to operate effectively and efficiently. Joining NSBA's Leadership Council will enable me to take our collective small-business message to the people that need to hear it most: Congress."
Joining the NSBA Leadership Council is just one of the many ways vanVonno strives to advance the causes of small businesses everywhere. She also intends to use her seat on the Leadership Council to educate entrepreneurs and legislators about the remote staffing industry.
"I am proud to have Catherine vanVonno as part of our Leadership Council," NSBA President and CEO Todd McCracken said. "She came to us highly recommended, and I look forward to our coordinated efforts for years to come."
Want to explore our risk-free, flexible, and cost-efficient remote staffing services? Claim your free consultation with our Business Growth Experts.