People of 20four7VA: Yash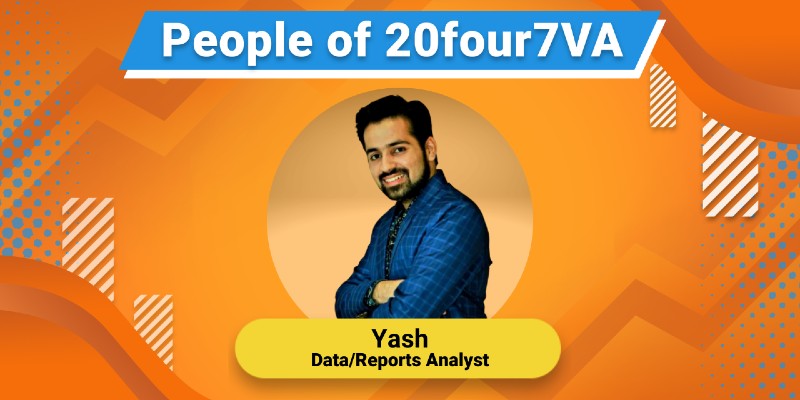 Welcome to the People of 20four7VA series! Every month, we chat with a member of the team and find out what they do at 20four7VA, what keeps them here, and how they make remote work work.
This month, let's get to know Yash, 20four7VA's resident data analytics expert.
As a Data/Reports Analyst, Yash plays a key role in supporting the company's decision-making processes and improving overall business performance. He spends his days performing statistical analyses on large amounts of information and communicating his findings to stakeholders. Yash works closely with different departments to help them make informed decisions, allocate resources efficiently and, ultimately, drive growth and profitability.
Before he joined 20four7VA, Yash struggled to balance his office job and his entrepreneurial pursuits. This led him to seek a role with more freedom, which he found when he became part of the 20four7VA team in 2021. "It has been an amazing journey since," he said.
Yash enjoys "exploring, reading, and learning more about subjects related to [his] work." He also loves playing football with friends and taking long walks while listening to music.
Let's hear more from Yash!
What do you do at 20four7VA?
I am the Data Analyst at 20four7VA, and I'm gradually growing into a Data Solutions Provider role. I provide business insights by gathering, assessing, cleaning, and analyzing the company's data. I also identify core problems and recommend solutions to solve them.
As the company's Data Analyst, I work closely with different departments to help identify opportunities for improving our various business processes, with the goal of improving efficiency and driving business growth. Part of my main responsibilities is making sure that appropriate data standards are being followed to maintain high-quality data across all the platforms being used for data storage.
What's your favorite thing about working with 20four7VA?
It gives me the freedom to work from anywhere and under any condition I like to work in, which is impossible with on-site roles that come with limitations. With 20four7VA, all you need is an adequate computer and a stable internet connection.
Because I have more freedom, I'm able to give more time to my own business.
I joined the company right as we started scaling the business to the next level. There's a tremendous opportunity for growth in the industry, which would benefit those working here financially and career-wise.
Nobody bothers you outside of your work hours, which is awesome!
What's one thing that every VA/remote worker has to learn?
You need to be self-motivated to succeed in any type of job, but self-motivation is particularly important when you're in a remote role. Many admin virtual assistant tasks such as email management, cold calling, and chat support might seem easily doable, but you can quickly lose interest doing this long term. When you start to lose motivation, that's when you're more likely to lose the job.
What are your top 3 tips for those starting their remote work journey?
Be organized: Be it the required equipment or the tasks that you have at hand, you must know how to organize your stuff. When you're given a set of responsibilities, make a list of tasks and set a priority level for each. And before you start looking for a remote job, make sure your system is up-to-date and you have a stable internet connection.
Prepare your work environment: One should have a dedicated and personalized work environment. This will be a mood booster and will help you remain focused and comfortable throughout the day.
Learn how to be a good communicator: Whether you're dealing with an issue at work or are stuck in a difficult situation with a client, you can almost always solve things by communicating well. As a remote worker, you must be proactive in communicating with your clients regularly. The discussion doesn't necessarily have to be about problems. You can give updates about your work or talk about new initiatives that you want to participate in or spearhead.
What made you decide to work with 20four7VA?
After spending three years working in the corporate sector, I finally decided to start my own business. But then things started falling apart. I wasn't able to spare any time for my new venture, which was frustrating, and I knew it wouldn't work if I kept a fixed 10-7 schedule in an office environment. I loved my work, but I also wanted to see where I could take the business I had started.
Eventually, I decided that I needed more flexibility and freedom in my work to be able to have more bandwidth for my business. That's exactly when I came upon an open position for a data analyst at 20four7VA. And I hopped in!
What's a motto/philosophy you live by?
I always try to follow the path of Dharma as much as possible.
What do you do to unwind after a long day at work?
I would watch Netflix, go for a long walk, or play football.
Thanks for chatting with us, Yash! 😊
Are you looking to jumpstart your VA career? We'd love to work with you! Explore our open jobs or send us your inquiries! We're always eager to find remote talent like you!