People of 20four7VA: Lyn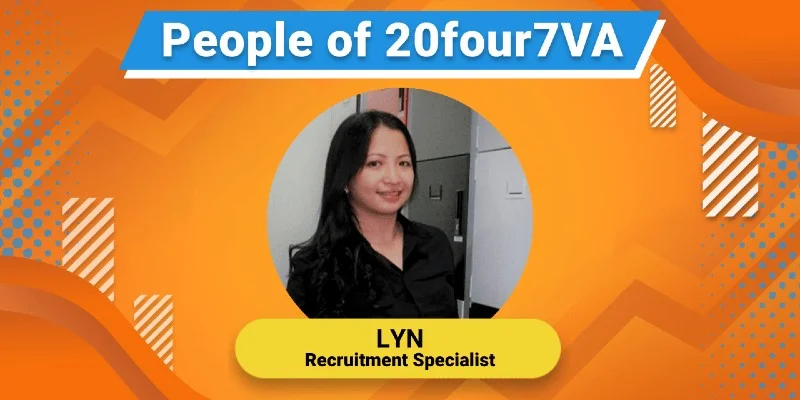 Welcome to the People of 20four7VA series! Every month, we chat with a member of the team and find out what they do at 20four7VA, what keeps them here, and how they make remote work work.
This month, let's get to know Lyn, one of 20four7VA's Recruitment Specialists.
If you're a virtual assistant (VA) with 20four7VA, Lyn, one of our Recruitment Specialists, may have been one of the first people you interacted with. As part of the Recruitment Team, Lyn is heavily involved in the talent acquisition process, which includes sourcing, assessing resumes, and conducting interviews. At the moment, Lyn, who joined the team just over 2 years ago, is focused on screening new applications, matching VA profiles with job openings, and endorsing VAs to clients.
When she's not busy handling applicants, Lyn takes on various hosting duties at 20four7VA, including at our Career Nights and the annual Townhall. Lyn unwinds by spending time with her boys, crocheting, and watching documentaries.
Let's hear more from Lyn!
What made you decide to work with 20four7VA?
The idea of earning while spending time with my family is the very reason I decided to work with 20four7VA.
What's your favorite thing about working with 20four7VA?
Funny as it may seem, working in the comfort of my own home while in pajamas is my favorite thing about working with 20four7VA. Kidding aside, it's flexibility, the opportunity to be with family at home while working, and definitely the people I work with.
What's one thing that every VA/remote worker has to know?
Commitment. When you dedicate yourself to a specific goal, be it your career or life in general, staying committed will lead to excellence.
What are your top 3 tips for those starting their remote work journey?
Have patience. When you send in your letter of intent for job openings for which you feel you're a good match, you're competing with a thousand other remote workers. But don't be anxious. Get excited!
Set up an office space at home. We get easily distracted from a lot of stuff going on at home. A little corner in your living room or bedroom where you can work comfortably will help you focus on what you need to do.
Flexibility. If you are used to collaborating with coworkers in person, take the time to learn how to communicate remotely as well.
What's a motto/philosophy you live by?
Seek first to understand, then to be understood.
What do you do to unwind after a long day at work?
A trip to the salon or a spa.
Thanks for chatting with us, Lyn! 😊
Do you want to work with a company that will provide a solid pathway to a rewarding VA career? We'd love to work with you! Explore our open jobs or send us your inquiries! We're always eager to find remote talent like you!