People of 20four7VA: Ara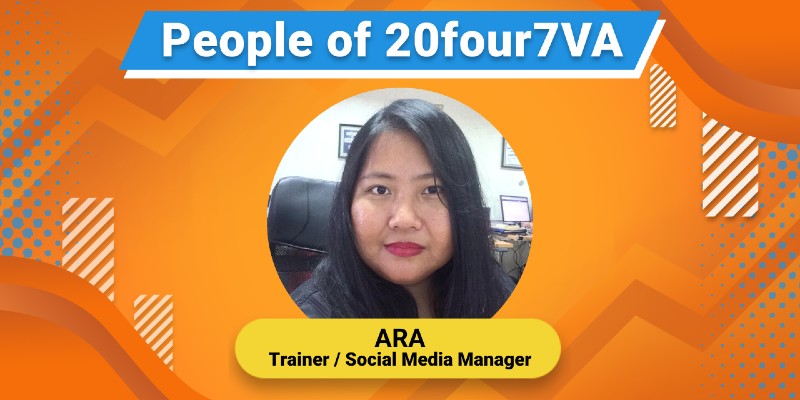 Welcome to the People of 20four7VA series! Every month, we chat with a member of the team and find out what they do at 20four7VA, what keeps them here, and how they make remote work work.
This month, let's get to know Ara, who fills not one but two(!) critical roles at 20four7VA: Trainer and Social Media Marketing Manager.
Multitalented Ara's journey with 20four7VA began in 2016 when she joined the company as a part-time Trainer and Subject Matter Expert with the Training Team. Her exceptional skills and dedication led her to join the Digital Marketing Team in 2022 as the Social Media Marketing Manager. In this role, she uses her expertise to develop and implement effective social media marketing strategies for the company.
Ara's unique combination of skills in both training and digital marketing makes her an invaluable asset to the 20four7VA team. Let's hear more from Ara!
What do you do at 20four7VA?
I have a couple of roles at the company. I started out as a Trainer with the Training Team. As a Trainer, I conduct one-on-one assessment interviews with applicants and VAs to prepare them for endorsement to clients. I'm also involved in the creation of training modules for our VAs.
Then, in 2022, I joined the Digital Marketing Team. As the Social Media Marketing Manager, my typical workday involves developing and implementing social media marketing campaigns, creating social media content, analyzing data to track performance, and staying up-to-date with the latest trends and best practices in the industry. I collaborate with other members of the Digital Marketing Team to ensure that all social media efforts are aligned with the company's overall marketing goals and objectives.
What's your favorite thing about working with 20four7VA?
Being able to express and practice my creativity
Working with awesome and talented managers and teammates
No politics and no micromanaging
There is always room for growth
What's one thing that every VA/remote worker has to know?
When trying to determine your niche, focus on your strengths. Your niche has to be something that you enjoy doing. Figure out what your best skills are and invest time and effort into improving those skills.
What's one thing that people should know about outsourcing/virtual staffing?
Outsourcing is a worthwhile investment. You get your time back: having a VA allows you to focus on your most important tasks so that you can grow your business without having to do everything yourself. You also get your life back: having a VA means there's someone who can run your business while you go on vacation or spend some time on a hobby or with your family.
What are your top 3 tips for those starting their remote work journey?
Competition is always high. To stand out, you need to invest in yourself and level up your skills. Invest in a really good computer as well; this is your money-making machine. Make sure you have high-speed internet too.
Don't be afraid to take on bigger tasks. Allow yourself to take challenges. You learn nothing from doing easy tasks. Your comfort zone is where your dreams go to die.
Embrace your mistakes. If you learn from them, they'll lead you to the life you've been dreaming of.
What made you decide to work with 20four7VA?
The flexibility to work from home at your own pace
Being able to practice and express my creativity with no micromanaging involved
Boss Cath (our CEO) being a sincere, transparent, encouraging, and empathetic leader
Working with an amazing and talented team
Competitive weekly salary in US dollars
What's a motto/philosophy you live by?
"Eventually, all things fall into place. Until then, laugh at the confusion, live for the moments, and know everything happens for a reason." -Albert Schweitzer
What do you do to unwind after a long day at work?
Take a long nice bath, order a nice choco java chip frappe, and listen to anything Rihanna.
Thanks for chatting with us, Ara! 😊
Are you looking to jumpstart your VA career? We'd love to work with you! Explore our open jobs or send us your inquiries! We're always eager to find remote talent like you!