People of 20four7VA: Kathleen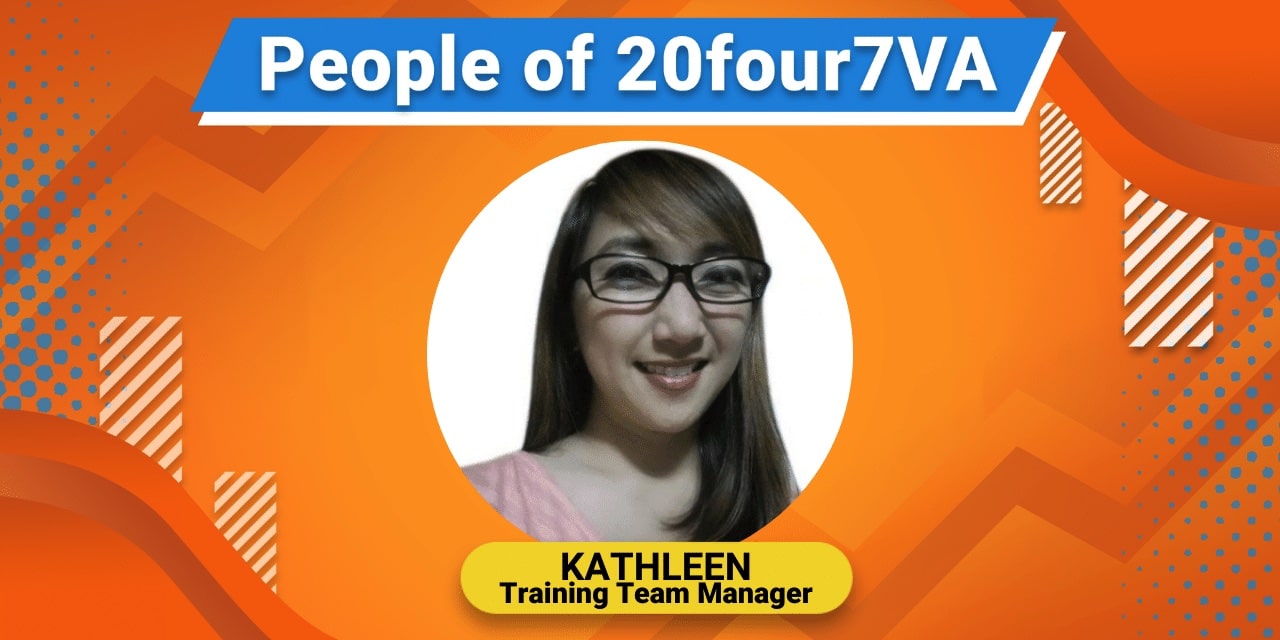 Welcome to the People of 20four7VA series! Every month, we chat with a member of the team and find out what they do at 20four7VA, what keeps them here, and how they make remote work work.
This month, let's get to know Kathleen, 20four7VA's Training Team Manager.
Kathleen started her transition to remote work with the goal of spending more time with her family. It was in 2016 when she joined 20four7VA and attended one of the virtual assistant (VA) training sessions. That training session kick-started her interest in becoming a trainer, and in 2018, she officially joined the 20four7VA Training Team.
Fast forward to this year, Kathleen or Kath was promoted to Training Team Manager and now leads a team of five: four trainers and one module developer. Let's hear more from Kath!
WHAT DO YOU DO AT 20FOUR7VA?
I currently manage 20four7VA's in-house training team. Our main objective is to help VAs improve their skills to give them an edge in a highly competitive remote work job market. We do this by developing training modules and conducting training sessions. We also conduct 1-on-1 assessments for incoming VAs.
WHAT EXCITES YOU ABOUT WORKING WITH 20FOUR7VA?
There's a learning opportunity at every turn! The people I get to meet and the challenges I encounter all provide insights that help me and my team improve our training courses and create value for both VAs and clients.
WHAT ARE YOUR TOP 3 TIPS FOR SUCCESSFUL VIRTUAL STAFFING?
Understand what you need as a client and familiarize yourself with market trends.
Work with a staffing company to develop a good training plan based on these two things: your business needs and industry trends.
Choose a staffing company with services that don't end at finding you a good VA match. The company or agency you work with should have systematic processes for the "in-betweens" to ensure that the client-VA working relationship goes smoothly.
WHAT'S THE ONE THING THAT EVERY VA OR REMOTE WORKER HAS TO KNOW?
There are a lot of career opportunities in the remote working world. But there's also a lot of competition! As a freelancer, it's essential to put in the effort to upskill. Doing this will help you stay ahead of the competition.
WHAT ARE YOUR TOP 3 REMOTE WORK TIPS?
Be prepared, not just in terms of your tools and workspace but also mentally. You should learn how to balance work and play as well as avoid distractions.
Find your niche. In the beginning, you can train in different areas to find what you think is best for you. Then you can proceed to tip #3.
Upskill on the niche you want to focus on. Having a specialization can give you a competitive edge over other VAs.
LIST 3 THINGS YOU LOVE
Watching reality cooking and baking shows
Baking whenever I have the time
Spending time with my family
WHAT'S A MOTTO/PHILOSOPHY YOU LIVE BY?
"Ability may take you to the top, but your character will keep you there."
-John Wooden, Basketball Hall of Famer (as both player and coach) and author
Thanks for chatting with us, Kath! 😊
Want to work with a company that will give you a pathway to growing your VA career? If the answer is yes, we'd love to work with you! Explore our open jobs or get in touch! We're always excited to find global remote talent like you!