People of 20four7VA: Rheena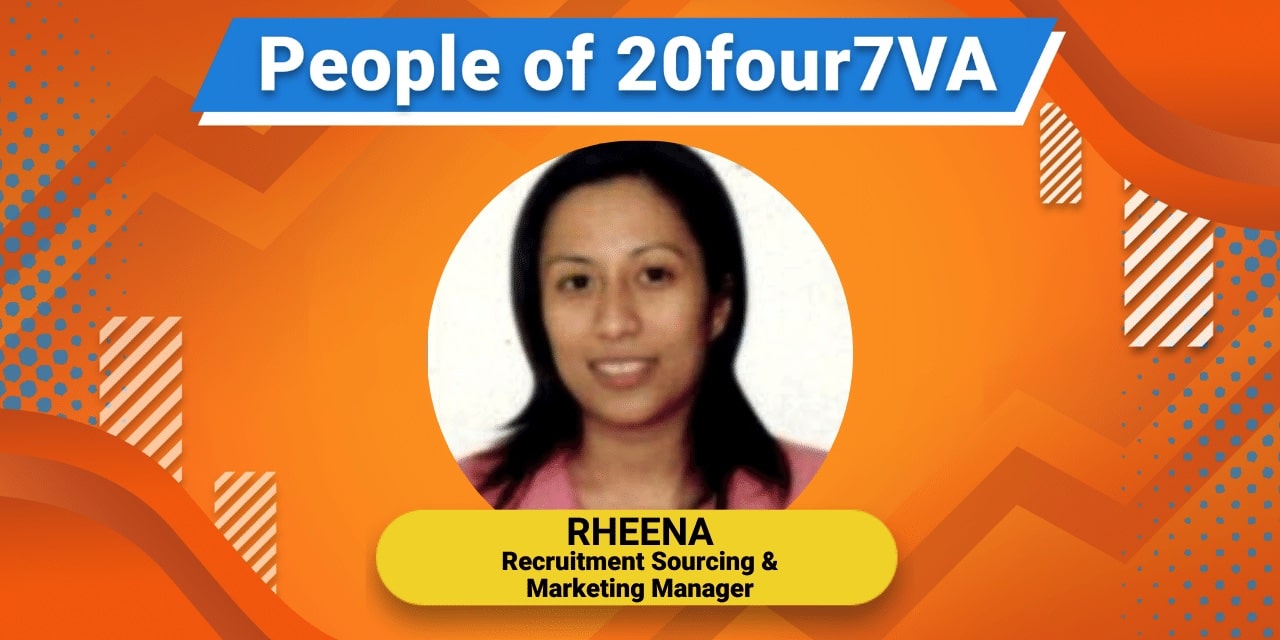 Welcome to the People of 20four7VA series! Every month, we chat with a member of the team and find out what they do at 20four7VA, what keeps them here, and how they make remote work work.
This month, let's get to know Rheena, 20four7VA's Recruitment Sourcing and Marketing Manager.
After many years in a corporate job, Rheena was ready for a change. Going after the ever-elusive work-life balance, she decided to take a chance in a remote position with 20four7VA. Rheena joined the company as Client Endorsement Manager, helping facilitate the pairing of remote talent with 20four7VA clients. Her role has since evolved to one more focused on recruiting virtual assistants (VAs) through various platforms and partnerships.
When she's not sourcing VAs, Rheena, an avid city biker, spends her time fostering and rehoming rescued dogs and growing her dehydrated dog treats business. Let's hear more from Rheena!
WHAT DO YOU DO AT 20FOUR7VA?
I recently took on the role of Recruitment Sourcing and Marketing Manager. With the Recruitment, Client Endorsement, and Client Services teams, it's my job to fill our talent pool with skilled virtual assistants and ensure those VAs are matched to the right jobs with the right clients.
WHAT MADE YOU DECIDE TO WORK WITH 20FOUR7VA?
I was in corporate for over ten years and felt I was missing out on time with my family. Working with 20four7VA helps me keep a well-balanced lifestyle—being able to work while having time for the things I'm passionate about.
WHAT EXCITES YOU ABOUT WORKING WITH 20FOUR7VA?
First is the people of 20four7VA, as I know from experience that every staff member is approachable and there's close coordination among departments, making work much easier. Second is the company's growth and that the company adapts to change and to what is relevant in the industry.
WHAT'S ONE THING THAT PEOPLE SHOULD KNOW ABOUT OUTSOURCING OR VIRTUAL STAFFING?
For clients, I think an important aspect of keeping a long-lasting work relationship is to communicate with your VA and give your VA constant performance feedback.
WHAT ARE YOUR TOP 3 TIPS FOR SUCCESSFUL OUTSOURCING OR VIRTUAL STAFFING?
Set realistic goals and expectations.
Give feedback.
Set guidelines or house rules for a better working environment.
WHAT'S THE ONE THING THAT EVERY VA OR REMOTE WORKER HAS TO KNOW?
You have to establish trust with your client. Transparency is foundational to any relationship, especially one that's fully remote. Also, research! Be open to improvement and believe you can do better. There are multiple avenues for learning that will help us be better at almost anything we do.
WHAT ARE YOUR TOP 3 REMOTE WORK TIPS?
Be organized—whether it be time management, prioritization of tasks, or having a tidy space conducive to work.
Be visible and proactive. Working from home is definitely a privilege. However, not being in the same place as your client and teammates can be tough without proper communication.
Don't be afraid to ask for feedback from your client. We need to have checkpoints to ensure that we're still meeting our client's expectations. At the same time, showing interest in what our client thinks of our work will help foster that relationship.
WHAT'S A MOTTO/PHILOSOPHY YOU LIVE BY?
Grow where you are planted. Adversities may come, but these things will pass as long as we remain resilient and adjust to constant change.
Thanks for chatting with us, Rheena! 😊
Want to work with a company that will give you a pathway to growing your VA career? If the answer is yes, we'd love to work with you! Explore our open jobs or get in touch! We're always excited to find global remote talent like you!