People of 20four7VA : Zaeem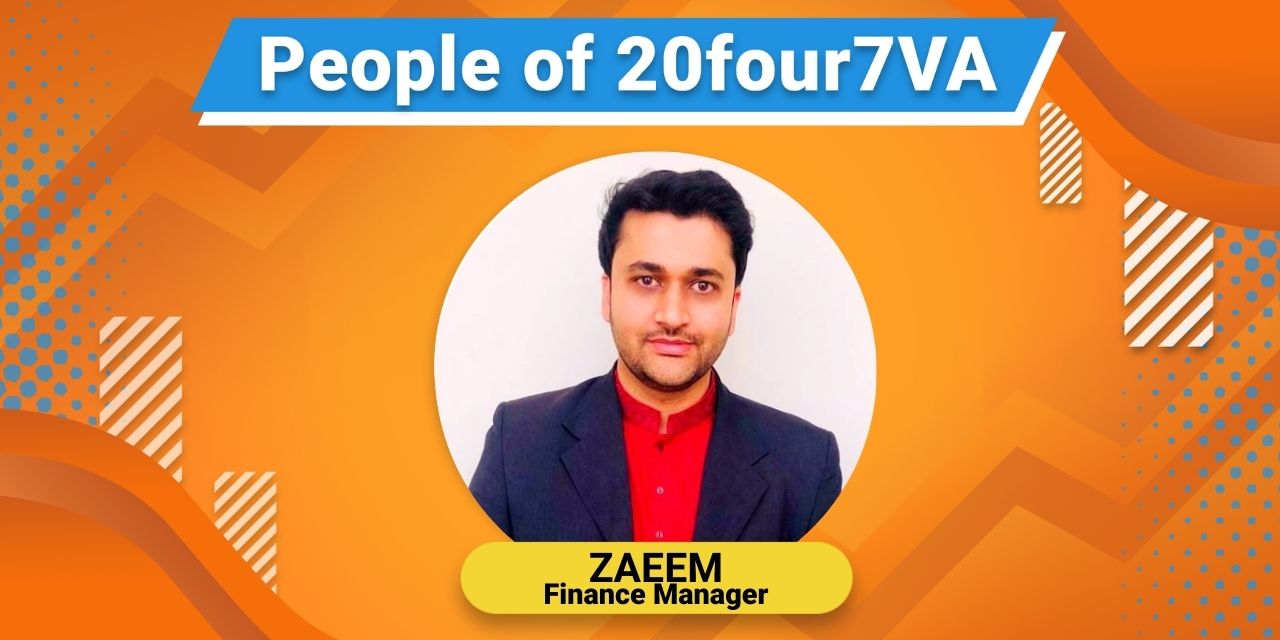 Welcome to the People of 20four7VA series! Every month, we chat with a team member and find out what they do at 20four7VA, what keeps them here, and how they make remote work work.
This month, let's get to know Zaeem, 20four7VA's Finance Manager, who recently celebrated his second work anniversary with 20four7VA.
As a finance manager, Zaeem's main responsibilities include managing the company's cash flows and ensuring business profitability. While numbers and financial reports take up most of Zaeem's day, he unwinds by watching sports, spending time outdoors, and dining with friends.
WHAT DO YOU DO AT 20FOUR7VA?
My role requires a lot of analytics and overseeing budgetary matters. I ensure that measures are in place to provide accurate financial reports that will help the company with the following:
Projecting profitability
Financial risk management
Informed financial decisions
WHAT'S ONE THING THAT PEOPLE SHOULD KNOW ABOUT OUTSOURCING/VIRTUAL STAFFING?
Virtual staffing offers many advantages over hiring locally. The main one is that you can access a bigger pool of skilled candidates worldwide. You won't find yourself stuck in a scenario where you have difficulty filling an open position due to a limited candidate pool.
WHAT ARE YOUR TOP 3 TIPS FOR SUCCESSFUL OUTSOURCING/VIRTUAL STAFFING?
If the role requires decision-making, hiring an experienced VA is best.
I recommend hiring two VAs for 20 hours/week instead of one for 40 hours/week.
When choosing between shortlisted candidates who are almost equal in skills and experience, go for the one with better communication skills.
WHAT'S ONE THING THAT EVERY VA/REMOTE WORKER HAS TO KNOW?
You should always maintain confidentiality. The client's information should be kept secure even after your contract ends.
WHAT ARE YOUR TOP 3 REMOTE WORK TIPS?
Be your own manager. Try questioning your own ways of working or approach to work. Doing so will help you go further.
Don't be afraid to ask for clarification. Making a mistake is more dangerous than asking a potentially embarrassing question.
Manage your time skillfully. Good time management will help move all assignments forward, ensuring nothing gets left behind.
WHAT EXCITES YOU ABOUT WORKING WITH 20FOUR7VA?
I have found something I've been looking for in my previous jobs: autonomy. I enjoy the flexibility and freedom to work at my own pace. This way, I can consistently express myself fully and bring my best self to work every day.
WHAT MADE YOU DECIDE TO WORK WITH 20FOUR7VA?
As mentioned, I liked the flexibility that 20four7VA offered. Additionally, the role I was offered was an area of expertise and previous work experience.
3 THINGS YOU LOVE:
Spending time with my children.
Going outdoors and dining out with friends.
Watching sports.
WHAT'S A MOTTO YOU LIVE BY?
Let go of who you think you're supposed to be. Embrace who you are.
Thanks for taking the time to chat with us, Zaeem!
Want to work with a company that will give you a pathway to growing your VA career? If the answer is yes, we'd love to work with you! Explore our open jobs or get in touch! We're always excited to find global remote talent like you!