People of 20four7VA: Cath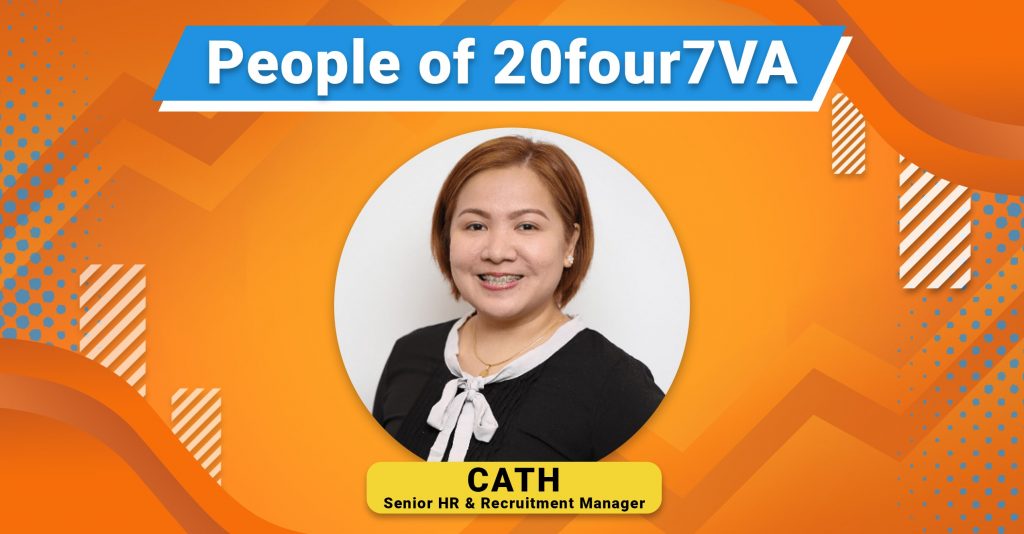 Welcome to the People of 20four7VA series! Every month, we chat with a member of the team and find out what they do at 20four7VA, what keeps them here, and how they make remote work work.
Cath Castro, our Senior Human Resource and Recruitment Manager, is our most tenured 20four7VA staffer. Having been with the company since February 2015, Cath's knowledge of 20four7VA is unparalleled. As the person responsible for the teams that handle talent sourcing and human resources, her job is a great balancing act between ensuring the quality of the 20four7VA workforce and making sure that each virtual assistant (VA) and staff member feels supported and taken care of.
Apart from 20four7VA, Cath loves badminton, trips to the grocery store, and watching crime shows on Netflix. Let's hear from Cath!
What do you do at 20four7VA?
I manage the Recruitment and Human Resource teams at 20four7VA. That means I mentor and oversee the work of eight people in total. I'm also responsible for researching and implementing strategies to improve our recruitment process, initiating local and international partnerships to expand the company's talent sourcing reach, and analyzing KPIs and implementing action plans to improve workforce performance, among other things. As the Recruitment and HR Manager, I take care of over 60 active staff members and over 220 active VAs.
What made you decide to work with 20four7VA?
Several things! First, the employer-employee relationship is built on trust and understanding. The work environment/company culture was also a major factor! Lastly, the team members! As an HR professional, I've observed this over and over: the friendships people make at work is one of the biggest factors they stay with a company. Here at 20four7VA, we treat each other like family — we work as a family, celebrate successes as a family, and resolve problems as a family!
What excites you about working with 20four7VA?
I love working here because the company's mission and values align with mine. And, of course, my great colleagues at 20four7VA!
What's one thing that every VA/remote worker has to know?
I can't stress this enough: the ability to communicate proactively will make or break your career as a remote worker! Equally important is being able to clarify expectations. Make sure you and your client are always on the same page. Don't hesitate to ask questions if something is unclear.
What are your top 3 remote work tips?
1. Create boundaries between work and life. Burnout is real and it can take a toll on your physical and mental health.
2. One of the few downsides of remote work is that it can be hard to keep track of what everyone is working on, which can make assessing someone's performance tricky. Don't leave your client wondering if you're working or not! Make yourself visible at work by being as communicative as possible.
3. Be accountable. Everyone makes mistakes. What's important is how you respond to your failure and learn from the experience.
Thanks, Cath! 😊
Want to work with a company that will give you a pathway to growing your VA career? If the answer is yes, we'd love to work with you! Explore our open jobs or get in touch! We're always excited to find global remote talent like you!