People of 20four7VA: Christian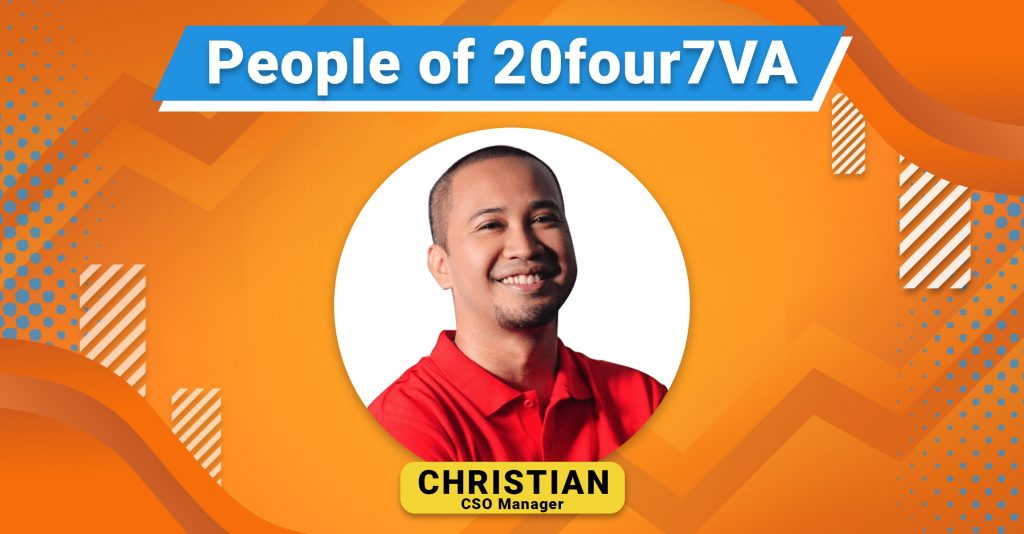 Welcome to the People of 20four7VA series! Every month, we chat with a member of the team and find out what they do at 20four7VA, what keeps them here, and how they make remote work work.
Christian Elomina leads our Customer Support Operations, the team responsible for making sure that everything goes smoothly with our clients and virtual assistants (VAs). Christian is a big basketball fan who loves out-of-town trips and his dog Patchot. He started working with 20four7VA — his first work-from-home experience — in 2019 and now manages a group of five talented CSO staff members. Christian and his team oversee a total of 230 VA-client combos — no doubt a challenging feat!
What do you do at 20four7VA?
I manage the Customer Support Operations team. We're the Account Managers for both VAs and clients. Basically, we serve as the frontliners of the company, monitoring client-VA combos and handling issues and questions whenever they arise.
What made you decide to work with 20four7VA?
I knew a few people working here. At first I was hesitant to move to a virtual setting but now, on my third year with the company, I like to tell new hires that switching to a work-from-home setup was one of the better decisions I've made.
What excites you about working with 20four7VA?
The new learnings, various challenges, and the people I work with and manage excite me. The entire team gets along well, giving us that fun work atmosphere despite being in a virtual setting.
What's one thing that every VA/remote worker has to know?
Aside from having the skills required to perform your tasks, it takes integrity to succeed in this industry. Being able to work from home is an incredible privilege, but there can be a lot of distractions when you're not working in the same location as your employer and colleagues. You have to have that mindset that even when no one can see you, you'll still perform as expected, or even exceed expectations.
What are your top 3 remote work tips?
1. Don't oversell yourself.
2. Know your strengths and weaknesses. How will you use your strengths to your advantage? How will you work around or make up for your weaknesses?
3. Motivate yourself to become better every day.
What are your top 3 tips for successful outsourcing/virtual staffing?
1. Before you start outsourcing, take the time to figure out what you really need in a VA and how your business will fully utilize a VA. What tasks and projects will you hand off? What skills, knowledge, and work experience should a VA have to be able to carry out those tasks?
2. Prepare training videos (screen recordings work great) and documents that your VA can use to quickly grasp how you want tasks done.
3. Be communicative.
Thanks, Christian! 😊
Want to work with a company that will give you a pathway to growing your VA career? If the answer is yes, we'd love to work with you! Explore our open jobs or get in touch! We're always excited to find global remote talent like you!