People of 20four7VA: Lady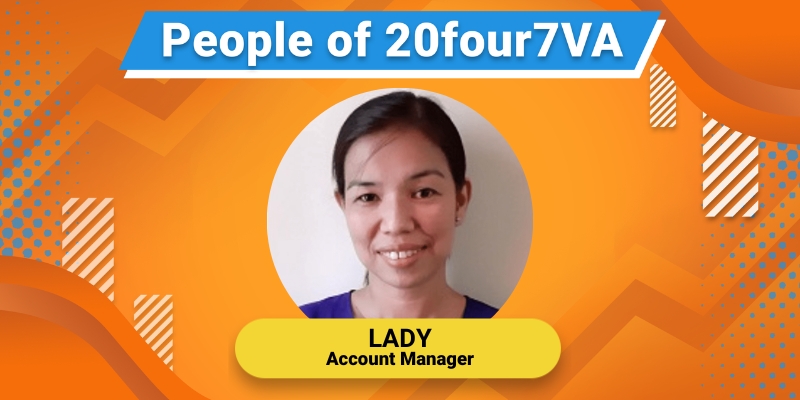 Welcome to the People of 20four7VA series! Every month, we chat with a member of the team and find out what they do at 20four7VA, what keeps them here, and how they make remote work work.
This month, let's get to know Lady from the Customer Support Operations Team.
At 20four7VA, we thrive on the art of matching the perfect virtual assistant (VA) with clients who need their exceptional skills. Today, we shine the spotlight on Lady, an Account Manager extraordinaire who possesses an innate talent for ensuring the success of these partnerships.
Since joining our ranks in 2019, Lady has demonstrated her ability to foster a positive and collaborative relationship between our clients and their VAs. With her astute understanding of client requirements and unwavering commitment to guiding our VAs, Lady has continued to make 20four7VA a place where both clients and virtual assistants receive the level of service they deserve.
When she's not skillfully managing seamless client-VA collaborations, Lady indulges in her passions outside of work. A self-professed plant enthusiast, she has transformed her living space into an oasis of greenery and tranquility. In her downtime, you can find her immersed in the captivating world of K-dramas, getting lost in the intricate plotlines and vibrant characters. And when wanderlust strikes, Lady embarks on epic road trips, exploring new destinations and creating unforgettable memories.
Let's hear more from Lady!
What do you do at 20four7VA?
I'm an Account Manager responsible for managing the working relationship between the virtual assistants and their clients. My main role is to ensure a strong partnership by regularly gathering feedback from both clients and VAs. I handle any requests or concerns they may have and work towards resolving them.
On a typical day, I answer queries from VAs, assist them with any concerns or issues they may be facing, and proactively reach out to see how they're doing. Additionally, I regularly check in with clients to ensure open lines of communication. This allows me to stay informed about any potential issues or risks that could impact the client-VA partnerships.
What made you decide to work with 20four7VA?
I resigned from my corporate job in 2019 and had a strong desire to explore remote work opportunities. While browsing the internet, I stumbled upon the 20four7VA website and decided to apply for a virtual assistant role. To my surprise, they reached out to me and offered an interview for the Account Manager position, and from that moment on, everything just fell into place.
What do you enjoy most about working with 20four7VA?
I like that I'm able to work from home on a schedule that works for me and my family.
What's the best advice you would give to someone just starting at the company?
Nothing starts off easy. There will always be a period of adjustment, but rest assured, you will overcome it. Challenges may arise, but remember that they're temporary. Also, don't hesitate to ask questions. Seek clarity until everything makes sense to you.
What are your top 3 tips for successful outsourcing/remote staffing?
Spend time training your VA and showing them how you want things done.
Be clear with your expectations.
Always give feedback, be it positive or negative.
What are your top 3 tips for virtual assistants/remote workers?
Communication is key. Maintaining open channels of communication fosters understanding and helps with productivity.
Continue to learn and upgrade your skills.
Don't think of your job as just an income stream. Treat your client's business as though it were your own and give it your best.
What's a motto/philosophy you live by?
Be honest and fair. Life is easier that way.
What do you do to unwind after a long day at work?
I spend time gardening.
Thanks for chatting with us, Lady! 😊
Want to see if working from home is the right choice for you? Explore our open jobs or ask us about becoming a VA! We're always happy to meet skilled remote professionals like you!