People of 20four7VA: Luisa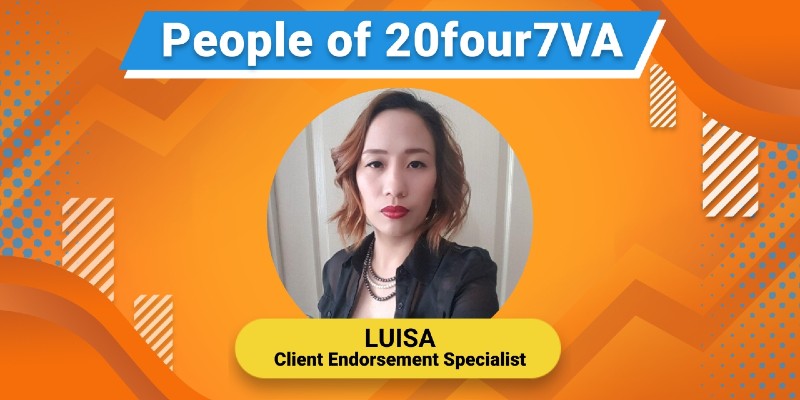 Welcome to the People of 20four7VA series! Every month, we chat with a member of the team and find out what they do at 20four7VA, what keeps them here, and how they make remote work work.
This month, let's get to know Luisa from the Client Endorsement Team.
As a Client Endorsement Specialist, Luisa is tasked with identifying and matching virtual assistant (VA) candidates from the 20four7VA talent pool with clients who require their specific skill set. A typical workday for Luisa involves reviewing dozens of VA profiles and interfacing with VAs.
Perhaps one of the most important aspects of Luisa's role is helping VAs prepare for client interviews. This involves giving them insights into what the client is looking for, helping them understand the job description, and coaching them on how to present themselves in the most favorable light during the interview. Luisa's attention to detail and passion for connecting clients with the right VA make her an integral part of the 20four7VA team.
Luisa joined 20four7VA in 2020 after being referred by her friend Nico. Since then, she has collaborated with the rest of the Client Endorsement team as well as Client Services and Recruitment. When she's not working, Luisa loves spending time with her dogs, enjoying a cold beer, and playing billiards.
What do you do at 20four7VA?
I'm a Client Endorsement Specialist. Our team is responsible for identifying VA candidates that best match who a client is looking for based on the skills, tools, knowledge, and job experience required.
One of our main tasks is engaging with and orienting new VAs to ensure they understand the entire process, from joining the talent pool to starting with a client. We also help them polish their resumes and letters of intent and help them prepare for the client interview. We also facilitate the interview between the client and the VA to ensure that both parties have clarity regarding the job description.
What do you enjoy most about working with 20four7VA?
I love the work environment here. Almost everyone, including the CEO, is considerate and fun to work with. And I've found a work-life balance here that's rare in most jobs.
What are your top 3 tips for those starting their remote work journey?
Make sure your resume is straightforward and concise and that it showcases all your skills and the tools/apps you're familiar with.
Prepare for the client interview by dressing appropriately and ensuring that your internet connection is stable and your audio and video are good.
Before the client interview, look up the tasks and tools specified in the job description so you can build rapport and have a great conversation with the client.
What's the best advice you would give to someone just starting out at the company?
Learn the processes. It's okay to ask questions to confirm what you've learned and make sure you understand everything.
What's a motto/philosophy you live by?
I saw this somewhere and strongly agree with it: "You were not born on Earth to please anyone; you have to live life to express yourself, not to impress someone. Don't pretend to be someone you're not, and never lose yourself in search of other people's acceptance and approval."
What do you do to unwind after a long day at work?
Sleep or watch something on Netflix. Bond with my kids.
Thanks for chatting with us, Luisa! 😊
Want to make the switch to remote work? Check out our open jobs, or send us your questions! We're always eager to meet remote talent like you!