People of 20four7VA: Arlene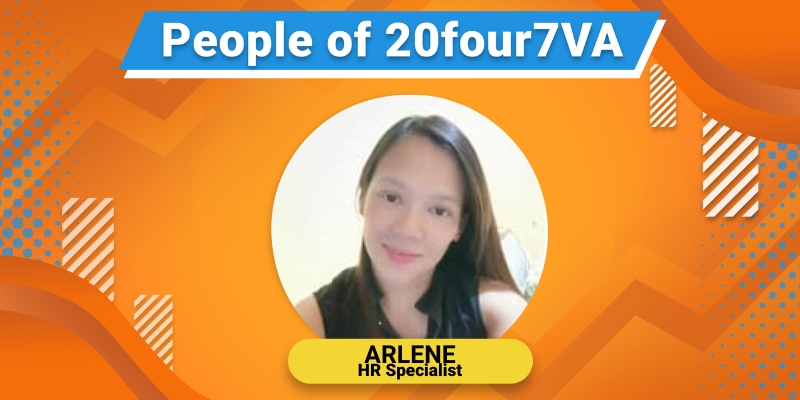 Welcome to the People of 20four7VA series! Every month, we chat with a member of the team and find out what they do at 20four7VA, what keeps them here, and how they make remote work work.
This month, we're excited to introduce Arlene, our dedicated human resources (HR) specialist, who plays a crucial role in ensuring effective workforce management within 20four7VA. Arlene is enthusiastic about responding to HR inquiries and helping staff and virtual assistants (VAs). So if you have something to clarify, she's the person to ask!
Arlene oversees all aspects of recruitment, staff support, and HR documentation. From onboarding new VAs to handling staff concerns, Arlene takes on all these responsibilities exceptionally.
But Arlene's passions don't just revolve around work. In her spare time, she indulges in kitchen experiments, K-drama, and time with her dogs. Let's dive deeper into Arlene's story and learn more about her insights and experiences!
What do you do at 20four7VA?
I am an HR specialist at 20four7VA. I handle the onboarding and offboarding processes for new and exiting staff and VAs. I'm also responsible for keeping all employee records updated. Aside from these, I deal with internal concerns such as payroll issues, policy adherence concerns, and company announcements.
My secondary role is as an interviewer for the recruitment team. I ensure that 20four7VA recognizes top talent and sees that each hire gets the necessary training.
What made you decide to work with 20four7VA?
I believe in the mission and goals of 20four7VA! I want to be part of a company that opens doors of opportunity for others.
What do you enjoy most about working with 20four7VA?
The people! I meet staff and VAs from different parts of the globe daily. I get the opportunity to communicate with new talent and get to know more about our internal team members. Even if we all work remotely, I've been able to befriend coworkers who share similar interests.
What are your top 3 tips for successful outsourcing/remote staffing?
Have the patience to find the best-fit remote talent for your business.
Empathize with your virtual assistants, and believe in their skills and capabilities.
Always have the initiative to reach for greater heights.
What's one thing that every VA/remote worker has to know?
There will always be more experienced people with similar skills, so don't be complacent. Learn as much as you can, and do not stop improving. Grab every opportunity to upskill, and be passionate about the task at hand.
What are your top 3 remote work tips?
Always persevere.
Think outside the box.
Be passionate about your craft.
What's a motto/philosophy you live by?
There are two. First is a quote from Rumi: "Let the beauty of what you love be what you do." Second, seize the day, and do something your future self will thank you for!
Thanks for chatting with us, Arlene! 😊
20four7VA aims to remove the geographical boundaries to starting a rewarding career. If you're a self-motivated and reliable individual interested in remote work, check out our open jobs or ask us about becoming a VA! We're excited to meet skilled remote workers like you!