Need a VA? Why You Should Always Hire from a Virtual Assistant Agency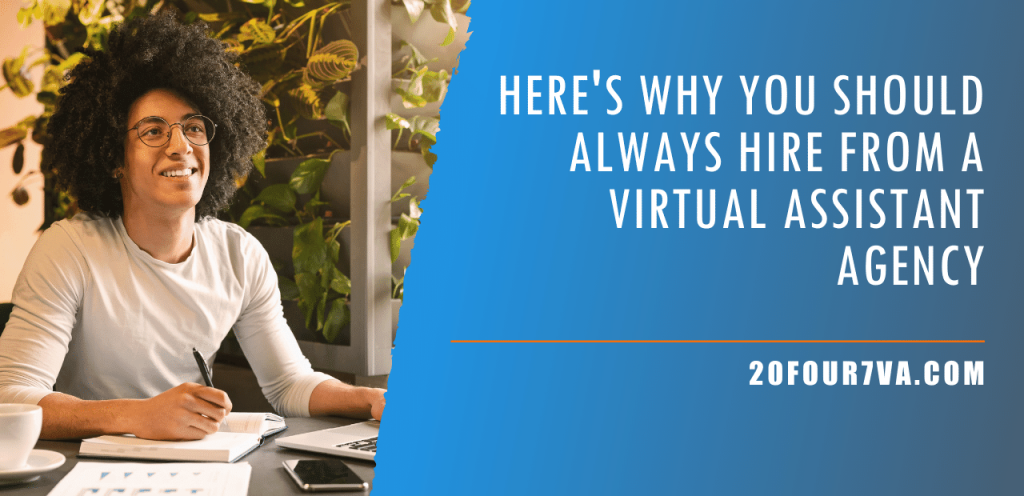 If you're looking to hire a virtual assistant (VA) to help you save time and grow your business, where should you look? Should you hire through a virtual assistant agency or take your chances with a freelancer?
Today, there are dozens of online job marketplaces where you can browse through thousands of freelancer VA profiles. There are also virtual assistant agencies that match you with a remote worker with the experience and skills to help you with your tasks. 
If you're thinking of hiring a VA, you should definitely consider getting one through a virtual assistant agency. Let's get into why hiring from a virtual assistant agency is your safest bet.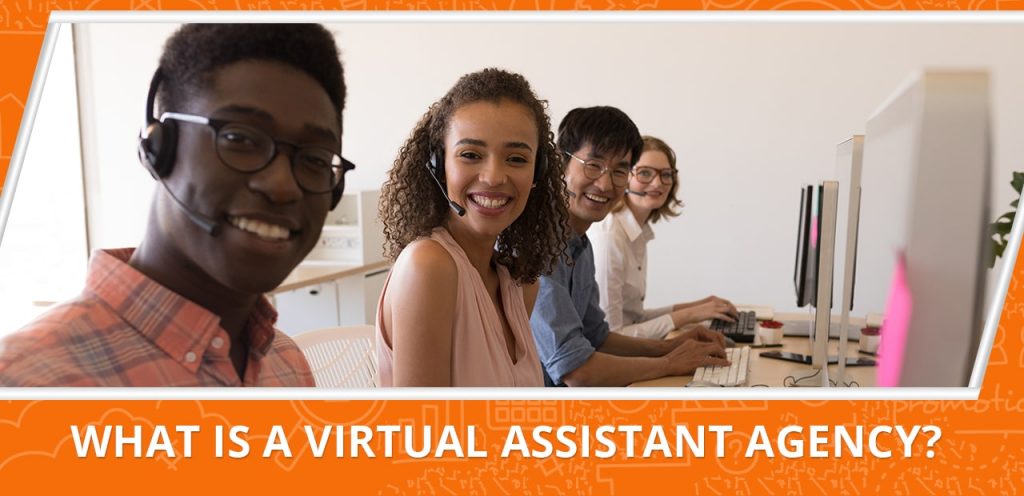 What is a virtual assistant agency?
A virtual assistant agency is a company that provides business process outsourcing services to other businesses or individual clients. Simply put, they help you find the virtual assistant or remote professional that best matches your needs. Virtual assistant agencies have a pool of remote workers with a wide variety of skills and different levels of experience. It's the job of the agency to find a virtual assistant from their global workforce that meets every criterion set by a client.
What services do virtual assistant agencies provide?
A remote virtual assistant agency does practically everything for you from start to finish. The end-to-end service begins with the agency gathering information regarding what you need out of your potential hire. They will then craft a job description based on the details provided.
The pairing service starts with screening qualified candidates. The VAs in an agency's talent pool have all gone through a thorough vetting process. During the screening, the agency will sift through the resumes and portfolios of the VA applicants. The shortlisted candidates will then undergo interviews and background checks. The virtual assistant agency will communicate directly with the VAs during this whole process.
The job of the agency does not end once a virtual assistant is chosen. They are also responsible for training and onboarding the VA. The main purpose of this step is to make sure the remote worker is 100% ready and can start working with the client as soon as possible. No time is wasted because the VA is ready to take on the client's tasks on Day 1.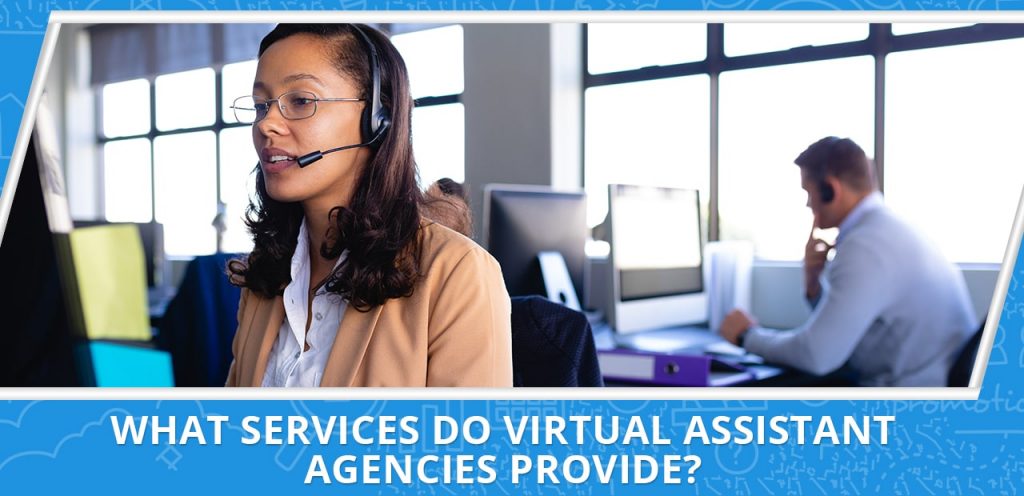 The agency provides assistance to its VAs throughout the client-VA relationship. If the virtual assistant needs help with a particular task or tool, the agency has subject matter expenses that can guide the VA. The agency also provides support by mentoring, coaching, and upskilling its VAs. HR specialists are available 24/7 to help address any issue. Most agencies also have an IT helpdesk that lends their expertise with regards to tools, internet connectivity, and other tech-related concerns.
The firm monitors its virtual assistants to make sure performance and work output are up to par. They use time-tracking software to monitor attendance and make sure that the hours logged are accurate.
Virtual assistant incentives
To improve employee performance and retention, some staffing firms offer incentives like performance bonuses, online courses, health benefits, and agency retreats. If you're considering hiring from a virtual assistant agency, company culture and VA incentives are two things you need to take a look at.
A virtual assistant agency handles payments to their VAs, so that's one less thing for the client to think about. Virtual assistant agencies also offer payment plans and customizable packages to cater to the client's budget.
VA agencies typically provide backup virtual assistants so that if your primary VA gets sick or goes on vacation, there will be no disruption to your business processes. The backup VA will have been trained with the tasks that your primary VA does.
Recommended reading: 5 Freelance Virtual Assistants You Need For Your Business
Virtual assistant agency vs. freelance VA: pros and cons
Not all virtual assistants are created equal. Some are more skilled or remote work-ready than others. The difference in virtual assistant quality is often dependent on the source. For instance, a virtual assistant agency has a much more stringent vetting process than an online job marketplace. This means that when you hire from an agency, you can be sure that the skills, knowledge, and work experience indicated in the VA's resume are accurate. Read on for more about freelance VAs vs. agency VAs.
Freelancer pros and cons
A freelance virtual assistant is a remote worker that is independent of any agency. As a freelancer, a VA can directly negotiate and sign contracts with a client. Freelance VAs can usually be found in a variety of freelance hiring platforms and marketplaces. They may also have their own websites, where you can peruse their resume and portfolio.
Pros:
Freelancers usually have a specific set of skills. Most independent contractors hone a particular skill or skillset in order to become an expert in that field. If you need someone with specialized skills, like a Xero specialist or a paid social media ads strategist, a freelancer is sure to give you your money's worth.
Good for hands-on managers
If you prefer to be hands-on from the hiring process and throughout your working relationship with the VA, you can opt for a freelancer. You will directly communicate with the prospective virtual assistant and learn firsthand if they are the most suited for the job. Since you are in direct contact with the candidates, you also get a better feel and understanding of them as a person. This should give you an idea of whether or not they will fit with the rest of your team. And if you don't mind personally managing and monitoring your virtual assistant, you'll do well with a freelancer.
Another benefit of hiring a freelance virtual assistant is the cheaper rate. Independent freelancers generally have a more affordable rate for their services compared with those from a virtual assistant agency.
Cons:
Time-consuming hiring process
One likely reason why you're hiring a virtual assistant is that you have your hands full and need help with the operations side of your business. If you're already that busy, you may not have the time to go through the hiring process yourself. If you insist on a freelancer, you will be forced to do everything from start to finish and that includes creating a job post, interviewing the applicants, and choosing the right person.
The danger here is that there is a tendency to just get it over with since you have other things to attend to. If that is the case, there is a possibility that you end up hiring someone who's not up to the task. That mistake may haunt you later on if it eventually affects your business.
Another disadvantage of hiring a freelance VA is that you still have to handle the onboarding process. This includes introducing the new hire to the rest of your team via virtual meeting. It's important to explain what each member does so the virtual assistant knows who to approach if they have particular inquiries. You also have to provide the VA access to all programs and files they will be using.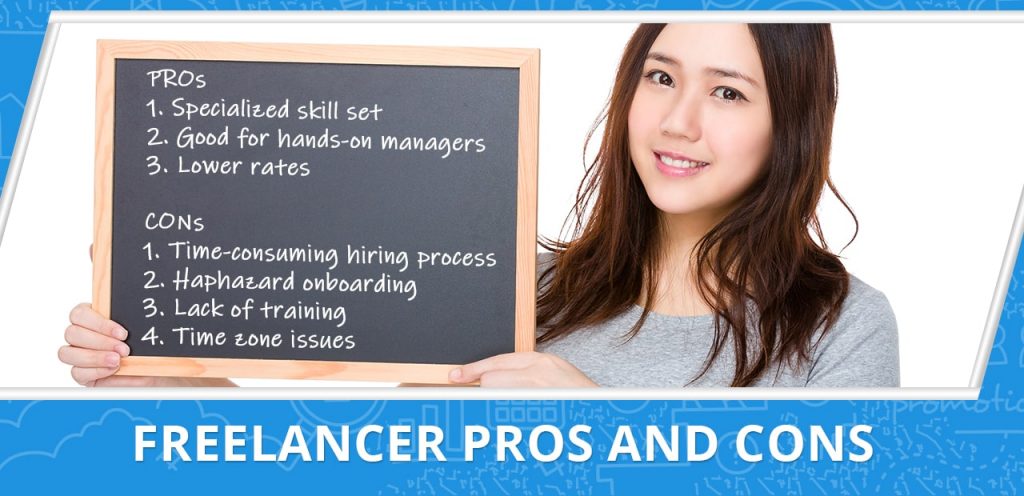 Aside from onboarding, you may also need to train the new employee in case they lack experience in certain skills or tasks. If the VA is not familiar with an app or program that your business uses, for example, you will have to train them. Training usually lasts for two weeks so this will eat up time and resources. You can ask another employee to oversee the training and mentor the newbie but this may affect their work, too.
Most of the issues raised so far have become problems because they require time, effort, and resources. Spending all these on the hiring process, onboarding, training and other aspects of hiring a virtual assistant can be taxing. For one, you could have used them for more important business matters. Plus, you need some much-deserved time with family, friends, and your hobbies. Ironically, these problems can be solved by hiring a virtual assistant.
It's safe to say that a virtual assistant agency has remote workers from other countries. If you hire a VA from a different time zone, you have no choice but to use your personal time to get your new employee on track.
Virtual assistant agency pros and cons
A virtual assistant agency gathers the best professional remote workers they can find and offer their services to different businesses. Like freelancers, hiring through an agency has its advantages and disadvantages.
Pros:
Pre-screened and skill-tested VAs
One of the pros of hiring from a virtual assistant agency is that you are assured of getting your money's worth. Each virtual assistant under an agency has undergone scrutiny. That means they have been screened, interviewed, and vetted.
End-to-end outsourcing solution
While hiring a freelancer is cheaper, the virtual assistant agency offers more services free of charge. The pairing service or VA-client matching itself is free. Plus, you don't have to pay for the skill vetting of the candidates.
The training that the virtual assistant receives from the agency to prepare them for their new job is also free. Since there are no upfront, hidden, or additional fees, the client saves money. Lump-sum payments are also not required so you won't be burdened with releasing a huge amount in one go. Looking at the larger picture, hiring a virtual assistant agency is more cost-effective.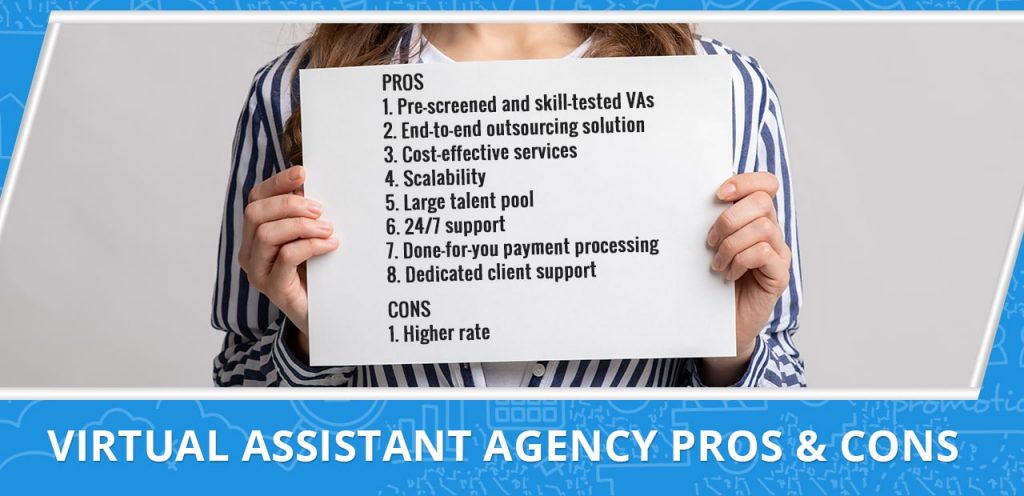 Virtual assistants are not required to sign long-term commitments. You can hire a part-time or full-time VA depending on your need. Contracts can also be project-based. This gives both the VA and client some flexibility since you're not tied to each other.
A virtual assistant agency provides you with access to a wide selection of skills. You are not limited to freelance VAs with only a particular skill set to offer. You and the agency can come up with a contract that allows you to work with different virtual assistants from their talent pool depending on the task at hand.
If you prefer working with a dedicated virtual assistant, you can surely find the right one through an agency. Remote assistants from a staffing company are well-rounded so they can handle different tasks from taking calls to writing blogs to bookkeeping.
Virtual assistant agencies typically provide 24/7 human resources and IT support so that your VAs can get the assistance they need as soon as a problem arises. 
Done-for-you payment processing
The virtual assistant agency can provide support with the payment process. These companies usually have a weekly or monthly payroll-processing service that makes it easier to settle your fees.
The virtual assistant agency will provide you with a dedicated account manager. Account managers look after your relationship with your virtual assistant. They help ensure that the relationship between the VA and the client is problem-free. They also perform daily monitoring and coaching of the VA and conduct regular check-ins and performance reviews to make sure all is well.
Cons:
The main argument against VA providers is the higher rates. But think of it this way. Training usually lasts at least a couple of weeks. If you were to train your virtual assistant yourself, you'll spend more resources than you would if you hired an agency VA who is ready for work on Day 1. Those two weeks of training and onboarding, in addition to the time you already spent sourcing and screening applicants, could have been spent on revenue-generating activities. In the long run, you actually end up saving more money because you save time by hiring a VA from a virtual assistant agency.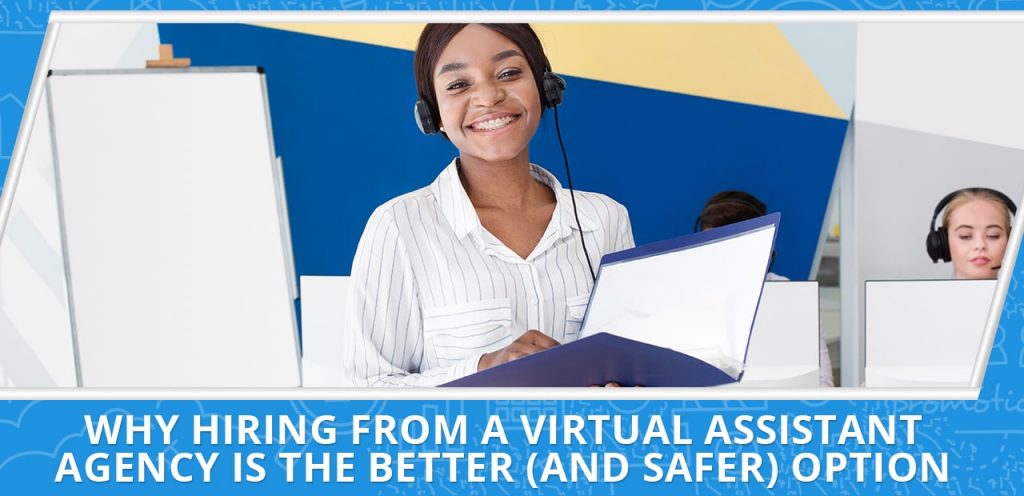 Why hiring from a virtual assistant agency is the better (and safer) option
When you hire someone from an offshore virtual assistant agency, that means you are willing to trust other people to find the right person for your business. That trust is reciprocated by service that goes beyond what you'll get from going the freelancer route.
If you are a newbie in the world of business, there are some aspects that you're still learning. Hiring a remote assistant will help you accomplish more in a cost-effective manner. But hiring remotely isn't without its dangers. One potential problem is hiring someone who may take advantage of your lack of experience, particularly with the way virtual assistant services work.
Another potential issue is miscommunication. If you fail to relay your ideas or instructions clearly to the virtual assistant, they may end up not meeting your expectations, which means you'll be wasting time and money.
Final thoughts
Hiring from a virtual assistant agency helps you avoid these possible pitfalls. An agency VA may seem more costly at the outset, but once you start working with virtual assistants who are pre-screened, pre-vetted, pre-trained, and come with a dedicated support team, you'll find that the additional benefits and safeguards (and your peace of mind) are more than worth it.