How to Hire the Perfect Remote Virtual Assistant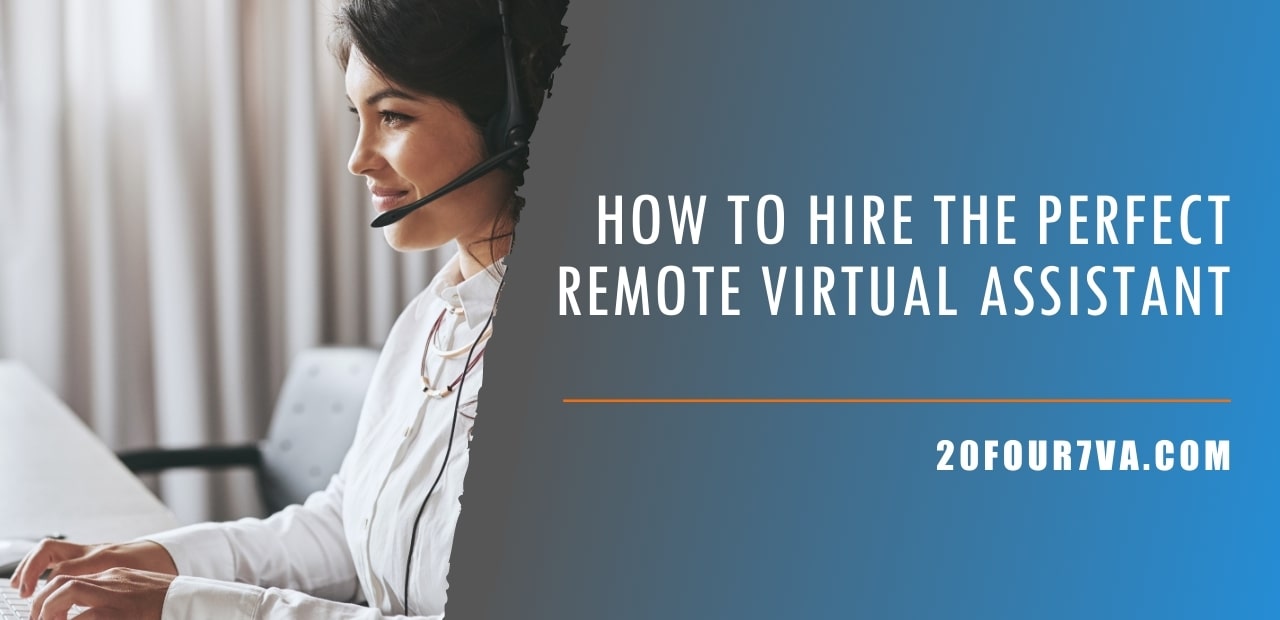 "Great things in business are never done by one person. They're done by a team of people." – Steve Jobs Hiring a remote virtual assistant is one of the most valuable things you can do as a business owner. While virtual assistance has been an asset to many business owners for years now, its significance and efficiency become even more apparent because of the pandemic. As more companies start to move part or all of their operations online, the number of virtual assistants also increases. With so many options available now, how do you find the perfect remote virtual assistant for you?

What is a Remote Virtual Assistant and What Can They Do For You?
A virtual assistant (VA) is a self-employed remote worker who provides valuable business or consulting services and helps in the day-to-day operations of a company. A VA can be a personal remote assistant supporting one entrepreneur or an entire team.
VAs can be flexible in that they can help businesses in many functions. For instance, it's common for an administrative VA to also take the role of a social media manager. One VA can also help one or multiple members of a company. A virtual remote executive assistant can assist not just the business owner, but also the top-ranking officers of a company.
There are VAs with general office skills and VAs with specific fields of specialities. Knowing the different types of virtual assistants out there should help you narrow down which one you need onboard. Here are 5 popular virtual assistant roles today.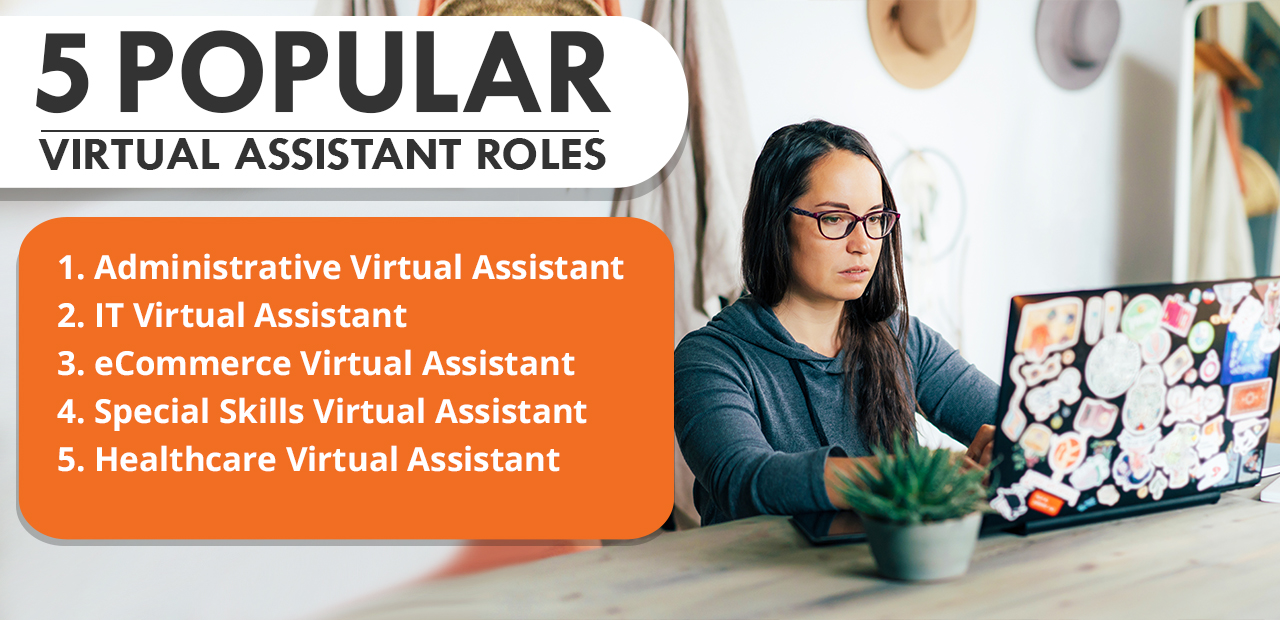 1. Administrative Virtual Assistant

Administrative VAs handle daily business operational tasks. They help a business organize and manage operations, handle customer care, and record data. Here are some specific tasks that you can outsource to an Administrative Virtual Assistant:
Customer service through email, phone, and chat
Outbound sales calls
Data entry
Calendar management
Appointment setting
Receptionist duties
Scheduling bills payments
Basic bookkeeping
Files management
Invoice creation
Research work
Processing documents
Training and onboarding assistance
Personal assistance
2. IT Virtual Assistant
As the name implies, these virtual assistants are specially trained in Information Technology. IT Virtual Assistants can help a business build and maintain a website or app and fix and monitor software to ensure smooth business operations. Here are the different tasks you can entrust to an IT Virtual Assistant:
Website admin management
eCommerce store set-up
eCommerce inventory setup and support
User Interface and User Experience design
Adobe Photoshop and Illustrator
Website or blog maintenance
Server setup
Web design with Bootstrap and CSS3
JavaScript basic customization
Database management
WordPress setup and optimization
Web security
Mail server maintenance
Software setup and management
IT security
Secure Shell
3. eCommerce Virtual Assistant
There are many types of sales platforms and channels today. Often, businesses register in multiple channels to expand their customer reach and increase sales. An eCommerce Virtual Assistant is specially skilled to offer sales support for popular marketplaces like Amazon, eBay, Walmart, Shopify, and many others. Check out the different tasks you can delegate to an eCommerce Virtual Assistant:
Multi-variation listings
Product title and description
Listing enhancement
Keyword research
Order process
Supplier liaisons
Warehouse coordination
Customer service
Conversions tracking
Product price monitoring
Refund process
Product and market research
Competitor research
Dropshipping setup
Logistics coordination
Discount research
Virtual assistant phone answering
4. Special Skills Virtual Assistant
If you're looking for a remote worker with specific skills and training for specialized fields, specialist VAs are what you need. Content writers, Graphic designers, digital marketers, SEO specialists, and branding experts are the most popular virtual assistants with special skills and training to support distinct business functions. You need a Specialist Virtual Assistant if you require help in the following tasks:
Content research and writing
Copywriting
Newsletter, ebook, and email creation
Blog management
Proofreading and editing
Keyword research
SEO planning and management
PPC advertising management
Amazon sponsored ads
Reputation management
Social media management
Social media paid and organic ads management
Basic graphics design
Company logo design
Print ads design
Product image design and manipulation
Website and blog photo design and editing
WooCommerce management
Infographic development
Google Business Suite setup and management
Content planning and marketing
5. Healthcare Virtual Assistant
The world is steadily adapting to the new normal way of doing things, and the healthcare industry is no different. Clinics and healthcare providers must adhere to social distancing measures imposed by state laws and health organizations, so routine and regular visits are now done virtually. This resulted in more of them turning to healthcare virtual assistants. Healthcare VAs can handle the following responsibilities:
Virtual medical assistance
Patient orientation
IT telemedicine assistance
Electronic Health or Medical Record data entry and management
Prescription refills processing
Physician-patient encounter documentation
Physician's notes management
Voicemail and audio recording transcription
Reception duties
Patient information data entry and management
Handling prior authorizations
Verifying and processing eligibility requests

Where to Hire Your Remote Virtual Assistant
Now that you know the different types of virtual assistants, it's time to deliberate where you can hire one. There are generally two routes to consider:
Directly hiring a freelancer.
Hiring from a remote virtual assistant agency.
Direct hire is the most straightforward way to find a remote virtual assistant. You can post a job ad on multiple job boards (Indeed, LinkedIn, Career Builder, Monster, Job.com, etc), your website, and even on social media. You can also submit the job postings to freelancer hubs such as Upwork.
Direct hire is a do-it-yourself type of recruitment. You do all the legwork in screening, hiring, and interviewing virtual assistant hopefuls. Training, onboarding, monitoring, and payroll are also part of your responsibilities.
Hiring from a remote virtual assistant agency, however, is leveraging a third-party company to take care of hiring and recruitment. Often, virtual staffing agencies will have pre-screened and pre-trained VAs for hire in their roster. The agency will match the most appropriate VA to the job at hand.
A full-service virtual staffing agency such as 20four7VA offers the same service. In addition, the company also helps businesses in training, VA management, performance monitoring, and payroll. Another advantage of working with a staffing firm is that you can quickly scale your team with your business. You can hire additional people to handle more work if your company is expanding or gearing up for seasonal sales. You can lessen contracted hours to gear up for leaner months.
The option you take will be greatly determined by your budget, your involvement in the recruitment and training process, what tasks you will delegate, and the projected duration of the working relationship. While there are different ways to hire a virtual assistant, remember that not all of them are created equal. Learn more about the difference between directly hiring a freelancer vs hiring from a virtual staffing company.
A 5-Step Guide to Finding Your Perfect VA Match
1. Create a job description.
First, deliberate what specific tasks you want to outsource. These could be menial tasks that take up a huge chunk of your time or high-impact duties that need expert input. Getting your ducks in a row is key to writing a clear, specific job description. Here's a list of things to include when mapping out your job description:
Business background information such as your industry, products or services offered, and target audience
List of responsibilities you need to delegate
Level of skills, experience, and educational background that you require
List of tools or software needed to do the job
Preferred qualities, competencies, and schedule
2. Choose where to hire your VA.
Whether you're hiring directly or through a virtual staffing agency will determine the succeeding steps of the recruitment process. If you choose a do-it-yourself approach, this is the part where you source the avenues to post your job listings.
If you utilize the services of a staffing agency, this is where you contact the agency for a consultation call. 20four7VA offers a no-obligation consultation call to discuss your needs, requested number of hours, and working schedule.
3. Review applications and prepare for interviews.
Save time and work in the recruitment process by reviewing applications prior to the interview. Narrow down applicants to the top 5 strongest candidates. Then, prepare the questions to ask during the interview. Ensure that the questions are wide-ranging and cover specific ones relating to the job and the applying virtual assistant. This is the time to evaluate the skills, experience, and work ethics of the VA.
Check out these sample job interview questions:
Can you list the skills and tools that make you a good candidate for the job?
List down any relevant experience or training that will help you be successful at this job.
What do you like most about being a VA?
Do you have any interests outside of work? What are they?
Have you encountered stressful situations at work? How did you handle them?
Tell us about your strengths and weaknesses as a remote worker.
What is your preferred working schedule?
TIP: Hire for attitude instead of skills. Skills can always be taught and learned, but attitude determines the quality and duration of a working relationship. You want a VA that fits your company culture and embodies the values your business upholds. People with strong work ethics are also willing to learn from their shortcomings, expand their knowledge, and stick with you for the long haul. It's also a good idea to ask for references before hiring a VA. Testimonials from previous clients will give you a good overview of what working with the VA is like.
4. Review your contract and prepare for onboarding.
After finding the best matching VA from applicants, it's time to put together a contract agreement. Virtual staffing agencies would already have a contractor's agreement. Whether you independently drew up the agreement or just signing one, make sure to inspect it meticulously first.
Here are specific details to inspect:
Your business information
Name of the virtual assistant
Duties and responsibilities covered
Contracted hours
Other job details
Start dates and other work stipulations
It's good practice to have a lawyer review and assess the contract before both parties sign it. Note that preparing and evaluating an agreement is another duty taken care of by a virtual staffing firm should you choose to work with one.
Provide a work overview for your virtual assistant to help them hit the ground running. You can prepare or share a company folder with all the essential information. This should include a staff handbook, company profile, training materials, standard operations, and processes. Ensure that your VA has access to templates, forms, and guidelines for their job.
It is also a good idea to schedule an orientation call with your VA. The call should cover the summary of the job as well as login details to important tools. Give your VA a refresher of your goals and expectations. In the same way, give your VA a chance to raise questions or air out clarifications. When onboarding your VA, make sure that you work out the time tracking tools, projects, and deadlines.
5. Conduct a test project.
Assigning a test project can be done during the recruitment process. This allows you to gauge the abilities and experience level of your VA candidate. However, it's also important to let your VA start with a low-impact or small project first.
If you're hiring a virtual phone assistant, have them listen to calls before letting them handle one. This should give the VA an idea of what issues come up and how your team handles them. If you're working with a logistics VA, copy them to emails with forwarders or suppliers to cultivate their liaison skills.
In addition to assessing their output, also note how they followed instructions or considered your input in the project. Provide feedback on your VA's performance. That way, they would know what areas need improvement and practice. This should help the VA ease into their role and start taking on bigger projects.
Final Thoughts
There are several benefits to working with a remote virtual assistant — from saving on operational expenses to increased productivity and keeping your business afloat during the pandemic.
Of course, you need to first find the most fitting VA to be able to reap these benefits. Knowing what type of VA you need, what tasks to delegate, and where to source your VA is key to matching with the perfect remote virtual assistant.