23 Everyday Tasks You Can Outsource to a Virtual Scheduling Assistant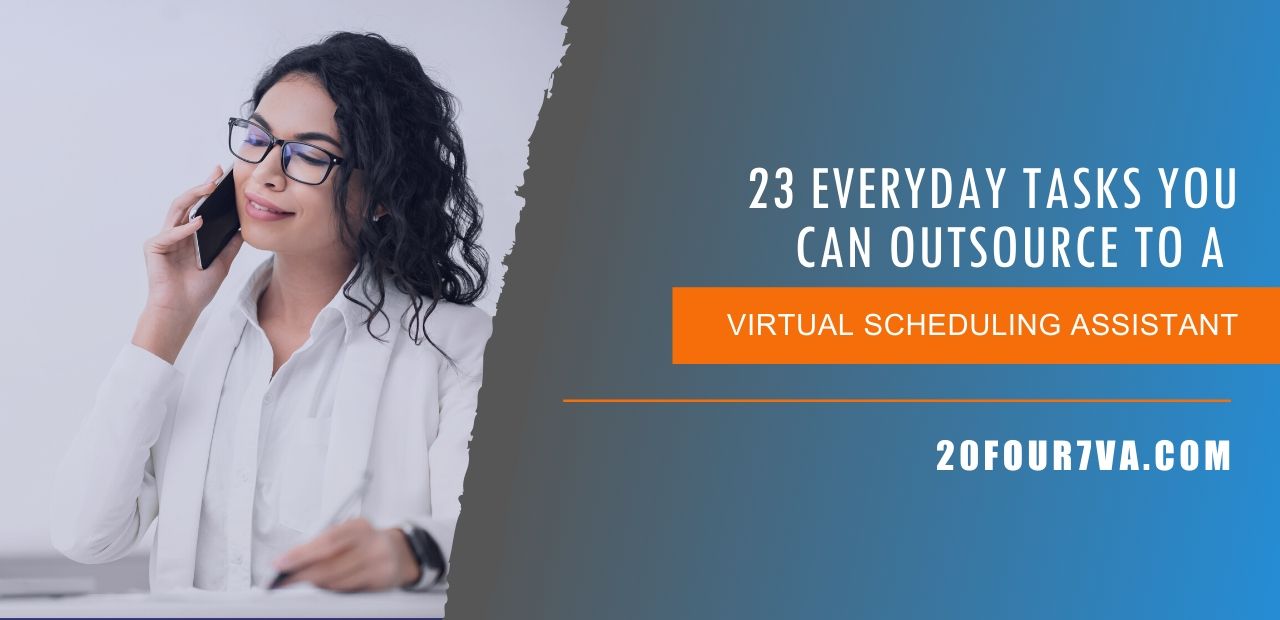 Owning a business demands unparalleled commitment. Contrary to the typical picture of entrepreneurs just lounging in some tropical paradise while churning money, running a business takes hours upon hours of hard work. In fact, a study has revealed that 70% of business owners work more than 40 hours a week, while 19% clock in more than 60 hours. These extensive working hours can quickly amount to burnout. How can you take better control of your time? Consider hiring a virtual scheduling assistant.
Benefits of Hiring a Virtual Scheduling Assistant
A scheduling assistant can noticeably ease up your workload. But why consider hiring one remotely?
Here are 3 reasons:
You'll spend less than if you hire an in-house employee. Apart from more affordable hourly rates, virtual assistance also comes with zero overheads.
You can expect increased productivity. People are more motivated when they find work-life balance. This increase in productivity can apply to both you and your virtual assistant (VA).
You can scale more and riskless. A sudden influx of work? Hire a VA to help you with the seasonal workload. Hit a roadblock? Reduce your VA's working hours to help manage expenses. This flexibility to scale as needed without running risks (and infringing labour laws) is unique to virtual assistance. Of course, you need to find a reliable staffing company such as 20four7VA that makes this setup easy and convenient.
23 Everyday Tasks to Delegate to Your Online Scheduling Assistant
To help you optimize virtual assistance (and manage your time and workload), here's a list of everyday tasks you can outsource to your scheduling VA: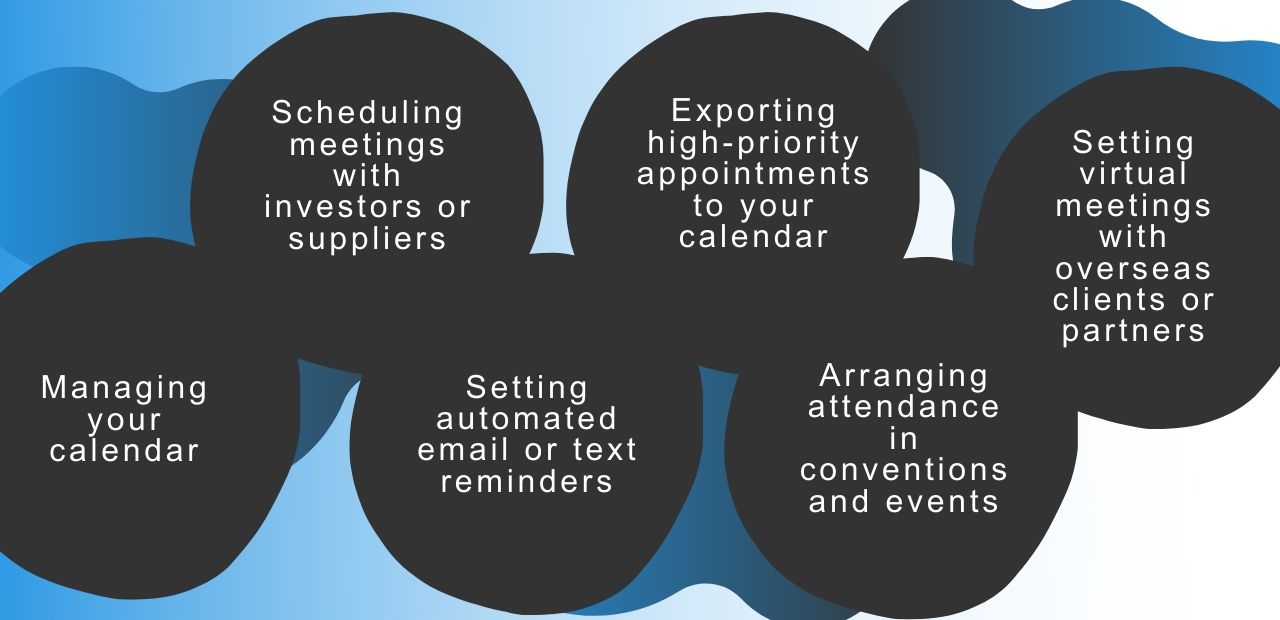 Managing your calendar. A long to-do list doesn't have to mean an overwhelming workday or workweek. An online scheduling assistant can organize every appointment, task, and personal errands that you have for the day, week, or month.
Scheduling meetings with investors/suppliers. Pitch a new idea or strike up a deal with investors or suppliers. Your VA can organize a virtual or actual meeting on a schedule and place that works for everyone.
Setting automated email or text reminders. Sending periodical emails, SMS, or online messages for different purposes can be tedious. It's better to have your VA set this up so whatever necessary messages are sent on time.
Exporting high-priority appointments to your calendar. A presentation you need days to get ready for. A last-minute meeting you need to squeeze into your calendar. You will always be prepared for high-priority appointments and tasks when you have your VA export them to your calendar.
Arranging attendance in conventions and events. Expand your network or brush up on new skills by attending business conventions. Your VA can book everything you need and clear up your calendar so you can be there.
Setting virtual meetings with overseas clients/partners. Brainstorm with your partners or update your clients about your situation. Your VA can set up the virtual meeting and get the necessary tools ready so you can just focus on your presentation.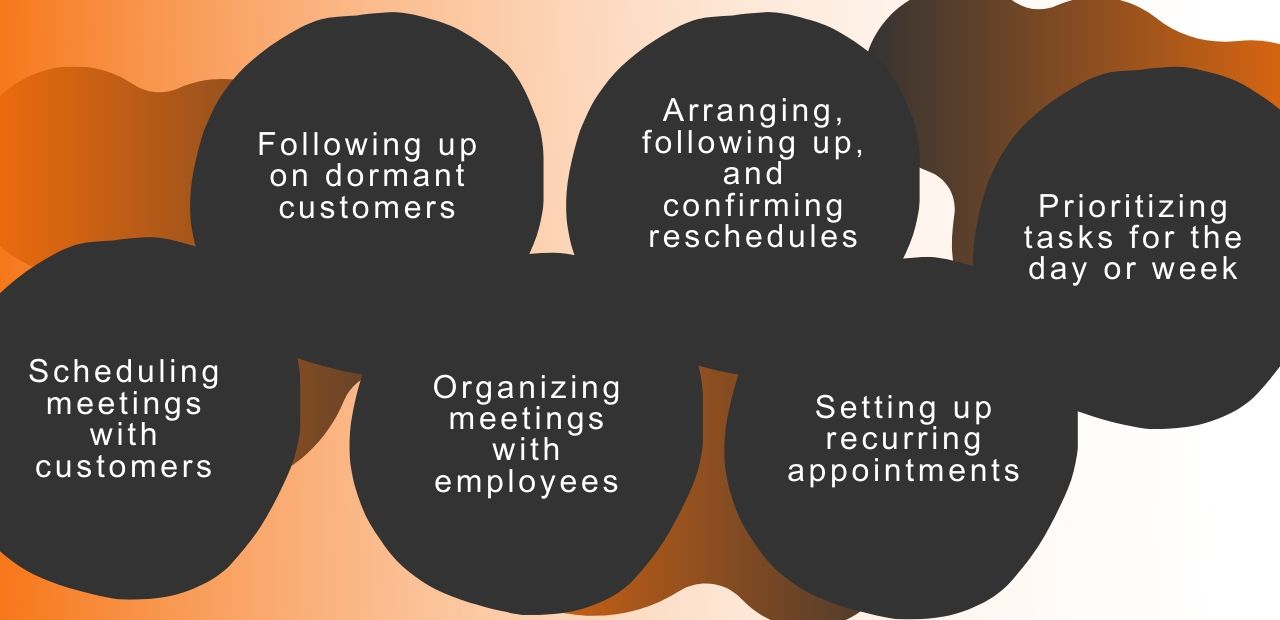 Scheduling meetings with customers. Does your business require you to meet with customers? Your VA can schedule a time and place that works for you and your customers or prospects. They can also forward the necessary customer details to get you ready for the meeting.
Following up on dormant customers. Win back inactive customers or follow through on past proposals. Get your scheduling VA to draft an email or schedule the best time to communicate with dormant customers.
Organizing meetings with employees. Touching base with your team is crucial for growth. Have your VA organize and confirm a date and time that works for everyone, so all members can come prepared.
Arranging, following up, and confirming reschedules. Sometimes, an appointment needs to be postponed or moved back — whether it's a meeting with a supplier or prospect or a virtual conference with clients or staff. Having a VA can reduce this occurrence or mitigate its consequences.
Setting up recurring appointments. There are meetings that you need to attend periodically. Your virtual scheduling assistant ensures you don't overlook them by setting them up in your calendar and sending reminders.
Prioritizing tasks for the day/week. One key to time management is task prioritization. Your VA can organize your tasks according to priority and deadlines so you don't overlook high-impact projects or miss target dates.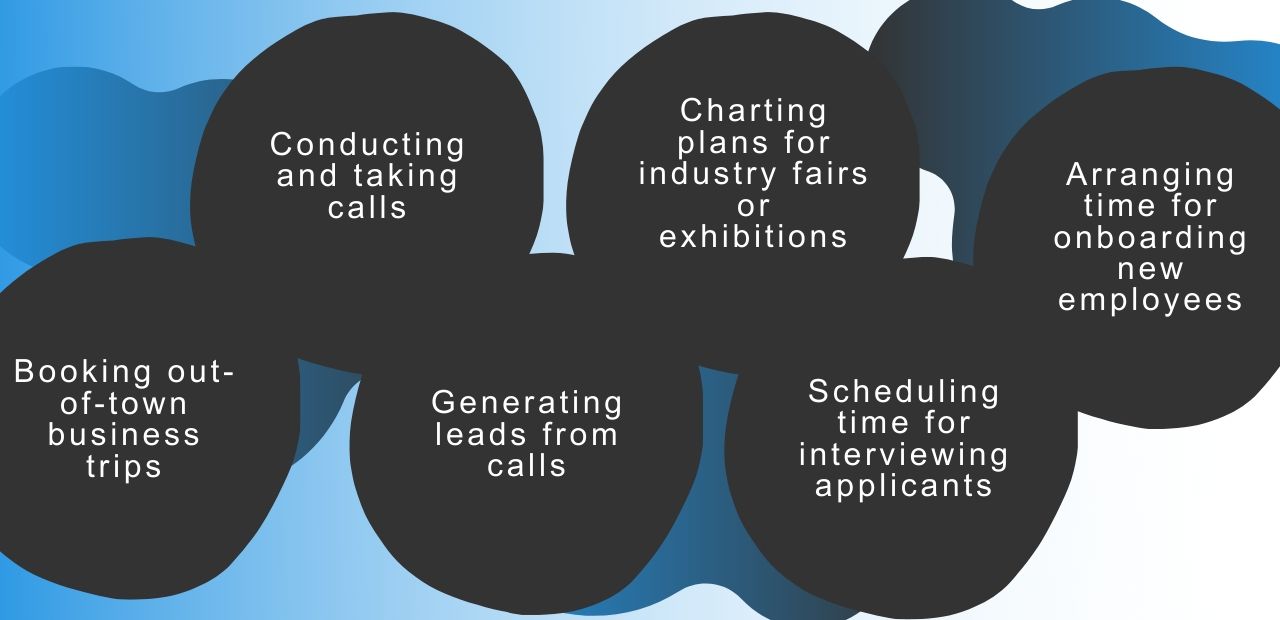 Booking out-of-town business trips. Going on out-of-town business trips is a pain when you must arrange for travel and accommodation on top of preparing for the business aspect of the trip. A VA can take care of the travel logistics so you can focus on your executive duties.
Conducting and taking calls. Conducting and taking calls sounds easy, but imagine doing it several times a day every day. Don't let it take a bigger chunk of your time than it has to — outsource this task to your VA.
Generating leads from calls. Optimize calls to clients and turn prospects into customers. Your VA can set up callbacks or meetings so you can turn proposals into lucrative deals.
Charting plans for industry fairs or exhibitions. Joining industry fairs or exhibitions is a great way to get exposure for your company. It's also a learning opportunity you can't afford to miss out. Your VA can chart your calendar and make all arrangements required to join.
Scheduling time for interviewing applicants. Get to know candidates to gauge their competence and compatibility to your team. A scheduling assistant can clear your schedule for interviewing applicants to ensure smooth recruitment.
Arranging time for onboarding new employees. Welcome new team members and make sure they know everything they need to get started. Your scheduling VA can help you allocate time for onboarding new employees.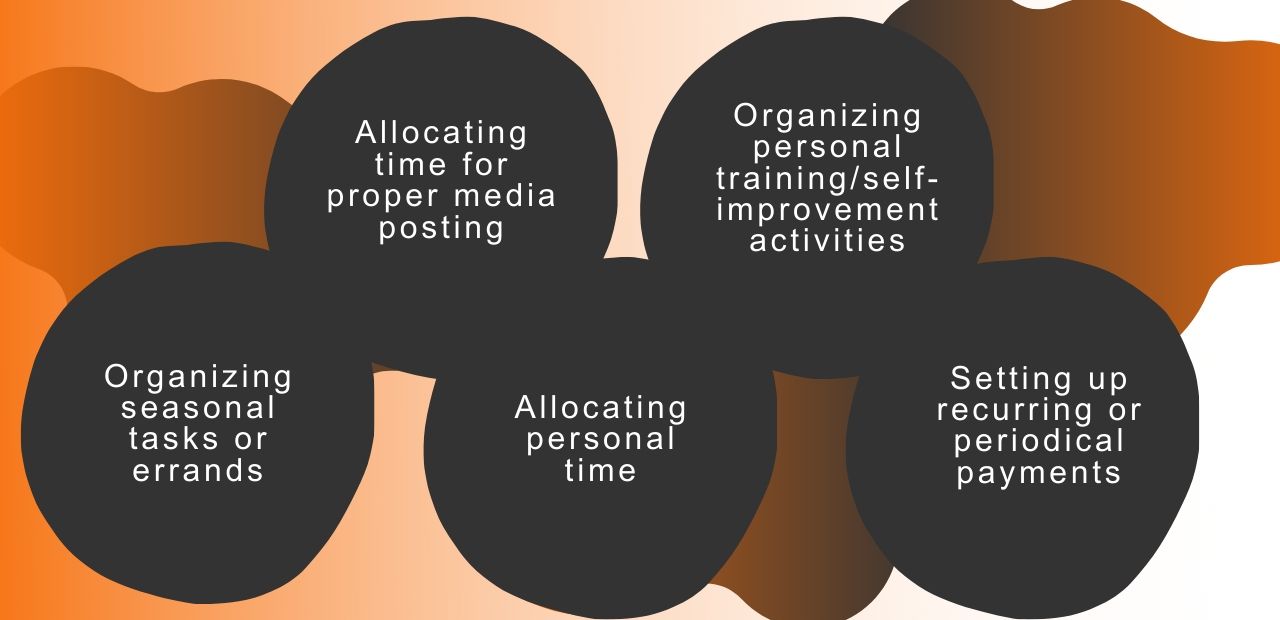 Organizing seasonal tasks or errands. Seasonal sales and business events demand special tasks and errands. To make sure they don't mess up your schedule, your VA can sort them into your calendar.
Allocating time for proper media posting. The timing makes a huge difference in media posting — whether it's on social platforms, email, or blogs. Have your VA research and schedule media postings to optimize communications. Here's the best time to post on social media to give them an idea.
Allocating personal time. Getting a personal time may be hard to come by when you're running a business. You need to deliberately make time for proper rest and disconnect from work. Your scheduling VA can help you organize your calendar so get work done on schedule and get proper rest and relaxation.
Organizing personal training/self-improvement activities. Self-paced training is great for boosting motivation and keeping you inspired. Self-improvement activities can come in the form of webinars, podcasts, or books. Whichever you prefer, your VA can organize these activities and source out the proper tools for you. Here are 25 books for entrepreneurs to kick you off.
Setting up recurring or periodical payments. Running a business entails arranging recurring payments, from taxes to monthly overheads. Stay on top of things and get your accounts in order by having your scheduling VA set up recurring payments. Your VA can also stop scheduled payments if you change suppliers or review subscriptions according to performance.
Taking care of your business doesn't have to conflict with personal time. Hire a virtual scheduling assistant to better manage your time and find a balance between life and work.