15 Free Keyword Research Tools for SEO 2020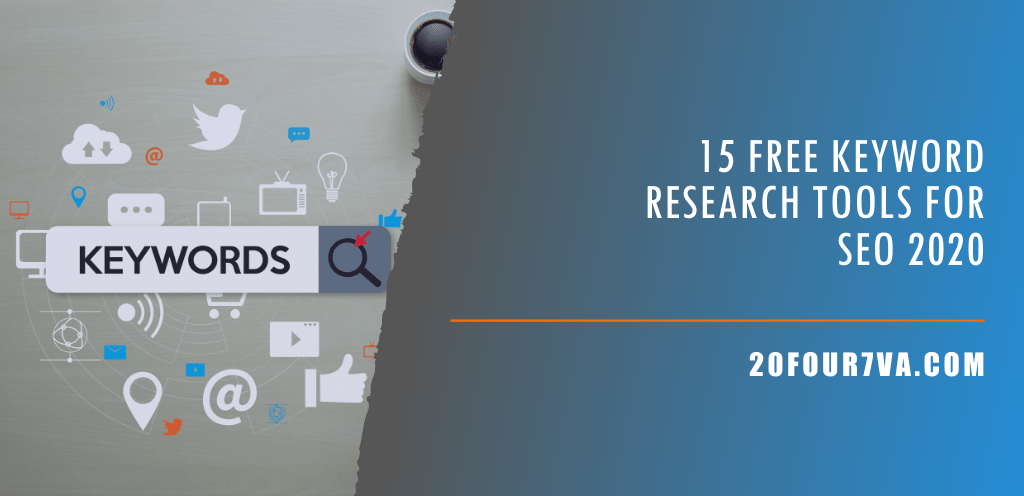 The right keywords are the key to knowing what people need and letting them know what you have to offer. Even as Google enhanced its search intent analysis, keywords still fill the gaps between search queries and answers. For small business owners, the best free keyword research tool is a great asset for beating competitors.
The following facts and figures illustrate just how big of a difference keywords make in business and marketing:
Just like any business instrument, you need to find and make use of the most effective free keyword research tool available. Doing so can make a huge difference in both your online and offline marketing campaigns.
Keyword Research Tool: Free Options for Entrepreneurs and Advertisers
Give your search engine optimization efforts and content marketing a face lift. Here are 15 of the best keyword research tool 2020:
100% free, Keyword Surfer is a Chrome extension that every entrepreneur should have. This keyword search tool works by hijacking your selected words and phrases and displaying their respective statistics in the search bar. It reveals search volumes, related terms, and different keyword suggestions without the user having to sign up to a website or buy an app.

A component of Google Adwords, Google Keyword Planner is a tried and tested tool that still works today. In fact, the keyword tool is especially designed by Google to help users build organic website traffic using the most current key phrases. With data directly coming from Google, Keyword Planner users can find the most relevant topics pertaining to their business and industry.

Another brainchild of Google, this research tool will bring you the latest stories and insights all over the world. Google Trends is best for current events bloggers, advertisers, and content creators. With its comparative keyword tool, Google Trends users can assess topic relevance over time.

Many people type questions in search engines and expect a direct answer. QuestionDB is a great tool for finding out what your target readers and customers are asking, so you can deliver the most appropriate response. Basing its data on over 48 million questions asked over Reddit, QuestionDB can pull relevant results even with generic keywords.

Another question based research tool, Answer The Public lets business owners do exactly what its name says. Users can enter search terms and tweak results based on country and language. Answer The Public displays raw search insights tapped directly from real internet users. This tool will help you deliver the most helpful information and craft content based on the hottest topics in any industry.

Fine-tune your SEO efforts so that you get and keep a high Google ranking. You can do this by using Rank Tracker to find the highest-ranking keywords of a competitor and comparing them to yours. This way, you can fill the gaps in your site and create content that can boost your website ranking.

It's not enough to know the key terms and phrases your target readers use. You must also know how and what they used these words for. Also Asked is a free online keyword research tool that reveals how keywords are used in search queries. By topically grouping questions, Also Asked gives writers, marketers, and business owners an insight on what their target audience wants to know.

Keyword Sheeter is a straightforward and easy-to-use research tool ideal for content curation. Pulling data from Google's autocomplete suggestions, Keyword Sheeter can pull a thousand topics per minute. It features a negative filter which excludes words from search results.

Soovle organizes trending keywords from Google, Bing, YouTube, Amazon and other key sources in alphabetical order. Users can easily switch search sources to zero in on the most relevant keywords in a specific platform. Soovle features a Save function so users can store research results for later use.

What's My SERP is a research tool that you can start using in 3 quick steps:
Add it as a browser extension
Search for a keyword
Get recommended keywords and related terms that people also searched for.
What's My SERP users can find search volume, cost-per-click, and related search words without even leaving Google search results.

97% of consumers discover a local business online. Bulk Keyword Generator is a keyword tool designed to help users zero in on the most relevant keywords that potential customers are using. By selecting one's business type and city, users can craft the most targeted content to be the local authority of their line of business. Here are 3 more tips for local SEO success.

Half of the internet searches consist of queries with 4 words or more. InstaKeywords is designed to generate long-tail keywords in an instant. By using long-tail keywords, users can create highly-targeted content to capture the right audience. InstaKeywords reveals both global and local search volume, related terms, and a number of searches in a month.

KeySearch claims to be a powerhouse of SEO tools. Among its many features are a comprehensive keyword research tool, keyword difficulty checker, rank tracking, and SEO competition analysis. Through KeySearch, users can fetch relevant search terms with low competition.

Ecommerce owners and home business owners will find valuable input through Keyword Tool Dominator. This research platform pulls data from Amazon, eBay, Walmart, and Etsy in addition to Google. Keyword Tool Dominator unifies search insights in one platform so users can access hundreds of real-time queries and related topics in no time.

Build your keyword list for any PPC campaign or Google AdWords with KeywordIn. This research tool gives users keyword insights through the exact match, broad match, and phrase match results. KeywordIn determines multiple keyword combinations with a single step.

Craft the most helpful and relevant content and take your SEO game to the next level. Use these 15 keyword research tool free for business owners and marketers in any industry. Even better, hire an SEO specialist VA (virtual assistant) to optimize your keyword list.
Recommended Reading: 20 Free Ecommerce Platforms for Entrepreneurs