50 Tasks You Can Outsource to a Real Estate Agent Assistant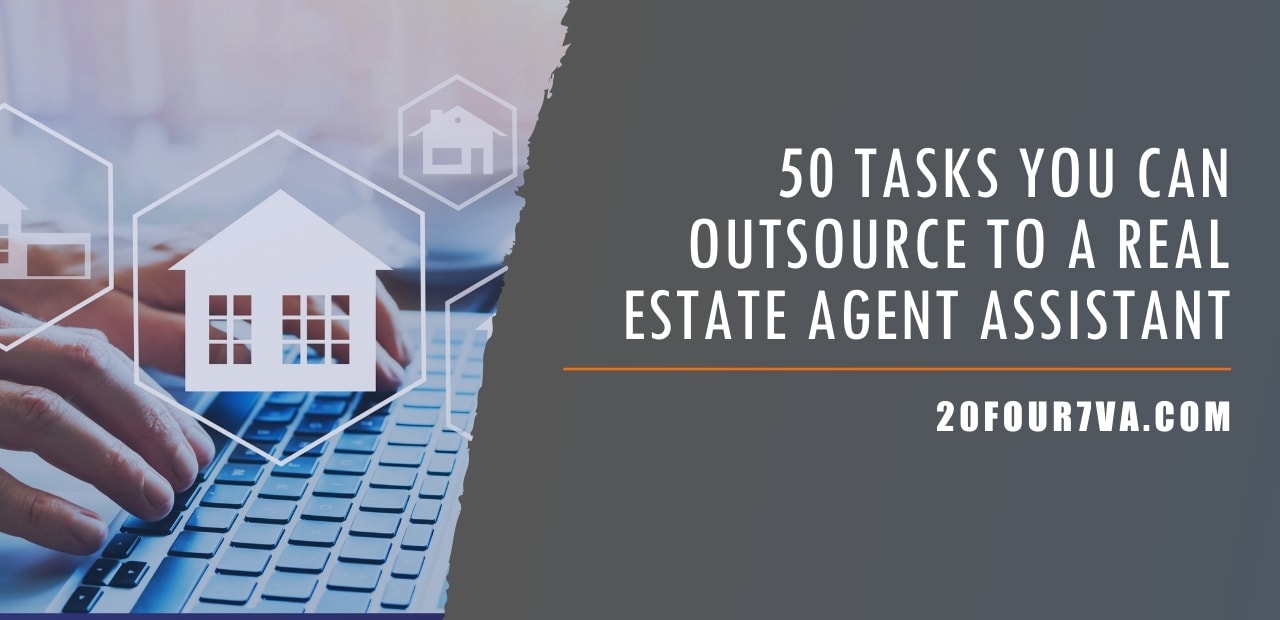 Any type of business changes with the way people live, and real estate is no different. A few decades ago, the Fair Lending and Affordable Lending policy made way for more people to buy houses. While this has an obvious advantage on paper, the policy was one of the factors that led to the American housing bubble of the 2000s. Today, as the pandemic hit health and business sectors, real estate is seeing another trend among home buyers. The US housing market is once again subsidizing, as people are scrambling to escape cities to sit out the pandemic in the suburbs.* The ebbs and flows of the market can be overwhelming for realtors, brokers, and real estate agents. If you're in the housing industry, you have a better chance to soldier on and use this fluctuation to your advantage with a real estate agent assistant.
What is a Real Estate Agent Assistant?
As its name implies, a real estate agent assistant is a person that supports a real estate agent or broker. A personal assistant for a real estate agent can also work with multiple clients or agents at the same time. They often assist in administrative tasks, although duties can extend to transaction coordination, marketing, and listing management through proper training and experience.
Why You Should Consider a Virtual Real Estate Agent Assistant
Working with someone in office is the first and apparent way to work with a real estate agent assistant. However, this may not always be the most practical solution. For one thing, home buyers' behavior has shifted in the digital age, and people are more inclined to do their research and buying journey online. So, real estate agents or firms that shift to online processes can save a lot on overheads and even improve their leads.
Just have a look at this data collected from a study on home buyers:
99% of millennial consumers look into real estate websites when searching for houses to buy.

76% of buyers found their homes/properties through their mobile phones.

48% of home buyers born between 1955-1964 search for on sale properties online.

17% of all buyers found a real estate agent through a mobile device.

11% of prospects admit they researched about the home buying process online.
What's more, these unprecedented times demand businesses to venture out of traditional solutions. More companies are shifting to online operations to cope with COVID-19, with real estate following suit. Should you work with an in-house assistant, you might find yourself unnecessarily spending for overheads or paying for full hours even with less workload. Regardless if you completely shift to virtual operations or not, working with a real estate agent virtual assistant is the more feasible way to find support.
50 Real Estate Agent Assistant Duties
Real estate agents or firms hire an assistant to help them with the different aspects of business, from administrative responsibilities to more industry-focused tasks such as bookkeeping and asset management. Thanks to the many platforms and tools that support online operations, you can delegate many of these responsibilities to a remote assistant.
Here are 50 tasks you can outsource to a real estate VA categorized according to listing, marketing, transaction, bookkeeping, and property preservation duties:

Listing Tasks
A real estate agent can keep an eye on the most promising properties on the market, while ensuring all existing information is up to date. Here are a few listing tasks your VA can take care for you:
Search local or regional Multiple Listing Services (MLS) for houses or properties that have received a listing agreement.

Organize listings according to price or upside potential.

Determine the type of property ownership and deed classification.

Upload relevant documentation including bank addendums and photos.

Source for key box and sign installation suppliers.

Order key box and sign installation and coordinate with suppliers.

Key in new listing data to different real estate software or online platforms, such as Top Producer, Wise Agent, REO Maestro, eBrokerHouse.

Update listing information whenever necessary.

Research and provide real estate agents with any property information that can affect a sale.

Research about establishments close to potential property.

Marketing Tasks
Remember that home buyers today prefer to scour the internet for properties, rather than do their research in person. Marketing plays a crucial part in being found by clients. A real estate VA can boost your marketing reach by doing these tasks:
Compose (or assist in writing) offers.

Create content for your website, emails, and social networks.

Create graphics for digital properties and materials sent to prospects.

Provide reference material for key box installation, signage suppliers, or any print media.

Create or monitor digital campaigns.

Create and monitor listings in local newspapers.

Collect or record buyer and agent feedback to seller and vice versa.

Schedule open houses or tours.

Book checks for vacant properties to keep them in good standing.

Research and create monthly market analysis reports for value pricing.

Transaction Tasks
Manage client reservations or the nitty-gritty task of getting a property foreclosed or sold. Here are some ways a VA can assist in real estate transactions:
Maintain client relations by addressing hesitations, questions, or concerns throughout the process.

Create and manage files of real estate owned properties.

Setup up and maintain escrow accounts.

Schedule inspections and repairs.

Manage calendar and set up appointments for real estate agents, lenders, homebuyers, and sellers.

Organize timelines and ensure schedules are met by coordinating with all parties involved.

Keep an eye on the contingency period.

Ensure that all requirements are submitted and important documentations are saved or distributed to the proper recipients.

Assist in the closing process.

After a deal is closed, schedule check-ins or follow-ups with clients or ask for referrals.

Accounting/Bookkeeping Tasks
Having a real estate agent personal assistant who has training and experience in bookkeeping can be a huge asset in business. Here are the many ways they can help to keep your books balanced:
Post invoices and bills in Quickbooks or your preferred bookkeeping software.

Ensure that bills are paid on time through manual or scheduled payment.

Make sure reimbursements are complete and accurate.

Hand in reimbursements and all relevant documents to the appropriate banks or portals.

Print checks and ensure the figures match the invoices.

Prepare invoices or checks before handing them over to banks or appropriate parties.

Make sure data in bookkeeping software is up to date.

Balance books on a regular basis.

Create reports and update real estate agent clients about all expenses and assets.

Find ways to curb expenses or keep funds in check.

Property Preservation Tasks
Many real estate agent assistants have relevant training and experience in the industry. Some can even help you in property preservation. These are just some of the duties an experienced real estate VA can assume on your behalf:
Organize relevant data from internal sources such as seller websites or communications, and generate reports from collected data.

Review, order, and monitor preservation orders for properties.

Keep an eye on property inspection to ensure timelines are met.

Rush emergency work or preservation if the situation calls for it.

Introduce all parties involved in preservation work to help everyone collaborate.

Make sure that appropriate parties are informed regarding vacant properties or maintenance concerns.

Coordinate with inspectors or contractors, so they have access to perform their jobs.

Research about city code violations or requirements and ensure all concerned groups are appropriately advised.

Work with local or state departments to ensure all guidelines and regulations for property preservation are followed.

Learn more about vacant land or property issues and notify appropriate parties accordingly.
How 20four7VA Can Help
Remember that prospects are now looking through online resources for available properties and the real estate agents to help them. You need experts to help you build your online presence, while ensuring that administrative tasks are taken care of.
Whether you need your VA to take care of administrative duties or focus on the marketing side of business, you'll find a suitable real estate assistant from 20four7VA. As a virtual staffing specialist, 20four7VA already prescreens and trains VAs before linking them with clients. This way, training assistants in industry-relevant duties is easier and faster. This is one of the many benefits of working with a staffing firm as opposed to directly hiring a VA from job sites.
As your business expands and responsibilities pile up, you might need to work with more than one person to meet deadlines, manage workload, and take care of clients. With 20four7VA, you can build your own team according to the growing needs and demands of your business with less of the groundwork that traditional employment demands.
A real estate agent personal assistant wears many hats. As the real estate business reshapes with the pandemic and its economic repercussions, you need a steady hand to help you manage fluctuations in the industry. Work with a real estate assistant who can help you with the multiple aspects and shifting demands of your business.
*(Source)