26 Reasons Executives Need a Virtual Office Assistant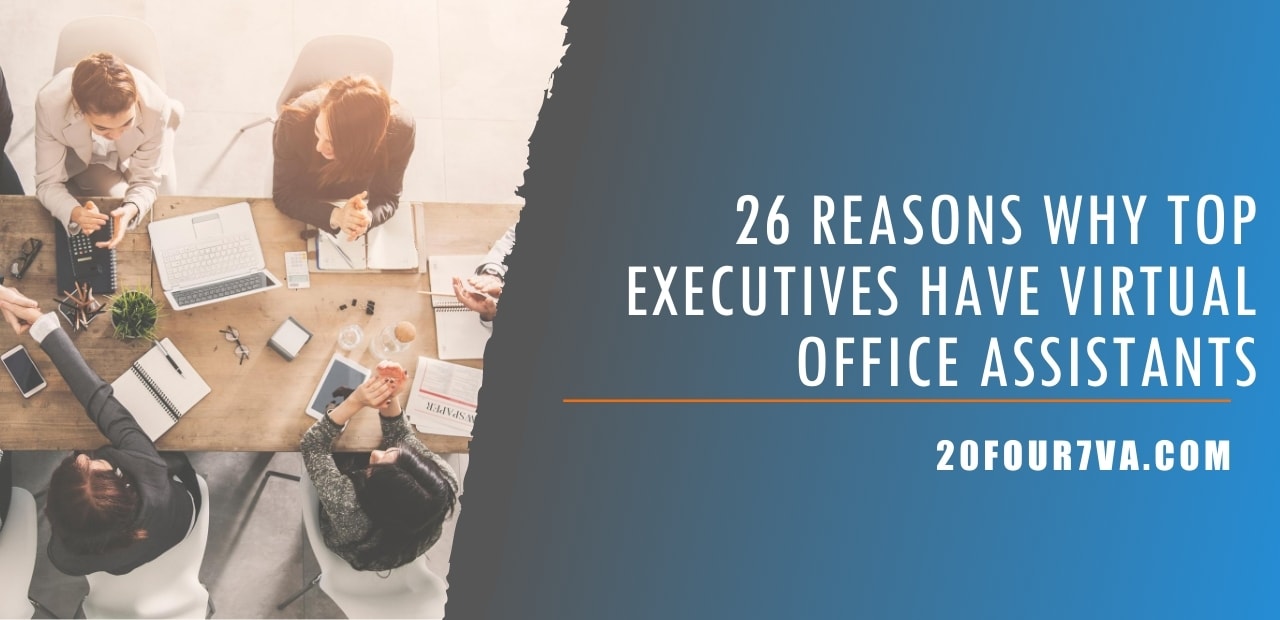 The desire to lead and handle even the nominal aspects of one's business is natural among entrepreneurs and business managers. While this is normal — even necessary — at the start of business, managing everything by yourself is not the way to handle and grow a business. In fact, doing so can be detrimental to your health and your company's well being in the long run. The ability to delegate is another mark of good leadership that you need to recognize. As it happens, delegation is a skill that many effective leaders share. When it comes to turning over business responsibilities, hiring someone to fill a virtual office assistant role is increasingly becoming the top choice.

What is a Virtual Office Assistant?
A virtual office assistant is an independent contractor or freelancer that provides business support remotely. As there are many aspects of business, there are also many types of virtual assistants (VAs).
Different business owners hire virtual assistants for different reasons. If you're struggling with time, making both ends meet, or the daily grind that is running a business, it's high time to hire a VA. However, you don't always have to wait for the last minute until you hire a VA. Even from the get-go, hiring a VA can be an excellent idea and a worthwhile investment that you can do for business.

26 Reasons To Hire a Remote Office Assistant
There is a myriad of reasons why business executives hire a virtual office assistant. There are full-scale and indirect benefits, and there are more distinct and business-specific reasons.
The more your company expands, the more you'll find ways to benefit from this virtual work setup.
To start, have a look at these 26 reasons why executives hire a virtual office assistant:

Full-Scale/Indirect Business Benefits
1. Future-proof your business
Virtual assistants have long been dubbed as the future of the workforce, but the pandemic has highlighted this fact all the more. As more businesses shift to online operations, the need for virtual office assistant services also increases. Working with a VA is ensuring your operations continue despite lockdowns and economic threats. Working with a VA is investing in the future of the workforce.
2. Reduce business costs
Major business expenses like rent, utilities, and office supplies can all be eliminated when you work with VAs. Should you partner with a staffing agency such as 20four7VA, you can also stop worrying about payroll, training, and other employee-related costs like bonuses and insurance. All these are being taken care of by the staffing firm.
3. Scale your business quickly
Need to hire an extra pair of hands for seasonal sales? Hire a VA to help with the extra work. Hit a sales slump and need to regroup? Reduce work hours until you can recover. Whether you need to scale up or down, virtual assistance is a work setup that can adapt with your needs. You'd be hard-pressed to find this flexibility in traditional employment.
4. Expand your talent pool
Hire people based on talent and qualifications, rather than logistics convenience. Virtual assistance makes it possible for businesses to work with skilled people regardless of their location.
5. Increase productivity
People are more inspired and well-positioned to exceed in what they do when they work from home and around their schedule. What's more, many VAs prefer a long-term working arrangement, so you can expect less employee turnover.
6. Improve strategy and analytics
VAs understand the demand of remote work. To be more hirable and qualified, they invest in their craft through continued learning. VAs are well-equipped to provide strategy and analytical input in business.


Relief from Administrative Tasks
1. Data entry
Encoding important information to your database can be tenuous, but it's an inevitable part of business. A VA will relieve you of this responsibility, so you can focus on your executive duties.
2. Calendar management
Executives regularly meet with suppliers, partners, investors, or clients whether virtually or in person. Add this on top of your daily responsibilities and you can easily get distracted or overwhelmed. Working with a VA will ensure your day, week, or month is organized, so you are more productive.
3. Business correspondence
Thanks to technology, businesses can now enjoy multiple communication channels. On the other side of this coin is the responsibility to initiate or answer different forms of communication. Delegate this task to your VA to ensure no important call or message is missed.
4. File management
Both virtual and brick-and-mortar businesses handle a substantial amount of files. From employee and client information, to operational and transactional files, business data must be handled with care and strategy. A VA can store, manage, and backup all business data, so you can access it anytime.
5. Personal errands
The benefits of virtual assistance extend even to solopreneurs. A VA can take care of personal errands, so you can focus on business responsibilities. This can include making travel arrangements or paying bills.

Creative and Marketing Advantage
1. Create a buyer persona
Buyer personas are semi-fictional characters that embody your target and ideal customer. Having one will help you fine-tune your marketing campaigns. Your VA can research about your company's buyer persona, so you can tailor your marketing efforts and improve your products accordingly.
2. Social media management
There are multiple social networks, and having a virtual office assistant to handle and monitor your accounts is a must. A VA can help you from account setup to daily management and strategic use of social media for business. Here's a big list of tasks you can outsource to a social media VA.
3. Email marketing
Despite the massive influence of social media, it's been proven that email is still an effective form of digital marketing. To ensure this aspect or marketing doesn't go amiss, hire a VA to write, design, and monitor email campaigns. VAs can also set up automated emails from welcome emails to abandoned cart follow-throughs. New to email marketing? Check out these 6 email marketing tips for beginners.
4. Content creation
From blog posts and website content to product descriptions and marketing materials, content is indispensable in business. In fact, content plays a major role in turning passive website visitors to regular customers. A task as important as this must be delegated to an expert. Luckily, many expert and experienced copywriters and content strategists work virtually.
5. Website and eCommerce store management
A website or blog is a must for running a business today. A business website will put you on the map and bring customers to your doorstep. It is a way of meeting partners and brand ambassadors. It gives you a chance to show and sell your products without leaving the comforts of home. A website is both a storefront and marketing catalogue, and must therefore be setup, managed, and monitored by experts. There are many VAs who specialize in this field.
6. Paid ads management
Which paid ads are more suitable for your business and how do you design them? How do you know these paid campaigns are worth it? Have a VA research, setup, and review paid ads, so you can channel your funds in the right platforms.
7. Handle other marketing outlets
Take advantage of other media outlets like radio outlets and podcasts. This is how you expand your brand influence and win over more customers. For instance, podcasting is a platform with a rich marketing potential that not many businesses have taken advantage yet. You can hire a podcasting VA to help you maximize this for business. Check out how a podcasting VA can boost your content.


Focused Customer Relations
1. Order process
Monitoring and processing orders and inventory is a daily operational task that executives must delegate. Make sure orders are processed promptly and correctly and inventories are updated accordingly with the help of a VA.
2. Customer service
Take care of customer inquiries and concerns without letting this task run your day. Customer service is another task executives should delegate to a VA.
3. Moderate reviews and ratings
Have a VA solicit for customer ratings and respond to product reviews. Consumers are bound to make quicker purchase decisions through service ratings and reviews.
4. Reputation management
Deescalate complaints and verify negative feedback with the help of a VA. Reputation management is yet another way of creating and maintaining a strong online presence.
5. Social eavesdropping
What are customers and social media followers saying about your posts and services? Their input can help you improve your services and processes. Your VA can also research for the trends in your industry and how similar brands are reaching your target audience.
6. Complaints and refunds management
Complaints and refund requests can be inevitable. Apart from handling complaints and refunds, your VA can verify the reasons behind these requests and feedback to better your service.
7. Virtual events
Organizing virtual events can stir and keep brand interest, especially when people are now cooped up at home. A VA can research, organize, and run virtual events to keep your customers and prospects interested.
8. User-generated content
Word-of-mouth endorsements have gone virtual but remain as powerful as ever. A VA can encourage people to post about your products or service and incentivize user-generated content.

Where To Hire a VA
Staffing firms like 20four7VA and websites like Upwork are the go-to sources for hiring a virtual office assistant.
As a virtual staffing expert, 20four7VA can hook you up with different types of VAs and help you build a remote team. Whether you need someone to relieve you from administrative tasks or a specialist VA to handle the creative side of business, you can find the suitable office assistant from 20four7VA.