How an Inside Sales Virtual Assistant Can Boost Your Real Estate Business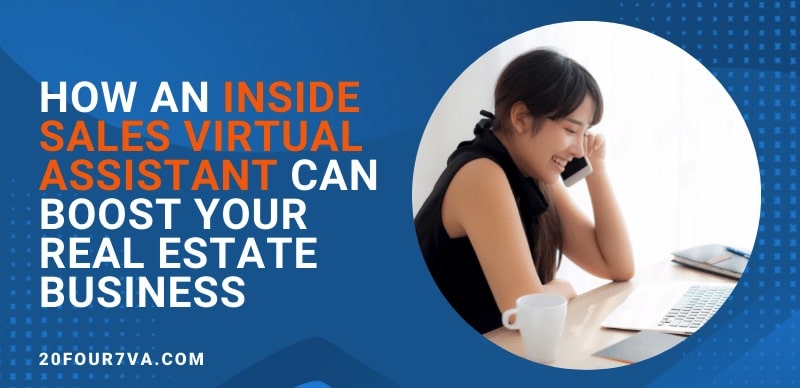 Much like other industries, the real estate sector has had its share of ups and downs in recent years. However, there is a promise of better days for real estate agents who know how to turn challenges into business opportunities. Real estate businesses that are agile enough to adjust to changes are the ones that tend to achieve success in the field. And whether you choose to completely revamp your real estate sales strategy or enter new markets, hiring an inside sales virtual assistant (VA) can give your real estate business the boost it needs to succeed.
A virtual inside sales agent can be your team's missing piece to increase sales productivity and meet quarterly or yearly sales goals. But before we move along, let's discuss: what exactly does an inside sales agent do?
WHAT DOES AN INSIDE SALES AGENT DO?
An inside sales agent is a real estate professional who uses their skills and knowledge to connect with potential clients and customers virtually. Unlike outside sales personnel, inside sales agents do not need to travel to perform their job. They help real estate businesses reach out to qualified leads or prospective clients through outbound calls, email, and even social media.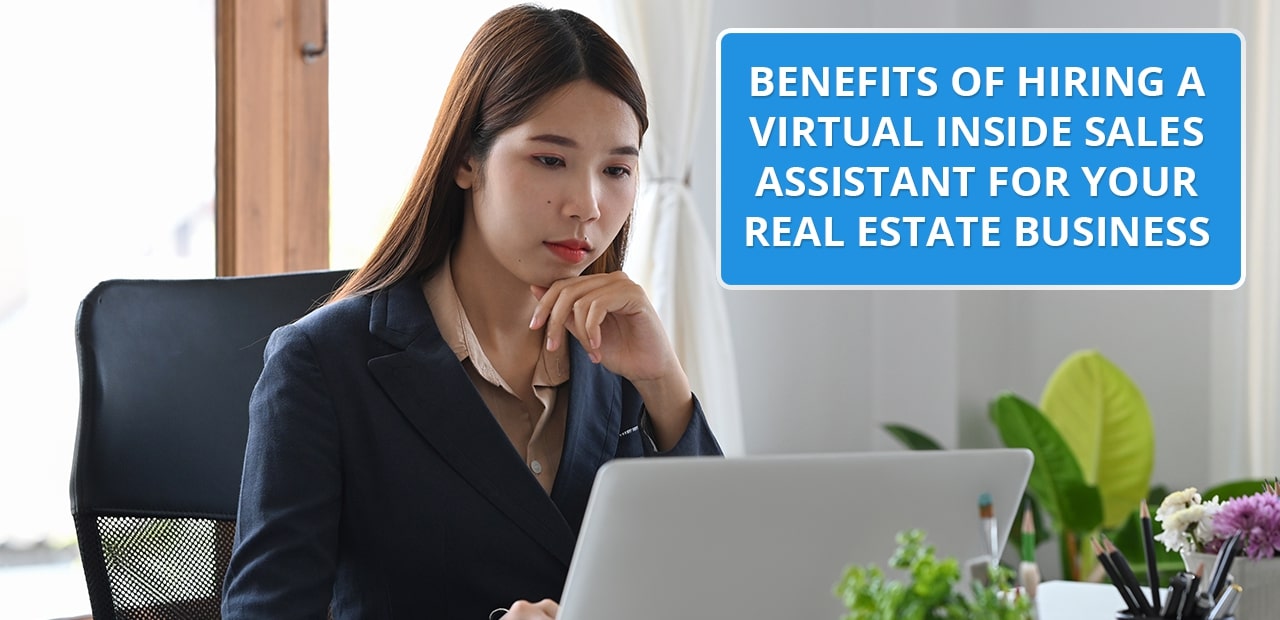 BENEFITS OF HIRING A VIRTUAL INSIDE SALES ASSISTANT
A virtual inside sales assistant can be the key to increasing your team's productivity. Your virtual inside sales agent can help you with routine tasks that will produce better leads, whether making cold calls or keeping track of qualified leads through targeted follow-up calls or emails.
COST-EFFICIENT STAFFING SOLUTION
Hiring an in-office employee may seem like the more obvious choice, but it is also the more costly one. Hiring an in-office inside sales agent means higher labor costs and additional overhead costs. Whereas a virtual assistant for inside sales can do all the tasks an in-office inside sales agent can do but without the bloated costs. Choosing virtual assistant services means you can have access to a global pool of talented inside sales agents plus save on costs.
MORE STREAMLINED SALES PROCESS
An inside sales agent virtual assistant can help you streamline your process. Instead of using your valuable time pursuing every lead, your virtual assistant can perform lead screening and categorize them into the following: cold, warm, and hot leads. Doing so can help you manage your sales pipeline and prioritize the hot and warm leads. While you pursue the priority leads, your virtual assistant can work on cold calling and follow-ups to your cold leads, move them along the sales funnel, or turn them into warm leads.
A virtual inside sales agent can help you save your valuable time. Imagine the number of tasks you can take off your plate and the time you can get back to work on your core and executive functions. Instead of going through your list of leads one by one to do the cold and warm calling yourself, you can delegate that task to a virtual inside sales agent so you can use your time to pursue business opportunities or finally go and have that business strategy session to fortify your sales strategy.
Your virtual assistant can handle the time-consuming but important tasks while you and your real estate agents have more time to focus on doing what you do best: help clients buy, sell, or rent properties.
Do you want to know more about how virtual staffing can help your real estate company? Click here.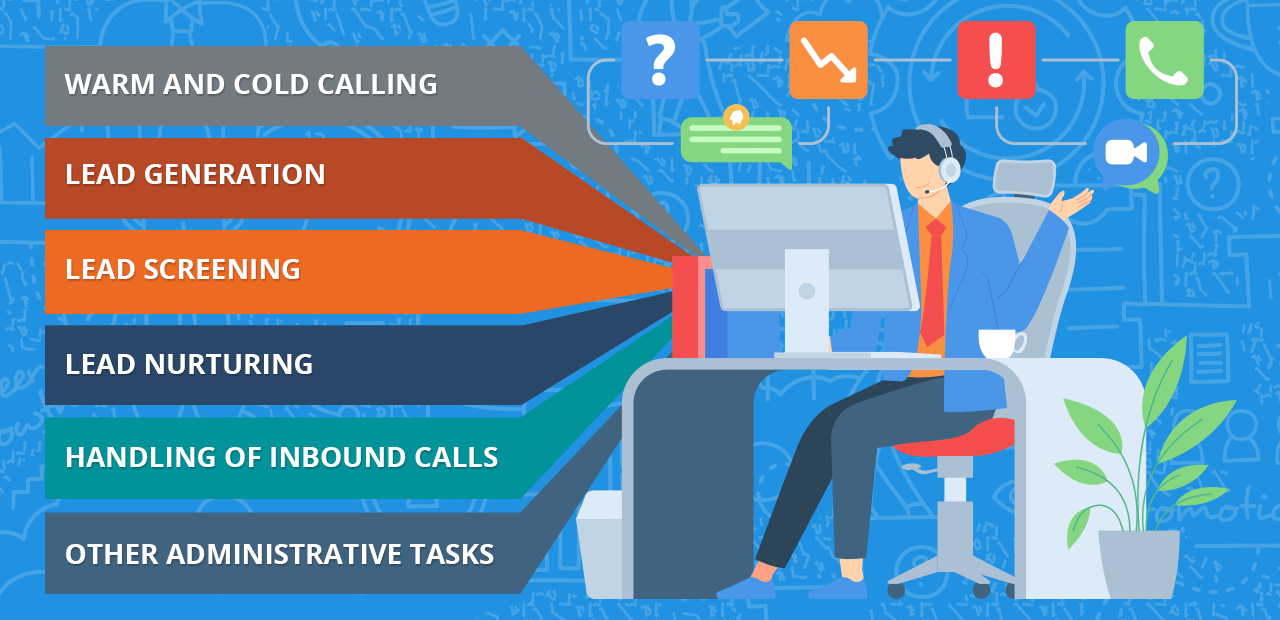 WHAT TASKS CAN INSIDE SALES VIRTUAL ASSISTANTS DO?
Warm calling is the process of reaching out to a lead that has been contacted before or someone who already knows about your product. On the other hand, a cold call is when you reach out to a lead that has not been contacted before and has not shown interest in your services. Both warm and cold calls are essential parts of a real estate company's strategy but can be time-consuming, so it's best to delegate the tasks of making phone calls to virtual inside sales agents instead.
Sales leads can come from different sources, from organic referrals from past clients to online efforts and even purchased leads. Virtual inside sales agents can effectively generate leads that you or your sales team can eventually convert into actual sales.
Your virtual inside sales agent can work on various lead generation efforts such as:
Researching and identifying potential leads using different tools such as LinkedIn Sales Navigator, ZoomInfo, and many more.
Getting leads through inbound and outbound phone calls
Creating a database of potential leads by organizing their contact information and other relevant details.

LEAD SCREENING
A virtual assistant's prospecting role doesn't have to stop at lead generation or making calls. They can help you pre-qualify leads using a qualification checklist and categorize them so you and your sales agents can track qualified leads and pursue opportunities with the highest possibility of a sale. This can be part of their daily routine whenever new leads come in, so you can be sure that your database of prospects is continuously updated.
Lead nurturing can help move them to the next buyer stage depending on where qualified prospects are in the sales funnel. Virtual inside sales agents can work on lead nurturing tasks such as making targeted follow-up calls to potential clients still in the interest phase to move them to the next step, the consideration phase. Making a client follow-up or engaging through email can keep your leads warm and maybe even finally schedule a meeting with your prospective client to close a deal.
Virtual assistants for inside sales can handle phone prospecting tasks and handle inbound phone calls that can turn into quality leads, which means more business for your real estate company. Having inside sales agents who can also take inbound calls and client inquiries means improved customer service satisfaction.
OTHER VIRTUAL ASSISTANT ADMINISTRATIVE TASKS
Virtual inside sales agents can also assist with administrative remote assistant tasks like data entry, calendar management, market research, and many more, depending on your business strategy, sales-related workload, or team makeup.
Want to know more about Administrative Virtual Assistants? Click here or book your free consultation with our Business Growth Experts today!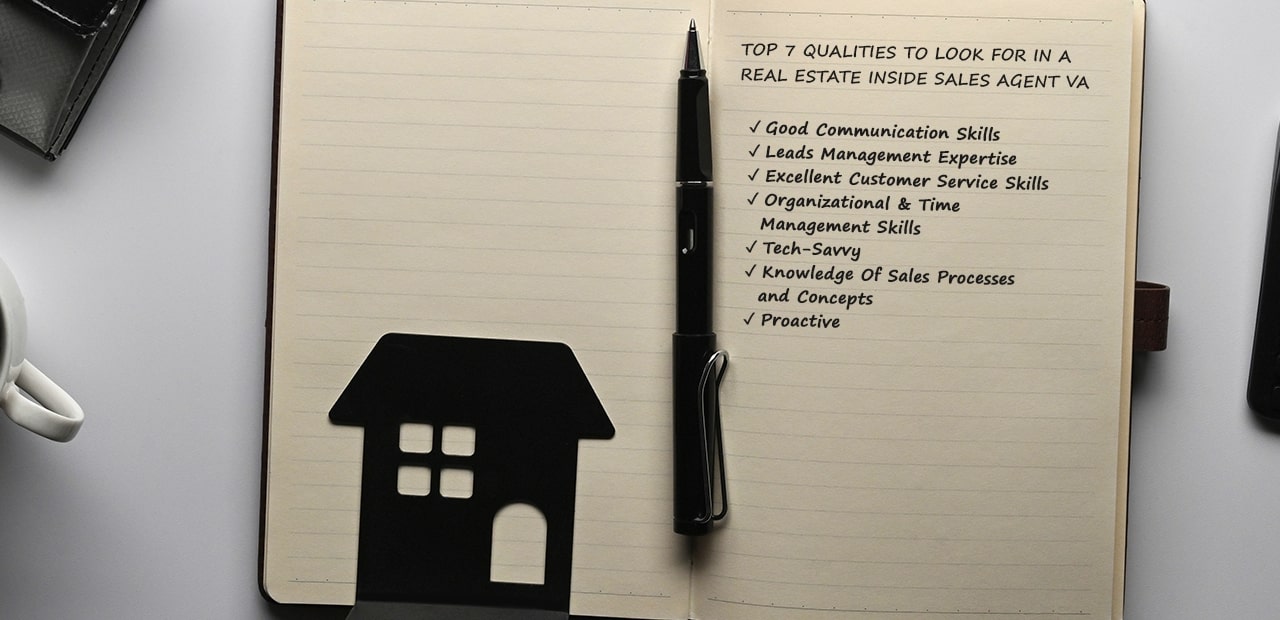 TOP 7 QUALITIES TO LOOK FOR IN A REAL ESTATE INSIDE SALES AGENT VA
GOOD INTERNAL AND EXTERNAL COMMUNICATION SKILLS

A good chunk of inside sales agents' work hours will be spent on handling inbound and outbound calls. On top of that, they'll also be working on email follow-ups and reaching out to clients while coordinating with their teammates for various tasks. Your virtual assistant should have good written and verbal communication skills to perform well in this role.

LEADS MANAGEMENT EXPERTISE

Virtual assistants can help you generate more leads and turn these leads into more sales for your company. Lead management is not limited to just generating outbound and inbound leads but also involves the following:

Screening or pre-qualifying using various methods like BANT (Budget, Authority, Need, and Time)
Leads categorization or segmentation
Lead nurturing through follow-up calls, personalized email marketing, and even outreach on relevant social media
Monitoring of leads from the start until the end of the sales cycle
Properly managing leads can take a lot of effort and time but is necessary to achieve higher sales conversion rates. You'll want to hire a virtual assistant that has experience in lead management so they can help you close more deals and grow your business.

EXCELLENT CUSTOMER SERVICE SKILLS

One of the main qualities of a successful business is how it can deliver excellent customer service. To help achieve this, your team, including virtual assistants, should have a customer-centric mindset. Your virtual assistant should be able to handle customer inquiries professionally and deliver quality service that will help close more deals.

GOOD ORGANIZATIONAL AND TIME MANAGEMENT SKILLS

In order to easily categorize and track qualified leads inside sales, virtual assistants must be organized with both their tasks list and lead database. They should also be able to manage their time to complete their daily assigned tasks efficiently.

TECH-SAVVY

A good grasp of technology and basic computer programs is essential for any virtual assistant, regardless of their specialization. But if possible, your virtual inside sales assistant should be comfortable and familiar with the sales tech stack that your company is using. From a CRM tool to a VoIP phone system, they should be able to use these tools effectively for their daily tasks such as cold calling, follow-up calls, email outreach, and more. If they don't have previous experience with the newer or more specialized systems, then they should be tech-savvy enough to grasp the concepts during their onboarding and training sessions.

KNOWLEDGE OF SALES PROCESSES AND CONCEPTS

Ideally, virtual inside sales agents should also have a general understanding of real estate sales strategies, concepts, and processes. This will help them be able to easily understand and keep up with what your business is all about. You may have different ways of working, but a good foundation or knowledge of real estate can help your selected virtual assistants to adapt to your processes.

PROACTIVE

When you need a virtual inside sales agent, hire one that is proactive. They'll be working without a lot of direct supervision, so they must be diligent with their tasks, may it be making client follow-up calls, cold calling leads, or researching to generate leads for your database. Virtual assistants must also be proactive in providing daily updates on their assigned tasks to ensure that the team is properly aligned.
While it may be difficult to find an inside sales VA that fits the bill perfectly, it is possible to look for one that possesses the basic skills and is coachable.
To know more about what skills to look for in a virtual inside sales agent, click here or schedule a free consultation with our Growth Experts today!
HOW TO HIRE THE RIGHT VIRTUAL ASSISTANT FOR INSIDE SALES
You can find your virtual inside sales assistant by completing the following steps:
Create a list of tasks that you will delegate to your virtual assistant.
This will help determine the next steps like the required skills, work hours, and staffing budget.
List down your required hard and soft skills.
This will largely depend on the tasks you plan to assign to your virtual inside sales assistant.
Set your staffing budget limit.
When filling a position, it's always best to set a cap that's in line with both your internal budget and the skillset of the virtual inside sales assistant you're trying to hire.
Craft a job ad with the job description, required qualifications and skills, work hours or schedule, and salary range.
Creating a comprehensive job ad will help weed out job seekers who do not fit the bill.
Post your job ad on career platforms so job seekers can apply.
There are various career platforms that mostly cater to remote workers. You must sign up as a prospective employer to post your job openings.
Do the initial screening of applications from virtual assistants across the different career platforms.
Depending on the volume of applications, this can take up a chunk of your time. You'll need to sort through their credentials and online professional profiles like LinkedIn to see if they'll be a good match for the role you're looking to fill.
Interview shortlisted candidates.
Your interview questions should help you gauge your VA's skills, personality, and work ethic. This is most likely the last step before making the final selection, so it's crucial to ask relevant questions that will help reveal their skill level and attitude. Make sure to ask questions that are not too simple or can be addressed with one-word answers.
Select a virtual assistant candidate and make a job offer.
Your job offer should include the agreed job description, pay rate, and aligned work hours. Remember to have backup virtual assistants in mind just in case there are any complications with your first choice.
Onboard and train your new virtual inside sales agent.
Once your selected virtual inside sales assistant accepts the job offer, it's time to introduce your new virtual inside sales agent not only to the team but to your company's processes and systems. They should also be given comprehensive training on the tools they will use for their tasks.
Want to learn more about recruitment and onboarding best practices? Click here for our Virtual Staffing 101 article on the best practices of hiring a virtual assistant.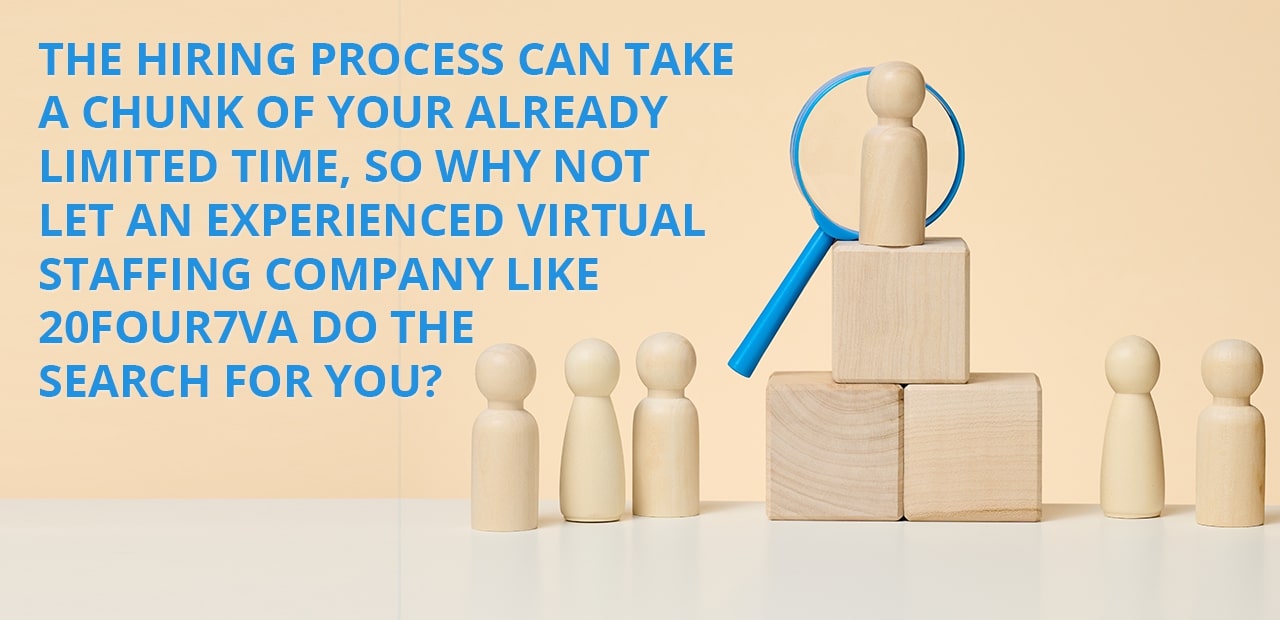 The hiring process can take a chunk of your already limited time, so why not let an experienced virtual staffing company like 20four7VA search for you? Instead of losing opportunities to sell or rent a property because you're tangled up with reviewing every application, you can count on us to do the work for you!
You simply need to fill out our consultation form, so we can set up a call to understand your requirements better.
While you wait, we'll search our database of virtual assistants to match you with the right remote talent.
We'll set up interviews and test tasks (if applicable) for shortlisted virtual assistants to help you find the virtual assistant you need.
Once you've decided, we will set up your subscription, and your chosen virtual assistant is ready to be onboarded and start working!
The 20four7VA Advantage
On top of the easy as 1-2-3 (and four) hiring process, 20four7VA also provides these services as part of all virtual assistant packages:
Time tracking: We offer our own time tracking tool to help you measure your virtual assistant's productivity. This tool can also provide daily or weekly reports for the computation of the virtual assistant's salary.
Payroll processing: With 20four7VA, you only need to worry about delegating tasks and managing your virtual assistant's output. We can take care of payroll processing on your behalf for a more hassle-free experience.
In-house training for virtual assistants: While we already have highly skilled virtual assistants in our talent pool, continuous improvement to keep up with the fast-paced market is important. Training to enhance current skills or upskill is needed to ensure the virtual assistants stay competitive and provide the best possible client services.
IT Helpdesk: Our IT Helpdesk provides technical support to ensure smooth business operations. Clients can contact the 20four7VA IT helpdesk for any hardware or software-related concerns.
Concierge-style customer support: Each 20four7VA client has a dedicated customer support expert that they can rely on for any staffing concerns.
20four7VA is dedicated to providing cost-efficient staffing solutions while providing virtual assistants worldwide with rewarding career opportunities. We have over 2,900 clients across 58 countries.
If you're ready to give your real estate business the boost it needs, click here to schedule a free, no-strings-attached consultation call with 20four7VA's Business Growth Experts.