How to Outsource Work to a Photoshop Expert for Hire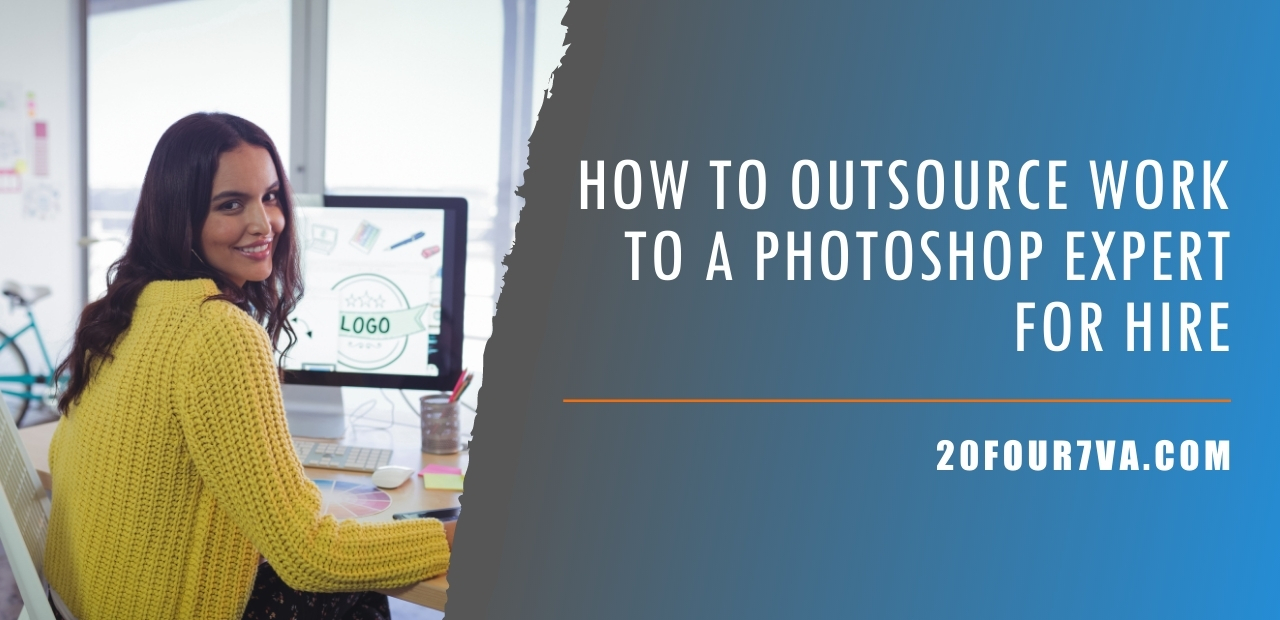 People learn and recall information better through visual aids. With the abundance of information today, you need to leverage this fact if you want your message to stand out and make an impact. For instance, long-form blog posts must be supplied with well-placed graphics to capture and engage readers. Social media posts must be accompanied by striking photos to get attention and shares. Incorporating graphics into one's business media and communications sounds simple. But in the age where there's a camera in everyone's pocket, businesses are inflicted with higher standards when it comes to photo production and graphic design. Thankfully, you can always find a Photoshop expert for hire.
Top 3 Brand Benefits of Photoshop
People often use Photoshop as a verb when referring to the act of altering an image digitally. This underscores the software's profound influence on image production. But what can Photoshop do for your business exactly?
Photoshop is a graphics editor created and developed by Adobe. It gained fame through image manipulation, but Photoshop has grown into a graphic design powerhouse used by startups and established brands alike. Here are the top 3 brand benefits that Photoshop can deliver:

Image Enhancement


Photoshop earned its colloquial verb form for a reason. It is the leading image editor when it comes to touch-ups. Say you took a picture of your storefront but there are certain parts of the photo that distract from your establishment. Photoshop is an excellent tool for object removal. And it does this with such seamlessness too, thanks to the Content-Aware Fill, Spot Healing, and Patch features of the software. These features allow users to copy a matching area from the photo, paste it on top of the unwanted area, and remove any shadows cast by unwanted background elements. This feature allows viewers to see a spotless result, void of discolouration or inconsistencies.

Layers


Enhance two pictures, add text or graphics, change colour, and combine everything into one seamless picture. This ability is probably the peak of Photoshop use. Many graphic editors let users enhance pictures and add text or objects, but Photoshop is unparalleled when it comes to combining different elements to form one cohesive photo. This ability is a must-have when designing media for product and blog photos and promotional campaigns.

Colour Change


The unmistakable golden arches of McDonald's, the classic red and white combo of Coke, the luxurious Tiffany blue box — colours can boost brand recognition dramatically. To help people recognize their brands faster, companies should choose official colours and incorporate them into their digital and print media. Photoshop's 'Color Change' ability allows businesses to be flexible and creative when adding their brand colours to images.
Why You Should Find a Photoshop Expert for Hire
Photoshop competency is one of the many essential skills for graphic designers. Graphic design is both technical and creative, in that it combines art, marketing, and customer connection to bring business ideas into concrete output. This output comes in many forms, such as a company logo, website and product images, social media posts, business cards, and campaign materials.
In a nutshell, graphic design is tantamount to visual storytelling. If you want to tell a powerful story, therefore, you must hire the most competent person to do it. As award-winning designer Pablo Solomon puts it, "Where musicians use music, poets use words and dancers use their movements to communicate feelings, designers use their images."
7 Steps on How to Outsource to a Photoshop Expert
1. Hire remotely.

Just like any business function, graphic design must be done properly right off the bat. Hiring a remote graphic designer with Photoshop expertise will let you start strong. For one, you have higher chances of finding the best Photoshop expert if the talent pool is expanded globally. For another, graphic designer virtual assistants (VAs) are likely to have the right tools in place, including Photoshop software. This is the best time to check the portfolio of graphic designers. Do their previous works complement the design that you have in mind? What sort of projects have they done in the past?
PRO TIP: for remote hiring: Set your goals for the working relationship. Do you need help with a short-term project or are you looking for an official company graphic designer? What are the specific project points that you need expert advice on? This will help you establish a comprehensive job description, so you can find the best person to do it. Of course, you can always work with a staffing agency such as 20four7VA to do the groundwork of hiring and recruitment. Even better, 20four7VA is a full-service staffing firm, so that support extends to VA supervision and management. You only need to focus on building projects with your graphic designer and have employment responsibilities such as training and payroll taken off your plate.
2. Have a brand identity.

When you start your business, chances are, you already have a vision for what you want your storefront or website to look like and how your products will be displayed. Your business vision and other plans will be enhanced through brand identity. Brand identity includes establishing your brand logo, colour palette, typography, and messaging tone.
Having a brand identity unifies your communications and media, so people will have a quick recall. It also reinforces your vision and what you stand for as a company. You can establish your brand identity on your own. If you haven't yet and want the input of an expert, you can include your graphic designer VA (virtual assistant) in the process.
3. Map out your projects.

What do you need to be done? Whether you're hiring virtually or not, you'll get better collaborative results by being purposeful.
Here are top design tasks you can outsource to a graphic designer VA
Logo Design
Website and Blog Photo Editing
Product Image Enhancement
Website Design
Email Design
Branding Illustration
Print and Digital Marketing Materials
Product Packaging Design
Take time to get your ducks in a row by mapping out projects based on their urgency. Then, visualize your goals for each project. Do you want your company logo to include a customized caricature? What themes should you use for the upcoming event or promotions? When you have projects down to pat, it's easier to brainstorm and strategize with your graphic designer. They can take your ideas and incorporate their own, so you can build a cohesive project together.
4. Set a budget.

Once you get the brainstorming work done, it's time to plan the actual design work. Setting the budget for your project lets you execute your plans realistically. Otherwise, projects can easily run off course and cause your business more trouble than they're worth. Practice flexibility when setting your project. For instance, the raw budget can be modified depending on the potential of your target results. This helps you find a balance between project cost and quality.
Get the input of your graphic designer when setting the budget for media materials. They're familiar with industry tools and trends and will give valuable advice on the best resources in the market to match your budget. Another benefit of hiring a graphic design VA is that they're bound to have the tools for the job at hand, such as Photoshop and other graphic design software. This is especially beneficial for small and home-based businesses that want to maximize their funds. Here are other ways virtual assistance lets you capitalize on your funds.
5. Run a test project.

If you didn't get the chance to check the graphic designer's past works, it's a good idea to run a test project first. This step lets you see the artistic ability of the graphic designer. Does their output match the idea that you had in mind? In addition, a test project gives you an idea of the designer's creative process and their ability to follow instructions and deliver projects on time. Test projects are beneficial for both the designer and the client. It helps both parties ease into the collaborative process. You wouldn't want to test the waters by assigning a high-stake project at the get-go.
6. Expect reworks.

The best designs do not come out in the first draft. You must anticipate changes throughout the whole process. There's a good chance that your graphic design VA will not get exactly what you envision, and that's okay. During the design work process, graphic designers may also be unable to verbally express the concepts that they have in mind. This is a good opportunity to establish your communication styles or schedules and collaborative processes. That is why it's important to run a test project first. The longer you work together, the more your designer will get a grasp of your design and work preferences. The need for reiterations will expectedly diminish over time.
7. Provide and accept feedback.

How did the output fare against your vision board? Review your objectives and instructions and evaluate how these were incorporated into the project. It's also important to check how your concepts translate into the project. Did your ideas and the graphic designer's proposals blend into one aesthetic output?
In addition, provide feedback on the whole working process. Reflect on the entire course of the project from the brainstorming session to the turnaround time. Was your graphic designer up to par with your expectations? The best Photoshop expert has more to offer than their graphic design skills. They must also respect your deadlines and input.
In addition to offering feedback, you must listen to the creative concepts and advice of your designer as well. Graphic designers have the technical skills and the artistic eye to see how a project will translate to the viewers. Plus, they're likely to have previous experience to back them up on what works and what doesn't.
What to Look For in a Graphic Designer VA

You'll save a lot of time and money by hiring a graphic designer with the proper training and experience. Here's a list of things to look for when hiring a Photoshop expert graphic designer:
Creative Flair


Creativity can't be bought. You can train anyone to use any tool, but it takes ingenuity to put those tools to good use. Graphic designers show a distinct design quality in their work. Do they have the design identity and taste to translate your ideas well? How do they use elements like colours and composition to communicate?

Technical Proficiency


How technically efficient and up-to-date is your graphic designer? Are they well-versed in HTML, CSS, UI/UX Design, and typography? Verify if the graphic design VA is experienced in using tools like Photoshop, InDesign, and Illustrator. You may also inquire about their frequently used tools to gauge their work experience and industry know-how.

Analytical Skills


Graphic design for business must involve a triad of bearing: yours as a business owner, the graphic designer as the design specialist, and the target audience who is the recipient of the finished project. Graphic designers must have the analytical prowess to bring all three considerations into the project. They must perceive which design concepts can capture and engage a specific audience. Their analytical skills also help graphic designers to turn otherwise complex ideas into an aesthetic and memorable visual.

Work Ethic


It is the overall work performance of your designer that will determine the quality and length of the relationship. Projects succeed when the people involved are reliable and conscientious. So, apart from being ingenious and technically savvy, find a graphic designer who is also a great team player. Do not overlook time management and reliability for talent and experience.
Final Thoughts
While there's a wide array of free and reasonably priced photo editing tools out there, it's worth it to invest and hire a Photoshop expert graphic designer instead.
Images have direct and indirect ways of affecting your business. Just check out these facts and figures:
Outsourcing graphic design takes patience and continuous collaboration to work. It sounds hard, but it's harder to shoulder this high-stake business function by yourself.
Use this resource on how to outsource work to a Photoshop expert for hire. It's worth eliciting the help of an industry specialist if it means leveraging design to leave a lasting impression and build a distinct brand identity.