Hire Personal Assistant, Get Things Done: How to Get Help Checking Off Your List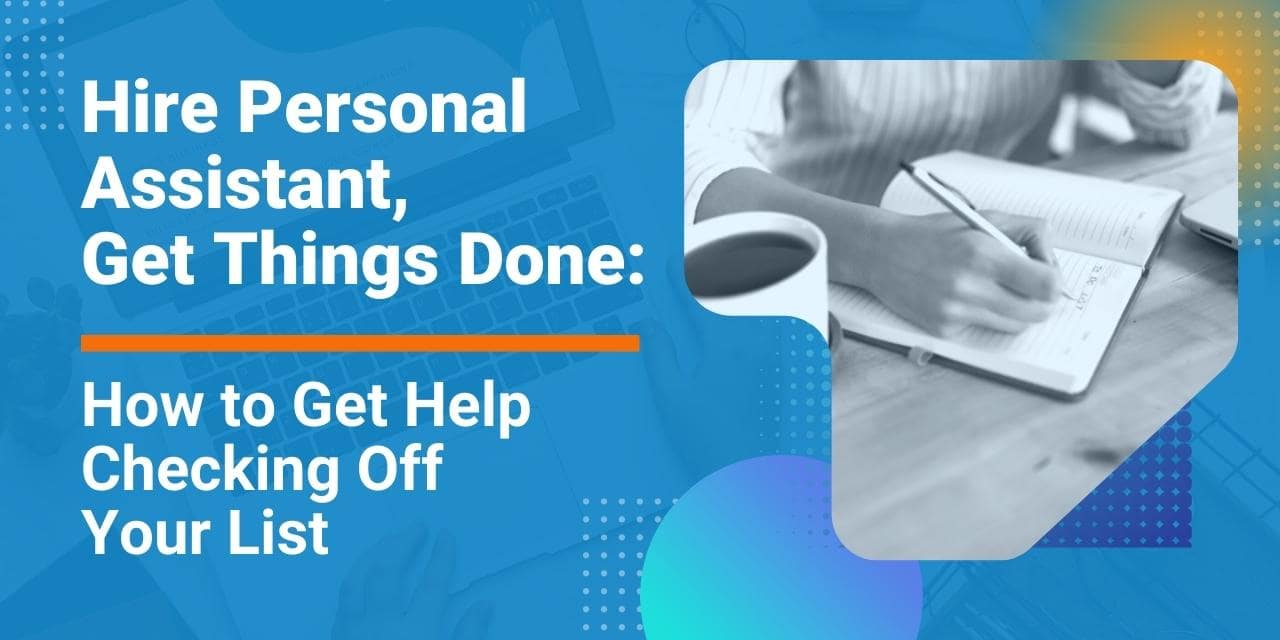 Managing your business is fulfilling but also overwhelming at times. On top of your daily leadership responsibilities, you also have administrative and personal duties. While juggling everything can be doable at first, you'll start to see essential, yet time-consuming tasks crowd your day-to-day tasks list. This is why "Hire Personal Assistant" should be the first thing to tick off your checklist. And because we're living in a highly digital age, you can hire a personal assistant from anywhere in the world!
A virtual personal assistant may be the missing piece you need to get more done without sacrificing too much of your valuable time.
WHAT IS A VIRTUAL PERSONAL ASSISTANT?
A Virtual Personal Assistant is a professional who remotely provides clients administrative, creative, and technical support. Your personal assistant can be in charge of tasks you normally do yourself but don't have the time for. A virtual personal assistant can go by different names depending on their work. Examples include "virtual executive assistant," "virtual office manager," or "virtual assistant (VA)."
Want to know more about the different types of VAs and what they can do for your business? Schedule a free consultation today!
BENEFITS OF TICKING OFF THE "HIRE PERSONAL ASSISTANT" BOX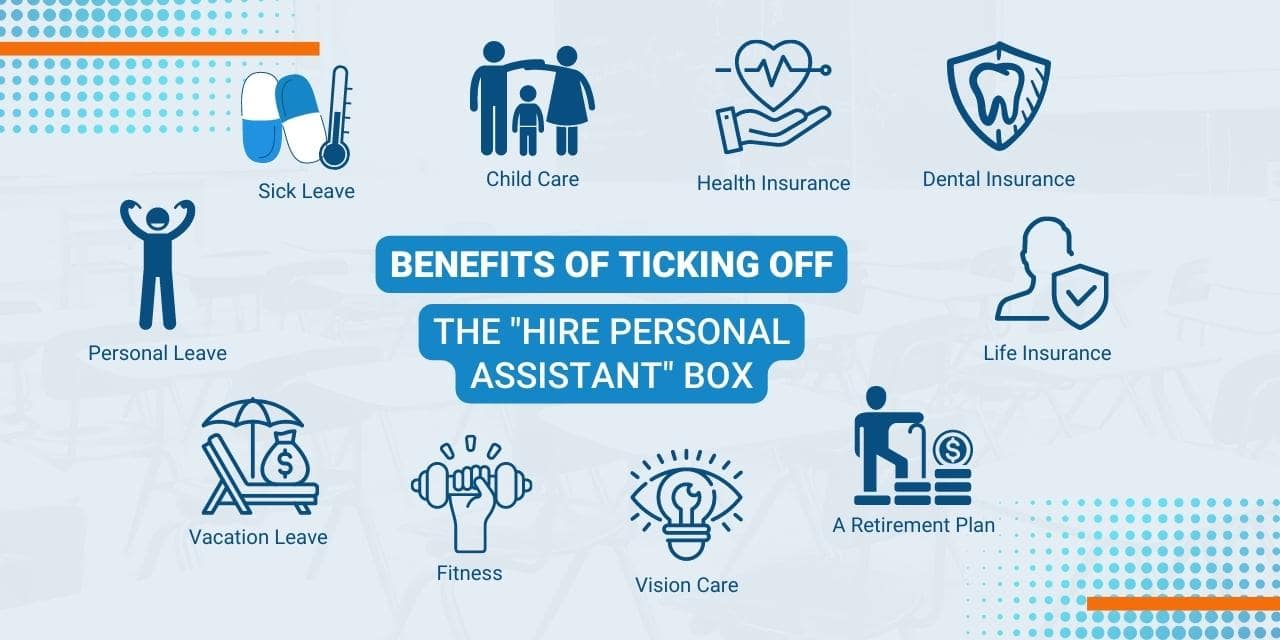 There are many reasons why you should avail of personal assistant services. It's more than just having someone fill your calendar with travel plans and meetings. A virtual personal assistant can help you and your business perform better while relinquishing some of your duties.
RECLAIM YOUR TIME
Maybe you're time-poor and need someone to help with the overflow of work. Perhaps you want to focus on strategic tasks and leave the nitty-gritty to someone else. It could also be that you often travel and need someone to manage your calendar and stay on top of administrative duties. Hiring a virtual personal assistant will give you time to focus on more important things.
STAY PRODUCTIVE
This may sound ironic, but removing some routine responsibilities from your list can allow you to do more. And by "more," we don't just mean more tasks but more value-adding tasks. The routine, time-consuming tasks may be holding you back, keeping your productivity low. An assistant can help you do more by taking some things off your long checklist.
ACHIEVE WORK-LIFE BALANCE
As a dedicated business owner, delegating even something as routine as data entry to a VA may not be easy. But effective delegation paired with open communication makes a business leader more effective. When you hire a virtual personal assistant and manage them well, you'll have more time and energy for your responsibilities as a business owner and person.
IMPROVE YOUR TEAM
Just because you can do it all doesn't mean you should. Learning how to delegate can be helpful to your team and, essentially, your whole business. Letting go of some important yet time-consuming responsibilities shows your members that you trust them and their skills. It also means you can avoid obsessing over every little detail and pay attention to the bigger picture, as a business leader should.
COST-SAVING
The cost of hiring a full-time personal assistant can be quite overwhelming. Bosses of larger organizations may get away with hiring executive assistants locally. But the cost of doing so may affect a company that's still growing like yours. However, that doesn't mean you can't manage to get an executive assistant of your own!
Virtual personal assistants or executive assistants can also do the job of an in-office assistant. And the good news? You don't have to bury your company in overhead expenses to hire one. There's no need to worry about additional costs like office tools, supplies, transportation allowance, insurance benefits, etc. With a virtual personal assistant, you're only responsible for their professional fee. And since they can work from home or any location, you don't have to worry about providing them with office space.
GET GLOBAL TALENT
"Increasing diversity in your workforce while hiring a virtual personal assistant with the right technical and soft skills" sounds too good to be true, but it is possible when you opt to hire a virtual personal assistant. From Latin America to Asia, virtual staffing lets you find the right person for the job wherever they are.
Need more information on impact hiring and virtual staffing solutions? Sign up for a free consultation with our Growth Experts today!
TASKS A VIRTUAL PERSONAL ASSISTANT CAN DO FOR YOU
Just what can a virtual personal assistant do for you? Can they handle booking travel plans? Or manage my calendar? Can they manage simple accounting responsibilities? The answer is: Yes, and so much MORE.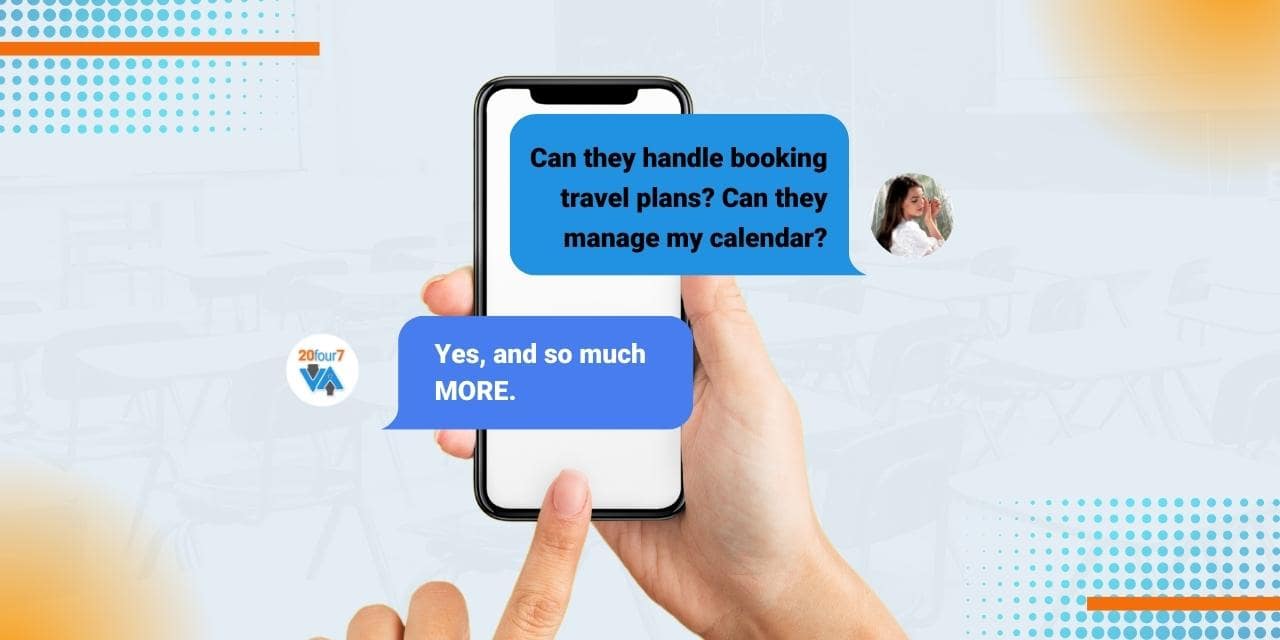 ADMINISTRATIVE TASKS
One of the main reasons why business owners hire virtual personal assistants is that they're drowning in administrative duties. A well-organized and detail-oriented virtual personal assistant can help take over the following tasks for you:
Data entry

Take phone calls

Schedule meetings or appointments

Email Management

Make travel arrangements
CLIENT MANAGEMENT
Keeping customers happy is a must for any business. Personal assistants can be helpful with this goal. They can be responsible for client management-related tasks such as:
Send meeting invites to clients

Answer simple client inquiries

Maintaining your customer database

Email marketing efforts or

newsletters

Collecting customer feedback
SOCIAL MEDIA MANAGEMENT
Social media marketing is an affordable and effective tool to increase visibility and loyalty for your growing business. But it requires time, effort, and consistency to see results. It can feel like a second job if you're managing your company's social media on top of everything else. You can let a virtual personal assistant take care of this task for you while you focus on other areas of your business. A virtual personal assistant can work on social media management duties such as:
Creating and updating your Google Business Profile

Creating a social media calendar

Scheduling posts

Answering customer queries on different platforms

Manage ad budgets
OTHER PERSONAL OR BUSINESS-RELATED ERRANDS
A virtual personal assistant is not limited to admin tasks like data entry or scheduling appointments. Once you're clear about the things you need to get ticked off your checklist, you'll find the right virtual personal assistant for the job. Here are some of the other responsibilities that a personal VA can do for you:
Ad-hoc day-to-day tasks

Basic bookkeeping or accounting

Online inventory management

Drafting emails or outreach templates

Fill out business forms on your behalf (which you will review and sign off before sending)
Do you need assistance with finding and hiring personal or executive assistants? Schedule a free consultation with our Growth Experts today.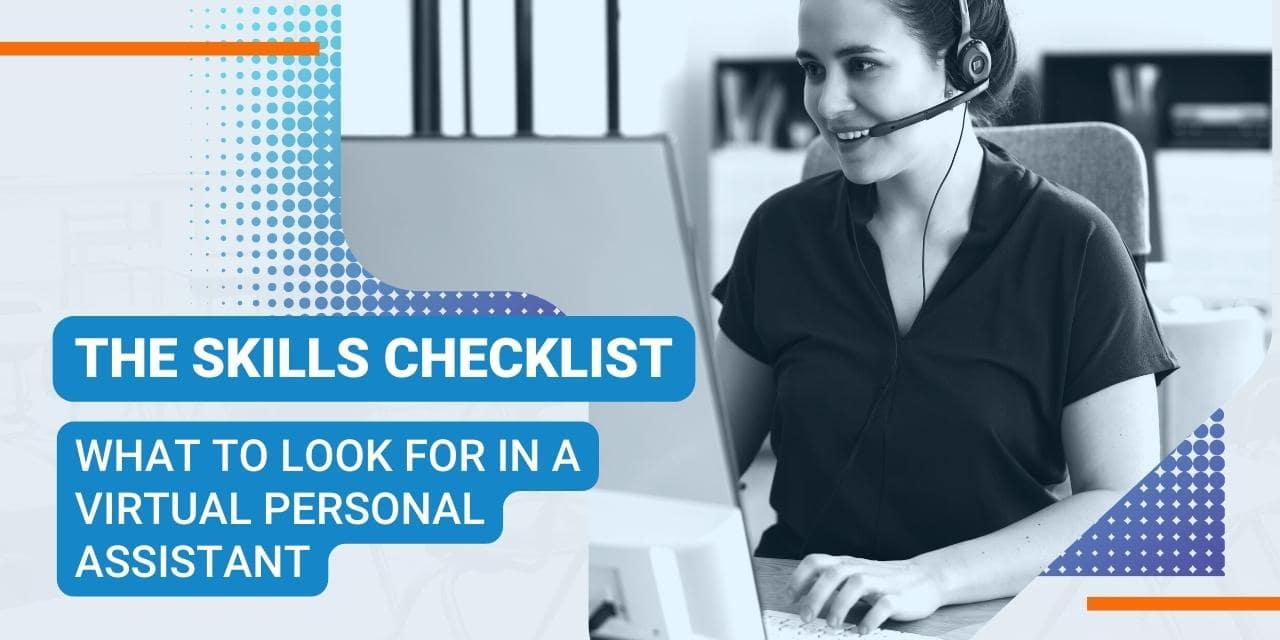 THE SKILLS CHECKLIST: WHAT TO LOOK FOR IN A VIRTUAL PERSONAL ASSISTANT
You need a skills checklist if you want the right fit or the best virtual personal assistant to help you with your to-do list. Here are the basic skills and qualities to look for in a virtual personal assistant.
BASIC COMPUTER PROFICIENCY
Virtual personal assistants will be working remotely, so they'll need to use a computer or a laptop. This makes having basic computer proficiency a non-negotiable for virtual personal assistant candidates.
COMMUNICATION SKILLS
If you don't want anything to get lost in translation, hire a virtual personal assistant who knows how to communicate effectively. They wouldn't be working in an office with you, so they must also know how to maximize the availability of synchronous and asynchronous communication tools.
DETAIL-ORIENTED
When you decide to hire a personal assistant, make sure to find one who pays close attention to details. This is especially important when assigning duties such as data entry or bookkeeping, which require accuracy.
FAST LEARNER
With the pace at which technology advances, you'll need a virtual personal assistant that is quick to adapt and learn. Hiring a fast learner can be an advantage for your business. Perhaps to help streamline processes, you will need to migrate to a new system. Your virtual personal assistant must be able to keep up with changes like this to become a person that adds value to your team.
ABILITY TO FOCUS
Virtual personal assistants need to be able to focus on their assignments even with limited supervision. They should try to minimize distractions by having a dedicated workspace or "home office." Additionally, they need to know what tools or apps they must equip themselves with to help them concentrate.
RESPONSIBLE & PROACTIVE
Since they're working remotely, virtual personal assistants must be responsible for ensuring that their projects are up to date. They must also be able to keep that connection with the rest of the team even if they're away from the office. They can accomplish this by being proactive with sending task updates and not being afraid to ask for clarifications when needed.
VIRTUAL PERSONAL ASSISTANT FOR HIRE: HOW TO FIND THE RIGHT MATCH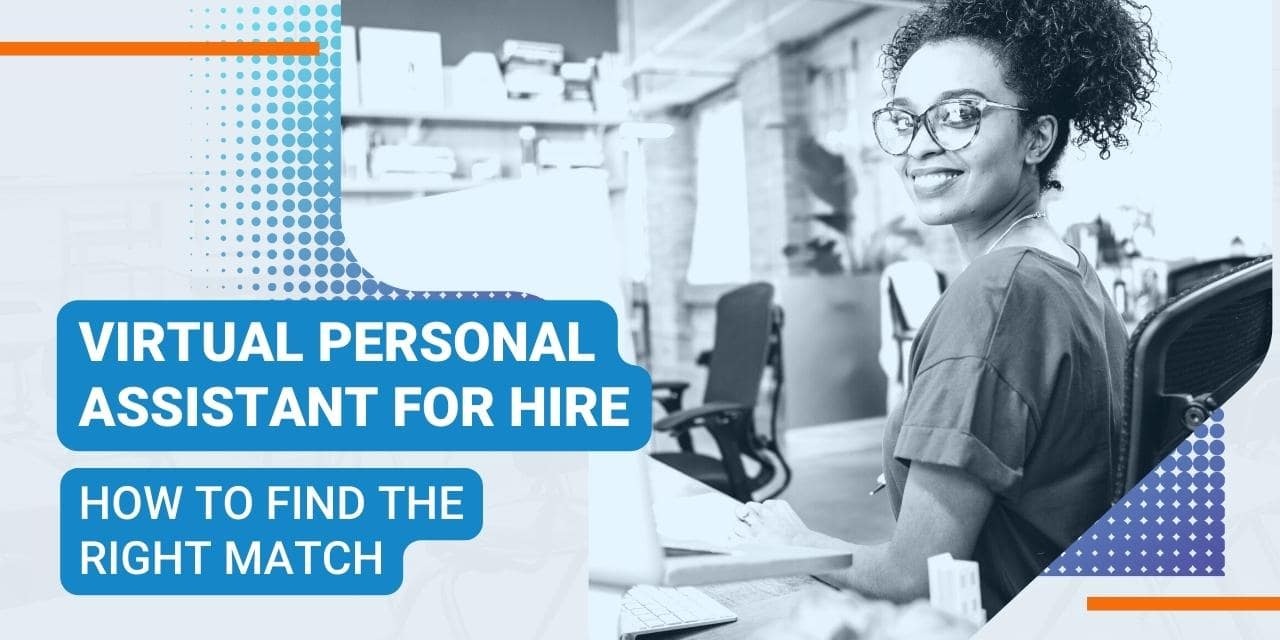 Simply going on your favorite search engine and typing in "hire virtual personal assistant" or "hire personal assistant online" might work. But if you want to find someone that's tailor-fit for your needs, you need to put in a little more effort.
Here's a quick guide on how to hire a personal assistant:
KNOW THE DIFFERENT ASSIGNMENTS YOU WILL DELEGATE
You must be clear about what you plan to delegate before you hire a personal assistant. Doing this early on will help you create the right job ad to attract qualified virtual personal assistant candidates.
CREATE A JOB AD
Your job ad should contain the following main parts:
a job description that is brief but gives a clear idea of what your expectations are

a short introduction about your business

work arrangement (full-time, part-time, flexible hours, etc.)

salary range

details on how to apply or reach you for clarifications about the job description or the role
An informative job ad makes it easier for potential candidates to gauge whether or not they are the right fit for the job. Remember, you're also competing with other recruiters looking to fill personal assistant positions in their company. Make sure to stand out by being clear about the role and what you can offer.
POST ON JOB WEBSITES TO ATTRACT POTENTIAL ASSISTANTS
You can post your job ad on various recruitment platforms. Make sure to post on platforms that cater mostly to remote workers so that you'll reach more virtual personal assistant candidates. You can also try posting on your online platforms. Consider adding a deadline for application submission to create urgency. Doing so will also give you enough time to review incoming applications before progressing to the next steps.
SHORTLIST CANDIDATES AND SCHEDULE INTERVIEW
After receiving virtual personal assistant candidate applications, you should start reviewing and shortlisting candidates. Then you can progress with the search by scheduling interviews.
As a hiring manager, you must prepare interview questions in advance. Doing so will help check if the person you're interviewing and the person on the resume are the same. Interviews are a great venue to get to know the candidates a little bit more. Try to pay attention to how they communicate, their attitude towards difficult questions, and how they talk about their skills and experiences.
EXTEND A JOB OFFER
Once you've selected the candidate for the job, it's time to hire a personal assistant. Send the job offer to the selected candidate. Once they've accepted, you can finally conclude that your search for the right virtual personal assistant is over. Make sure to have backup candidates just in case your first choice does not push through with their application. It's best to be prepared for such scenarios.
START ONBOARDING AND TRAINING
If you have a working team, introduce your new assistant to other employees. Make sure that everyone in your team or company knows the function of your executive assistant or personal assistant. Clarify how the new hire can help you as a business leader and contribute to the company's growth.
FIND THE RIGHT PERSONAL ASSISTANT WITH 20FOUR7VA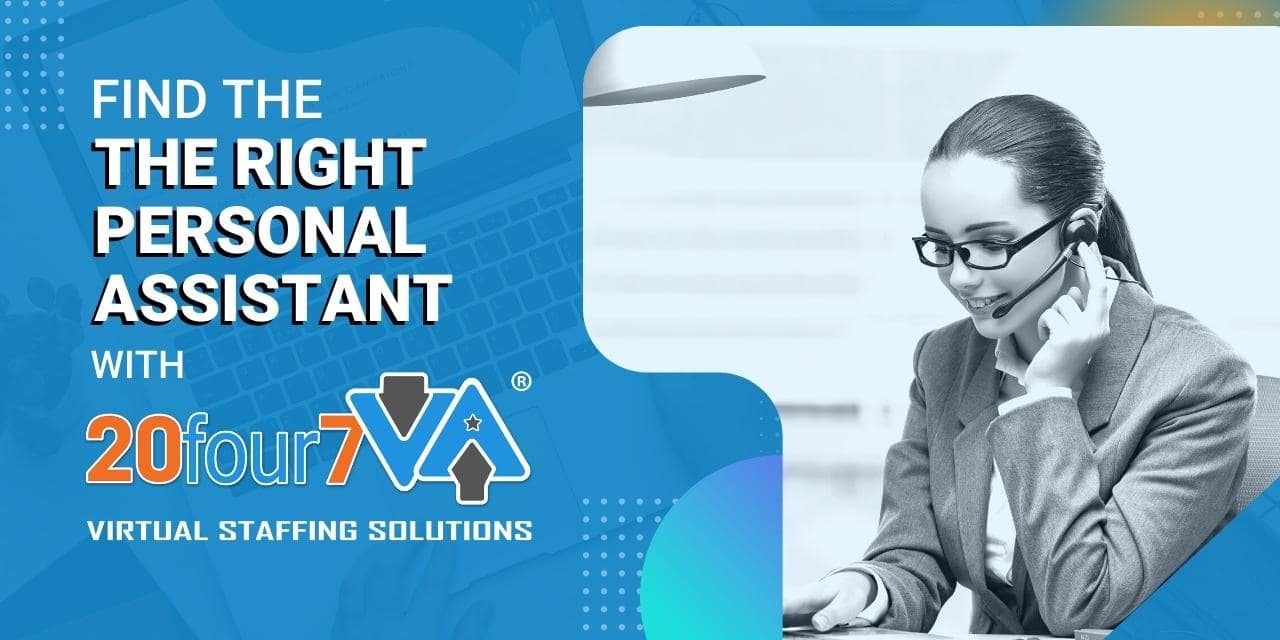 If you want to save even more time and effort, why not work with an experienced virtual staffing company? 20four7VA has a decade of experience helping companies find personal assistants to help grow their business.
We provide end-to-end virtual staffing services to all our clients:
RECRUITMENT
We have a meticulous sourcing and vetting process that will help ensure that you're getting the right virtual assistant for the job. Our recruitment process includes the following:
Screening and Sourcing of VA Candidates

Scheduling of Client Interviews

Administering Test Tasks

Background and System Checks

Other Related Recruitment Legwork
HUMAN RESOURCES FUNCTIONS
At 20four7VA, we do more than seek out personal assistant candidates for you. We provide in-house HR services for a truly quick and easy virtual assistant services experience.
Virtual Assistant Management

: We have standard performance management practices in place. These practices help measure VA productivity and ensure clear communication of expectations.

Timekeeping: We equip our VAs with a time tracking tool for easier computation of hours worked and management of leaves. This is another measure of productivity and ensures that you only pay for logged hours.

In-house Training: For a virtual assistant, sharpening and learning new skills is important. They need to stay updated with the latest technologies and systems to perform even better in their role.

Performance Management: We also offer assistance in administering performance reviews and providing VA incentives.

Payroll Management: 20four7VA clients don't have to worry about processing payrolls and checking timesheets. We handle weekly payroll processing as part of our VA services package.
IT SERVICES
20four7VA clients and VAs have access to technical assistance. If you're experiencing any hardware or software issues, our IT Help Desk is ready to help.
CLIENT SERVICES
We prioritize providing the best customer experience. Clients can count on the 20four7VA team to provide responsive and reliable customer support.
GET THE RIGHT PERSONAL ASSISTANT TO GET MORE DONE
Remember, you don't need to do everything by yourself. You're allowing yourself and your business to grow when you learn to let go of tasks that don't need your full attention. By getting the right personal assistant, you'll be able to get more done without risking burnout.
So let us help you with your search for the right assistant. Schedule a free consultation with our Growth Experts today!