How Your Small Business Can Beat Competitors

Being a modern-day entrepreneur comes with many perks. You can launch and expand your business solely online. You can keep your day job and make money from home through a side hustle. You can even get small business financing to support your startup. On the flip side, all the forces that make these perks possible can also work against you. Your online business marketing campaigns can also be seen and used by competing brands to go after your customers. Though you can stay employed while selling products online, the Amazon marketplace is also home to over 140,000 third-party vendors. Thanks to more small business funding options, competition among companies is higher than ever.
In fact, every company competes against 25 others on average, a report from market intelligence company Crayon has revealed.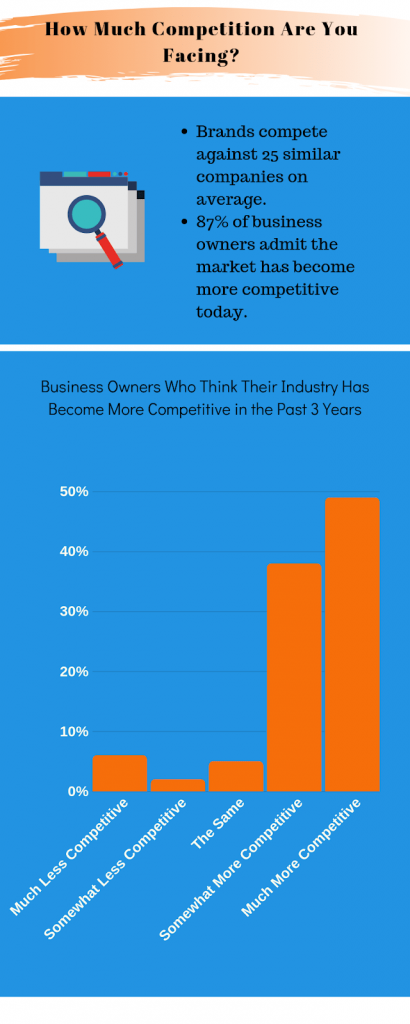 That's 25 brands that may have more digital influence or a longer history in the industry compared to you. That's 25 other possibilities that your target customer will turn to on the slightest dip of your performance. If you factor in the reality that some of these competitors have deeper pockets for advertising, market research, and product development, the stakes go even higher. 
So, how do you begin to create waves that bring customers to your brand? How do you make a dent in an industry bursting with rivals, some of which are even household names? You can tip the scales in your favor with patience, consistency, and the right strategy. To take care of the latter, here are 5 tips on how your small business can beat competitors:
1. Find your element of originality.
Many people have considered starting an online business but have never pushed through. Why? They think that every niche and every business concept has already been taken. So, they get trapped in the process of cooking up a new money-making idea. The problem is, this process is more paralyzing than innovating. 
Organizational psychologist Adam Grant says that new ideas don't often win in business. He further discusses that starting first in an industry doesn't always guarantee to last in it. 
The best example to take into account is Facebook. With 2.23 active monthly users, it has almost become synonymous to social media. In truth, however, Facebook isn't the first social channel. Before it was SixDegrees in 1997, Friendster in 2002, and MySpace in 2003. Facebook surpassed its predecessors because its makers considered an existing idea, revamped, and improved it so that people prefer it instead.
Of course, this doesn't mean copying the ideas of others and plastering your own name over it. It means debunking the myth that first is always better. It means finding a niche, questioning its established norms and ideas, and inserting your creative ways of making it better. How will your product improve the lives of your customers? What convenience or advantage can your brand offer that people won't find anywhere else? 
As a small business, you have the power to deliver specific benefits that people can't find in bigger brands. Smaller business niches cater to more distinctive needs that big companies don't consider. So, find a specific market need and fulfill it. This will set you apart from competitors and cultivate customer relations based on trust and loyalty.
2. Flaunt your brand position.
With the wide array of online marketing strategies for small business today, it's easy to get tempted to try every channel and campaign available. While this is no doubt a practical way of increasing your chances to reach more customers, it can be a slippery slope where you lose your brand identity. That is why before you draft a campaign or design visuals, you must pick how to position your brand and work from there. 
How you tell the story of your company determines how prospects and customers can relate to you. Here are a few angles to consider:
Customer care.

Are you the kind of company that promptly resolves customer concerns? Do you take customer privacy and security seriously?

Product quality.

Do you use only the finest materials available? Would you say that top-grade materials are the secret to your exemplary products?

Social and environmental causes.

Do you value fair trade (appropriate payment and working terms with local suppliers) when sourcing your materials? Does your brand only use vegan product composition? 

Packaging and courier.

Will customers find better product packaging and handling from your company? Do you offer faster or free shipping?
The possibilities are endless when it comes to how you present the strengths of your brand to the market. Of course, you can choose to switch your focus from one strength to another. For instance, if you sell school supplies, you can offer free shipping near school days or special bundles for customers who place orders early. Make sure that your marketing angle complements your brand identity and is consistent across all your platforms.
3. Start working with a digital marketing team.
If you think working with a digital marketing team is a luxury only big companies can afford, think again. You could be losing more than you know by not having a digital marketing team. 
The following data reveals the importance of having a team of digital marketing specialists work for your brand:
When online shopping, 64% of consumers click on Google Ads
Less than 10% of online shoppers click past the 2nd search results page
72% of social media users prefer to receive product discounts and offers in social business pages
33% of internet activity is spent on social channels
46% of online shoppers prefer ads in video format
Of course, many business owners resort to handling marketing tasks on their own because of budget constraints. Often, hiring procedures, training, onboarding, and managing people can cost a lot of time and money. You need to consider providing the real estate and office supplies and paperwork that entails hiring a staff. If this is what's stopping you, know that you work with a virtual staff instead. Your digital marketing virtual assistant can help you with content creation and management, web and graphic design, social media and blog advertising, and search engine optimization. 
Hire people with expertise in specific fields. When you do, you also expand your knowledge on how to increase business growth through their different specialties and contribution. You can delegate different tasks on people so that you take care of website optimization, paid ads, and social media promotions.
4. Take care of your existing customers.
Taking care of one's current clients may sound elementary – but you'd be surprised by how many companies take this for granted. Often, when it comes to special offers and discounts, brands usually prioritize new customers in an effort to win them over. This leaves existing customers in the back row. Apart from making your current clients feel neglected and unappreciated, you are risking losing them to your competitors. 
Make sure that your current clients know they are valued. Here are a few ideas you can try:
Send personalized follow-through messages.

Watch out for customers who inquire about new services or add items to cart without completing the purchase.

Setup email follow-ups to remind them of their abandoned carts.

Offer to upgrade their current or past purchases that include their service of interest. 
Reward high-paying buyers. Experts like Retention Science CMO co-founder Jerry Jao say that existing customers are more likely to pay more, recommend a brand, and buy again compared to new customers. When it comes to doling out rewards, it's only fitting to consider existing and high-paying customers first. Apart from showing gratitude, this also gives incentives to other shoppers, so they are encouraged to keep supporting your products.
Offer remunerations through experience. Treating your clients shouldn't be limited to monetary gifts. Expand your retention programs to gratifying experiences exclusive to existing buyers or subscribers. Offer first dibs to upcoming products, concert tickets, or spa vouchers. You can also extend these offers to customers who can refer new buyers.
5. Constantly work on customer experience.
There's a plethora of advertising and business management techniques made for big companies. Because these are often packaged in flashy campaigns that promise high returns and an influx of new customers, small businesses try them out, too. This often leads to companies taking for granted the perks and advantages unique to small businesses.
One of these advantages is close customer relations. As a small business, you have the power to cultivate close relationships with your buyers through direct contact (if you are a local brand) or personalized contacts. You are more likely to know the purchase history and personal preferences of your customers and are therefore in a position to give them special customer service they can't find in big corporations. 
Prompt and complete responses to inquiries, handwritten thank-you notes, and customer communications that relate to a buyer's history and product favorites can go a long way. Good customer experience is also displayed in easy-to-navigate websites or online forms as well as service transparency. Disclose all inclusive costs and set customer expectations without overpromising. Customers are highly likely to keep supporting a brand with established credibility when wooed by new companies.
Learn to keep up with the competition by staying to your brand character. These steps on how to beat competitors should keep you on the right track.