How to Future Proof Your Business: Essential Tools and Solutions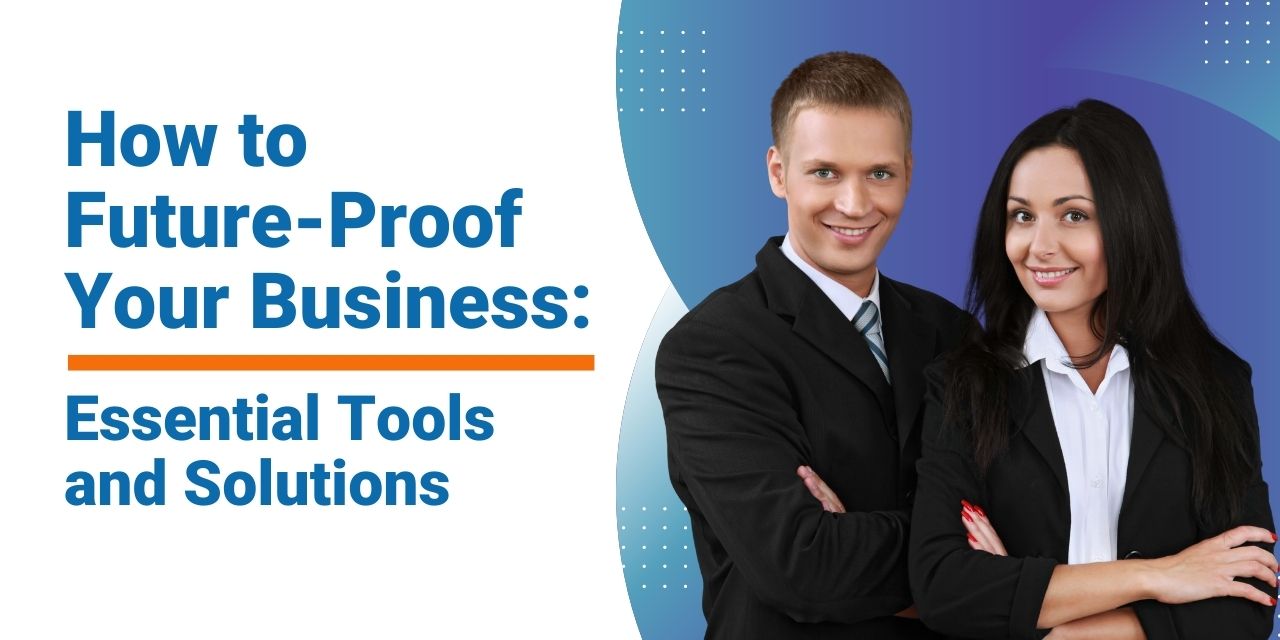 The global pandemic and ensuing inflation taught us that even a successful and experienced business owner has a long way to go in making their company future-proof. If you're slow to adapt, you risk losing market share. If you refuse to adjust, you risk losing your business. Most industries just won't wait for you to keep up. In case you haven't started yet, now is the time to future-proof your business with the right tools and systems.
WHAT IS FUTURE-PROOFING?
Future-proofing is the process of making a business resistant to negative changes or events that may happen in the future. The goal is to ensure that it will continue operating despite potential interruptions or challenges.
WHY IT'S IMPORTANT TO FUTURE PROOF YOUR BUSINESS
The best companies are either searching for long-term business adjustments to safeguard their organizations for the future or have already put them in place. These companies are on the right track. Always asking how to make their business models less vulnerable to industry changes and more agile in the marketplace is a great practice for prepping a company for the future.
There are several practical benefits to applying strategies to future-proof your business.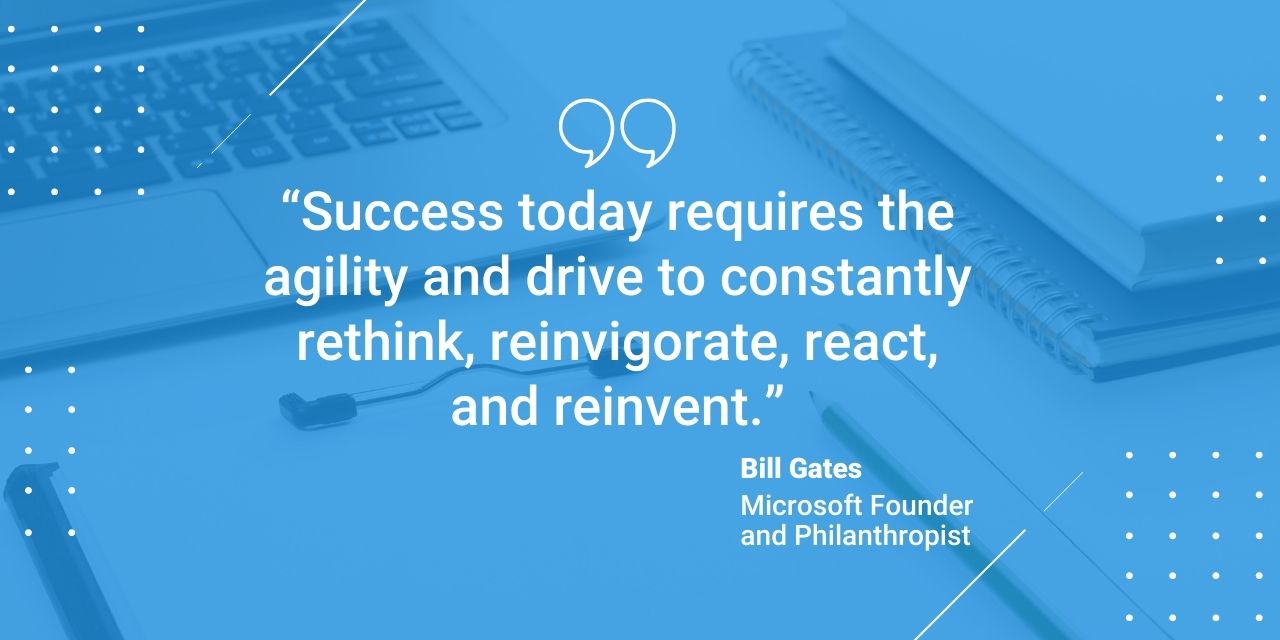 MAINTAIN YOUR COMPANY'S FINANCIAL HEALTH
Another key business goal is maintaining financial health, which becomes even more important during difficult times. If you can find ways to cut costs and increase efficiency, you'll be in a much better position to weather any future storms. Establishing great financial practices before business interruptions can save you money and headaches in the long run.
CONTINUE PROVIDING EMPLOYMENT OPPORTUNITIES
One of the main goals of any business is ensuring that it can keep operating and serving its customers and employees. If a company can stay afloat during tough times, it will be able to protect jobs and preserve people's livelihoods. Keeping your company safe against business interruptions can mean more than just a healthy bottom line. It also means job security and economic development for your community.
KEEP SERVICING YOUR CUSTOMERS
It's also essential to keep your customers happy during difficult times. By consistently providing good customer service and offering products and services they need, you'll build customer loyalty and increase the chances they'll recommend you to others.
THE ESSENTIALS FOR A SUCCESSFUL BUSINESS FOR TODAY, TOMORROW, AND BEYOND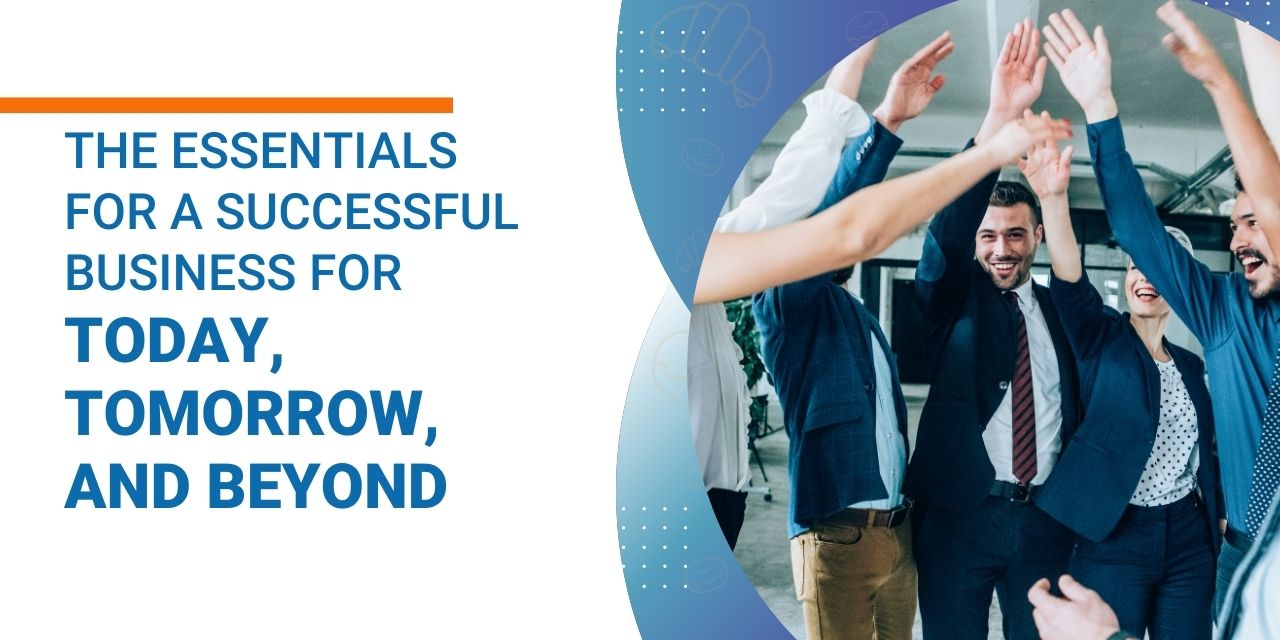 Companies working with remote talents enjoy the great benefit of global access to great talent. Ironically, they also face a great challenge: they work with great talent from across the globe.
For example, a company based in Australia could have a distributed team of remote assistants from Latin America, Southeast Asia, and the Middle East. That's at least four different time zones and many sleepless nights for business leaders if they plan on managing each team member in real-time. Thankfully, that's not the case for businesses today. Practical tools make managing teams and collaborating with partners easier.
RAMP UP YOUR DIGITAL TRANSFORMATION
If you want to future-proof your business, it's time to start with the basics. Digitalization is not only a great strategy to make business processes run more smoothly, but it also creates the solid foundation small businesses need to manage change and ultimately achieve success.
CLOUD-BASED SOLUTIONS
Cloud-based services are not technically part of the latest innovations, but they are increasingly gaining traction thanks to technological advancements and recent events. Most organizations have now switched to cloud-based storage and never looked back.
Aside from the operational benefits of cloud-based storage like better productivity and increased timely collaboration, cloud-based technology is also a secure and more environment-friendly option. Just imagine all the physical paperwork made up of a collection of admin files, contracts, and data that you or an assistant had to file manually. Thanks to cloud-based storage, your team and the trees can breathe a little easier.
PRODUCTIVITY TRACKING
There are a plethora of productivity tracking tools available on the market. And while some people may be resistant to being monitored, there's no denying that these tools can be extremely beneficial for those who handle different projects with distributed workforces.
Productivity tracking tools can help managers become better mentors. It can identify areas where employees are struggling and need additional support. They can also help managers identify which team members consistently meet (or exceed) expectations.
There are a few things to keep in mind when choosing a productivity tracking tool, but here are some of the most popular examples:
Asana
Basecamp
Casual
ClickUp
Monday.com
nTask
Trello
and many more!
Regarding productivity tracking, businesses have a wide range of options. However, not all tools are made equal and are the right fit for every business. The most important thing is to find the right one to track your team's progress and help you identify areas where they can improve.
COMMUNICATION TOOLS
Much like cloud-based apps, a communication app is not cutting-edge innovation. But using the right combination of synchronous and asynchronous communication strategies gives you and your team more time to focus on core tasks. When you give people the right amount of space and time to focus on their jobs, they're more likely to be productive and contribute to the success of your business.
This is why communication apps are so important for prepping your business for the future. Not only do they help you manage your team more effectively, but they also give you the ability to communicate with clients and partners from anywhere in the world.
Read our blog for more virtual staffing tips or schedule a free consultation with our Growth Experts today!
BUILD MEANINGFUL PARTNERSHIPS, BUILD A SUCCESSFUL BUSINESS
If you want to future-proof your business, you should invest time and effort into building partnerships. Don't treat interactions as one-off transactions. Meaningful partnerships are all about creating a network of mutual support that can help you weather any storm.
THIRD-PARTY FULFILLMENT
One of the best ways to future-proof your business is to outsource functions that are not part of your core services, including order fulfillment. If you're just starting, outsourcing courier or delivery services can save you from investing the resources you need to create a solid distribution system. By doing this, you can free up time and resources so you can focus on other aspects of your company, like planning for the future of your business.
In addition, you'll have peace of mind knowing that your orders are being handled by professionals whose core function is getting things delivered from point A to B in the most efficient way possible. Consider partnering with one or two third-party logistics providers you can work with long-term. You can discuss mutually beneficial terms that can mean better deals for you as a customer and continuous and regular income for them.
CONNECT WITH YOUR COMMUNITY
Time and time again, people have proven to do great things when they band together. As a part of your community, ensure you're also building lasting relationships with its members. Your organization should create programs that can connect you with the different segments of your locality.
For example, you can host a trunk show featuring local designers if you're a retailer. If you're a food business, you can participate in a farmer's market or collaborate with a home-based baker to sell their goodies in your store. You can participate in community service activities put up by people in your community. While these activities may be time-consuming and not revenue-generating, they are still essential in creating a meaningful bond with your community.
Becoming a company known for sincere involvement with the community can be the winning point you need when customers have to decide which businesses to support when times are tough.
CONTINUOUS ENGAGEMENT
MAINTAIN RELEVANCE WITH YOUR TARGET AUDIENCE
When it comes to marketing, you must be proactive to future-proof your business. Even when your target audience does not necessarily need your product or service at the moment, providing helpful and relevant resources can help you stay relevant and top-of-mind.
SOCIAL MEDIA
Whether you like it or not, social media is here to stay and will only gain more relevance for companies and customers. Increased internet access and smartphone democratization have led to more social media users.
For example, Meta reported that there were 2.91 billion monthly active users (MAUs) in 2021, a 4% growth versus the previous year. The continuous increase in social media participation in the coming years is nothing if not a sure thing. Those who want to stay ahead now (and in the future) should carve their place on relevant social media platforms.
If you have your plate full with daily business operations and strategy meetings, you can work with a social media virtual assistant (VA) to oversee your social media profiles. Schedule a free consultation with our 20four7VA Growth Experts to know more.
DIGITAL MARKETING
The demands of the digital world are ever-changing, so businesses must keep up with the latest trends and innovations. Not only does this show that you're keeping up with the times, but it also allows you to reach a wider audience through new channels.
Consider these examples of digital marketing tools and techniques if you want to future-proof your business:
Search engine optimization (SEO)
Content marketing
Social media marketing
Pay-per-click (PPC) advertising
Email marketing
Programmatic advertising
Native advertising
Inbound Marketing
And more
To stay relevant with your target audience and future-proof your business, you will need to work on your digital marketing strategies continuously.
ARTIFICIAL INTELLIGENCE (AI)
Digital technology has become more advanced and accessible, a fact that growing businesses should take advantage of. With the power of artificial intelligence, you can begin automating tasks, processes, and workflows.
For eCommerce businesses, this can mean deploying 24/7 customer service chatbots that constantly learn how to provide a better customer experience tailored to different client profiles. AI can also help you collect valuable data that can make you create changes from a business unit to an organizational level.
Need more eyes and ears to maintain brand relevance? Schedule a free consultation with our Growth Experts to discuss your staffing needs.
PRESERVE COMPANY CULTURE
Many businesses find it challenging to preserve company culture in an environment that's constantly changing and changing fast. To address this challenge, human resources (HR) leaders must exert constant effort to engage with employees continuously.
Managing the move to alternative working arrangements is already a challenge for most businesses regarding equipping employees with the right tools and online collaboration. And to add to these technical and logistical challenges, many companies experience lower engagement from employees that work from home or remotely.
So how can business leaders address this?
It's important to remember that the virtual shift of the business does not only apply to business operations; it should be an organization-wide approach. Going digital without including HR is like the McCallisters going on a family vacation and forgetting to bring Kevin along. Human practitioners must adapt to this change if the business is going digital.
VIRTUAL EMPLOYEE ENGAGEMENT ACTIVITIES
Employee engagement activities don't have to cease when your organization makes the digital shift. It can actually be an opportunity to enhance these activities and involve team members working remotely or traveling for work.
Here are some examples of employee engagement activities to do virtually:
7 Examples of Virtual Employee Engagement Activities
Online team-building exercises
Virtual happy hours and group birthday celebrations
Online company-wide town halls or department-wide meetings
Virtual communities based on hobbies and passions
Employee recognition programs
Themed quiz nights
Online learning and development opportunities
CONTINUOUS TRAINING
Companies must ensure that their employees have the critical skills to help them keep up with a global economy driven by technology. Offering digital literacy training and eLearning opportunities will allow businesses to bridge the skills gap and help employees be future-ready.
REDUCE STRESS OR VIRTUAL FATIGUE
We've all been there before – working on a project and feeling so drained that we can't think straight. Virtual fatigue is common among those working remotely and can lead to reduced productivity and engagement levels.
There are a few things you can do to help your workforce avoid, reduce, or manage stress:
Normalize going on regular breaks between meetings to decompress and avoid eye strain
Encourage the use of paid time-offs (PTOs)
Consider improving your healthcare package to include mental health coverage
Partner with local fitness gyms for corporate discounts
Train managers for proper workforce management, which includes setting realistic deadlines, mentoring, and more
Have monthly or weekly non-work training like yoga-at-home sessions or stress management seminars
Promote a healthy work-life balance through regular human resources reminders and newsletters
While setting up your company for the future and keeping up with industry competition, don't forget to safeguard your most important assets: your employees. Visit the 20four7VA website for more tips on how to manage your remote assistants.
STAY AHEAD AND STANDARDIZE
CREATING AN STANDARD OPERATING PROCEDURE (SOP)
Document processes with an SOP software to maintain compliance and improve quality control. When changes happen, you can quickly update your SOPs and ensure everyone is on the same page. Even when a project lead or point person is not available to guide the team, an SOP should help team members make decisions and finish tasks.
While some people in your organization may already know how certain tasks are done by heart or muscle memory, it's best to spend time and effort documenting these processes. Doing so will ensure the output of both current and future team members meet company standards.
BUSINESS CONTINUITY PLANNING
Your strategy to future-proof your business should include business continuity planning. Your company's success depends on it
A business continuity plan (BCP) is a document that outlines how a business will continue to function during and after an unexpected event. Usually starting with risk assessments, the goal of a BCP is to minimize the disruption to the company's operations and protect its employees, customers, and other stakeholders. A BCP should be tailored to the specific needs of a business. It should help ensure that your critical services and functions will continue despite interruptions.
If you're unfamiliar with creating a BCP, you can search for business continuity experts or consultants to work with you. They can apply their industry knowledge and an outsider's perspective to help you with your BCP creation process.
FUTURE PROOF YOUR BUSINESS SECURITY
PROTECT INTERNAL DATA
No matter what industry you are in, you can be targeted by fraudsters, scammers, and even competitors who employ dirty business tricks. To protect your business and data, you need to at least have these security measures, at the minimum, in place:
Install a firewall
Train every member of the organization on cybersecurity practices
Use password management software
Encrypting stored data
Have an incident response plan
Monitor activity with security analytics tools
Get cybersecurity insurance
SAFEGUARD CUSTOMER INFORMATION
Big data is valuable for both big and small businesses. It gives you actionable insights about customer behavior and market trends you need to make better business decisions faster. Safe keep data collected from customers by having reliable cybersecurity measures in place.
There are various ways to keep customer data safe, such as:
Restricting access to only those who need it
Using encryption for classified information
Storing data in a secure location
Regularly backing up data
Developing data retention and destruction policy
Any breach in data can lead to a breach in your operations and customers' trust in your company. And while business interruptions can cost time and resources to repair, earning back consumers' faith and patronage may take more effort.
FUTURE PROOF YOUR BUSINESS WITH A DISTRIBUTED WORKFORCE AND VIRTUAL STAFFING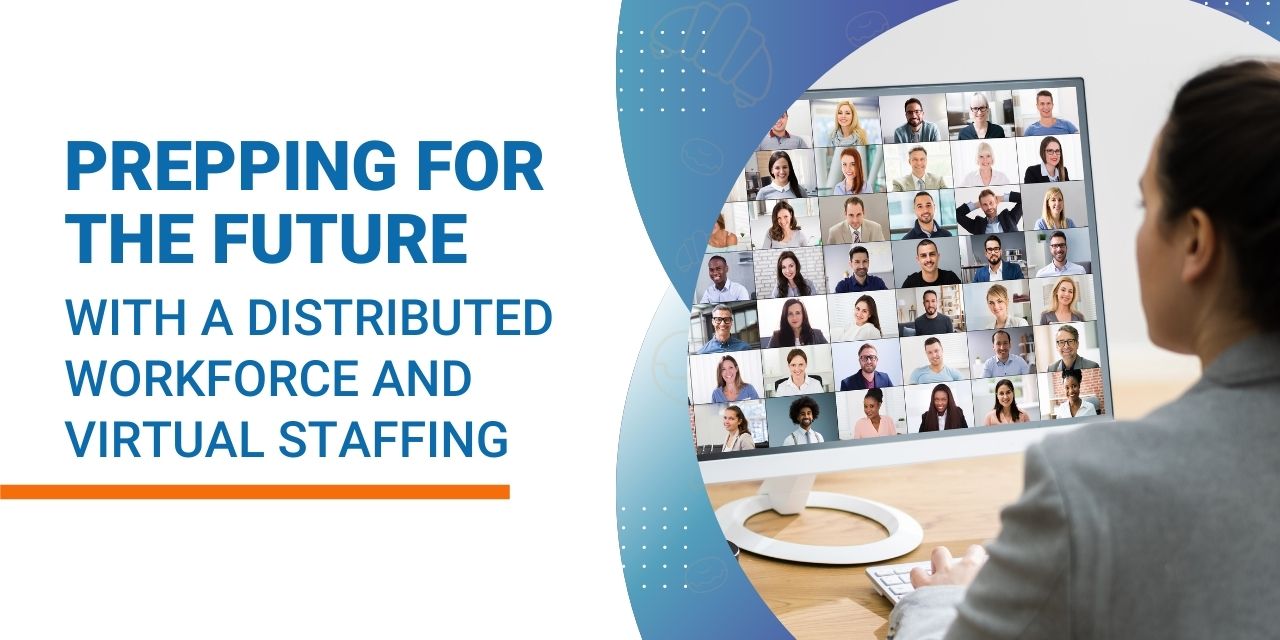 As the world moves online, more businesses are turning to distributed workforces and virtual staffing to future-proof their operations. A distributed workforce or remote team is a group of virtual assistants (VAs) working outside the traditional office setting. They may work from home, in co-working spaces, or anywhere with an internet connection.
There are many benefits of having a distributed workforce, such as:
INCREASED PRODUCTIVITY
Studies have shown that remote assistants or VAs who work from home are more productive than those who work in an office. One reason for this is that there are fewer distractions at home. They can also design their work environment to suit their needs and preferences, further boosting productivity. Remote work eliminates the need for a tiring commute and potential minor interruptions in the office. These benefits can make a world of difference productivity-wise, especially when one is already "in the zone."
LOWER OVERHEAD COSTS
You don't need to rent or maintain office space with a distributed workforce. Hiring virtual assistants is a great staffing solution: you save on overhead costs without sacrificing the quality of work.
FLEXIBLE WORK SCHEDULES
Remote workers can often have more flexible work schedules. This can lead to a better work-life balance and reduced stress levels, both great indicators of a happier workforce. You can also take advantage of the overlap in work hours to get more done. You may think that managing remote assistants with varying schedules can be a headache for a team lead. But with the right combination of project management and communication apps, you'll easily overcome this challenge.
BIGGER TALENT POOL
With virtual staffing, you're not limited by geographical distance. You can hire the best person for the job regardless of where they are. There are a lot of countries that have skilled (even bilingual) talent that can be the missing piece your team needs. Hiring people without the limitation of race, gender, or age means you're potentially providing rewarding career opportunities to highly-skilled talents. Ones that may not have the same opportunities in their current location.
BUSINESS CONTINUITY
When looking for a VA or VA team, you can hire those who can work during the specific hours you need them to. You can ensure your business is operational, even when it's outside office hours in your time zone. This is especially useful for companies that operate in multiple time zones or need to provide 24/7 customer support. Additionally, localized interruptions like brownouts and road closures won't significantly affect your business when you work with VAs. As long as you have a distributed workforce, you can carry on business as usual.
TEAM DIVERSITY
While this may not be a priority when thinking of ways to future-proof your business, increasing team diversity can improve your business. For one, having a diverse team means each member has exposure to different markets and industries. They can provide different perspectives and business ideas to improve your product or service. A diverse team can help you formulate a more regionalized business strategy to increase your reach and enter new markets.
CONCLUSION
Future-proofing strategies may take a back seat when you're busy with daily operations. But the business landscape is constantly evolving, and what worked yesterday may not work tomorrow. To stay ahead of the curve, you must continuously adapt and find ways to future-proof your business.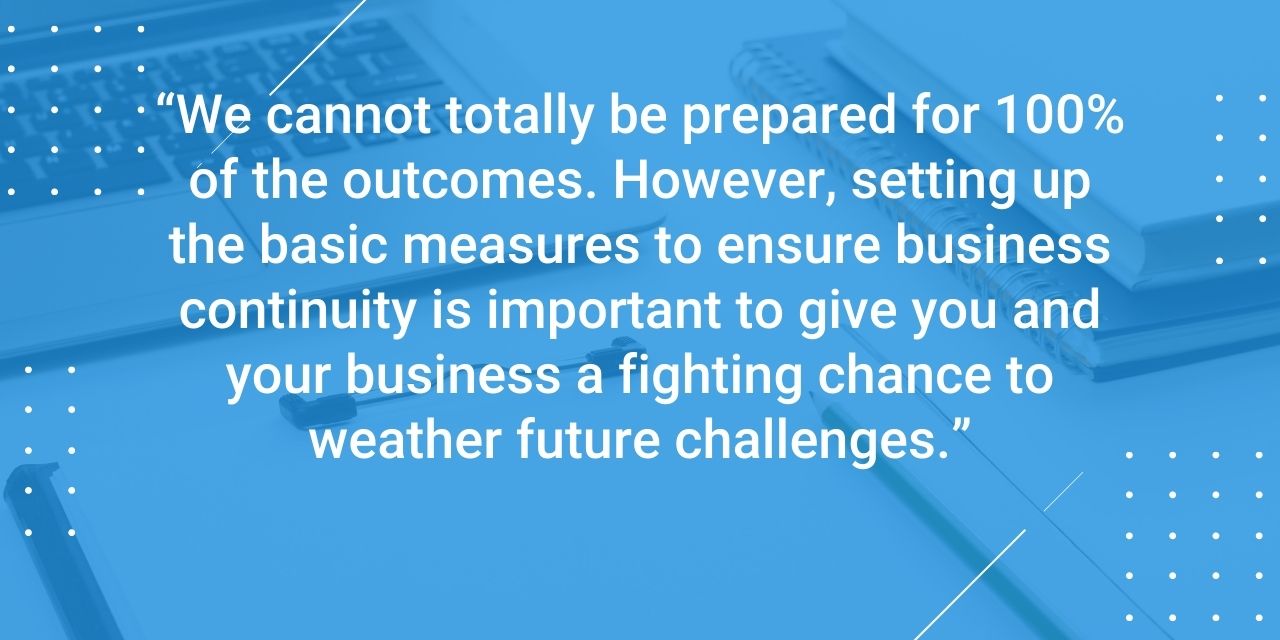 Data analysts and their forecasts can only tell us so much about the future, so we cannot be prepared for 100% of the outcomes. However, setting up the basic measures to ensure business continuity is still important. Doing so gives you and your business a fighting chance to weather future challenges.
Digital applications, processes, and solutions are important for any business that wants to stay relevant and future-proof. The goal is to minimize disruptions, protect employees and customers, and keep the company running smoothly.