What Do Real Estate Virtual Assistants Do?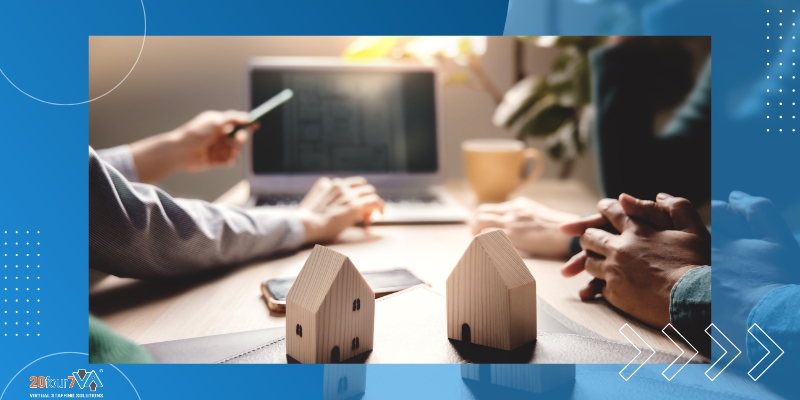 The real estate industry is a fast-paced, dynamic sector where only the most competitive and agile businesses thrive. The industry is closely tied to the economy's outlook; recessions and high inflation rates can pose serious challenges to all real estate players, big and small.
Aside from economic downturns, there are other challenges real estate professionals face. The amount of legwork and back-office tasks involved in the business take valuable time away from a real estate agent's core functions. Instead of working on revenue-generating activities, agents spend hours out of their day on desk work. This is when hiring a real estate virtual assistant will come in handy.
But what do real estate virtual assistants do, really?
The short answer: It depends. The tasks your virtual assistant will handle will largely depend on what you need help with and your business goals. Some focus on admin tasks like data entry and calendar management, while other real estate virtual assistants work on ISA and lead management duties. But generally, a real estate virtual assistant can handle most tasks as long as they can be done remotely. This way, you can focus on meeting clients and closing more deals without having to worry about time-consuming routine tasks.
What is a Real Estate Virtual Assistant?
A real estate virtual assistant, also called real estate VA or REVA, is a remote worker who supports real estate professionals. They can handle various functions, including administrative tasks, marketing duties, real estate transaction support, and other business support tasks.
Thinking of hiring a real estate virtual assistant? Schedule your free consultation call with our Growth Experts today to get started!
Benefits of Hiring a Real Estate VA
According to Statista, the worldwide real estate industry's market size is projected to reach US$729.40 trillion by 2028. It's good news for those in the real estate business, but that doesn't mean getting your slice of the market will be a walk in the park. Your best course of action? Working with a real estate virtual assistant, of course!
Hiring real estate virtual assistants offers numerous benefits, including:
Cost savings
Thanks to high inflation rates and a tight labor market, real estate players find it increasingly difficult to keep up with the competition while keeping costs low. The best course of action is to hire a real estate VA. You can hire the right real estate VA to support you at a fraction of the price (up to 80% off in staffing costs) of hiring on-site staff.
Since VAs work remotely, getting virtual assistant services allows you to save on overhead costs such as office space, equipment, and utilities. All you need to do is train your real estate VA to get them up to speed on your business processes and grant access to your preferred real estate and CRM software.
More time for core responsibilities
If you're finding desk work and back office tasks too time-consuming, you're not alone. On average, workers are said to spend 13 hours of their workweek reading and writing emails. That's a lot of hours on emails, and when you include other routine tasks like data entry and schedule management, you'll have even less time for your core job functions. Luckily, a real estate VA can change that for you.
"As all entrepreneurs know, you live and die by your ability to prioritize," Jessica Jackley, an American entrepreneur (Kiva & Profounder), said. "You must focus on the most important, mission-critical tasks each day and night, and then share, delegate, delay, or skip the rest."
Hiring a VA can help you achieve this. You can freely prioritize and delegate non-core tasks to a virtual assistant. They can share the load, working on more routine and time-consuming tasks, so you can finally clear your desk (and mind!) for more high-level tasks.
A larger talent pool to choose from
Choosing to hire remote talent means not limiting yourself to a small group of candidates. You can put more weight onto a candidate's skills and how well they'll fit into your culture instead of their geographical location.
VAs often have diverse backgrounds and can bring a wide variety of skills to your business. Introducing diversity to your organization can benefit you in various ways. By hiring VAs, you're allowing your team to have more diverse perspectives and creative problem-solving.
Is hiring a virtual assistant worth it? Claim your free consultation call to learn about how hiring a VA can positively impact your real estate business.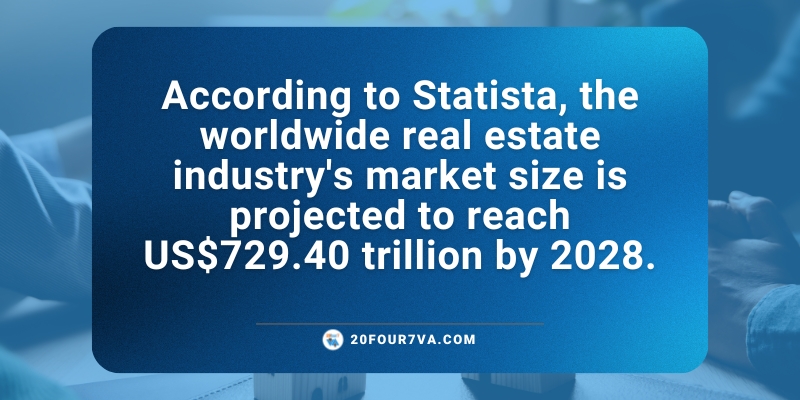 REVA Tasks: What Do Real Estate Virtual Assistants Do?
Real estate VAs can handle a wide array of tasks, depending on your needs. Here are some of the tasks you can delegate to them:
Administrative tasks
Admin tasks are ever-present in all industries. These routine tasks are essential, but they are typically repetitive and laborious. To better manage your time as a real estate professional, it's best to delegate these tasks. A REVA can provide the admin support you need by working on the following:
Client database management
Market research
Calendar management
MLS profile sheet preparation
Business support
Keeping a real estate business in tip-top shape means keeping back-office responsibilities in order. Keeping customers happy while making sure internal processes are efficient and effective is crucial for any successful business. A business support virtual assistant can help you run your organization more smoothly by taking over these tasks:
Assisting with MLS tasks
Customer service support
Routing inquiries and calls
Email and chat support
Timekeeping and payroll
Report generation
Data analysis
Marketing duties
Reaching out to new clients while interacting with existing ones is crucial in real estate. However, the execution of marketing campaigns can demand too much of your time and energy. As such, it's a good idea to hire a skilled real estate marketing VA to conceptualize and implement a marketing strategy that will bring in clients. Marketing VAs can work on tasks like:
Copywriting
Email drip campaigns
Video editing
Marketing collateral design
Property listing optimization
Property listing marketing
Real estate support
As a real estate professional, you're all too familiar with the different processes that take place before, during, and after a closed deal. Instead of being bogged down by the time-consuming work of real estate transactions and coordination, why not hire a real estate support VA?
Real estate VAs can help you with everyday real estate tasks such as:
Appointment setting with buyers and sellers
Lead qualification
Lead nurturing
Inside sales agent (ISA) work
Loan processing coordination
Property research
Client prequalification
Tenant screening
Move-in/Move-out coordination
Recommended reading: What else you can delegate to a real estate VA? 
Top Tips for Working with a Real Estate Virtual Assistant
Working with a skilled VA can help you boost productivity and increase revenue while keeping your labor costs low. But don't jump into hiring a real estate virtual assistant without proper planning and clear communication. It's important to outline tasks, expectations, and workflows to ensure a successful and seamless integration into your business processes.
Here are some tips to keep in mind during the VA hiring process:
Start with a list of tasks
To make sure you get the right VA for the role, you first need to know exactly what you need help with. Listing down the tasks that you're planning to delegate will hasten the recruitment and screening process. A clearly defined list will let you build a more detailed job description and enumerate the skills you need your VA to have, which makes it easier to find the perfect VA for you.
A well-defined task list is also important for setting expectations and avoiding scope creep. 20four7VA Business Development Manager Joan Bañez summarized it perfectly. "Be clear about the results you want and the tasks you want the VA to do for you," she said. "Establishing transparent goals and providing detailed instructions will empower your VA to deliver optimal results, aligning their efforts with your business objectives effectively."
Recommended reading: These are the top skills every VA should have.
Ensure your business is remote-ready
Making sure your business is remote-ready won't just help your VA feel connected to you and your team; it will also help future-proof your business.
One of the first things you need to do to prepare for remote work is familiarizing yourself with asynchronous and synchronous communication tools. This way, you can easily coordinate with your VA. You should also start making your work files accessible through a cloud storage system. This way, if your VA is working from a different time zone, they'll be able to easily find the files and references they need without having to wait for your assistance.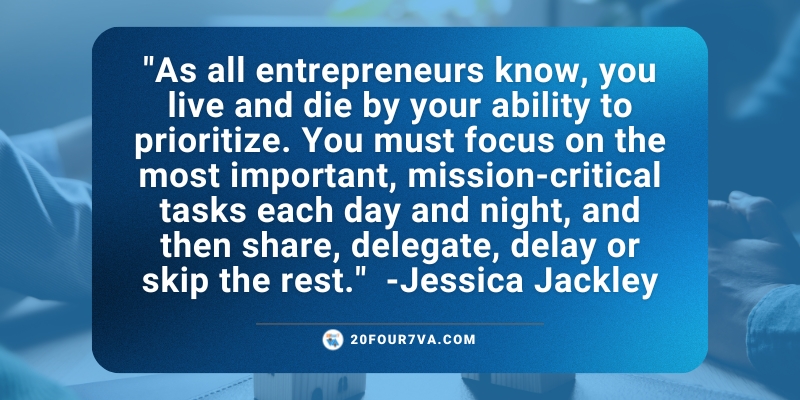 Set up a thorough screening and recruitment process
Finding the right VA requires time and energy. You need to be meticulous if you want to find the right VA candidate for your real estate business. Here are some important elements of the recruitment process you should never skip:
A clear job description (scope of work, required skills, required hours, etc.)
Candidate interviews
Interview questions that will reveal their values and communication skills
A relevant skills assessment or test task
A detailed job offer
If you want to make working with a remote assistant much more convenient, why not work with an award-winning remote staffing company like 20four7VA? We'll scour our global talent pool of pre-vetted and pre-assessed VAs to find the one that matches your approved job description.
20four7VA has a decade of experience providing cost-effecting remote staffing solutions to more than 2,900 clients around the world. And we can do the same for you! Simply schedule a free consultation with our Growth Experts to learn more about our services.
Onboard your new VA
According to Catherine vanVonno, President and CEO of 20four7VA, it's crucial for your VA to maintain accountability. "You can ensure this by setting clear expectations, providing regular feedback, and fostering an open channel of communication," she said.
One way you can spark a sense of accountability and responsibility in your VA is by having a solid onboarding plan. Just like any new hire, they'll need to know more about your company, its processes, and what's expected of them. An excellent onboarding plan can set your business and your VA up for success.
Here's a quick onboarding checklist to get you started:
Send handbook and compliance paperwork before onboarding begins
Set up access to relevant tools and platforms
Company profile and policies discussion
Discuss company profile and policies
Set up introductory meetings with team members and other key work peers
Schedule a one-on-one session between VA and the immediate superior
Align on specific goals and expectations
Conduct relevant training on tools and programs
IT Training
First assignment to check if information was retained (provide feedback and points for improvement)
Schedule regular check-ins
The above list may be longer depending on the type of tasks the VA will handle and your company practices. But make sure not to miss out on having a comprehensive onboarding so your VA is well-equipped to contribute to your growth.
Read our article on the virtual staffing best practices to help you successfully onboard your VA. You can also schedule a free consultation with our Growth Experts to learn how 20four7VA can help you make working with a VA more simple.
Maintain clear communication channels
Your working relationship with a real estate VA will not stop at the onboarding session. In fact, it's just starting. One way to maintain a strong working relationship is by maintaining clear communication channels.
Ensure you encourage a culture of constructive feedback. Providing timely feedback can help them improve and gain more confidence. It also gives the impression that the immediate superior is there to guide and lead, not just micromanage.
Don't forget to have regular check-ins, both one-on-one and as a team. This way, you're creating a culture of open and clear communication. Managers know what their team members are doing, and can help them manage their workload better. At the same time, everyone has a chance to interact with their peers. It encourages camaraderie and better collaboration.
Final thoughts
A Real Estate VA can be a valuable asset to your real estate business. They can take over important yet time-consuming tasks, so you can continue to focus on the bigger picture.
But this excellent cost-effective staffing solution also requires you to invest time and energy. You need meticulousness to find the right VA. If you want a more seamless and convenient experience, it's best to let 20four7VA's Growth Experts find the most suitable real estate VA you need.
Ready to hire your own real estate virtual assistant? Book your free, no-obligation consultation with us to get started!