Executive Assistant vs Administrative Assistant: What's the Difference?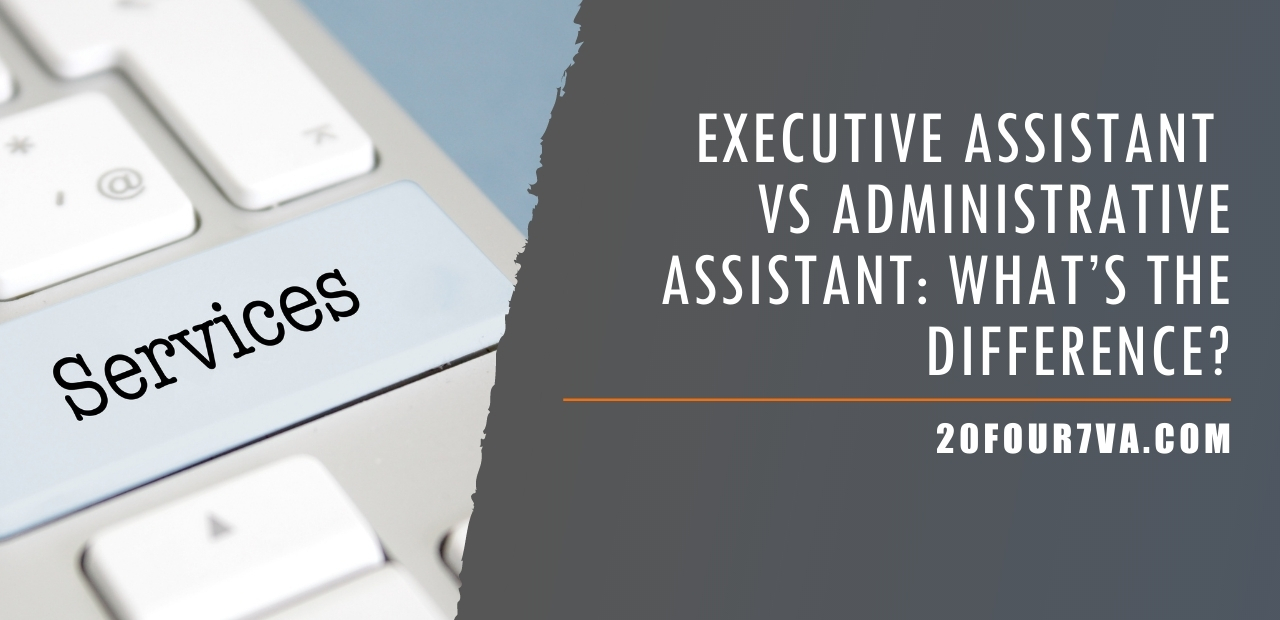 If you're thinking about getting help in managing your business, then you're bound to decide between getting an executive assistant vs administrative assistant. Having appropriate support can spell the difference between managing a business and barely getting by. You're better positioned to focus on your core responsibilities, pursue your business ideas, and have an equally satisfying personal life with an executive or administrative assistant to share the workload.
But which type of assistant does your business need exactly?
What is an Executive Assistant vs Administrative Assistant?



Executive and administrative assistants are perhaps two of the most frequently sought jobs in any company. It's common to have the two terms used interchangeably as there are similar and sometimes even overlapping roles and ideal qualities between these job titles.
However, there are key differences between an executive assistant vs administrative assistant. Learning to distinguish between these roles should help you decide which is more suited for your business.
Key Difference Between Executive and Administrative Assistant:
Executive Assistants (EAs) provide support for an executive or a team of executives in a company. Although the circumstances of every business vary, EAs typically provide direct support to high-level members of a company. This includes the CEO, president or vice-president, and CFO or chief financial officer of a company. At its core, the role of an executive assistant is to act as the right hand of the boss.
Administrative Assistants (AAs), on the other hand, are responsible for maintaining the day-to-day organizational and clerical tasks of an entire department or business. The Bureau of Labor Statistics defines Administrative Assistants as the people who "support other staff".
Administrative Assistant is such a generic title that there are different types of roles under this job umbrella. In fact, the Bureau of Labor Statistics identifies an Executive Assistant as a high-level Administrative Assistant. Suffice it to say that people who are planning to become an executive assistant, should start out as administrative support in their career path.
What to Delegate: Core Responsibilities of Executive Assistant vs Administrative Assistant
You are better off performing your managerial duties through delegation of low-impact tasks pertaining to an executive. In the same way, you can empower others by giving them responsibilities that will challenge as well as hone their skills. Of course, the tasks you delegate would depend on whether you are working with an executive or administrative assistant.
An Executive Assistant supports high-level personnel by doing the following tasks:
Providing direct admin or clerical support to executives

Managing calendars, including scheduling appointments and tasks

Managing payroll

Acting as the POC or point of contact between executives and their subordinates

Organizing travel arrangements

Onboarding and offboarding employees

Organizing staff meetings

Managing liaisons between managers and external parties

Taking minutes of executive meets and creating reports

Creating presentations for executives

Writing or proofreading communications of executives

Organizing office day-to-day work operations, including but not limited to building maintenance, parking, and employee incentives

Planning or organizing office events

Reading and filing memos and distributing them as necessary

Managing office software, including regulating employee access to spreadsheets and databases.
An Administrative Assistant helps an organization by handling these responsibilities:
Making inbound and outbound calls

Writing and answering emails

Spam management

Appointment setting

Visitor assistance

Handling incoming and outgoing mails or fax

Generating and filing invoices

Filing and storing general office documents or memos

Basic bookkeeping

Transcribing staff meetings

Producing reports for staff meetings

Data entry

Market or Product Research

Lead generation and nurturing

Presentation Development
What to Look For: Key Qualifications and Skills of Executive and Administrative Assistants
Education
When looking for Executive Assistants, many employers are inclined to hire people who have a 4-year degree. People who have educational and career backgrounds in business are also favoured. Over the years, as more small businesses come into existence, the number of online courses for executive assistants have also increased. This helps people obtain more marketable skills and give a leg up to those who don't have the educational and career background for the role. These courses include Project and Time Management, Business Strategy, and Software Skills.
Companies looking to hire Administrative Virtual Assistant require people to have a high school diploma or an associate's degree in business-related fields. Just like hiring executive assistants, companies are also inclined to work with people who have previous administrative roles in their careers.
Executive Assistant Core Skills

When looking to hire an EA, look for people who have the following competencies:
Prioritization

. Business executives have a lot on their plate. EAs should know to line up responsibilities and appointments according to urgency and importance.

Multitasking

. Multitasking should go hand in hand with prioritization. EAs should learn how to strategically and effectively perform multiple tasks following a timeline.

Communication Skills

. As the acting liaison officer for executives, EAs must be proficient in verbal and written communications.

Decisiveness

. Executives sometimes let their EAs decide in their stead. An effective EA should know how to make the right choices, especially under pressure.

Analysis

. The ability to make a sound decision is a by-product of someone's analytical skills. An EA should possess such a skill to help executives move the company forward.

Networking. As assistants to executives, EAs must have the proper networking skills to liaise and build beneficial connections whether it's with investors, partners, suppliers, and clients.

Administrative Assistant Core Skills



An administrative assistant excels in their role when they possess certain skills. Make sure to look for these competencies when looking for one:
Multitasking

. Admin assistants juggle a myriad of tasks for different people. They should be able to do so without anything falling through the cracks.

Adaptability

. Shifting between different schedules and tasks is inevitable when running a business. Admin Assistants should learn how to cope at a moment's notice.

Resourcefulness

. Time-sensitive tasks and high-pressure situations are typical of a growing business. Admin Assistants must have the skills in ironing out the kinks in such situations.

Attention to Detail

. Effective admin assistants should be quick to notice typographical errors, remember multiple deadlines, and understand instructions with minimal instructions. Such a skill makes a whole operation run smoothly.

Well-organized

. Administrative assistants are there to help other staff perform their jobs well. To do so, an admin assistant must have a system in getting a myriad of tasks done while strictly following a schedule.

Hospitality.

Admin assistants are usually at the frontline of business communications. They should have a service mindset when communicating with different parties whether it's through phone, email, or in person.
TIP: Integrity and confidentiality are also important traits for both Executive and Administrative Assistants. Both roles are required to handle sensitive company information and intellectual property. People who aspire to work as an EA or Admin support must have these characteristics for the role.
3 Tips for Hiring Executive Assistant or Administrative Assistant
1. Know what type of assistant you need for business.
Small establishments

usually have various team members act as both executive or admin assistants. Alternately, they can have one person perform both roles, while the business owner or executive takes care of tasks like managing payroll, communicating with partners and vendors, and organizing their own travel arrangements.

Medium establishments

or small establishments that are expanding need executive assistants to help high-level team members to carry out tasks. Medium establishments can have executive staff perform administrative tasks simultaneously or as situations demand it.

Large establishments

or businesses with a steady stream of clients or are working with multiple vendors are better off hiring both executive and administrative support. The EA can tend to the many duties of executives while the admin support takes care of the day-to-day operations of the business.
2. Hire virtually.
Hiring a virtual executive and administrative assistant is increasingly becoming the norm — and for good reason. For one thing, the pandemic has created profound economic changes that pushed many businesses into online operations. For another, virtual assistants prove to be an affordable and effective staffing solution for both virtual and brick-and-mortar establishments.
PRO TIP for virtual recruitment: Hire an administrative assistant through staffing agencies. 20four7VA pre-screens and trains VAs so that you can expect your administrative VA to provide a wide range of support from customer assistance to operations management and business improvement.
Another advantage of hiring from staffing firms is that most take care of recruitment groundwork and management of the VA. This includes pre-hire screening, interviews, training, onboarding, payroll, and employee coaching. Businesses will have a better breathing space when these responsibilities are taken off their plate.
3. Use the best tools in the market.
Whether you're working with an EA or admin support (or both), your staff should have the best tools at their disposal. Here's a big list of remote work tools that will help you from project management and marketing to security and communications.
An EA provides direct support to executives while admin staff mainly take care of clerical tasks of the entire team. Both are essential in making a business run smoothly and eventually expand. Knowing the difference between an executive assistant and administrative assistant as well as the various responsibilities and core competencies of each one should help you decide which type of support your business needs.