20Four7VA Announces Business Updates in Response to COVID-19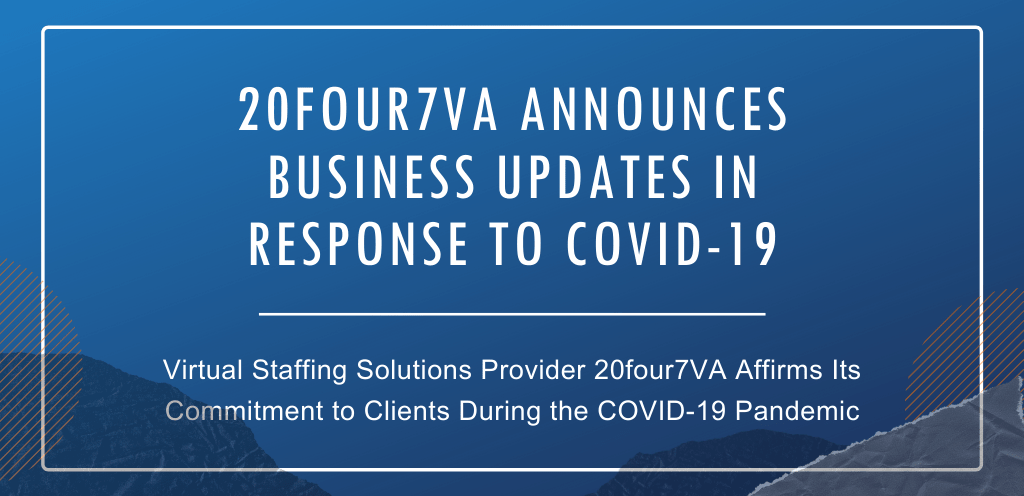 20four7VA, one of the leading virtual staffing solutions providers in the eCommerce industry, has provided an update on the measures it has taken to ensure the health and welfare of its employees and to guarantee business continuity during the coronavirus disease (COVID-19) pandemic.
In an email sent to clients, President and CEO Catherine vanVonno assured clients that the company is well-positioned to continue supporting both its clients and its VAs (virtual assistants) around the world.
"I wanted to reach out and let you know that we are committed to keeping our 20four7VA family safe and to continue serving our clients with the highest standards," Vanvonno said. "I know we all have fears about how the COVID-19 pandemic will affect our businesses, so I wanted to take a moment to tell you about the specific steps we have taken in response."
20four7VA has implemented these initiatives in response to the ongoing COVID-19 crisis:
Safety first
To ensure that the company will be able to continue providing support for clients' business operations, the safety of VAs and staff is currently of the highest priority. 20four7VA is monitoring the COVID-19 situation closely and is doing its best to keep VAs and staff updated on the latest news on the pandemic.
The company has provided COVID-19 safety guidelines to help VAs and staff better protect themselves and their families from the virus.
The 20four7VA Customer Support Team is checking in regularly with VAs, especially those in severely affected areas. The company has assured its VAs that all communication channels are open should they need any type of assistance.
Business continuity
As a fully remote company, 20four7VA is fortunate to have the tools and processes to keep its business operating smoothly through the pandemic. The company is currently fully operational and all teams are working diligently to ensure that clients' operations can continue as normal.
The COVID-19 situation is rapidly evolving and will continue to change. As such, 20four7VA is investing in its business infrastructure and actively monitoring and responding to the crisis so that they can keep providing the support that clients need during these difficult times.
20four7VA is working closely with its external technical service providers to ensure the continuous delivery of essential third-party services that allow the company to serve its clients.