Best Shopify Apps for 2023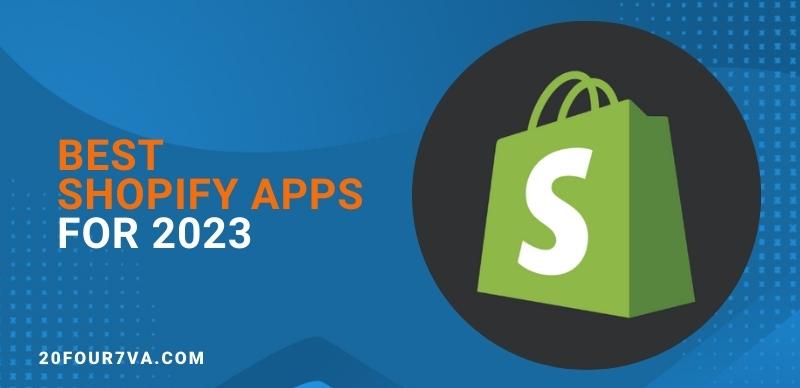 Just start. This is how Shopify spurs people on to become online entrepreneurs. The platform is becoming more and more popular in the business world — and for good reason. Over the years, Shopify has helped all types of entrepreneurs — from employees who venture into side hustles to more established brands who want to cash in on the digital market. Still, starting a business is one thing; sustaining and growing it is entirely different. With a platform as popular as Shopify, you need all the help that you can get to optimize its selling potential. The most appropriate place to start? Knowing the best Shopify apps to boost your business.
Best Shopify Apps 2023: 12 Apps to Help You Increase Sales and Improve Your Store
Selling and marketing practices evolve every few years. Still, the philosophy behind the system remains the same. Vendors should still make the buying process easy, convenient, and secure. A shop should still be as functional as it is attractive. These are only some of the unwritten rules that remain at the heart of a business — only that now, they have shifted into the digital marketplace.
The best apps on Shopify should help you lay down the basics as well as extend the functionality of your store. So, what are the best Shopify apps for the coming year?
Check out these 12 Shopify apps that new and long-time businesses should use in 2023.
Prisync




Competition is getting tougher by the day, what with all the many online businesses that pop up everywhere. While there are many ways to beat other brands, offering competitive product pricing is still one of the most effective. This is how Prisync can help your business. This Shopify app lets you track and compare product rates from any website. You get comprehensive and up-to-date data from an unlimited number of competitors using a quick and accurate system. Through this pricing software, you can come up with more profitable rates without the hassle of manually poring over spreadsheets. Prisync is free for two (2) weeks and the premium package starts at $199/month. 

Bold Discounts



You don't need to be a Shopify business owner to know that shoppers can't resist discounts. But how do you offer special rates and stay profitable at the same time? How do you please customers and grow your business in the process? Product Discount is an app that will help you find the right balance between customer satisfaction and business profit. This Shopify app lets businesses come up with profitable and creative campaigns. You can create offer discounts by percentage or a dollar amount off. You can apply discounts at a variant, selected products, specific product lines, or at store level. Bold Discounts will display the best rates to your customers without the risk of pricing error and promotion stacking. This Shopify app is free for a full month and will start at $19.99/month. 

Instant Buy



Effective calls to action have a proven way of increasing sales. And

Add to Cart

is the most straightforward call to action you can propose to customers. Make sure people have a quick, easy way of shopping in your store by adding the Instant Buy app on your Shopify website. As its name implies, Instant Buy adds an Add to Cart button to product pages. It also allows shoppers to view and choose product variants and directs them to the check-out page in just a few seconds. The app lets users choose between three routes after a customer clicks the Add to Cart button: get directed to the Check Out page, view a display of the items in the cart, or stay on the current page so they can continue shopping. Instant Buy is free for product pages only. If you want to stick this call to action button on other pages, you can trial it at $9/month.
PayWhirl



You've offered the discounts and prompted the purchase. Now, it's time to make payment easy, secure, and flexible. PayWhirl is a Shopify app that can help you do just that

and

more. It lets your customers manage their billing information and subscriptions.  PayWhirl can also process recurring or monthly payments, automate billing, and offer pre-orders and lay-away or installment plans. Giving customers such extensive payment plans and options is a sure way to keep them shopping. PayWhirl is free for businesses that

are making $1,500/month and starts at $49/month onwards. 

Trust Hero



Security threats are one of the reasons why people hesitate to shop online. Luckily, you protect your business and reassure customers through apps like Trust Hero. This payment and security app lets you display trust badges that you can customize. Trust Hero is free and works instantly. This Shopify app is also mobile-friendly and does not need developer support to function. 

Yotpo



Customer trust is built over time and through a combination of different efforts. In addition to adding trust badges to your website, you must also display social proof. Social proof advances a brand in different ways. It shows your activity as a seller. It verifies your credibility as a brand. And it displays the quality of your products and customer relations. Yotpo is a Shopify app that lets you showcase customer-generated content, from product reviews and photos to website ratings. You can enjoy its free trial with 200 orders/month or get it at $49/month. 

SNPT



Instagram is a popular photo-sharing and influencer marketing app. Its engagement rate surpasses Facebook, with Instagram posts getting 4.2 billion likes daily and 80% of its huge user base following at least 1 business page. Still, these impressive figures would mean nothing for brands without the right tools. SNPT capitalizes on the massive consumer influence of the social channel by providing a fast and convenient way for people to shop. Plug this Shopify app and connect it to your Instagram account so people can browse your feed and buy what products they stumble upon and like. SNPT is a convenient way to turn your Instagram feed into a marketable gallery as it carousels directly into your Shopify store and product pages. Another great thing about this Shopify app? It's free forever.

Here

are 5 other ways you can increase sales through Instagram. 

FedEx Rates, Labels & Tracking



On-time, hassle-free delivery is a huge deciding factor in a shopper's purchase decision. If you're using FedEx, you can make shipping even more seamless through the FedEx Rates, Labels & Tracking app. This tool lets you display real-time FedEx shipping rates, generate and print shipping labels in bulk, and sets up multiple packaging methods. FedEx Rates, Labels & Tracking supports domestic and international freight services for your local and global customers. This Shopify app offers a 15-day free trial and starts at $19/month. 

Free Shipping Bar



Just like discounts, free shipping is irresistible to customers. Make sure that your shop visitors instantly know you offer complimentary shipping through the Free Shipping Bar Shopify app. You can customize the bar background for holidays, personalize the campaign message, and even push congratulatory messages when customers take advantage of the offer. Boost this feature a notch further. You can display the Free Shipping offer based on country, device, page, and time period. This Shopify app helps you increase sales at no charge forever. 

Spocket



It takes a village to grow a business. In the case of online stores, suppliers can be your make-or-break partners. How do you ensure you work with suppliers who can produce quality products and respect your production timeline? You use an app like Spocket. This Shopify app helps online business owners scour the best supplies across the US, Canada, Europe, and Australia. It also offers affordable drop-shipping and real-time inventory updates. If you're looking for more ways to stay on top of your inventory,

here's

how an inventory management specialist can help. Basic Spocket is free with a paid plan starting at $29/month. 

Personalized Recommendations-

Make customers and online visitors feel at home. Use Personalized Recommendations so they can conveniently browse through your products and make quick purchases. This Shopify app leverages online shopping behaviour to come up with customized product suggestions. Personalized Recommendations is a smart way of bundling up products while catering to your customer's interests. It is free to use without sales. Pricing starts at 4% of the profits you make through the app.

Jebbit

Modern-day selling comes with its own challenges and restrictions. One of these is the limited opportunities to entertain customers. Use social media to get close and personal with your audience and Jebbit to create a fun experience for customers. Jebbit is a no-code platform that lets businesses create interactive and enjoyable quizzes, from personality quiz games to product-match tests. Customize the content and select templates to go with your games. Jebbit can be used on multiple channels so that customers can launch it from your website, social channels, or text. Use the data from these fun games to design and push campaigns that will complete your customer's experience. Jebbit is free for 5 users and 1,000 total engagements. Its paid plan starts at $70/month.
Starting a business is not enough. You must also do it with purpose and strategy. Take your Shopify business a step further by hiring an eCommerce Virtual Assistant. eCommerce VAs can perform several tasks from an account and listing management to order fulfillment and customer service. With an e-commerce VA and the best apps on Shopify, you are bound to start the year strong.