13 Tasks to Offload to an Inventory Management Specialist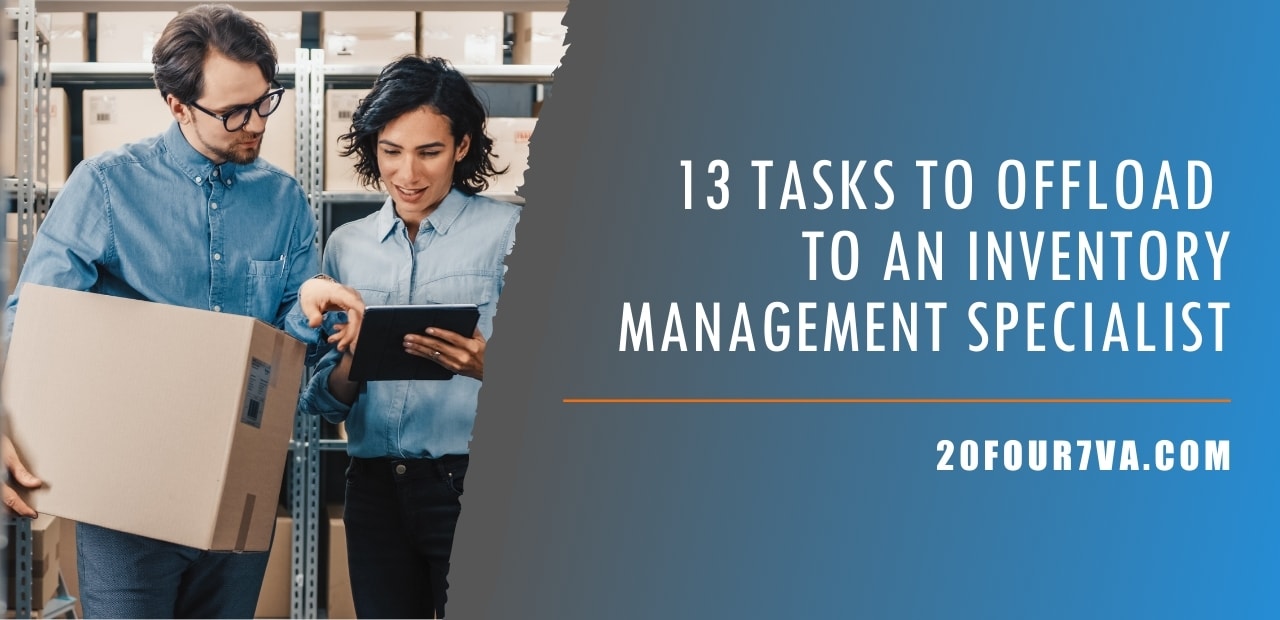 Customers today can easily go shopping with just a few taps on their phone. Many of them expect to receive their orders in two days or sooner. As a business owner, you need to keep up with these expectations or risk being written off and completely forgotten. Staying on top of your inventory is the best way to have a lead time that meets — and exceeds — customer expectations. An inventory management specialist will help you do just that.

What Is An Inventory Management Specialist?
A company needs to have a system for organizing stocks and overseeing the inflow and outflow of products from procurement to sale. Inventory management systems vary for every business type. For example, retail companies need to monitor the location and quantity of goods for sale, while manufacturers have to keep tabs on the raw materials as well as finished products.
This system is designed, supervised, and implemented by Inventory Management Specialists. It is their responsibility to ensure that all stocks are accounted for during procurement, storage, and delivery.
Of course, it's common for entrepreneurs to wear many hats in their company in the hopes of curbing expenses. However, stock-taking is too important a task to be left to non-experts. In fact, if tracking stocks is just one of your many responsibilities, you'll be better off delegating it instead.
13 Inventory Management Specialist Duties
What does an inventory management specialist do exactly? How do they ensure that stocks are bought and sold accurately and profitably? Here are 13 tasks that an inventory management specialist can do for you: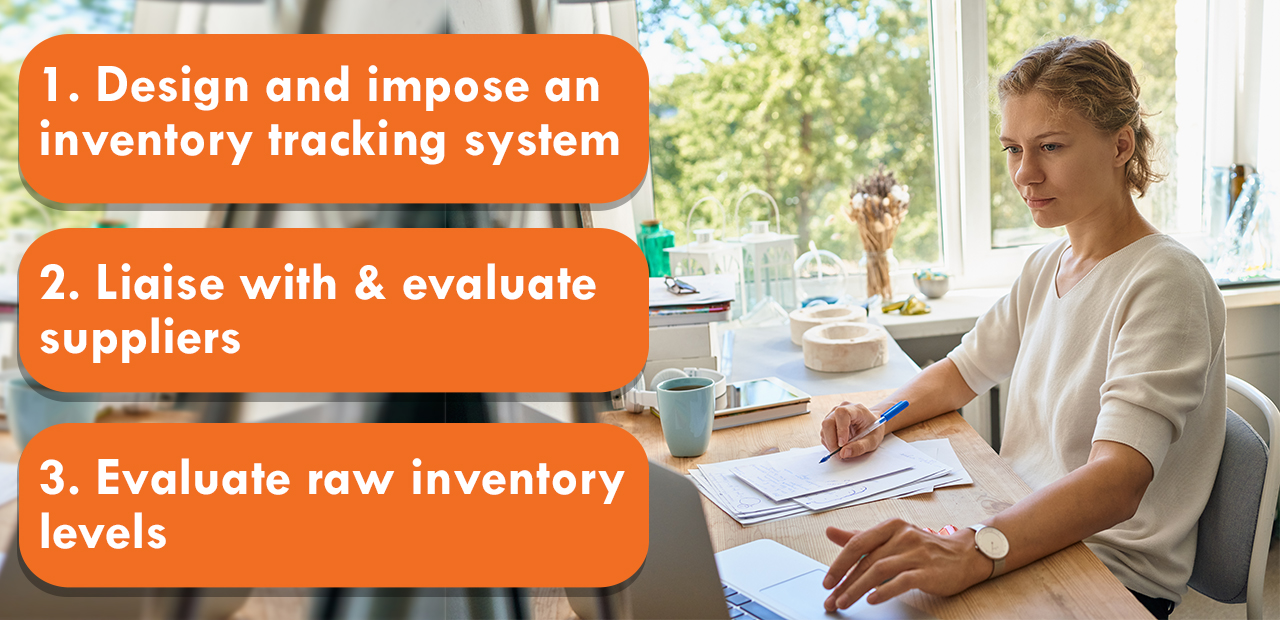 Design and impose an inventory tracking system.


A company needs a standardized tracking system for monitoring the inflow and outflow of goods. An inventory management specialist can research which tracking system is best for the company to adapt. They can fine-tune it along the way according to the company's changing needs and circumstances so it helps in controlling and growing cash flow.

Liaise with and evaluate suppliers.


It's the inventory management specialist's job to research and initiate dialogue with the best suppliers to get the best prices in the market. In addition, they must also maintain a good working relationship with suppliers. Your inventory management specialist can help you find suppliers that provide the best payment terms as well as help you stay on track with production or product procurement.

Evaluate raw inventory levels.


This is perhaps the most apparent reason why companies hire inventory managers. You need a specialist to stay on track of inventory levels so you can determine shortages and overflow. That way, you always have the appropriate number of supplies in the store.


Document incoming and outgoing stocks.


To monitor the inflow and outflow of suppliers, an inventory manager must prepare the documentation of the delivery and shipment of products. This document specifies the quantity, description, and quality of each stock so the company has a clear understanding of your inventory movement.

Analyze product levels.


When you're aware of every product that goes in and out of your business, it's easy to keep tabs on product levels. The inventory manager can analyze daily product levels to anticipate possible problems or shortages. This helps the company anticipate issues and find solutions. For example, a top-selling product is running low on supply because the supplier is having problems with production or delivery logistics. You can find an alternate supplier or strike a deal that works for your company and supplier so that you never run out of inventory.

Arrange purchase orders.


Bigger companies have a separate department for procuring new inventories. Others, however, can delegate this task to the inventory manager. After initiating a dialogue with suppliers and determining the purchase and payment terms, the inventory specialist can start arranging purchase orders. They must ensure that purchases follow the order plan of the company. This includes following the timeline for payment, production, shipment (if the suppliers are out of state or out of the country), land date, and display date online or in-store.


Organize product inspection.


Companies with offshore suppliers must ensure product quality before arranging for shipment. The inventory manager can find an external inspection team that examines, analyzes, and prepares a report regarding the products. The inventory manager will analyze the report and relay the results to the company so that the operations manager or the owner can approve the inventory for shipment.

Arrange shipment of inventory.


When purchasing from overseas vendors, the company must make the necessary arrangement for shipment. The inventory manager can take care of the logistics in getting the products from the factory to your own warehouse.

Warehouse coordination.


The inventory manager can help facilitate storage of inventories. They can research and liaise with warehouses to ensure your stocks are stored securely and appropriately. Proper loading and packing will preserve the quality of products while in storage.

Monitor product demand.


Which products have the highest demand and which ones take the longest to move? The inventory manager can monitor and analyze product demand so your inventory level is always appropriate. Tracking demand should also help in determining product pricing.


Organize comprehensive inventory reports.


In addition to documenting stock movement and levels, an inventory manager can also create a comprehensive inventory report. This report should detail the causes of shortages or overflows, losses, and overages. The report can include plans to clear out inventory and resolutions for any issues.

Create stock forecasts and recommendations.


An inventory management specialist can help the company create lucrative order plans. They can use data from customer demand and historical sales and inventory reports to make projections. The company can use this input to create plans for disposing of excess products and avoid future losses.

Train and manage new members.


It's easier for a company to get new team members on board once inventory management processes are put in place. Your inventory manager can participate in the recruitment, training, and supervision of new inventory employees.
5 Tips for Hiring Your Inventory Management Specialist
To ensure that they are effective in their inventory management specialist duties, you must be intentional during the recruitment of your manager. Check out these 5 tips for hiring an inventory management expert:
Create a comprehensive job description first.


This will help you find the best person for the job. You can create the best job description by considering the type of products you sell, the sales platforms you use, software and tools you utilize, company type and size, and specific tasks you want to offload to your inventory manager.

Find someone with the most appropriate educational background.


Most inventory managers have a degree in business administration or management, finance, and other related fields. People with certifications or training in product and inventory management will also be a great fit. TIP: You can require people to take additional training materials to help them prepare for the job. There are several resources online including eBooks and webinars on supply chain management and courses with exams and certifications.

Determine their depth of knowledge and experience.


You already know what tasks you want the inventory manager to handle. Use this data to determine their knowledge, skills, and experience in terms of supply chain management and analysis, forecasting techniques, and business communications.
Hire an Inventory Management Virtual Assistant.


While you can work with an in-house employee, consider recruiting an inventory manager virtual assistant instead. There are a host of benefits you can reap through remote employment. This includes expanding your talent pool. You can find better-qualified people if proximity is taken out of the equation. You can also save a lot of overheads when your inventory manager works remotely. For starters, here are 5 expenses you can reduce by hiring a virtual assistant.

Test their overall fit for your team.


Look beyond the educational and work background of applicants. You can conduct tests that would examine their analytical thinking, attention to detail, strategy, and leadership skills. Are their values the same as your company's? Do they have the same drive and work ethics that you require from your team members? Remember that your inventory manager will do more than just track the comings and goings of stocks. They must be good leaders, analytical thinkers, and team players to bring strategic output and client satisfaction to the table.
Final Thoughts:
20four7VA can help you find the best inventory management specialist virtual assistant. In addition to managing inventory, your VA can assist in the overall management of your business. 20four7VA pre-screens and trains VAs before being recommended to clients. Expect your VA to be well-versed in general eCommerce management tasks such as product listing, supplier and discount research, customer service, supplier and warehouse coordination, bulk data entry, and product listing optimization.
According to the Small Business Administration, mishandling stocks is one major reason that many small companies fail. It can result in stock shortages and overflows which will gradually hamper cashflow. You make this rookie by mistake when you let under-qualified people handle inventory management. Hire your inventory management specialist from 20four7VA.