5 Ways to Increase eCommerce Sales Through Instagram

Imagine launching a business with only a handful of products to sell, zero business experience, and no ad spending. In fact, they plan to get a buzz and generate sales through Instagram traffic alone. Sounds too risky, right? But for Portland Gear owner Marcus Harvey, this strategy gave him $5,000 in sales on the first day of launching his store.
This incredible story proves that Instagram has a massive influence on how successful a business can be. But how exactly does one increase sales through Instagram?
How to Use Traffic from Instagram to Your Advantage
When Harvey posted two photos of his personally designed shirts, Instagram was just starting to grow. Harvey himself admitted to only building his e-commerce website the night before he launched his products on Instagram.
So, how did he end up making $5,000 in revenue?
He initially built the Portland Gear account to build a community of like-minded people. On his Portland Gear account, fellow Portlanders reflected the same pride and passion that he had for his turf.  
From an entrepreneur's perspective, this proves that Instagram is a powerful platform for driving sales – you just have to find the right market for your products. Portland Gear is proof that you can get traffic from Instagram and convert it into paying customers.
Have a look at these statistics that illustrate Instagram's strong consumer influence: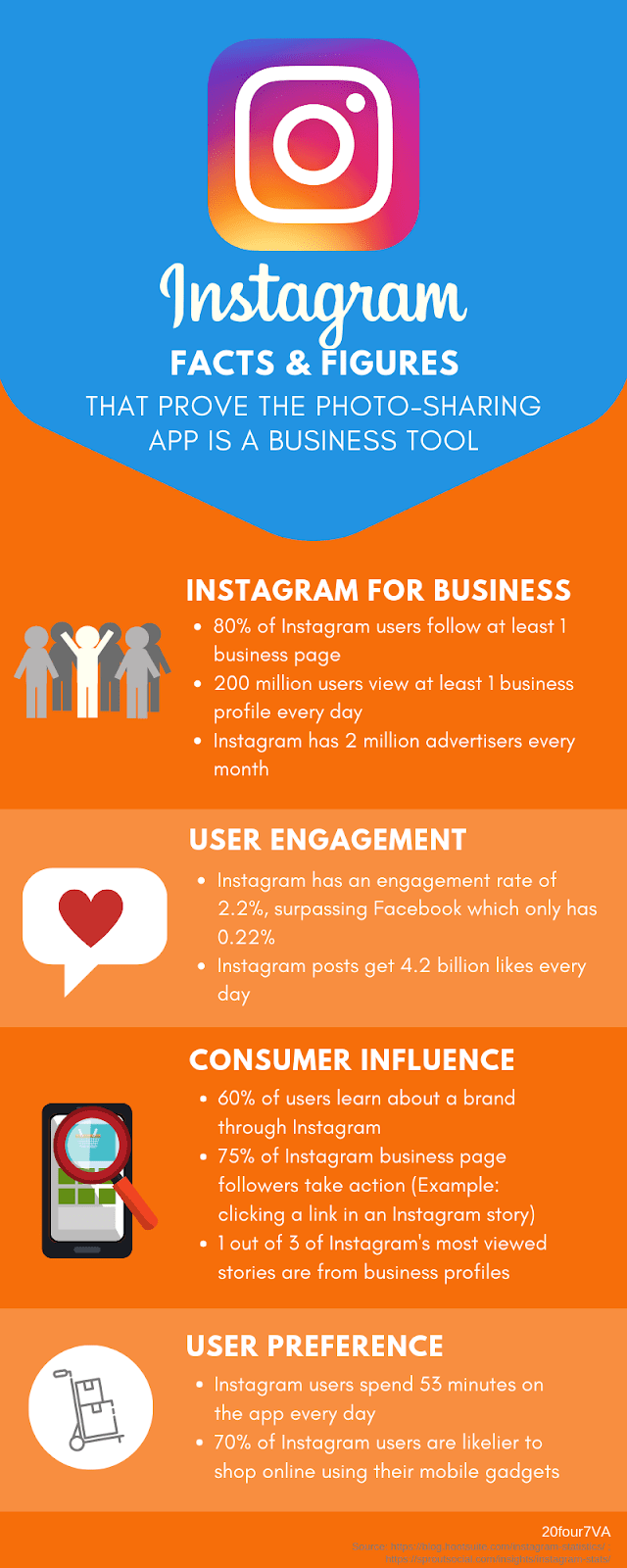 Instagram has 1 billion users, 80% of which follow at least 1 business page

60% of users learn about a brand through Instagram

200 million Instagram users view at least 1 business profile every day

1 out 3 of Instagram's most viewed stories are from business profiles

Instagram has an engagement rate of 2.2%, edging out Facebook which only has 0.22%

Instagram posts get 4.2 billion likes a day

Instagram users spend 53 minutes on the photo-sharing platform daily

Instagram hosts 2 million advertisers every month

75% of users react to or act on business posts (Example: visiting an e-commerce store after viewing a brand's post or story)

70% of Instagram users are likelier to shop online using their mobile gadget
With these facts and figures in mind, there's no doubt that Instagram is a wealth of consumer and online business marketing potential. So, how do you turn this photo-sharing app into an eCommerce support resource? How do you convert Instagram traffic to website traffic to boost sales?
Increase your eCommerce sales through Instagram by following these tips:
     

Stir up craving for your product.
Even in its early years, Instagram has been home to food lovers. Today, its user's post and view images of food and eating hubs to document their experience or share it with friends. Incidentally, this practice created a mutual symbiosis between consumers and businesses. According to an Instagram report, 66% of people who view their friends' posts of food and restaurants end up trying out the dishes and places themselves.
This high engagement isn't exclusive to brands in the food industry. Regardless of your niche, you can tap on the high engagement rate from Instagram users to create a craving for your own product. Instagram is a visual platform and it gives brands the opportunity to show rather than tell their audience how good their products are.
Posting stunning photos is a priority for creating visual inspiration, but to encourage demand for your product, you should also utilize other features of the app such as Stories and Live videos. Posting a series of connected images or video clips over a period of time also builds up the excitement and encourages people to get their hands on the products they've been viewing or reading about. American burger brand Ruby Tuesday understands this mechanics. By posting 5 videos of locally inspired burgers, the company's Instagram campaign edged out 96% of similar ads.
     

Utilize the 'Swipe Up' feature in Stories.
400 million Instagram users watch Stories every day. That's nearly double of Snapchat's viewership, even though Snapchat came up with the idea. Now, with the 'Swipe Up' feature, businesses don't just expand their brand reach through stories, they can use their Stories to drive traffic to their website too.
How do you use the 'Swipe Up' feature to drive traffic and increase sales? Simply add a link to your story that will lead users to a product page, landing page, or any other promotion page when they swipe up. Post a sneak peek of what you want to promote on your website using images, videos, and GIFs to rouse viewer interest and persuade them to swipe up and check out your page. Make sure that your call to action text or GIF is prominently displayed, so viewers know there is a link attached to your story.
If you are partnering with other brands, you can also post each other's links and take advantage of a more extensive viewership.
     

Create Highlights for better user experience.
Although Stories is a popular feature, they disappear after the 24-hour mark. While you can share your stories to your feed, you'll end up clogging your pretty feed layout when you add tons of Stories there. Thankfully, Highlights let you save your stories, categorize them, and prominently display them on your profile.
Because the Highlights folders are displayed just below your bio, they are easily visible to new followers or potential customers who are new to your brand. Help people make faster purchase decisions by displaying on-hand products, on-sale items, or bestsellers as highlights. Make sure that these stories have the swipe up feature so you can add a link that will bring the customers to the different pages on your website.
Another way to boost your sales with Instagram highlights is by using them to showcase your testimonials or proofs of successful transactions. When new customers read feedback or verify your brand credibility, it encourages them to do business with you. Posting order forms, FAQs, price lists, and shipping rates in highlights also cut the time spent on inquiry and make the user experience better and sales more seamless.                                                                                             
     

Post-user-generated content.
Posting customer feedback and testimonials showcase your brand credibility. However, a better way of leveraging output from your customers is to turn it into content for both your Instagram and website. Airbnb, a brand whose primary currency is user experience, understands the powerful persuasion that comes when people read about the actual experience of their fellow customers.
When you plan your social media posts, make sure that you incorporate content coming from customers. People are wary of pages that only post promotional campaigns. To build a better connection with your audience, give them an avenue where they can share their experience or be featured in your page. Apart from showing your clients appreciation, sharing user-generated content also drives authenticity to your posts. It also encourages them to post or feature your products or brand on their page, thereby expanding your reach.
To drive traffic to a website from Instagram, create blog content with themes or subjects that resonate with your customers. Do this by collating frequently mentioned issues, comments, or inquiries from your followers or customers. When the new blog post is up, inform your customers by posting a link on your bio or stories so they can immediately read it. Creating blog posts out of your customers' specific areas of interest will help you build stronger ties with them. In the same way, it helps customers get to know and appreciate your brand better.
     

Find the best support available.
Although Instagram is a straightforward, user-friendly app, managing a business page can get challenging. It's better to hire a social media virtual assistant to help you manage your Instagram page and other social media channels. As your followers expand, having a social media specialist as a partner will help you cater to customer concerns while navigating the intricacies of social media marketing.
Apart from customer and marketing assistance, there are resources that can help you do more with Instagram. From post scheduling to, sales, and analytics, there are tools and apps that will help you manage and ultimately monetize your Instagram following. Check out these 20 Instagram tools that will help you boost productivity and sales.
Instagram has proven to have a strong influence on people's purchase decisions – use it to influence your target market. Follow these 5 ways to boost eCommerce sales from Instagram traffic.