Entry Level vs Mid Level vs Advanced Level VAs: What's the Difference?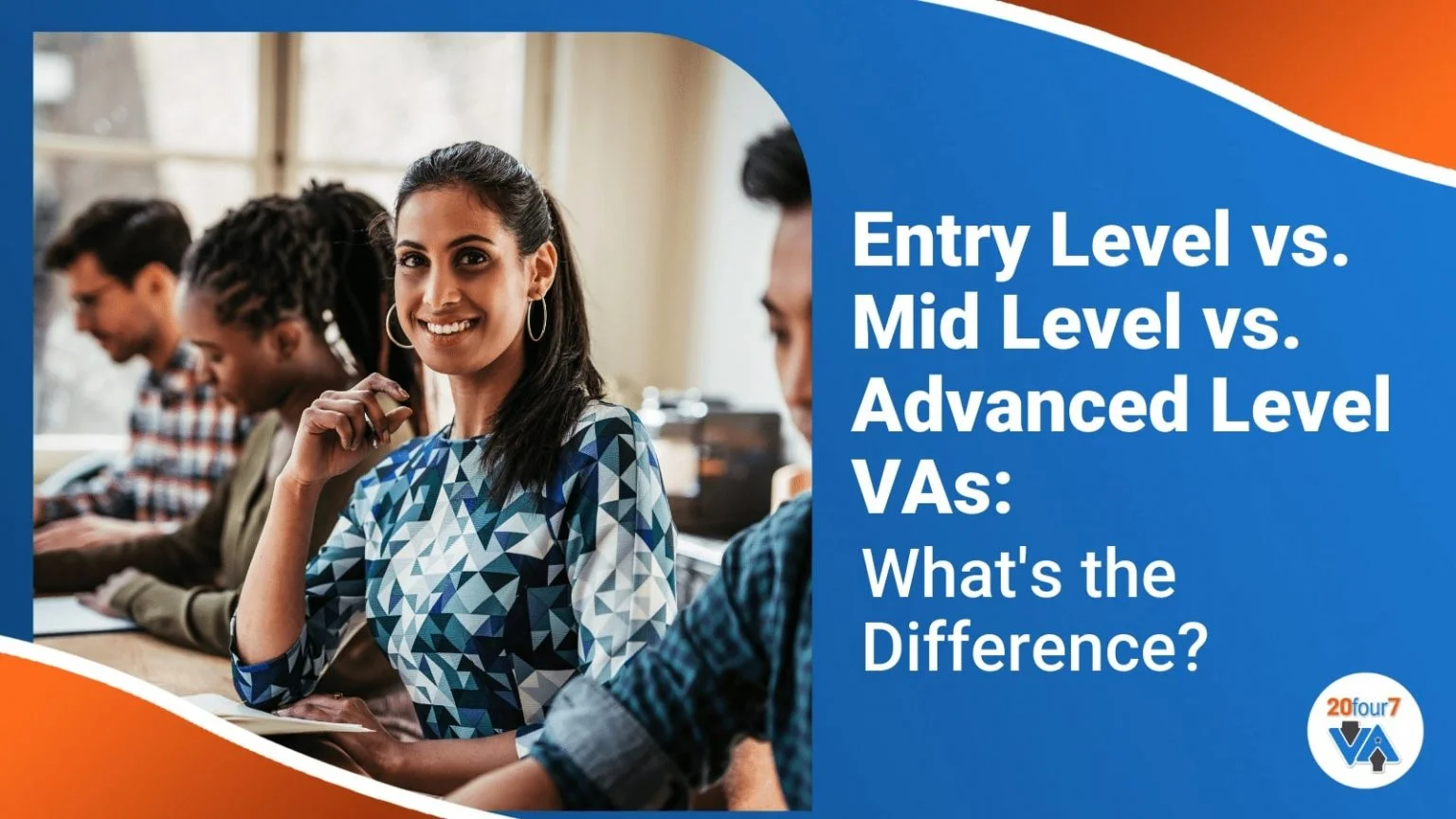 Choosing the right virtual assistant (VA) for your growing business may lead to questions that you did not anticipate asking. Should I choose entry-level vs mid-level VAs? Or should I get an advanced-level VA instead? But before you find the right answers to those questions, it's important to know the different VA levels and the tasks they can do. Only then will you be able to recognize which type of VA will work best for your business needs.
The faster your business grows, the sooner you'll need to hire an extra set of hands to help you navigate your various responsibilities, roles, and projects. And whatever business tasks need to be done, there's a virtual assistant for you. Most may not be aware, but VAs have varying levels of experience and skills.
Those new to hiring remote or virtual assistants may not be able to identify the differences between entry-level and mid-level VAs, but don't worry. We can help! Let's take a closer look at the different types of virtual assistants based on task proficiency and work experience.
What are virtual assistants?
Virtual assistants (VAs) are contractors who help business owners accomplish tasks remotely. VAs can cover a variety of responsibilities, from administrative tasks like email management and inventory to more specialized work like software development and podcast editing. The beauty of hiring virtual assistants is that they can effectively fill vacancies in your workforce, are easily accessible, and cost just a fraction of what you would pay an on-site employee.
What's even more beneficial for growing businesses like yours is that you have access to a global pool of VAs with varying experiences and levels. This makes it possible for you to select the right type of VA in terms of the skillset and experience level that you're looking for.
There are three main levels of virtual assistants: entry-level, mid-level, and advanced-level. Each level has different skills and experiences. In simple terms, entry-level VAs are those with little to no experience or are still at the early career stage. Mid-level VAs have some years of experience and are usually more skilled, and advanced-level VAs have highly specialized skills and are considered the most experienced in their chosen field.
So, how do you know which level is right for your business? Let's explore.
Entry-level assistants
Like most entry-level employees, entry-level assistants are typically those who have just started in their careers. They may have some experience, but they are still new to the game. Entry-level VAs are quite fresh to their field, but they are fast learners and coachable. You should be able to help them adjust to your company's ways of working and internal processes through proper training. Because entry-level VAs have little to no experience, expect that their rates are relatively lower than mid-level assistants.
Basic tasks
Most entry-level jobs include tasks that have standard guidelines that assistants can easily follow. Examples of these basic tasks include:
Answering and routing phone calls
Scheduling appointments
Making travel arrangements
Data entry
Internet research
Email management
File management
Customer service support
Leads generation
And more!
Hiring an entry-level Administrative VA can do wonders for your business. You can delegate time-consuming, routine tasks, so you can focus on your core responsibilities. Schedule a free consultation with 20four7VA to know more.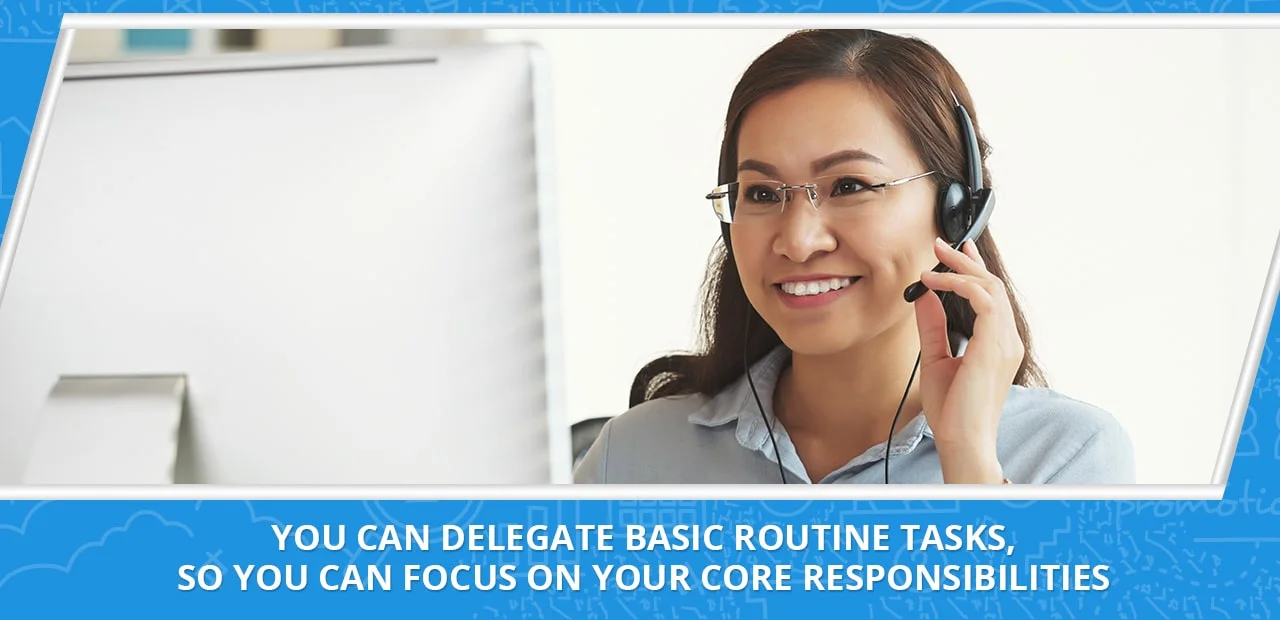 Mid-level assistants
If you're deciding between a mid-level or entry-level VA and need someone who can manage more complex tasks with little supervision, then a mid-level virtual assistant is what you should look for. Entry-level assistants are essentially newbies, while mid-level assistants have some professional experience under their belt. They are more skilled than entry-level VAs and can handle more challenging tasks that require more critical thinking.
Because mid-level VAs have more experience, you can expect them to complete tasks faster and better understand what needs to be done. You can also expect mid-level assistants to have more industry-specific knowledge than entry-level VAs since they have had some time to immerse themselves in the field. They will be able to provide valuable insights or suggestions, given their experiences in handling similar tasks for other companies.
Depending on the tasks that need to be done and previous experience, mid-level VA rates can be 30% to 50% higher vs entry-level VA rates.
Specialized tasks
Thanks to their experience in relevant fields, mid-level VAs can work on various tasks with little supervision and general instructions. Examples of which include:
Project management
Content creation
SEO research and analysis
Digital marketing execution
Customer relationship management (CRM)
Graphic design
Bookkeeping
Business reports creation
Social media management
And other more specialized tasks.
Do you need a VA for bookkeeping or creating business reports on Excel? 20four7VA has intermediate junior or intermediate senior (the equivalent of mid-level) VAs that can help you with that! You can schedule a free consultation with our Business Growth Experts to discuss your business requirements.
Advanced-level assistants
As the most experienced type of virtual assistant, advanced-level VAs are those who have a sizable experience and knowledge under their belts. They are highly efficient and experts in their chosen field. You can trust that they can work independently and consistently turn in high-quality output. Advanced level VAs have valuable prior experience in relevant industries, so they can provide recommendations and share helpful practices that worked well in their past jobs.
Because of their experience and valued skills, advanced-level virtual assistants command higher rates than entry-level and mid-level VAs. That being said, you can be sure that you're getting your money's worth with an advanced level VA, especially if you need someone who can not only do assigned tasks but can strategize and execute projects independently.
High-Level Tasks
Some examples of tasks that an advanced level VA can handle are:
Advanced customer service support
Digital marketing strategy
Software development
Web security
Data analysis
Accounting & Budget Control
Strategic planning
Recruitment
And other high-level tasks that can only be done by a VA with years of relevant work experience and skills.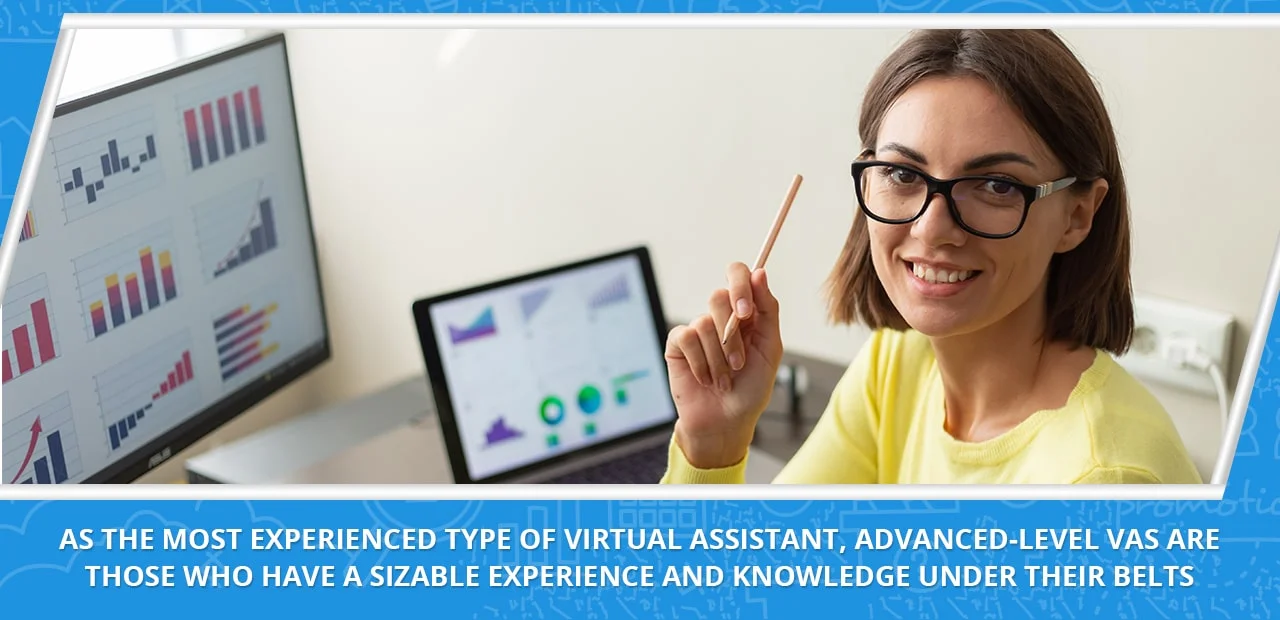 If you are planning to make upgrades to your IT systems, advanced-level VAs can help you take your business to greater heights. 20four7VA's IT experts have years of IT experience and the necessary skills you need! Schedule a consultation with 20four7VA to get started.
As a general rule of thumb, entry-level VAs are best suited for small businesses or startups that need assistance with routine tasks and can provide clear instructions. On the other hand, mid-level and advanced level VAs are more suited for businesses that need help with more complex tasks that require critical thinking and industry-specific knowledge.
How VA tiering is done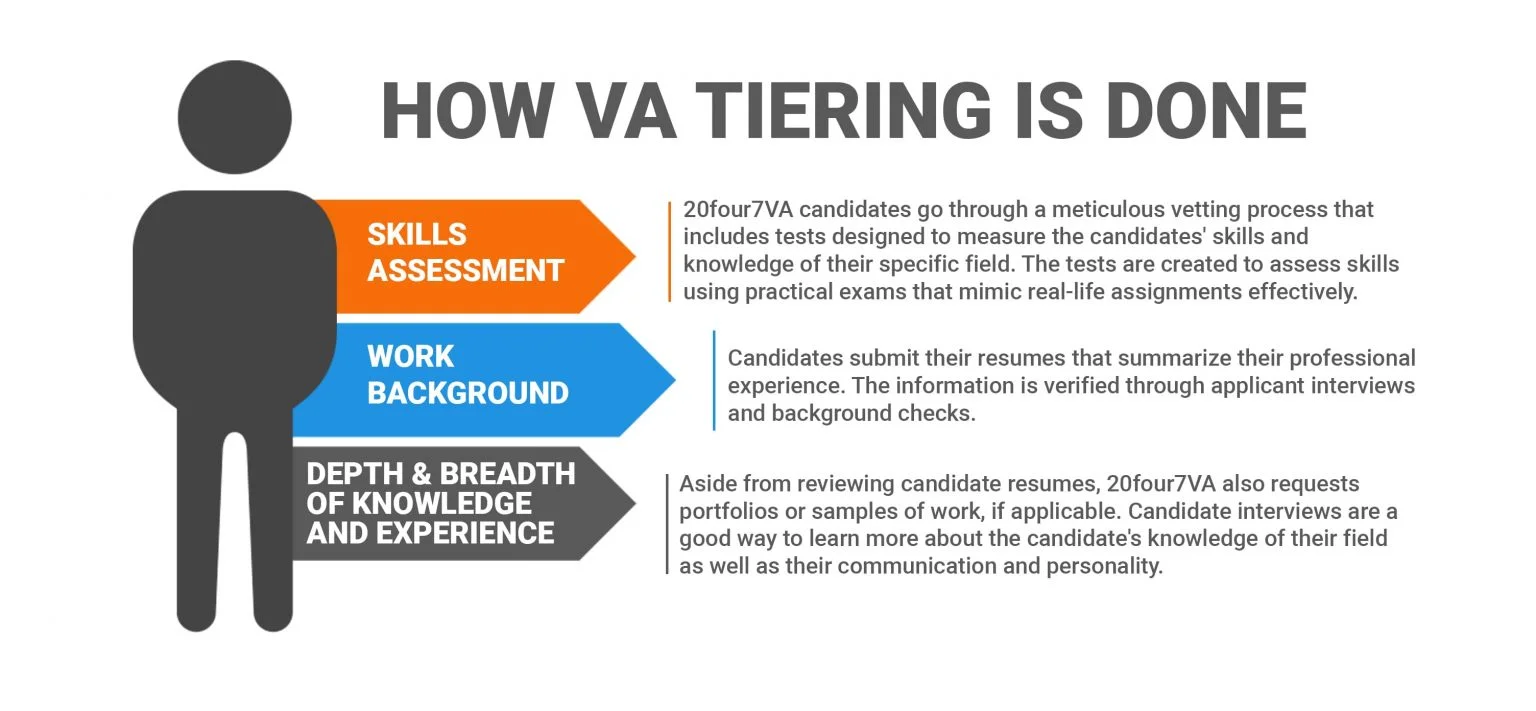 Tiering of VAs may vary depending on the staffing services provider or employer. In 20four7VA, virtual assistants are categorized using the following criteria:
Skills assessment results
20four7VA candidates go through a meticulous vetting process that includes tests designed to measure the candidates' skills and knowledge of their specific field. The tests are created to assess skills using practical exams that mimic real-life assignments effectively.
Work background
Candidates submit their resumes that summarize their professional experience. The information is verified through applicant interviews and background checks.
Depth and breadth of their knowledge and experience in their areas of expertise
Aside from reviewing candidate resumes, 20four7VA also requests portfolios or samples of work, if applicable. Candidate interviews are a good way to learn more about the candidate's knowledge of their field as well as their communication and personality.
These three items are great indicators of a VA's tier. VAs are categorized based on the number of years they've worked. They're also graded based on their potential output, which can be measured using the skills assessment. Clients are highly encouraged to provide a short test task to candidates to ensure that the VA is the right fit for them.
Entry-level vs mid-level: How do you choose?
Now that you know the difference between entry-level, mid-level, and advanced-level virtual assistants, it's time to decide which one is right for your business. Here are the simple steps to choose the right type of VA and eventually hire the best candidate for your requirement. Starting with the list of tasks and skills will make deciding on the VA level your business needs much easier.
Create a list of tasks that you need help with
List down the required hard and soft skills
Assess your budget
Post job opportunities on recruitment platforms
Initial screening of applications
Interview candidates
Select a VA and make a job offer
Onboarding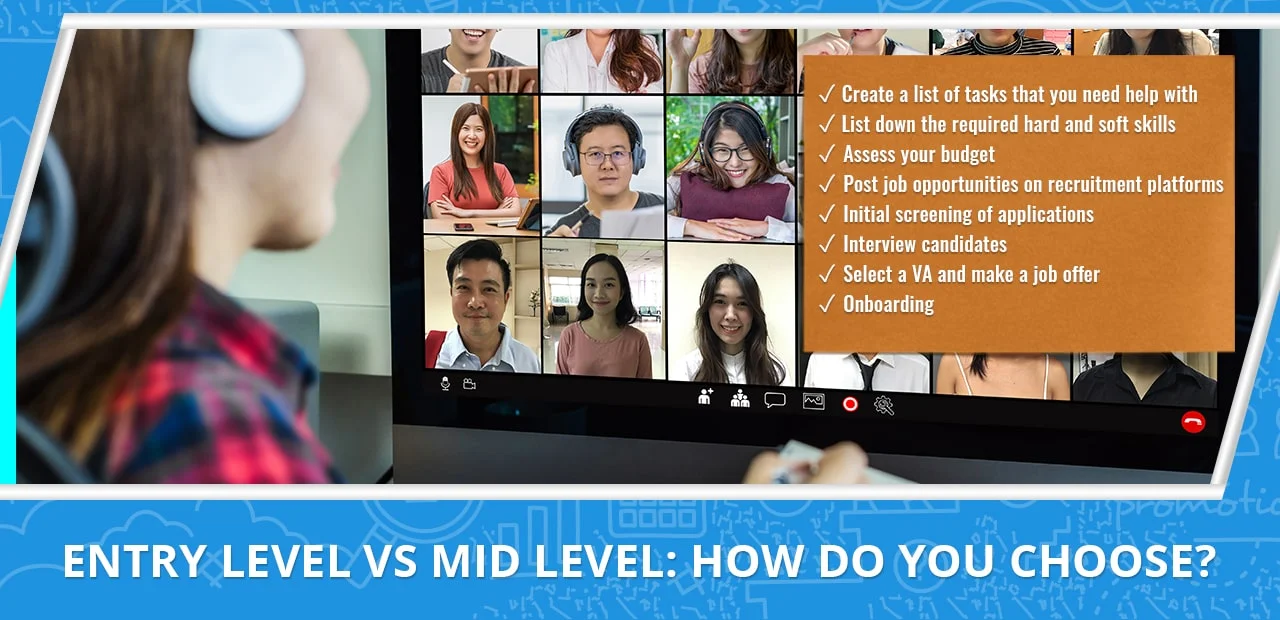 Schedule a consultation with 20four7VA
You can discuss your business needs with our Business Growth Experts during your consultation call. 20four7VA is a full-service staffing company, so we can help you with the complete process from completing the job description to recruitment and eventual VA hiring!