Top Virtual Assistant Tools 101: Part 3 — Organization and Document Management Systems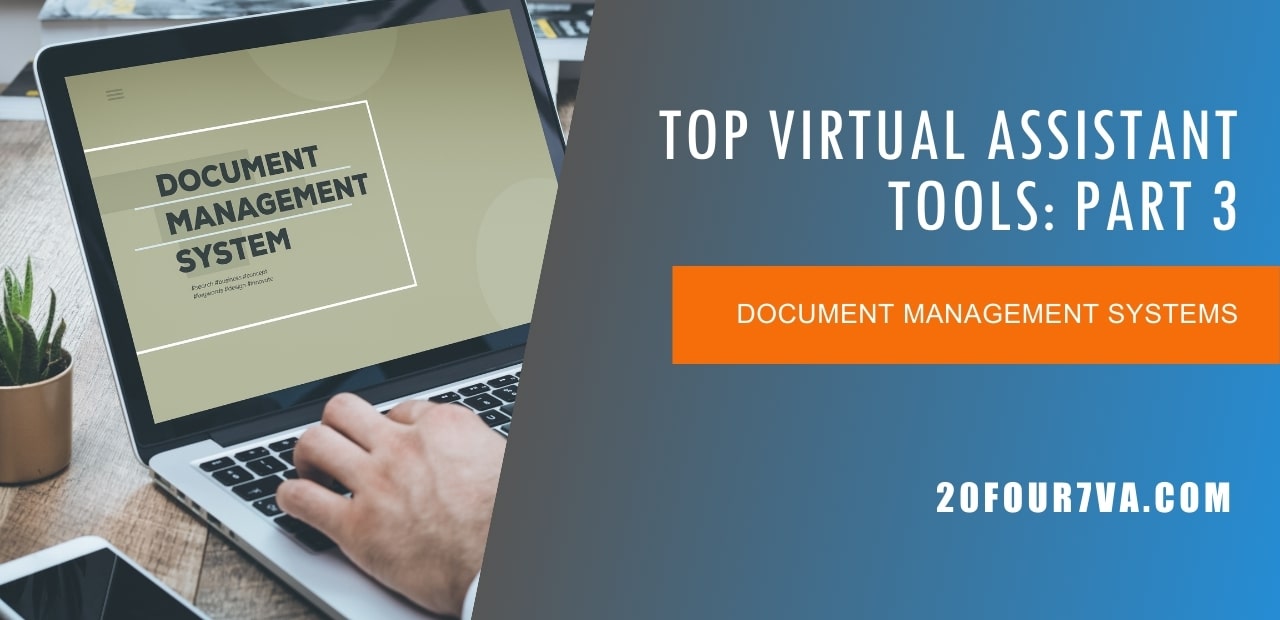 An organized and well-developed system is essential to business operations. Having important tasks piling up and in disarray can stifle productivity, result in many unmet deadlines, and harm client relations. As more and more processes go digital, electronic document management systems (EDMs) become invaluable for content management and storing important business information.
What is an EDMS?
An electronic document management system is software used for organizing important documents. It streamlines processes such as creating, saving, and retrieving digital files in a collaborative space. It also contains tools for sharing digital assets, including text, images, video, and audio files. EDMs can integrate with other applications so that centralized information can be accessed and managed more efficiently.
Simply put, a document management system is an electronic filing cabinet that makes digital files more accessible.
What are the Types of Electronic Document Management Systems?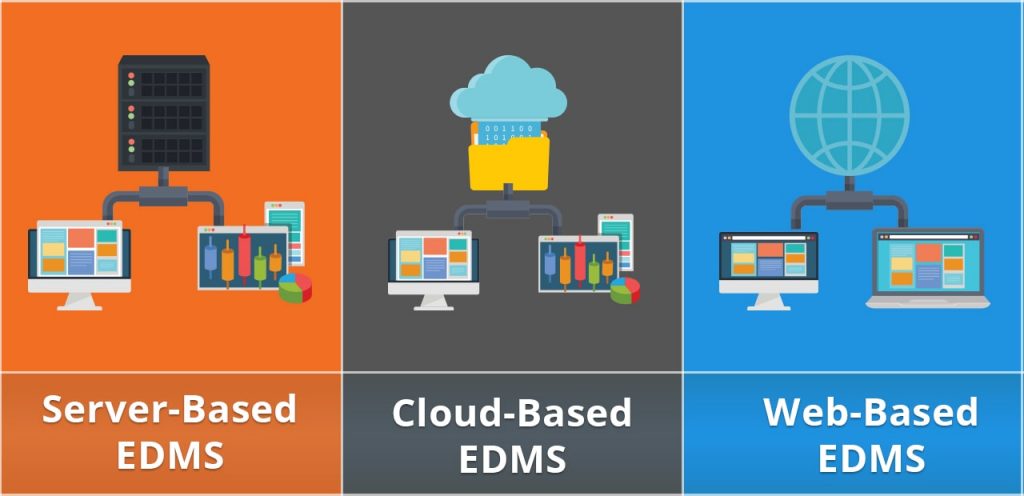 There are multiple types of EDMS, and choosing the best one depends on the business's needs. EDMS vary in size and scope, from small standalone systems to enterprise-type networks for global mega-corporations.
1. SERVER-BASED EDMS
These are desktop-based document management software that users can install as a stand-alone on local workstations. Files on this system are stored on a server computer and accessed and retrieved without connecting to the internet.
2. CLOUD-BASED EDMS
As the name suggests, this type of system is hosted on a cloud, allowing users to access all files from any device connected to the internet. This service usually comes with add-on options, such as allowing the transfer of large data files, security, and other features.
3. WEB-BASED EDMS
This type of EDMS is similar to the cloud-based one, but the difference is users can conveniently access it through a browser without any software installation. Unlike server-based EDMS that need an on-premise server or the purchase of a private cloud, web-based EDMS are inexpensive and can integrate with popular office software systems.
Why Should You Use a Document Management System for Your Business?
Electronic document management helps automate recurring processes and allows teams to manage workflows efficiently. It lessens the difficulty of sharing files and renders paper documents obsolete. Here are some other key benefits.
1. Saves Time
Businesses that rely on a manual paperwork system are inefficient, with employees wasting time looking for the documents they need. With electronic document management software, filing and retrieving documents is faster and easier. Most software or platforms have an automated indexing system with features that allow you to find a document with a few clicks.
2. Lowers File Handling and Archiving Expenses
Implementing an EDMS can seem like a lot of work, but it can save the business heaps of money in the long run. In fact, paper document management can be more expensive as it is labor-intensive. You'll also need to purchase physical storage space for your file archives. Having a central source to process, store, and retrieve records is much more convenient with digital files.
3. Improves Data Privacy and Security
Businesses should ensure that customer data and other information are always secure. Document management systems have built-in security and access controls to help reduce the risk of data breaches. The administrative hierarchy, as well as activity, can determine who has access to folders and files. This software usually also has backup systems to prevent data loss.
4. Accommodates Regulatory Compliance
An automated workflow means less human error, which helps companies avoid lawsuits brought about by breaches of sensitive information. Some compliance requirements can be complex, and this complexity increases as a company grows. Most EDMS are compliant with industry-standard rules and processes, but advanced systems offer audit trails, authentication tools, and permission capabilities.
5. Smoother Collaboration
As work becomes more digitalized and operations are outsourced, EDMS designed to improve collaboration among users become more important. This software allows internal and external communication through web-based environments so that third-party users can collaborate. More secure functionalities that limit the access of off-site employees ensure ease of use and efficiency while promoting business continuity.
Popular Document Management Systems Your Business Can Use
Businesses, no matter how small, need to utilize an EDMS for better document management, seamless workflows, and reduced operational costs.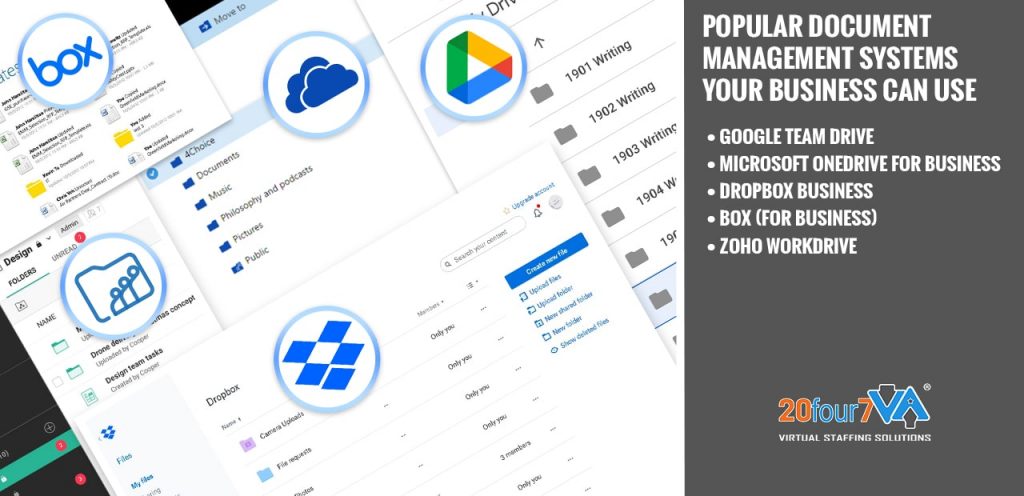 Here are popular EDMS to consider:
Google Team Drive — A web-based shared space where teams can access, search, and store files from anywhere, using any device connected to the internet. Drive space belongs to the entire team, so any file in a Team Drive is accessible by the members, with file-sharing capabilities and restrictions controlled by the organization.
Microsoft OneDrive for Business — Teams and departments can create workspaces to store and share documents, and all work files are stored in the cloud. The Business version allows the integration of Microsoft products, including SharePoint.
Dropbox Business — A file-sharing package for companies that, like most document management systems, allows users to share files and automatically syncs them to the cloud. It has standard and advanced business plans at different price points with more features for the latter.
Box (for Business) — Another cloud storage platform for content management and file-sharing with features that suit large businesses and enterprises. Box comes with transparency as it provides complete visibility over the collaborations among its users.
Zoho WorkDrive — An online file management and collaboration tool for any business size, from small business to large enterprise. The unified space allows role-based access so team members can work together seamlessly.
5 Business Advantages of Being Organized
Poor organization can be disastrous, especially for small businesses. Something as simple as not establishing a plan of action can snowball into a lot of unsatisfactory outcomes. There is a lot at stake when you don't keep the workplace organized, such as loss of valuable time and the piling up of tasks. Here are reasons why organization skills are essential:
1. Smooth and Efficient Operations
They may seem inconsequential, but simple tasks like keeping track of to-do lists, noting down ideas and suggestions, and organizing files have a significant effect on work productivity. When your team doesn't have to waste time looking for files that they need or trying to figure out where to get business-specific information, they have more time to focus on income-generating tasks. Establishing standard operating procedures for your team is the first step to ensuring smooth and seamless operations.
2. Paperwork Becomes a Breeze
Managing necessary paperwork, including financial documents and taxes, becomes less dreadful when everything is filed and in order. There is less risk of losing records when sales, expenses, and receivables are properly tracked. Monitoring cash flow is also vital as it allows you to keep track of how much money is going in and out.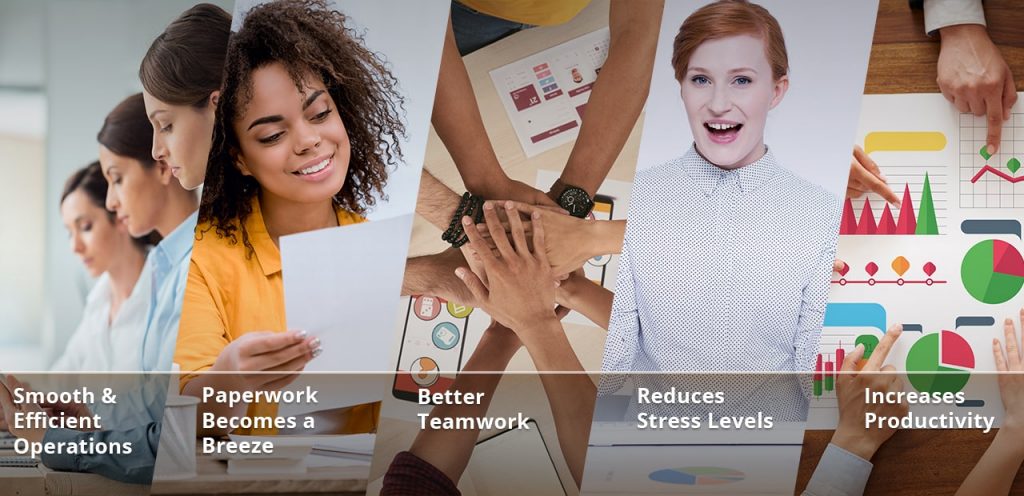 3. Better Teamwork
There is no "I" in "team," and companies need employees to have a strong sense of teamwork to achieve business goals. Employers set expectations and that employees receive clear directions with achievable objectives and realistic timeframes. When everyone is in alignment, teamwork is much more smooth sailing.
4. Reduces Stress Levels
Disorganization causes stress and can often lead to you feeling stuck and unproductive. Working this way can take an emotional toll. The best way to combat this is to improve organizational habits and encourage everyone at work to do the same.
For example, get in the habit of decluttering emails as you go through your inbox. Label them correctly so you can find them easily. When you're free from disorganized chaos (like an overflowing inbox), your mind is freer. A solid organization system will not only reduce stress but will make for happier employees.
5. Increases Productivity
The best way to make the most out of your day is by planning ahead. Using productivity tools and document management systems certainly help, but it is equally important to have a to-do list to get a headstart. Checking off an item on the list is satisfying and will further motivate you to complete the rest of your tasks before the day ends.
Whether you're a business owner or an employee, we hope you enjoyed part 3 of our series. Stay tuned for Part 4: All About Project Management Systems.