Top Virtual Assistant Tools 101: Part 2 – Appointment and Scheduling Apps

Table of Contents
Time is one of the most valuable resources anyone can have, and spending it wisely is a hallmark of efficiency, especially when it comes to working. In a traditional office setup, workers are expected to stay in an assigned cubicle or table to do their work for a certain number of hours, five times a week. The age of COVID-19 has certainly changed this known structure as most businesses restructured their organizations to adapt to teleworking.
As office workers shift to relying on online communication tools to connect with managers and colleagues, it's just another day at work for virtual assistants (VA) who are intimately familiar with work-from-home setups. While it is undoubtedly a boon that most people can find online jobs nowadays, one of the biggest issues that have resulted is the difficulty of managing one's own time.
Being a virtual assistant is lucrative work as VAs can take on multiple clients in different arrangements such as long-term, project-based, or as-needed. In the past year, the number of virtual assistants has soared. In fact, a report on future work trends states that freelancers and part-time workers will soon replace many traditional employees. Additionally, more and more large corporations will be utilizing a flexible workforce to adapt to changing times.
This means that VAs who work with multiple clients need to manage their time carefully, and one of the ways to do this is to be well-versed in scheduling and appointment apps.
Benefits of Using Appointment and Scheduling Apps
Businesses that rely on bookings and client appointments know how vital scheduling and appointment tools are. Improved booking rates often mean that a service provider is doing well. Because these apps are used to streamline processes for both the service and client end, the most important thing to consider is accessibility.
Ease of use comes second, as the last thing customers want to deal with is apps that are slow, buggy, or worst of all, unavailable. Faulty scheduling tools can have a tremendous effect on your business, resulting in miscommunications that can mean missed sales and other opportunities.
A large chunk of online bookings come through after hours. One of the most significant benefits of using online scheduling apps for businesses is that they allow you to entertain client bookings during non-business hours and generate alerts or reports for upcoming appointments. A scheduler allows both companies and clients to utilize their time better. Clients on a waiting list can receive notifications of an open schedule before their appointment date.
For employers, one of the biggest challenges when handling staff with different shifts is scheduling. Some scheduling appointment apps offer tools that help manage work schedules and employee shifts for the week or the month. You can use these tools to assign tasks, control overtime, solve scheduling conflicts, and oversee general employee activity.
These apps also improve attendance because they can generate automated reminders and use widgets that can integrate with online calendars. They also have helpful features such as bidding on open shifts, requesting time off, trading shifts, and more.
Remember that an easier booking and scheduling experience means reliability, fewer no-shows, and better potential business growth, no matter if it is used by organizations or freelancers.
What are the Best Work Scheduling Apps for Employees?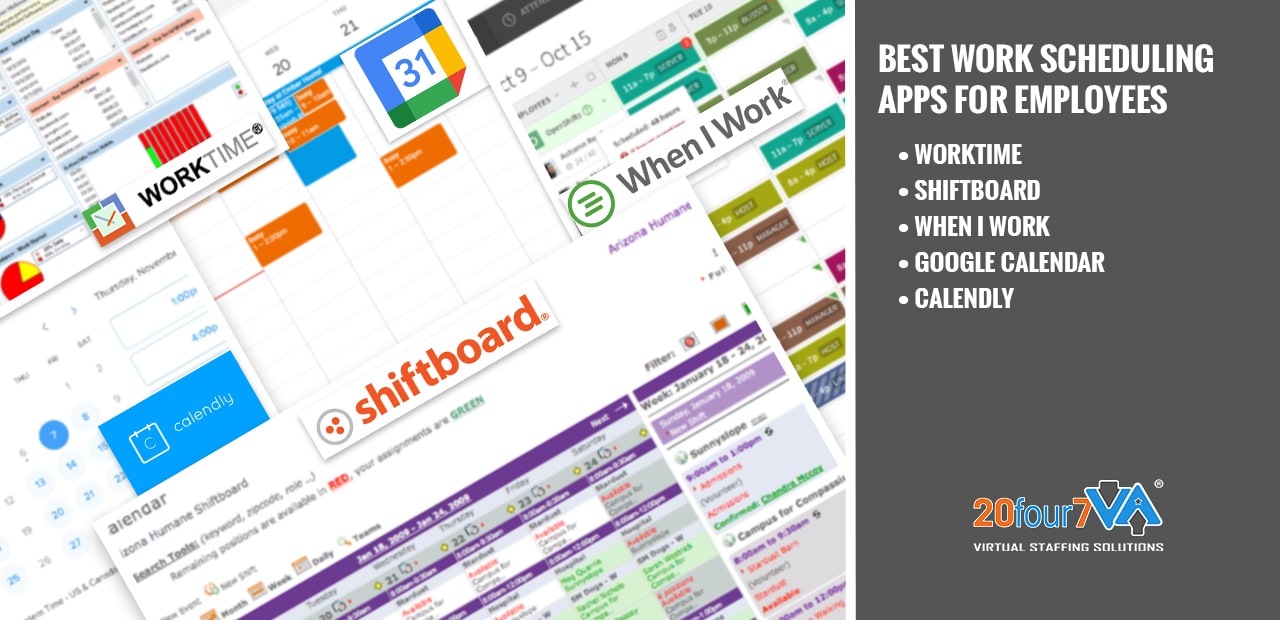 There are many factors you need to consider when choosing the right scheduler. These include price, number of employees, and features that you need and want. You don't necessarily have to pay for a scheduling app, as there are loads of free ones that can give paid tools a run for their money.
For organizations with remote workers, virtual assistants, and other types of contingency workers, here are some of the top scheduling apps you should check out:
WorkTime — This is one of the most straightforward scheduling tools out there. WorkTime allows employees to monitor the productivity of off-site employees without being invasive. Through the app, you can monitor attendance, track logins and logouts, and see idle time.
Shiftboard — This app is highly customizable and caters to businesses with mission-critical tasks. Shiftboard's main features include an easy-to-use centralized schedule UI that improves scheduling accuracy and ease. It also has auto call-out fill and auto shift-fill for industries that want to reduce disruptions to business operations.
When I Work — This app is highly customizable and caters to businesses with mission-critical tasks. Shiftboard's main features include an easy-to-use centralized schedule UI that improves scheduling accuracy and ease. It also has auto call-out fill and auto shift-fill for industries that want to reduce disruptions to business operations.
Google Calendar — One of the most well-known scheduling and calendar apps. One of its main advantages is that most users with a Gmail account can access it. The Google Calendar app lets you create and schedule meetings and appointments in seconds.
Calendly — Calendly allows users to schedule many types of meetings and connects with multiple calendars. This tool helps improve the scheduling experience with others who use different apps as it allows you to immediately see priority and availability from within the app.
BONUS: Productivity and Time Management Tools for VAs!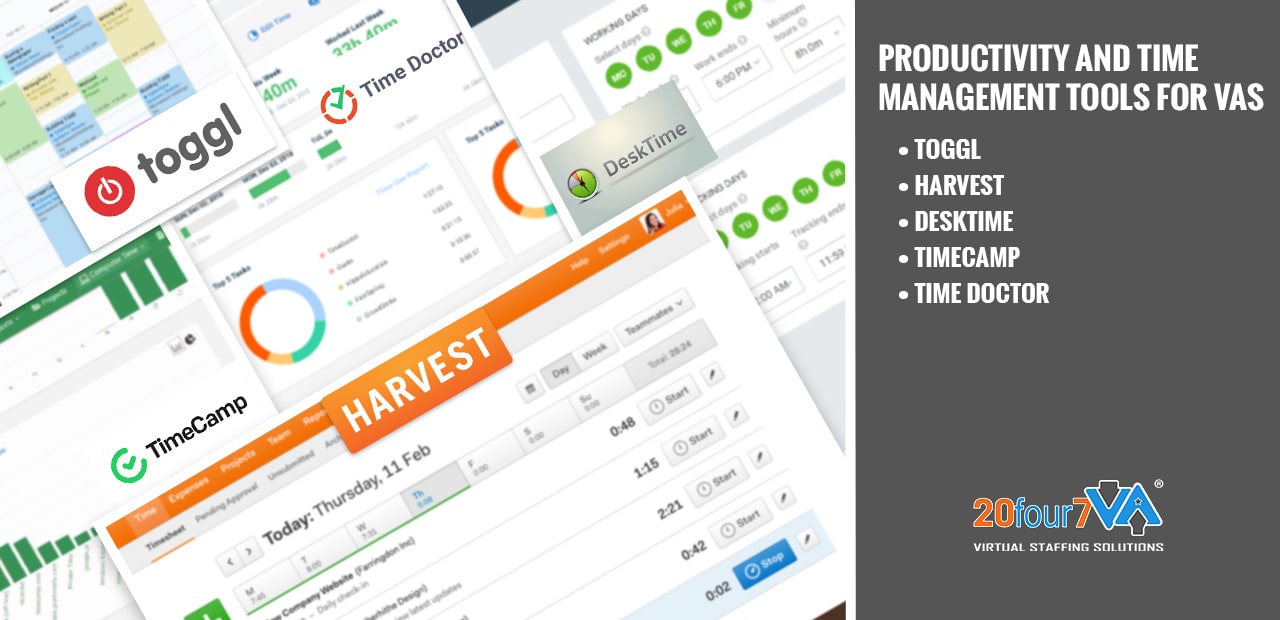 Remote working arrangements require a certain level of trust. But employers and employees also need quantifiable data for tracking and invoicing purposes. Time management apps and software are an amicable solution for both sides as these tools have features for monitoring work hours and expenses, creating EOD reports, and exporting data or invoices. Here are some of the best time-tracking tools:
Toggl — This is a free time-tracking app that works on most mobile devices, computers, and even browsers. With Toggl, you can hit the track button and worry about the details later. One of its most notable features is a Pomodoro Technique setting that allows you to focus and work for a set amount of time.
Harvest — A collaborative time-tracking tool that allows members to track the times they worked on a project together or otherwise. It can connect to desktop and mobile apps and has a browser extension for convenience.
DeskTime — As the name implies, DeskTime monitors the time you spend working. It also calculates daily productivity based on programs, apps, and websites you opened during the day.
Timecamp — This is a tool that tracks billable hours and stores the information on the cloud. Timecamp also creates automatic payroll, sends invoices, and monitors project status. It can also follow the team's overall productivity and performance.
Time Doctor — A popular time tracker that also has project management features. Time Doctor monitors work activities and takes desktop screenshots every few minutes to see what employees are doing. It can also pay employees directly from the platform.
What are the Best Scheduling Apps for Businesses?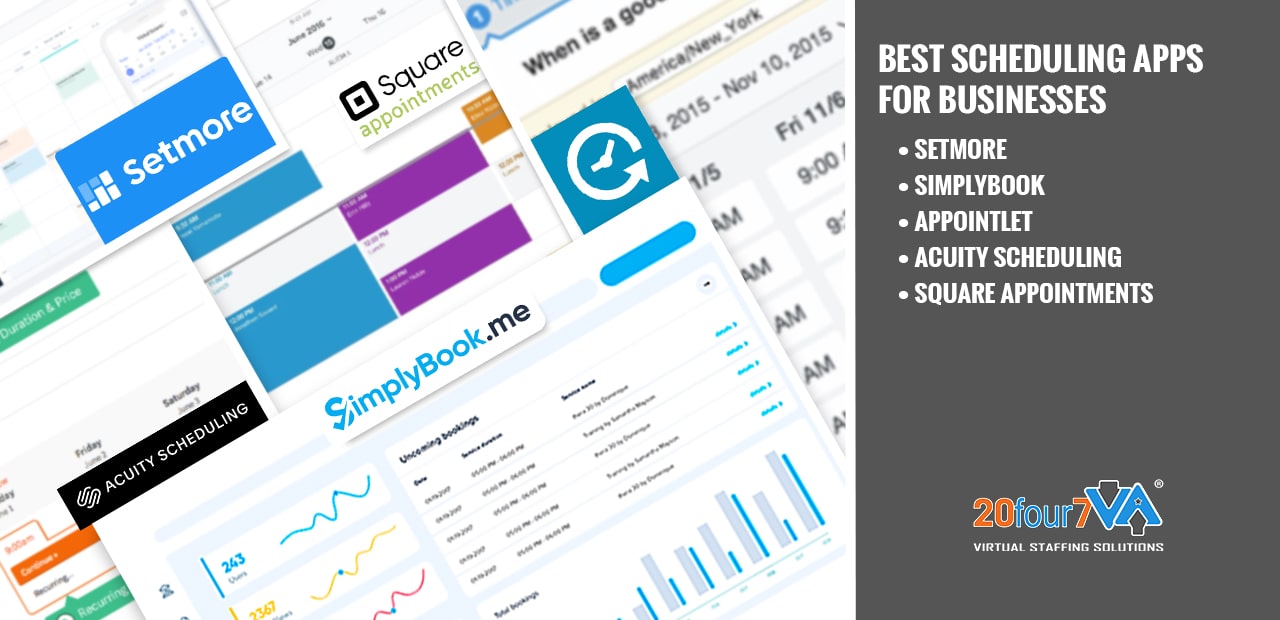 Appointment scheduler apps make managing appointments and scheduling staff shifts easier. There are various types of booking software available for different channels, including online. Most of these tools allow clients and patients to book their appointments, reschedule them, or even cancel. Many of them can connect to different apps, including social media platforms like Facebook and Instagram. Here are some of the most highly rated schedulers for businesses:
Setmore — This is a free appointment scheduling platform that allows client bookings and sends automatic appointment notifications. It is also a secure online payment platform that accepts credit and debit cards and other forms of e-payment.
SimplyBook — An online booking system for service-based industries, SimplyBook is mobile-optimized and can send notifications via SMS or email. It can be customized with different features, including intake forms, gift cards and coupons, memberships, and more.
Appointlet — This tool has modern scheduling features that can sync with online calendars to integrate schedules seamlessly. Appointlet can be accessed through many mobile devices and allows clients to make bookings easily.
Acuity Scheduling — For those with complex booking processes, Acuity Scheduling is a tool that comes in tiered paid plans. It has a simple and easy-to-use interface that allows a high level of customization for businesses with a more discerning clientele.
Square Appointments — A simplified web-based appointment scheduling app, Square Appointments takes the guesswork out of making services bookable online. It has helpful tools that can have businesses set up and ready to go in no time.
If you're following our Top Virtual Assistant Tools 101 series, stay tuned for the next installment, Part 3: Organization and Document Management Systems, which is coming next month.