Is Virtual Assistance for You? Tips and Skills You Need to Become a VA

In 2007, Tim Ferriss, author of 'The 4-Hour Workweek: Escape 9-5, Live Anywhere, and Join the New Rich', attributed much of his success to hiring virtual assistants, or VAs, to do simple but time-consuming tasks for him such as checking his emails, running some parts of his company, and even paying his bills.
Fast forward more than a decade later, the proliferation of startups and small businesses and the the advances in technology boosted the virtual assistance industry into unparalleled heights. Today, more and more entrepreneurs, both from startups and corporations, have turned to virtual assistance to solve their staffing problems.
With the virtual assistance industry at an unprecedented high, there's no better time to become a virtual assistant.
But before you think of jumping at the chance to be a VA, time to answer some questions first.
What is a Virtual Assistant?
How do you define a virtual assistant? What does a virtual assistant do? These are the first questions asked by anyone who's looking to shift to a career providing virtual assistant services. While there's no clear-cut definition of what a VA is, here's a good enough definition from Investopedia:

"A virtual assistant is an independent contractor who provides administrative services to clients while operating outside of the client's office. A virtual assistant typically operates from a home office, but is able to access the necessary planning documents, such as shared calendars, remotely."
The work of a VA used to be mainly limited to simple administrative tasks, but with the rapid growth in technology, more and more people in various industries are now able to do their work remotely. Graphic designers, content writers, eCommerce specialists, sales representatives, digital marketing specialists — these people are just some of the many types of workers that are now finding success in the virtual assistance industry.
Pros and cons of being a virtual assistant
The opinions about working in the virtual assistant industry can be polarizing. There are definitely thousands of people who love being a VA and will never go back to a regular office job, while there are people who tried it once or twice and found that it did not suit them at all. This is because not everyone is cut out to be a great VA.
Knowing whether you're going to be a good VA comes down to personal preference and personality. The pros and cons of being a virtual assistant can help you analyze whether this career is actually perfect for you or not. Here are some of them:
Pros of being a VA:
You can work whenever, wherever.

You get to avoid the daily commute and rush-hour madness.

Working from home means that you get to spend more time with your family.

It's easier to eat healthy, home-cooked meals when you work from home.

You can manage your schedule better.

You get to choose how often and how long you work.

It's easier to leave a job or client you don't like working for.

The varied job opportunities means that you can choose to exercises different specializations for different clients. For instance, you can work as a content writer for one client and as an SEO specialist for another. Your skills won't go stale.

Dealing with more people helps you develop better interpersonal skills.
Cons of being a VA:
There's no job security.

Clients come and go quite quickly for virtual assistants, so it's important to have more than one client.

You're lucky if you can get typical work-related perks such as medical benefits, leaves, and holidays.

Working for multiple clients means dealing with multiple bosses and their multiple leadership styles and personalities.

You might be required to work at random hours. Depending on where your client is based, they might require you to be present during their normal working hours. For some VAs, this could mean working in the wee hours of the morning or extremely late at night.

Working in a busy household can really try your focus.
To find out whether you're actually a candidate to become a highly successful virtual assistant, you have to really assess your current living situation. This includes your potential workspace, your normal schedule at home, and of course, your skills.
Skills every virtual assistant must possess
A successful virtual assistant possesses certain skills that are all necessary to thrive in the VA industry. Many people go into VA work thinking that their old skills in the office will translate well into remote work. However, working as a VA will require more from you in certain aspects.
Here are some very important skills that you need to have if you ever want to be an exemplary VA.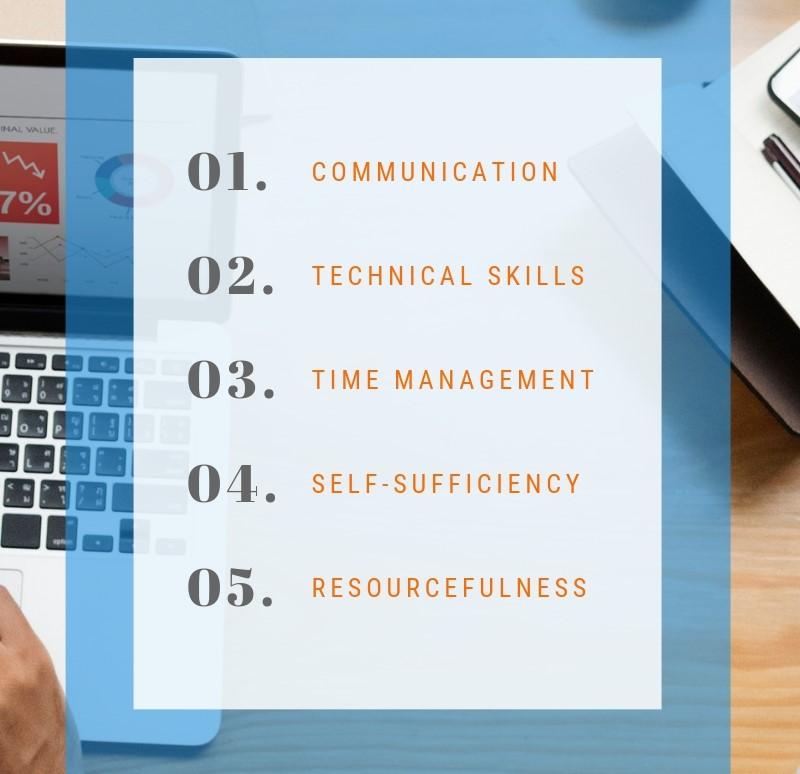 Excellent communication skills
It's common knowledge that communicating through emails, chat, voice calls, and even video calls strips away important aspects of communication. This means that there's little room for error in how you communicate with your client and other colleagues when you work as a VA. Good command of the English language is a must.
Aside from good grammar, you also need to know when and where to communicate. Some forms of communication work better as emails, while calls will be better for others. It's also important to communicate frequently but without being annoying.
Above average technical skills
Working with technology all the time means that you have to be able to troubleshoot simple issues pretty well. Your client/s will expect you to be easily accessible, so you can't succumb to technical issues such as trouble with your communication software, problems with your headset, internet difficulties, and so on.
Great time management skills
It's difficult to juggle your personal and professional lives if you're dealing with them in one roof. To be able to do your work well without sacrificing any other aspect of your life, you need to be great at managing your time.
Ability to focus and supervise yourself
Unlike in a typical office setup, you will be working by yourself as a VA more often than not. Although you will be asked to deliver reports and updates, it's not the same as having a supervisor or manager checking in on you every now and then. This means that VAs should have exceptional discipline in order to focus and work efficiently.
VA work means that you will be constantly asked to do things you're not familiar with, even if you have an actual job description. That's just the nature of the job. Resourcefulness comes in handy during these situations. A skilled VA can adapt to new challenges effectively by utilizing their research and quick thinking.
Want to know more about the most in-demand skills that a VA needs? Check out this article.
How to become a virtual assistant
There are 2 main ways to become a virtual assistant. The first one is to do it yourself and start a virtual assistant business that you will grow yourself, and the second one is to join a virtual staffing company and let them be the bridge between you and your clients.
Don't know which one suits you best? Here are some of the advantages and disadvantages of either option.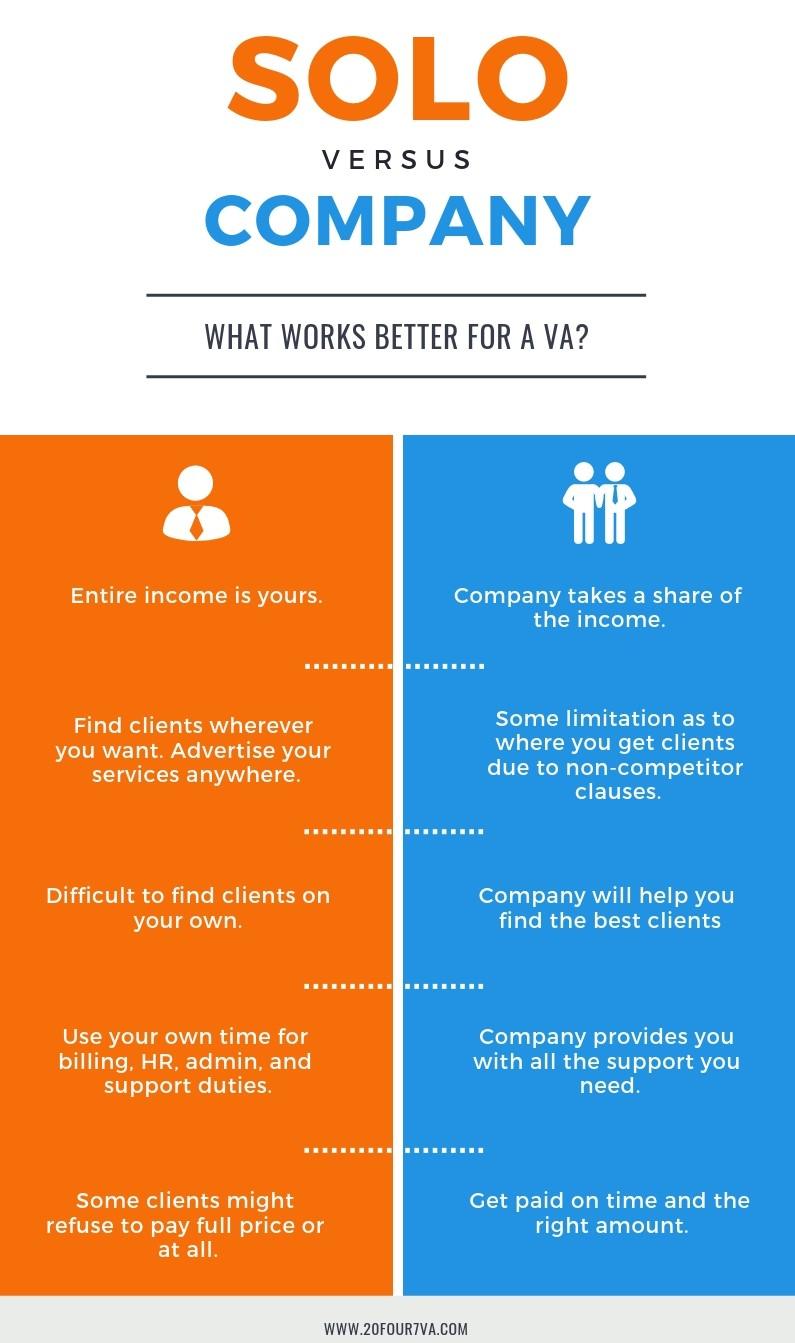 Going Solo
✓  Your entire income is yours. This means that you can set your rate to your clients and take home the entire pay.
✓  You have practically unlimited options as to where to advertise your services. You can do social media marketing, go to job boards, or get referrals from your network.
X  It can be difficult to acquire clients especially if you're just starting out.
X  You're going to invest a lot of time finding clients, bidding on jobs, sending resumes, collecting payment, and many other admin and accounting stuff.
X  Since you will be in charge of collecting pay, you're susceptible to shady clients who won't give you your full pay or refuse to pay you anything after the task is completed.
Working for a Virtual Staffing Company
✓   It's a lot easier to find the right clients. Many virtual staffing companies also have a steady stream of jobs coming in, so you won't be vacant for long.
✓  Your HR, payroll, and other administrative duties are already handled by the staffing company. Some companies even offer training and customer support. This means there's always a buffer between you and your client, so your issues will always be heard.
✓  You can rest assured that you're going to get paid on time.
X    You might not have as much freedom when it comes to where you get your clients.
X    You will share a portion of your earnings with your company.
Climbing the virtual assistant career ladder
Getting a steady stream of clients is important for any VA. This means that keeping your skills and industry knowledge up to date is essential. While there's no typical career ladder for you to climb, you can still progress as a VA in terms of being able to choose the jobs you truly want and being able to demand a higher rate apropos to your experience and skill level.
Do you have what it takes to be a stellar VA? Why not apply at 20Four7VA and find out?