People of 20four7VA: Raj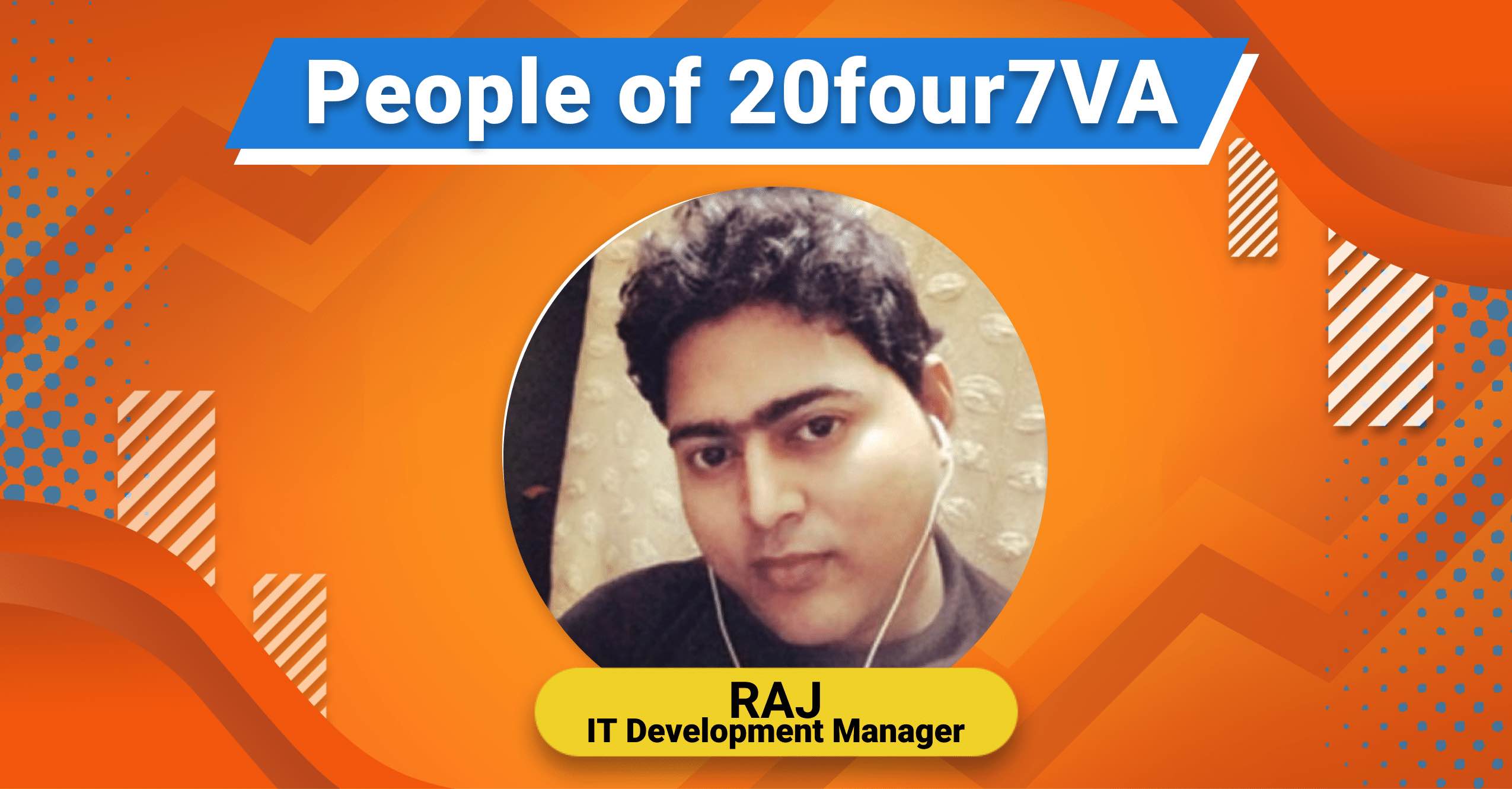 Welcome to the People of 20four7VA series! Every month, we chat with a member of the team and find out what they do at 20four7VA, what keeps them here, and how they make remote work work.
Rajdeep Roy, or "Raj" for short, has been making an impact with 20four7VA since 2016. If it's anything IT-related, then this falls under Raj's responsibility. As the Information Technology (IT) Development Manager, he handles all things IT for 20four7VA. When he's not busy making sure that 20four7VA's systems are up and running, Raj enjoys exploring—both through reading and traveling.
WHAT DO YOU DO AT 20FOUR7VA?
I am responsible for handling all the IT-related services within the company, like the entire time tracking system for all the 300+ users and clients, the company website, data security, and more. I also handle the IT Marketing related services, including SEO and paid campaigns on various platforms.
At times, I work with the Recruitment Team during assessments and hop on client calls with the Sales Team when needed.
WHAT EXCITES YOU ABOUT WORKING WITH 20FOUR7VA?
Leadership: A superb boss who is generous, honest, and has a great business mind—someone who has faith in her team.
Work environment: We have great colleagues coming from diverse backgrounds.
Culture and systems: The diversified work culture, efficient payment system, and HR policies make 20four7VA a great company to work with.
WHAT'S ONE THING THAT PEOPLE SHOULD KNOW ABOUT OUTSOURCING/VIRTUAL STAFFING?
The next generation is heavily dependent on it, and information is the most precious factor in the coming days/years.
WHAT ARE YOUR TOP 3 TIPS FOR SUCCESSFUL OUTSOURCING/VIRTUAL STAFFING?
Choose a remote staffing company that offers stable support.
Pick the right virtual assistant with the right skills and experience.
Scale your business by saving time and money with virtual staffing.
WHAT ARE YOUR TOP 3 REMOTE WORK TIPS?
Invest in yourself through education and training.
Time is the most precious thing on this planet.
Be persistent.
LIST 3 THINGS YOU LOVE:
First is family.
Second is technology—I'm a tech nerd.
Number three: reading
It's quite difficult to limit it to just three, so four: trekking! I have a wanderlust for unexplored places.
WHAT MADE YOU DECIDE TO WORK WITH 20FOUR7VA?
I have always been an optimist. I started part-time with a few hours, and maybe it's luck or something, but a couple of clients liked me within the first month. Fortunately, things have grown since then. I continued to understand the values and mission of 20four7VA and never looked back.
HOW MANY PEOPLE DO YOU MANAGE NOW?
My current scope of work is quite wide, and we're about to roll out our new 20four7VA Managed IT services. It's great that I have more than a dozen in-house IT staff to work with me on these projects.
WHAT'S A MOTTO/PHILOSOPHY YOU LIVE BY?
Be honest to yourself, respect time, think long term, and think BIG! Travel once a year to a place where you've never been, stay happy, and above all, spend time with your family.
Thanks for taking the time to speak with us, Raj! 😊
Want to work with a company that will give you a pathway to growing your VA career? If the answer is yes, we'd love to work with you! Explore our open jobs or get in touch! We're always excited to find global remote talent like you!