VA Spotlight: Haira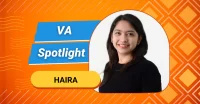 Dehaira or "Haira" is a social media manager and graphic designer who has been with 20four7VA since 2021. She currently has two clients and has been impressing them with her phenomenal performance and strong work ethic.
Haira embodies 20four7VA's commitment to hardwork and excellence. Learn more about Haira and her experiences as a 20four7VA virtual assistant below!
What made you decide to work as a virtual assistant?
Back then, I was actively looking for a part-time job. During my extensive search for the best companies to work with, I came across 20four7VA. I saw many good reviews on 20four7VA's Facebook page and was motivated to try the company out.
How has 20four7VA helped you grow?
20four7VA allowed me to grow my skill set! I was mainly focused on graphic design, but because of 20four7VA, I was able to learn about social media management and try out new things.
How is 20four7VA different from other remote agencies/ job boards you've tried?
Definitely, 20four7VA has the security and assurance in terms of payment. On top of that, the admin and technical support are always present.  
What is one thing every VA can do to have a successful client relationship?
EXCEED your client's expectations!
What are the top 3 benefits of working with 20four7VA?
Guaranteed WEEKLY salary

Connection to different clients around the world

A long-term commitment to different clients
Describe 20four7VA in one sentence
For me, 20four7VA gives you the opportunity to earn more money and grow in your own way, at your own pace.
Thanks for taking the time to speak with us, Haira! 😊
---
Ready to start your VA career? Become a 20four7VA virtual assistant and enjoy the freedom of working in your own space at your own pace. Find your dream job here!
Want to be featured in your very own VA Spotlight post? I want to be featured!