NSBA Weighs in on FTC Non-Compete Regulations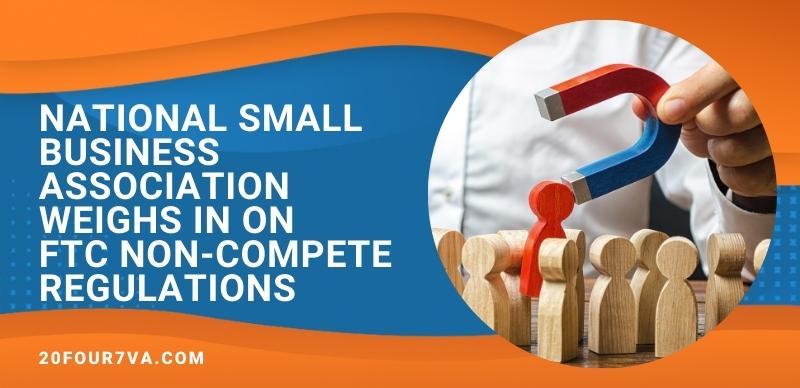 The National Small Business Association (NSBA) has shared its formal comments on the Federal Trade Commission's proposed rule that aims to prohibit companies from enforcing or attempting to enforce non-compete agreements for their workers. Historically, state-level regulators have overseen these agreements. But the Non-Compete Clause Rule, which was announced in January, would give the FTC oversight.
The new rule covers not only employees but also independent contractors, interns, and volunteers. If and when it is enforced, it would require companies to rescind existing non-compete agreements and inform all current and former workers who had previously signed a non-compete that the agreement is no longer in effect.
Small businesses often rely on non-compete and non-disclosure agreements to level the playing field against larger competitors who have the capacity to entice employees, along with their company knowledge, from a smaller rival.
Formal comments
In its comments, the NSBA details how the FTC's proposed non-compete rule could significantly impact the ability of small business owners to protect trade secrets and confidential information. The association also said that the rule could disrupt existing business practices, inhibit internal information exchange, and deter companies from investing in key employees. Ultimately, the NSBA stressed, "the result would be a stifling of innovation and economic growth."
Losing independent contractors?
The NSBA also highlighted the broad application of the new rule, specifically its inclusion of independent contractors, which are often utilized by small businesses. The proposed rule would prohibit firms from implementing exclusivity clauses with independent contractors, which would permit contractors to work simultaneously with multiple competitors, giving them access to proprietary data at each firm.
This restriction is likely to decrease the willingness of small business owners to engage independent contractors, thereby adversely affecting the small business community. Since small businesses frequently hire independent contractors when they lack resources for additional full-time employees, and many such businesses eventually grow into larger firms, this proposed regulation would limit opportunities for both small and large business sectors.
Burden on small businesses
The NSBA also emphasized the compliance burden that will be imposed on small businesses by the new non-compete rule.
According to the NSBA, while the FTC determined that around 3 million small businesses would incur expenses ranging from $317–$564 per business to update their contracts as a result of the proposed rule, the Commission's estimates fall short of the real costs. It pointed out that companies would likely have to invest in legal expertise to examine their alternatives and determine appropriate methods to safeguard their vital business information and that FTC's projected costs would "pale in comparison."
In addition, small businesses face the possibility of substantial market share and revenue loss if key employees, lured away by competitors, share internal information and expertise with those organizations.
Non-compete and non-disclosure agreements survey
Along with its feedback on the FTC's proposed non-compete regulations, the NSBA has also released the results of its 2023 Small Business Survey, which looks at how small businesses implement and enforce non-compete and non-disclosure agreements. The survey findings demonstrate that the use—and successful enforcement—of these agreements varies significantly based on the company's size.
The NSBA has asked the U.S. Federal Trade Commission to withdraw its current proposed rule on non-compete agreements.
20four7VA President and CEO Catherine vanVonno became a member of the NSBA Leadership Council in 2022.