20four7VA and Catherine vanVonno recognized at the World Staffing Summit 2023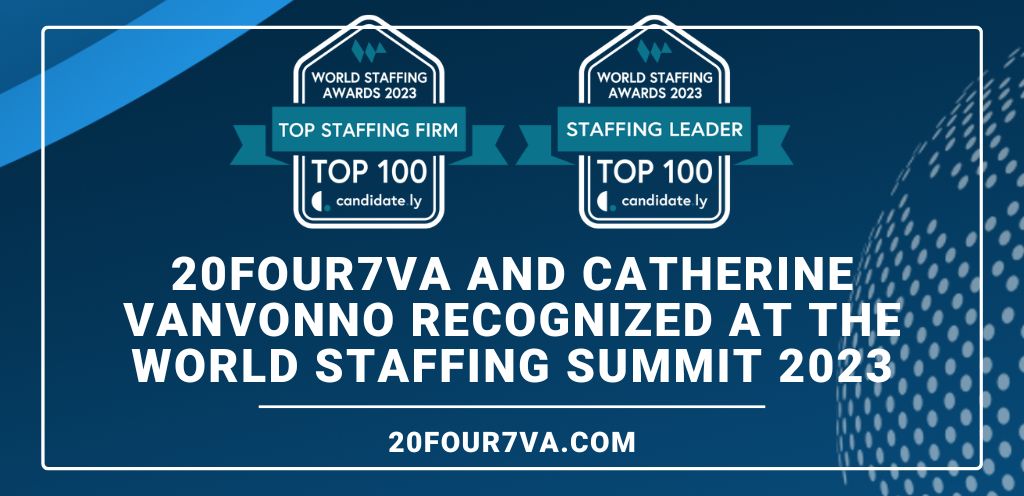 20four7VA and Catherine vanVonno were both recognized in the 'Top 100 Staffing Companies to Work for in 2023' and 'Top 100 Staffing Leaders to Watch in 2023' at the virtual World Staffing Summit by Candidate.ly held Tuesday, January 24th, 2023.
The World Staffing Award launched the list of Top 100 Staffing Companies to Work for in 2023. This list recognizes the staffing companies that garnered the most votes in a digital survey by the World Staffing Award. The survey was conducted to determine the top staffing companies in terms of employee satisfaction, diversity and inclusion, corporate culture, job security, work/life balance, and reward structures.
20four7VA earned a spot on this list with its focus on providing high-quality virtual assistants to business owners around the world while ensuring that its virtual assistants are well-compensated and have access to quality training, support and career development programs.
Catherine vanVonno on her third World Staffing Award

Meanwhile, Catherine vanVonno, President and CEO of 20four7VA, joined the list of 'Top 100 Staffing Leaders to Watch in 2023' for the third year in a row.
"It's always an honor to be included in the Top 100 Staffing Leaders to Watch award by the World Staffing Summit, but it's especially an honor this year because our company was recognized as well" said Catherine vanVonno. "I'm incredibly proud of my team at 20four7VA for their hard work and dedication in helping remote workers find success in the virtual workplace."
Last year, Catherine was interviewed by Candidate.ly to discuss what differentiates top staffing companies from the rest, and she talked about candidate and client experience being among the most important qualities of successful staffing companies.
20four7VA and Catherine vanVonno are both dedicated to creating a future that is more equitable and empowering for all remote workers. They also continue to reinforce their commitment to creating exceptional experiences for both remote job seekers and businesses worldwide.
This recognition is just the latest example of 20four7VA and Catherine vanVonno's ongoing efforts to be a part of a brighter future for virtual work.
Want to work with an award-winning virtual staffing company? Schedule a free consultation here.