People of 20four7VA: Ianthe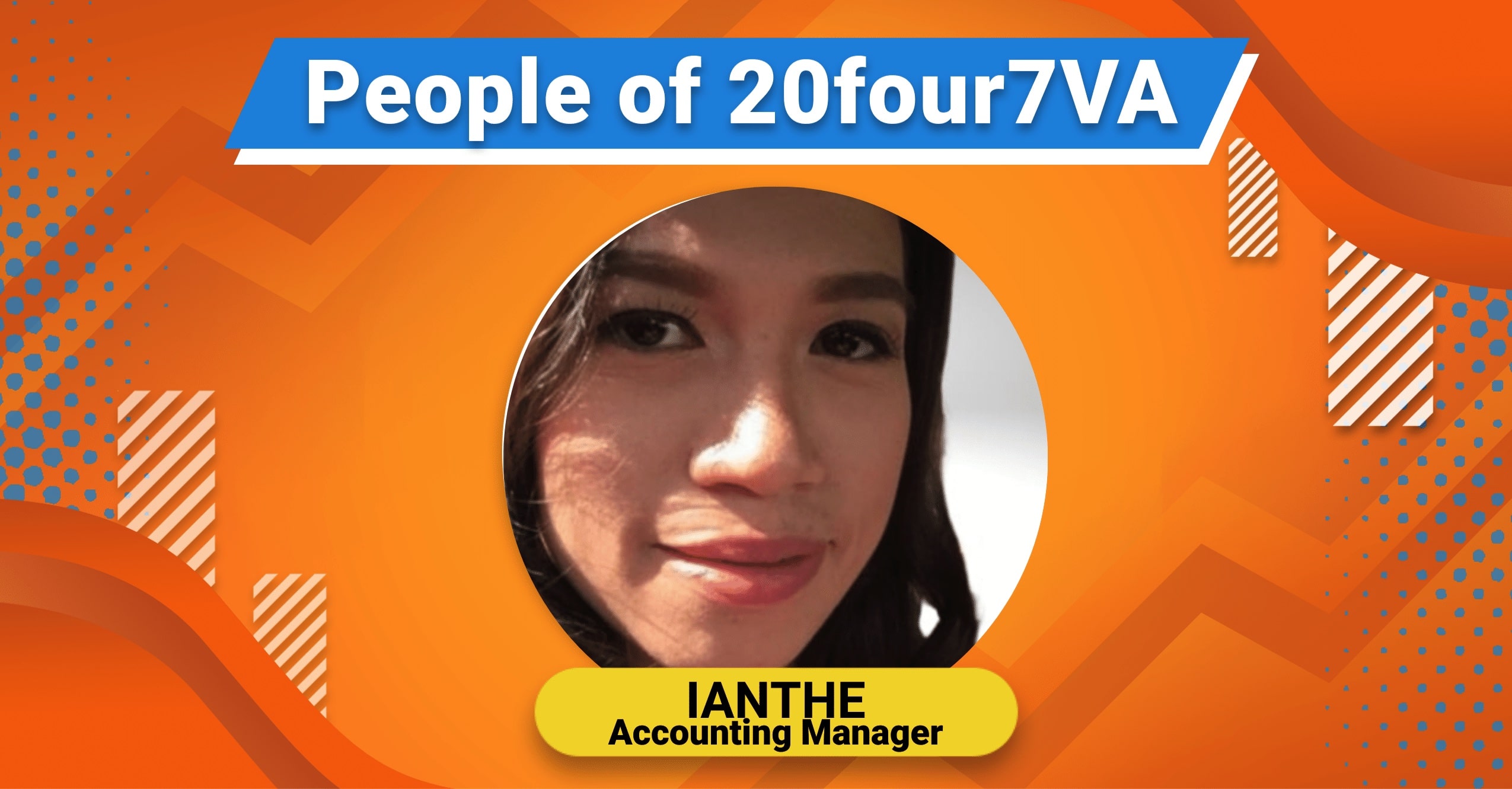 Welcome to the People of 20four7VA series! Every month, we chat with a member of the team and find out what they do at 20four7VA, what keeps them here, and how they make remote work work.
This month, let's get to know Ianthe, 20four7VA's Accounting Manager.
Ianthe started with 20four7VA more than six years ago and is now managing a team of three accounting specialists. Her department is responsible for all things accounting: from weekly payroll processing to working on accounts receivables. Managing her team and the company's books keeps her busy, but she still finds time to do what she loves, like traveling, trying out new recipes, and reading.
WHAT DO YOU DO AT 20FOUR7VA?
I manage the accounting team, which handles various accounting tasks such as weekly payroll processing and handling accounts receivables.
WHAT'S ONE THING THAT PEOPLE SHOULD KNOW ABOUT OUTSOURCING/VIRTUAL STAFFING?
I think it's important to note that there are a lot of good virtual assistants (VAs). Clients or business owners just need help to find the right "fit" for a successful partnership.
WHAT ARE YOUR TOP 3 TIPS FOR SUCCESSFUL OUTSOURCING/VIRTUAL STAFFING?
Identify which tasks can be delegated to your VAs before they start working.
People have different learning curves. Give your VAs a chance to be comfortable with their tasks.
Find the right VA who's willing to learn new skills and is flexible enough to unlearn practices if necessary.
WHAT'S ONE THING THAT EVERY VA/REMOTE WORKER HAS TO KNOW?
Be internet-savvy and know how to research.
WHAT ARE YOUR TOP 3 REMOTE WORK TIPS?
Have a dedicated workspace.
Be proactive. There are times when a task is not part of the training, and we should be proactive enough to do our own research.
Always communicate with your client for task updates and clarifications.
WHAT MADE YOU DECIDE TO WORK WITH 20FOUR7VA?
I wanted to work from home so that I could take care of my son while earning. Someone referred me to 20four7VA, and I decided to give it a try. My co-VAs were very helpful and made me love working with 20four7VA.
WHAT'S A MOTTO YOU LIVE BY?
Always give your best in everything that you do.
Thanks for taking the time to speak with us, Ianthe! 😊
Want to work with a company that will give you a pathway to growing your VA career? If the answer is yes, we'd love to work with you! Explore our open jobs or get in touch! We're always excited to find global remote talent like you!