People of 20four7VA: Aaron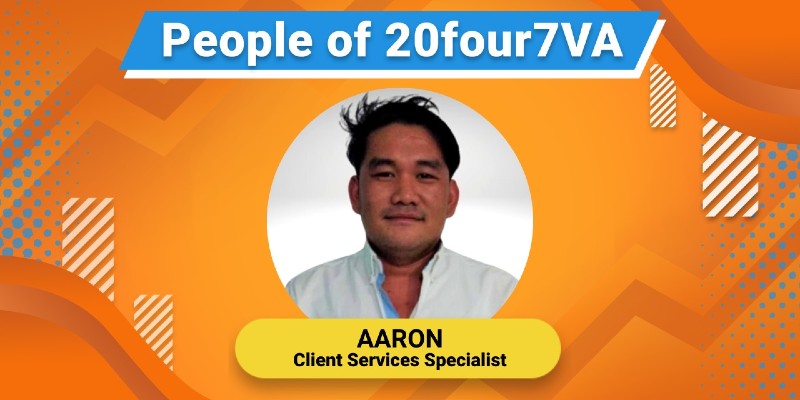 Welcome to the People of 20four7VA series! Every month, we chat with a member of the team and find out what they do at 20four7VA, what keeps them here, and how they make remote work work.
This month, let's get to know Aaron, one of 20four7VA's Client Services Specialists.
Before he joined the 20four7VA team, Aaron was a chef with a passion for whipping up gourmet dishes. Nowadays, he's an invaluable member of the Client Services department, which interfaces with 20four7VA clients and guides them during the entire virtual assistant (VA) hiring process. When he's not working, you'll find Aaron playing games (online, offline, board games, you name it!), tinkering with computers and toys, and creating magic in the kitchen. Let's hear more from Aaron!
What made you decide to work with 20four7VA?
My family had been planning to start our own business, but things didn't pan out. My mentor was already with 20four7VA and asked me if I could work again with her. She told me it was a work-from-home job (which I had only dreamed about up to that point) and that I'd only need a stable internet connection and a good computer. 
When did you start at 20four7VA?
I started my 20four7VA journey in July 2018, and I've never looked back. My tenure in this company has been filled with many ups and downs as this was my first call-center-type role, and I was fairly new to the industry, apart from my mentorship beforehand.
What's your favorite thing about working with 20four7VA?
Working from home is the best! The comfort and satisfaction I experience definitely help me concentrate and finish my tasks. Yes, there are downsides to it, but it's so much better than working in an office. 
What's one thing that people should know about outsourcing/virtual staffing?
We may be working in our homes, but the pace and the intensity of the tasks are often similar to an office-based setup. Remote or virtual staffing has revolutionized the workforce to a level that remote workers are more focused and goal-orientated. It allows businesses to thrive and see different ways to improve and grow.
What are your top 3 tips for successful outsourcing/virtual staffing?
Always trust your instincts. Never allow anyone or anything to affect your decision-making process.
Being honest will bring you to places you never expected you'll see and experience.
Be vigilant and yet compassionate. Always remember that trust is earned, not given. 
What's one thing that every VA/remote worker has to know?
Communication is key. Practice speaking your mind, be it regarding your work tasks or your personal life. This builds trust and will make you a better person altogether. 
What are your top 3 tips for those starting their remote work journey?
Be punctual. This is very important when you're trying to make a good first impression, and, honestly, it just makes you a better person.
If you don't know the answer, just be honest. And don't be scared to ask for help.
Don't forget the reason you started the journey to being a remote worker/VA. This will help you stay motivated, become assertive, and be a much better VA in the long run. 
What's a motto/philosophy you live by?
There are several, but if there's one I always go back to, it's "Ask yourself: is the juice worth the squeeze?" Live without regrets. Once you've decided on something, you have to live through your decision, whatever the outcome might be. 
What do you do to unwind after a long day at work?
Once my shift is over, I turn off all my tools, and I start gaming. Sometimes I start a movie or a series before I go to sleep. On weekends, my wife and I usually go on a date or bring our dog to the park.
Thanks for chatting with us, Aaron! 😊
Want to work with a company that will give you a pathway to growing your VA career? If the answer is yes, we'd love to work with you! Explore our open jobs or get in touch! We're always excited to find global remote talent like you!