People of 20four7VA: Jen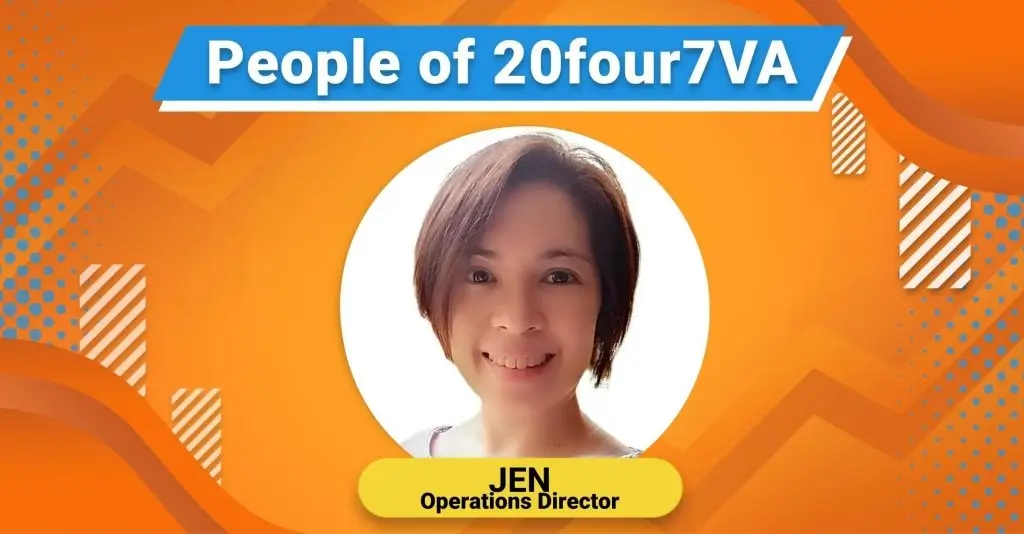 Welcome to the People of 20four7VA series! Every month, we chat with a member of the team and find out what they do at 20four7VA, what keeps them here, and how they make remote work work.
This month, we're introducing Jennifer del Rosario, our tireless Operations Director, who leads about half of the entire 20four7VA office. If you're a 20four7VA virtual assistant, you probably met Jen during your Final Interview.
Jen oversees much of the company's core functions, including Recruitment, Human Resources, Customer Support, Client Endorsement, Training, and IT Help Desk. She handles eight teams and 27 team members — a logistical challenge only a person who lives by her calendar can successfully manage.
But Jen isn't all about work. In her spare time, she loves to paint, watch movies, and travel (pre-pandemic). Jen believes in respecting others "in all aspects" and in the importance of being productive ("manage your time well!"). Let's hear some more from Jen.
What do you do at 20four7VA?
I'm the Operations Director at 20four7VA, which means I manage the entire Operations department. This includes the VA-facing side of the business (HR, Recruitment, Training, and Client Endorsement), some of the client-facing side (Customer Support), and some internal process teams (Quality, Data, and IT Help Desk).
I also collaborate with other departments to see which processes they need help with and how Operations can help improve those. I look at opportunities across all teams and help sync everything. Aside from that, I also interact with company-partners across the globe to implement action plans and help find job opportunities for our VAs. And, yes, I conduct the Final Interview, which is the last test before a VA can be endorsed to clients.
What made you decide to work with 20four7VA?
My family! It was a big decision for me to leave the corporate industry in 2018, but I wanted to be able to watch my kids grow and live our lives together happily. I didn't want to just be with them when the day ends or only spend quality time during weekends.
What excites you about working with 20four7VA?
The fact that there's great potential for growth. There's so much 20four7VA can do for the virtual assistant industry and it's so exciting to be part of the team that's helping to shape it.
What's one thing that people should know about outsourcing/virtual staffing?
You can do more by multiplying your time. And you can do this by getting help from talented people across the globe. You just need to know where to look and what to look for so you can set up your team and your business for success. It's always a two-way process — you have to know what you want so you can give your team proper guidance.
What are your top 3 tips for successful outsourcing/virtual staffing?
Know what you want so you can give clear directions to your VAs about what you need them to do.
Have a good onboarding and training process so you can set up your VAs for success.
Schedule a recurring meeting or establish a communications cadence with your VA so you're always aligned and aren't getting lost in the remote work world.
What's one thing that every VA/remote worker has to know?
Set goals and timelines on what you want to achieve. Do regular check-ins with yourself to see if you're on track to achieve your goals. Revisit and update (or maybe even upgrade) your goals as needed. Write everything down so you won't forget.
What are your top 3 remote work tips?
Be organized.
Manage your time well and stick to a schedule every day, both for work and personal tasks.
Always keep learning. There's tons of information out there! The best way to adapt and grow is by discovering and learning.
Thanks, Jen! 😊
Want to work with a company that will give you a pathway to growing your VA career? If the answer is yes, we'd love to work with you! Explore our open jobs or get in touch! We're always excited to find global remote talent like you!