People of 20four7VA: Isa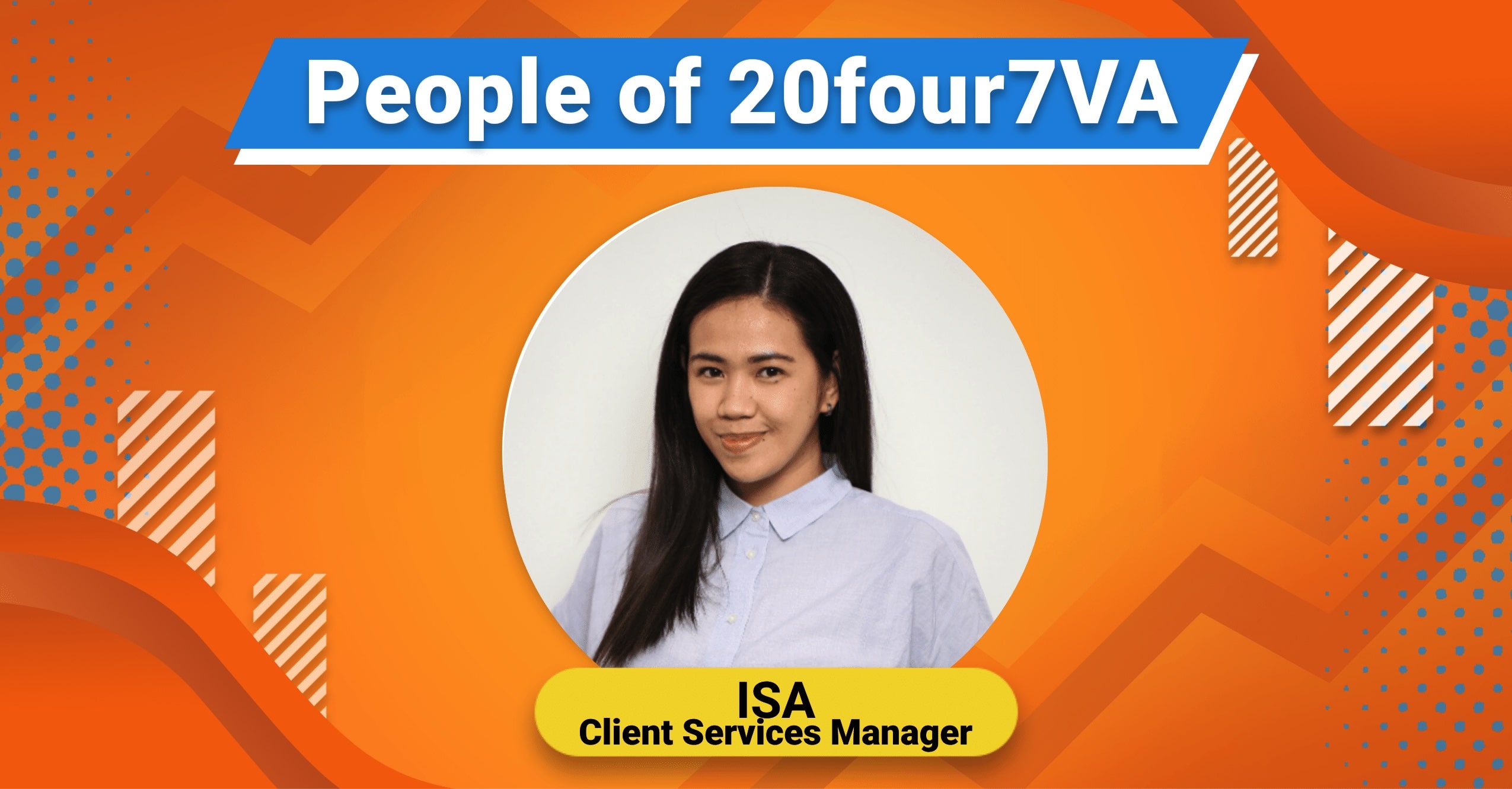 Welcome to the People of 20four7VA series! Every month, we chat with a member of the team and find out what they do at 20four7VA, what keeps them here, and how they make remote work work.
Isabella, or Isa, is our Client Services Manager. She started at 20four7VA in October 2016, and she's been with the Client Services (CS) team for almost five years. As the Client Services Manager, her main objective is to ensure client and virtual assistant (VA) satisfaction. Her favorite motto is a Star Wars classic: "Do or do not. There is no try." This is very fitting for Isa, who, along with her team of five staff members, always works tirelessly to find the perfect client-VA match.
When she's not (virtually) running around and collaborating with 20four7VA's cross-functional teams, you can find her discovering new things with the people she loves or… sleeping!
WHEN DID YOU START AT 20FOUR7VA?
I started in October of 2016. A former coworker asked me to join 20four7VA. I applied, went through the usual recruitment process, and was hired as a recruitment specialist. After half a year, I moved to the CS team and have been with the team ever since.
WHAT DO YOU DO AT 20FOUR7VA?
I manage the Client Services team at 20four7VA. We are the company's gatekeepers: we work closely with potential clients as they select and hire virtual assistants to help their company or business. It may sound simple enough, but we collaborate, coordinate, and communicate with different departments in the company to ensure that clients are satisfied with our virtual staffing services and that the hired VAs are happy with their new roles.
WHAT EXCITES YOU ABOUT WORKING WITH 20FOUR7VA?
I get excited whenever there's a client that hires a VA. I'm also happy to know and talk to VAs who have been working with their 20four7VA clients for many years. This means our company and the system are working for them.
WHAT'S ONE THING THAT PEOPLE SHOULD KNOW ABOUT OUTSOURCING/VIRTUAL STAFFING?
Patience is important. Getting the right VA may not be easy—you go through the VA search, interviews, training, etc. But all your hard work will pay off! The VA that you will hire will take a chunk of your workload, allowing you to focus on the more important stuff.
WHAT ARE YOUR TOP 3 TIPS FOR SUCCESSFUL OUTSOURCING/VIRTUAL STAFFING?
Train your VA. Sure, they have the skills. But by training them, you show them how you want the tasks to be accomplished early on.
Assess and be patient with your VA.
Treat them nicely. A happy and satisfied VA has a happy and satisfied client.
WHAT'S ONE THING THAT EVERY VA/REMOTE WORKER HAS TO KNOW?
Although you're working comfortably at home (possibly in your PJs), you should always take the job, the tasks, and the clients seriously.
WHAT ARE YOUR TOP 3 REMOTE WORK TIPS?
Maintain a professional work attitude while working from home.
Always communicate with your client. Don't hesitate to update them on your work.
Always have integrity in all the work that you do.
LIST 3 THINGS YOU LOVE
Exploring new places to eat, chill, unwind, or discover new things to do
Sleeping!
Doing item one with the people I love
Thanks for taking the time to speak with us, Isa! 😊
If you're thinking of trying out remote work, remember Isa's favorite motto: Do or do not. There is no try.
Want to work with a company that will give you a pathway to growing your VA career? If the answer is yes, we'd love to work with you! Explore our open jobs or get in touch! We're always excited to find global remote talent like you!