The Great Resignation: What's Fueling It? And What Can You Do About It?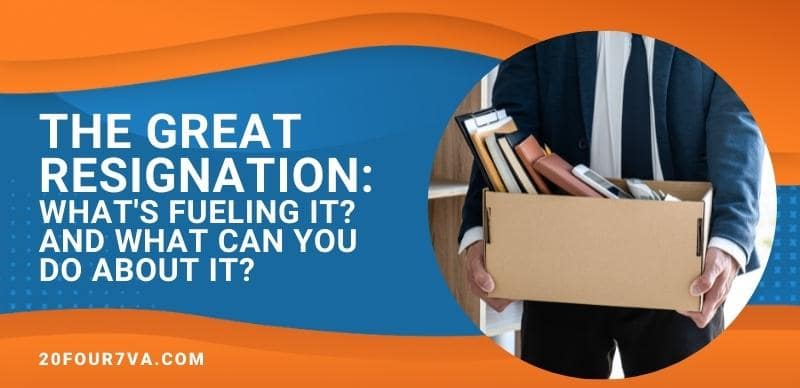 In the first months of the COVID-19 pandemic, millions lost their jobs due to the mass layoffs occurring globally. Job seekers were left with little hope and plenty of uncertainty while those who were lucky enough to keep their jobs stayed put, fearing what was to come. But as we've moved towards a post-COVID future, some workers also moved on, fueling a phenomenon dubbed the "Great Resignation."
What is the Great Resignation?
Professor Anthony Klotz of Texas A&M University proposed the idea of the "Great Resignation" to describe the significant number of workers leaving their jobs as the world began to recover from the COVID pandemic. In November 2021, a record-setting 4.5 million workers left their jobs, leading to a whopping 10.6 million job openings by the end of that month.
The number of resignations has continued to remain extraordinarily high since then.
According to a 2021 PwC Pulse Survey, 65% of workers surveyed were seeking roles elsewhere. Meanwhile, 88% of US executives reported that they were seeing a higher-than-normal turnover.
What's fueling the Great Resignation?
There are several reasons employees in the US and across the globe are fleeing their cubicles.
According to Klotz, the mass exodus was to be expected as workers reeled from the impact of COVID and began to re-evaluate their priorities. In the wake of various COVID-driven realizations about the value of family, time, and life itself, many decided that it was time to abandon the hustle.
41% of executives surveyed in the US Pulse Survey said that employees are leaving to seek better salaries. Meanwhile, 34% said that employees cited the need for flexibility as their reason for resigning. Even before the pandemic hit and remote work became mainstream, it was well-known that most knowledge workers would prefer to WFH (work from home) or WFA (work from anywhere) and would even quit their jobs for a role that would allow them to work remotely.
Industries that didn't allow for much independence location-wise were among those who experienced the highest turnover during the Great Resignation. These included businesses where the transfer of products or services has to be done face-to-face, such as healthcare, dine-in restaurants, entertainment, sports, and transportation. There was also a significant increase in resignations in the tech industry, especially from companies that decided to return to the office after the first few waves of COVID.
Meanwhile, businesses that were able to shift to remote work or whose business models allowed for location independence have seen an influx of talent. These include eCommerce, remote work service providers, and telehealth.
What can companies do?
The Great Resignation poses massive challenges to businesses, costing business owners millions of dollars in lost productivity and sales.
Find out why
The first thing any organization must do is take a look at the root causes of resignation. Are employees asking for more flexibility in time and location? Conduct a detailed analysis of turnovers and explore factors like promotions, compensation, pay increases, professional development, and growth opportunities. This will help you identify possible blind spots as well as employees who are at high risk of resigning.
Consider remote or hybrid work
Not all companies can pivot to remote or hybrid work. But if you can, giving at least some of your employees the option to work from home can lead to major gains. Workers want to be closer to their families; they don't want to waste three hours every day on the commute. Retain talent by allowing for some flexibility while keeping a close eye on productivity.
Outsource remote work
There are numerous benefits to outsourcing remote work in the current job market. First, finding top talent is easier with a global talent pool. Second, the cost savings are significant. Businesses can cut as much as 80% off their staff costs by outsourcing remote-ready tasks to qualified talent, especially ones offshore. Additionally, with fewer (or no) employees at the office, businesses can eliminate expenses such as rent, maintenance, utilities, and office equipment.
With the pressures from the pandemic and the Great Resignation ramping up, businesses around the world have turned to offshore staffing to bolster their workforce, stabilize their operations, and ensure growth. Want to know if remote staffing is the right direction for you? Claim your free Business Growth Session to find out more.