How to Hire A Virtual Assistant for Coaches (Everything You Need to Know)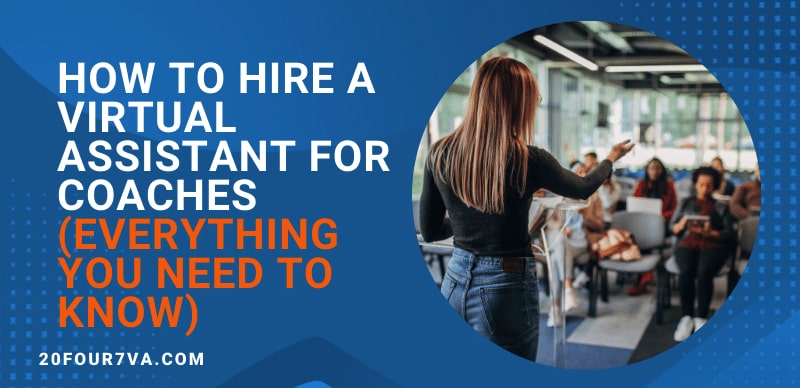 One of the main goals of business and life coaching is to improve a company's or an individual's performance. And just like business and life coaches can enhance organizations and personal lives, a virtual assistant for coaches can help these entrepreneurs run their business more smoothly and grow exponentially.
Business coaches help their clients in various areas, from identifying gaps and creating clear business goals to strategic planning and employee development. Companies or entrepreneurs hire business coaches to give them external and new perspectives that can help them achieve their full potential. Importantly, hiring a business coach doesn't just benefit company executives and business owners. The lessons and techniques a business coach teaches are beneficial to employees and the entire organization as well.
Life coaches, on the other hand, focus more on the client's personal life rather than their professional life. They help their clients set and achieve goals, manage their time and responsibilities, develop better relationships, and create a more meaningful life. An individual can benefit from having a life coach when they feel like they're stuck and not making progress in life, their relationships, or their goals. Simply put, life coaches work with people to help them figure out what they want in life and how to get there.
If you're a business or life coach, you can attest to the fact that juggling all of the responsibilities that come with being a coach can be difficult, especially if you're just starting to expand your clientele. It can get more challenging to stay on top of day-to-day tasks like scheduling appointments, managing social media pages, and bookkeeping. That's where a virtual assistant for coaches can help.
What are virtual assistants?
Virtual assistants (VAs) are skilled professionals who can help business or life coaches like you manage their time and workload by taking on some of the more time-consuming, albeit important, tasks. This frees up more time for you to focus on the core competencies of your coaching business, like building relationships with clients and providing quality coaching services.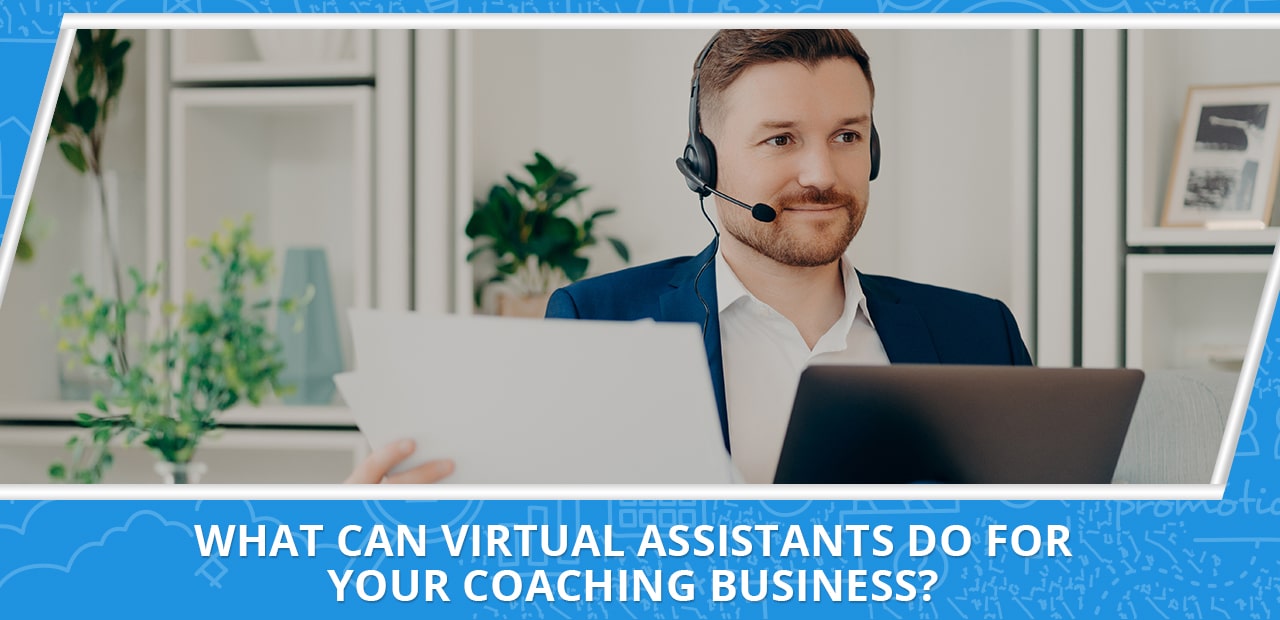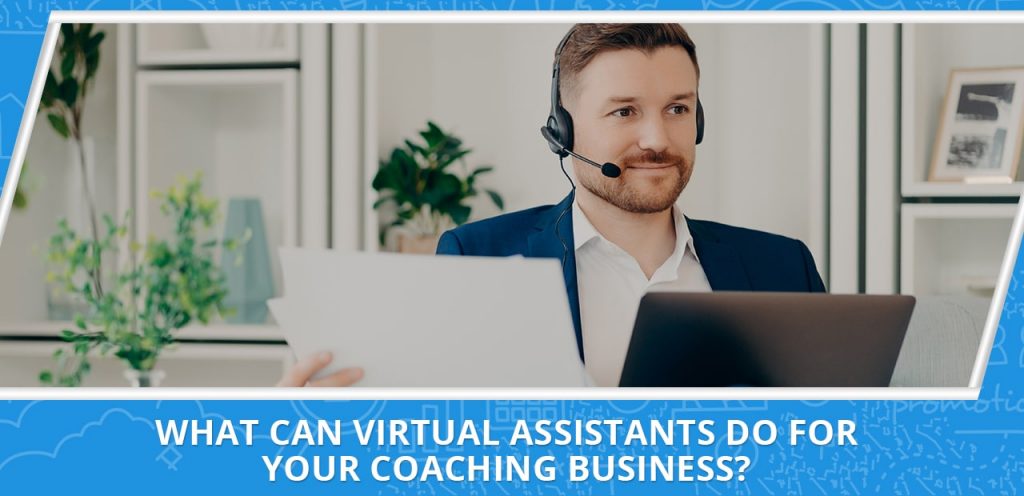 What can virtual assistants do for your coaching business?
Hiring a virtual assistant can be the missing step your business needs to reach the next level! Here are some of the tasks a VA can do for your coaching business:
Administrative tasks
Scheduling and calendar management
Social media management
Customer service
Data entry
Bookkeeping
Marketing
Podcasting
Website development and maintenance
Email management
Travel arrangements
And more!
You can consult with a virtual assistant company to further discuss your business needs and review your VA requirements.
How can life coaches benefit from having a virtual assistant?
Get more done
As a life or business coach trying to grow your business, it can be challenging to do everything yourself. One of the many benefits of having a VA is that they can take care of tasks that don't require your particular set of skills. Whether it's scheduling coaching sessions or taking phone calls, a virtual assistant can do that for you. They can help you get more done in less time, which is especially helpful if you're just starting out as a life coach and don't have the bandwidth to take on many additional tasks.
A good business coach knows that managing their time well allows them to get more done. Sure, you can take up as many hours answering phone calls and pencil-booking clients, but to take your coaching business to the next level, you should start delegating tasks to a virtual assistant.
Stay organized
Virtual administrative assistants can support your business by keeping your schedule organized. They can book appointments, manage your email inbox, and send out reminders for upcoming events. At the same time, virtual assistants are able to reach out to both old and new clients and upload your coaching schedule to calendar software. This can be synced with your mobile device or laptop so you can conveniently review your personal and coaching hours.
Aside from calendar and inbox management, a virtual assistant for coaches can help you stay on top of administrative tasks like bookkeeping, data entry, and creating invoices. They can help you track your expenses and keep tabs on your budget. Having a virtual assistant who can also manage the financial side of your coaching business is extremely helpful, particularly if you don't have the relevant experience and resources to do it by yourself.
Grow your business
As a coach, it's important to focus on your core offerings and the areas in which you excel. A virtual assistant can help by taking care of tasks that are outside of your expertise so that you can focus on what you do best. When you start delegating tasks to your VA, you can redirect your focus on your core services as a business mentor or life coach. You will be able to pay more attention to coaching and begin to take on more clients.
Virtual assistants can also support you in your quest to find clients. Instead of spending hours taking discovery call after call, lead generation virtual assistants can handle that for you. They can handle initial queries about your coaching services and reach out to prospective clients or companies on your behalf to share your company profile and services.
When you have a team of virtual assistants working with you, your coaching business will flourish. Not only will you be able to delegate tasks that are not part of your core work, but you'll also have extra heads that are there to support you with important activities to grow your business, like market research and raising brand awareness.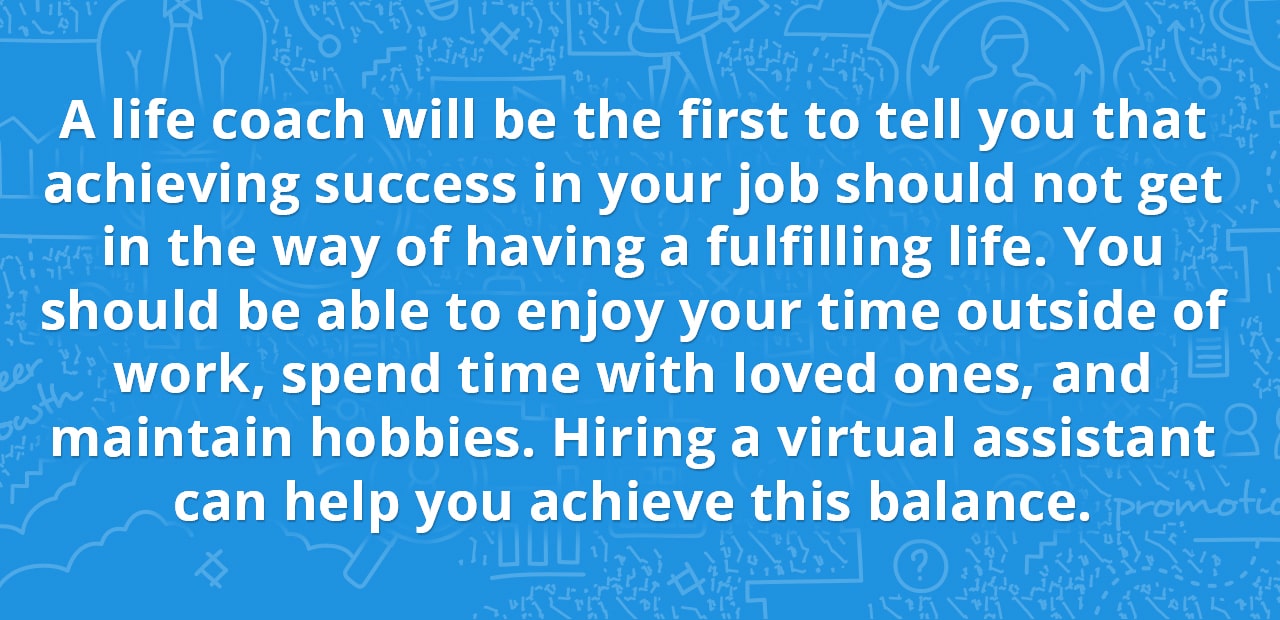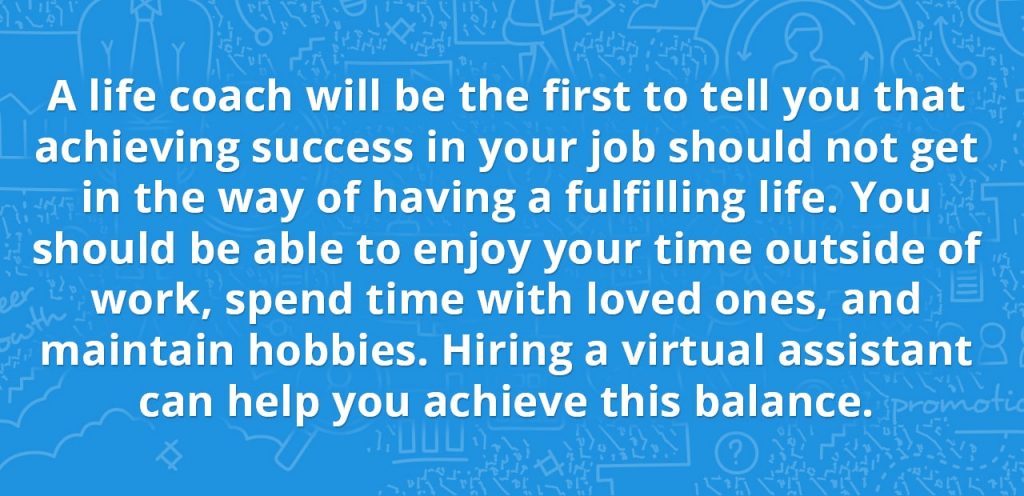 Increase your social media presence
Today's customers are used to looking up products and services online. Before committing to paying for something, whether for a product or service, smart consumers look up information like product reviews and customer feedback. It's no different when they're looking for coaches. This means that you have access to a large network of potential clients, and a virtual assistant with great social media skills can create a bridge between you and your target audience.
A social media virtual assistant can help create engaging content to raise awareness for your coaching business and potentially expand your client base. In addition, a social media VA can handle direct messages sent to your social media accounts so that messages can be attended to ASAP.
Maintain work-life balance
Perhaps the most impactful benefit of hiring a virtual assistant for coaches is that you can maintain a healthy balance between your coaching career and your personal life. A life coach will be the first to tell you that achieving success in your job should not get in the way of having a fulfilling life. You should be able to enjoy your time outside of work, spend time with loved ones, and maintain hobbies. Hiring a virtual assistant for personal coaches can help you achieve this balance.
Save money
Hiring an in-house personal assistant can be expensive. If you're working with a limited budget, you can get the same quality of work by leveraging virtual assistant services. You don't have to worry about overhead costs like office space, equipment, or employee benefits. If you work with a virtual assistant staffing agency, you can even hire VAs for online coaches on a per-project basis. This means you won't have to worry about long term contracts and can hire a VA just for the hours you need.
Skills to look for in a virtual assistant for coaches
When looking for a virtual assistant, it's important to find someone with the skills necessary to help you run your coaching business. Here are some of the most important skills to look for:
A virtual assistant with strong organizational skills can keep your business running like a well-oiled machine. They can help you manage your time, plan your appointments, and keep track of important deadlines.
If you have clients who you work with on a regular basis, it's important to find a VA who can help you manage your client relationships. A virtual assistant for coaches should be able to communicate in a professional manner, be organized, and have a good understanding of the coaching or consulting process.
A virtual assistant with research and data entry skills can help you gather information and compile data for your coaching business. They can help you draft letters and important documents, maintain client information, and keep track of your progress by recording your goals and achievements.
In order to run a successful coaching business, it's important to have a good understanding of technology. A virtual assistant who is comfortable with apps and online tools can help you manage your online presence, create and send newsletters, and set up appointments or webinars.
Project management skills
No matter the size of your business, you need the support of someone who can keep up with the multitude of daily tasks required to keep things running. A good virtual assistant can monitor the progress of multiple projects and make sure everything is going according to plan.
A virtual assistant for coaches should be able to work independently and be comfortable managing their own workload. Being a self-starter is an important attribute to look for in any virtual assistant.
It's important to have a virtual assistant who can adapt to changing situations quickly. Furthermore, your virtual assistant should be able to adjust to the different processes of your coaching business to allow for a successful client – virtual assistant working relationship.
A virtual assistant should be able to provide excellent customer service to your clients. They should be responsive, professional, and able to answer inquiries. Good customer service skills are essential in replying to emails, handling customer complaints, and providing general support. Having a VA who can respond to inquiries and concerns efficiently will improve the overall customer experience of your clients.
A virtual assistant should be coachable and willing to learn new things. They should be able to take direction well and be open to feedback. As your business changes and grows, so will the skills of your virtual assistant. Therefore, it's important to find someone who is willing to grow with your business.
No one knows about your job and your business needs more than you, but consulting with a company with years of virtual staffing experience can help make your search for a VA a success. You can schedule a consultation so they can help you fine-tune your requirements and provide you the best virtual staffing solutions to fit your business needs.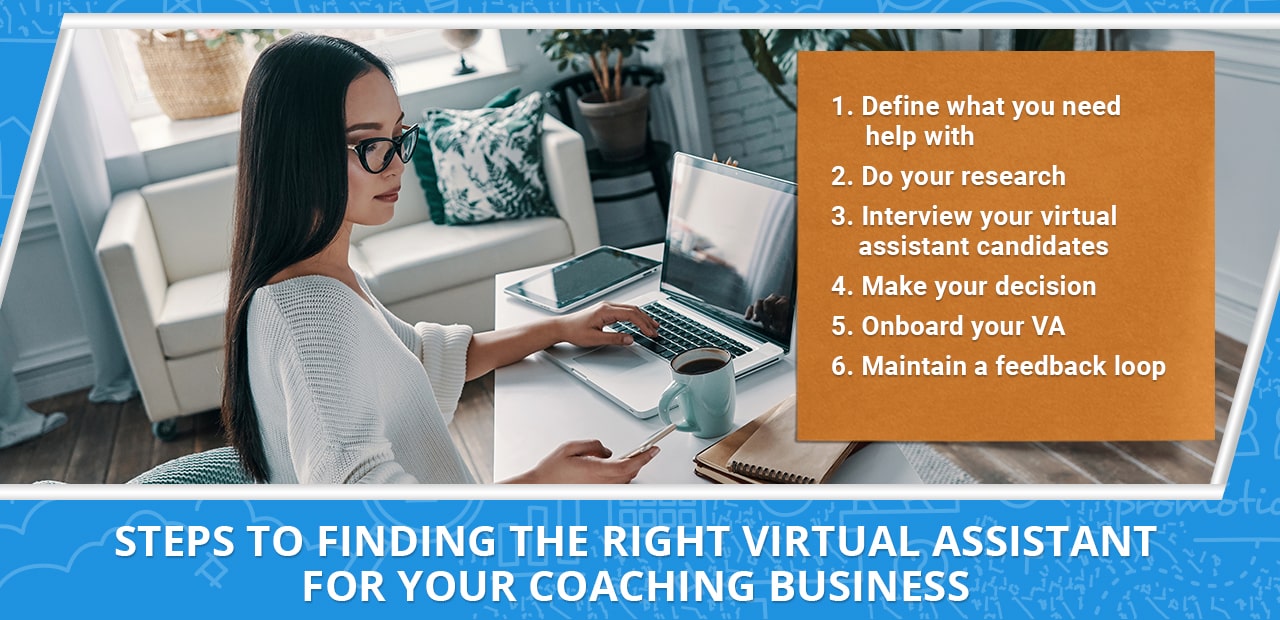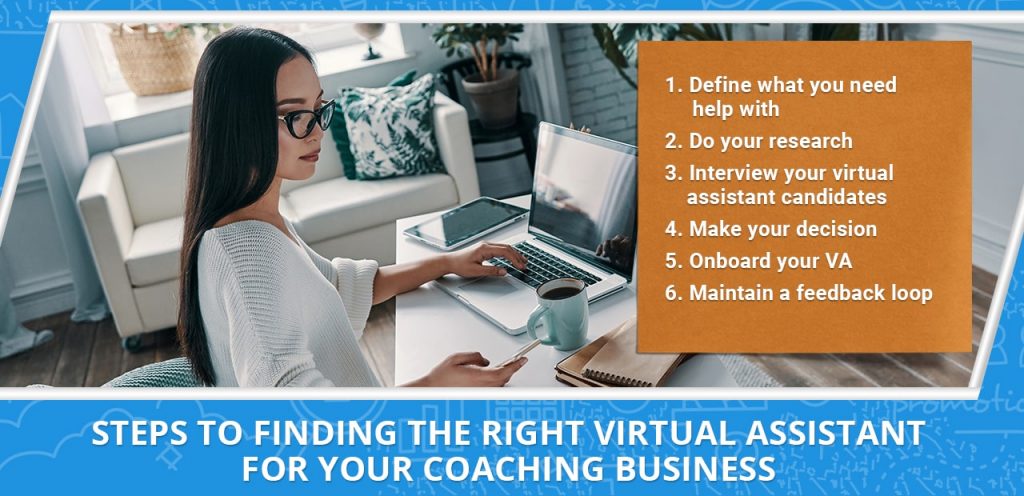 Steps to finding the right virtual assistant for your coaching business
1. Define what you need help with
Before you start your search for a VA, create a detailed list of all the tasks you need to delegate. Do you need someone to help keep your calendar organized? Do you need someone to create content or help with social media marketing? What are your preferred virtual assistant working hours?
Be as specific as possible when defining the tasks you would like your virtual assistant to complete. This will make it easier to find someone who is a good fit for your needs. The VA who joins your team should have the skills and attitude to help your business reach its potential.
2. Do your research
There are a number of ways to find potential candidates. First, you can look through online job marketplaces. You can ask for referrals or post job ads online. However, most of these methods take a lot of time. This is valuable time that you can spend working with clients, developing new projects, or networking.
Consulting with a remote staffing agency like 20four7VA is a cost-efficient way of sourcing and hiring virtual assistants for a personal coach like you. Working with an agency saves you time and money as the agency reviews your business requirements and searches their global talent pool of highly skilled and experienced virtual assistants for the right VA for you.
3. Interview your virtual assistant candidates
Once you have shortlisted eligible candidates who match your needs, it's time to start interviewing them. This can be done via Skype, Zoom, or another video chat service. During the interview, pay close attention to how well the candidate communicates. This will tell you if the VA is a good fit for your business.
The interview stage is an important step in getting to know prospective virtual assistants. Ask questions that will help you gauge if they have the technical and soft skills that you're looking for. You can also ask about their past experiences and what they're hoping to get out of their new role.
4. Make your decision
After you have interviewed all of the candidates, it's time to conduct an evaluation. Choosing a virtual assistant for your coaching business can be tricky. Take your time and make sure you're making the best decision for your needs. This person should have the right combination of skills, experience, and knowledge to help you achieve your goals. Most importantly, this person should be someone you feel comfortable working with.
Once you've made a decision, it's time to hire a virtual assistant. Remote staffing providers like 20four7VA can do this time-consuming work for you. They'll also handle the subsequent steps such as onboarding, coaching, and monitoring the work of your virtual assistant.
5. Onboard your VA
After you have hired your virtual personal assistant, it's important to set up a comprehensive onboarding process. This will help them understand your company's profile, business procedures, and your preferred ways of working. It's also a good time to go over expectations and set guidelines for the virtual assistant. In addition, the onboarding process will help your VA become familiar with the tools and platforms they will use to complete their tasks.
At this stage, it's important to equip your new VA with the tools they need to do their job efficiently. Orient your virtual assistant about your preferred communication channels.  Align on the best calendar management app, so they can efficiently manage your professional calendar. Because you will be collaborating remotely, proper alignment is key for a successful working relationship.
6. Maintain a feedback loop
Business and life coaches know that improvement is not a one-time deal, and the same is true for working with virtual assistants. Establishing a feedback loop is essential to maintaining a good working relationship with your VA. Do this by scheduling weekly or monthly check-ins, setting achievable goals, and providing feedback on their work. Timely and constructive feedback is essential for your virtual assistant's constant improvement and your company's success.
As a life coach, your day-to-day life is filled with important tasks that contribute to your success. However, there are only so many hours in a day. With a VA to help manage your time, you can focus on what's important: providing quality coaching services! To start your search for a virtual assistant for your coaching business, sign up for a FREE 20four7VA consultation now.