20four7VA Career Nights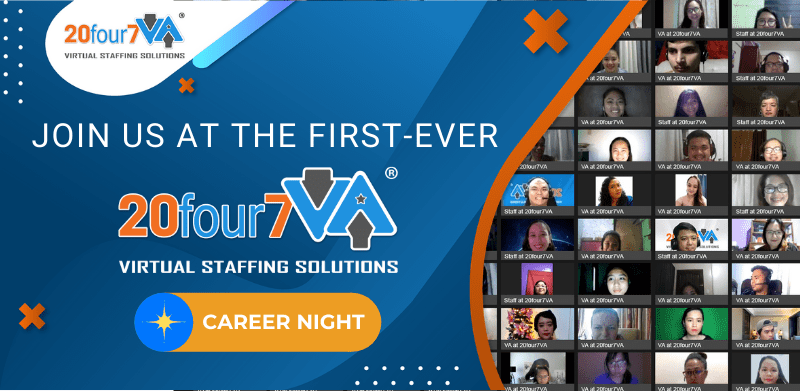 We are so excited to invite everyone to the inaugural 20four7VA Career Night in September! The future of the workforce is changing. With so many global clients looking for remote staffing solutions for their business, the demand for virtual assistance skills such as customer service, writing, social media management, project management skills, and more are in high demand. That's why we're setting up the 20four7VA Career Nights so we can bring awareness to the value of working as a virtual assistant and why it's a legitimate long-term career option for many.
What is the 20four7VA Career Night?
The 20four7VA Career Night is a virtual seminar that's open to anyone who's interested in finding work as a virtual assistant. During the event, you will:
Know the difference between working as a typical freelancer versus working as a 20four7VA virtual assistant
Learn about the many perks and benefits of being a virtual assistant
See how many great opportunities there are for people to become successful virtual assistants
Learn all about 20four7VA and what's it like working here!
Who is Invited to Join the Career Night?
Fresh grads and first-timers in VA industry
Freelancers looking for more clients
Part-time VAs who want to work full-time
Solo VAs looking for more stability
Anyone trying to look for remote jobs
Event Details:
When: September 23, 2021, 8:00 PM Manila Time
Where: Zoom Video Conferencing (you'll get the link after registering on the link below)
Register for the 20four7VA Career Night:
Note: For our first Career Night, we'll be focusing on VAs or potential VAs based in the Philippines where most of our VAs are from. If you're from a different country, don't worry, we'll be doing more Career Nights for a wider audience soon! 
Click here to register for the 20four7VA Career Night