What is Lead Generation in B2B Marketing? (+ Success Tactics)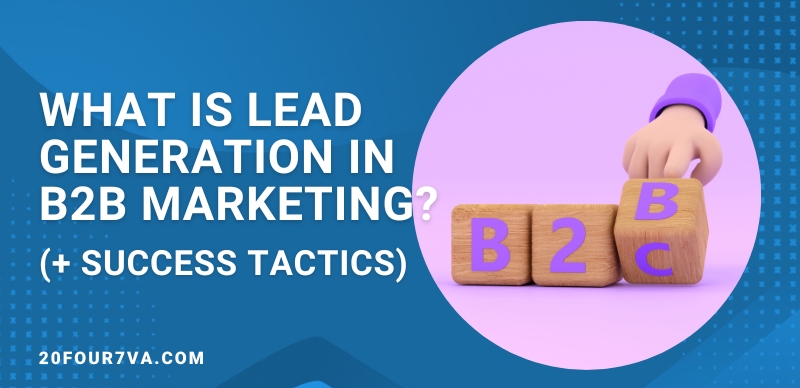 A sales process will never be complete without leads. Your sales team needs potential customers to sell to, and that's where lead generation comes in.
If you're a B2B company, having effective lead generation campaigns should be a priority. Finding high-quality leads requires solid B2B lead generation strategies designed to connect and engage with potential customers along every phase of the buyer's journey.
B2B versus B2C
The primary difference between B2B and B2C companies is their target customers. A B2B or business-to-business company primarily offers products or services to other businesses. In contrast, B2C or business-to-consumer companies sell their offerings directly to individual consumers.
Another difference between B2B and B2C companies that most people don't know about is that the B2B sales cycle can typically be longer than B2C's. According to a CSO Insight report, almost three-quarters, or 74.6%, of sales deals take at least four months to close. Of course, the length of the cycle may be shorter or longer depending on factors like the size of the deal, where the new leads are in their buyer journey, and so on. But one thing's for sure: B2B sales and marketing teams must be well-prepared, patient, and persistent to convert prospective clients.
What is Lead Generation in B2B Marketing?
B2B lead generation is the process of identifying and connecting with potential customers or clients who can benefit from a company's products or services.
Generating leads is the start of a B2B company's sales process. These leads are then qualified and nurtured using various marketing and sales efforts with the objective of converting them into paying customers.
The Different Elements of the B2B Lead Generation Process
The B2B lead generation process may just be the beginning of the sales process. But it has plenty of moving parts, all designed to find and engage with businesses that fit the ideal customer profile. Here are the different elements of the B2B lead generation process that all businesses must be familiar with:
Target Audience
Knowing your ideal customers is crucial when creating B2B lead generation strategies. Your target audience needs to be well-defined, so your lead generation team knows the buyer personas they need to look for when generating leads. When defining your target audience, make sure to take note of the following:
Decision-makers and influencers
Demographics
Company profile
Industry
Purchasing behavior
Competitive landscape
Pain points
And other relevant data that can help you optimize your lead generation efforts.
Lead Capture Mechanism
A lead capture mechanism can come in different types. It's the system or method you use to collect the contact details of prospective customers who have shown interest in a company's products or services. Your method could be lead capture forms on your website and landing pages where inbound leads can sign up and express their interest in purchasing or at least know more about your offers.
Outbound and Inbound Lead Generation
Quality leads can come from various channels. Outbound lead generation is the more proactive approach where the company reaches out to potential leads. It requires direct and interruptive methods to generate leads. On the other hand, inbound lead generation goes for the more organic route. Inbound B2B lead generation efforts provide relevant and value-adding content to prospective clients and aim to create a credible and trustworthy brand image. This lead generation generally requires the potential sales leads' permission to engage.
Outbound B2B Lead Generation
Cold emailing
Trade shows, events, or conventions
Networking
And more
Inbound B2B Lead Generation
Social media marketing
Content marketing
SEO or Search Engine Optimization
Email marketing
Lead magnet creation
Paid advertising
And so on
Need more help with your B2B lead generation efforts? Schedule a free consultation call with our Growth Experts to learn more about what a top-tier B2B lead generation virtual assistant can do for you!
Lead Database
Every lead generation effort is never complete without a database and an active call list. Whenever the marketing and sales team generate leads, these should be added to an organized and updated database. This lead database should contain the necessary details of all leads. Depending on the volume and your preference, your lead database can be stored in an Excel spreadsheet or lead management software.
Measurement and Analytics
In a highly competitive business world, you need to ensure you're doing your best to stay ahead. This includes making data-driven decisions. Monitoring and tracking the performance of your B2B lead generation strategies is crucial in ensuring you're making the right moves to get high-quality sales leads.
Measuring and tracking performance is crucial in getting more qualified leads, boosting sales conversions, and improving sales processes. Below are some examples of lead generation KPIs that you should be tracking:
Bounce rate
Website traffic
Customer acquisition cost or CAC
Lead conversion rate
Inbound response time
Average deal size
Cost per lead
Sales qualified opportunities
Marketing qualified leads
Continuous Optimization
Like any business process, your lead generation strategy should always be reviewed and improved. This is when things like performance tracking and A/B testing will be useful. You can gather actionable data and identify which efforts bring better leads to your sales pipeline and which ones need more tweaking.
Success Tactics for Successful B2B Lead Generation
Successful B2B lead generation strategies are important for helping your sales team fill the sales pipeline with quality leads. Here are some practical and effective tips to help you with your own B2B lead generation strategies:
Know Your Target Audience and What They Look For
The saying "Fortune favors the prepared mind" rings true when it comes to lead generation. You need to equip yourself with the right information about your target audience for you to get to know them better. Once you do that, you have a better idea of who they are and what they're looking for.
Knowing your target customers and what they value the most helps you fine-tune the messaging you use in your lead generation activities. This makes your efforts more value-adding and engaging for the right people.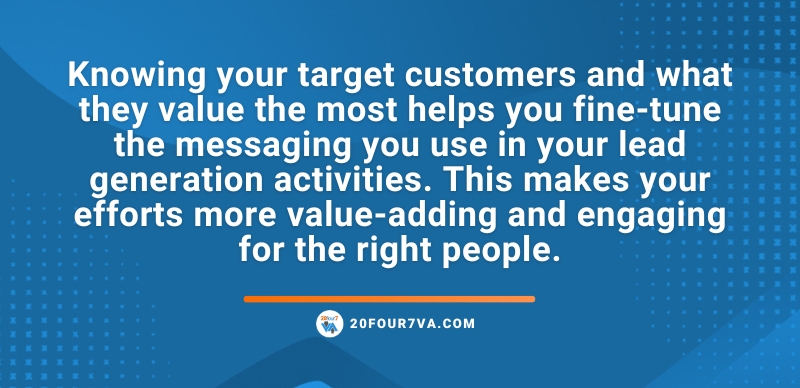 Dominate Local Search Results
A great way to establish credibility and thought leadership is to dominate local search results. When working on lead generation, consider starting within your community first. Create and optimize your Google Business Profile listing for free. This can help boost your ranking on search engine results pages or SERPs.
Additionally, make sure to create content that targets businesses in your area. Perhaps reference local news in your area in your blogs or make your business more visible by joining relevant events in your community.
Dominating your area can help you gain credibility and even reviews from new customers. Plus, the learnings you get when building your local lead generation strategies can be useful once you expand to new markets.
Read our article on how to achieve local SEO success, or visit the 20four7VA blog for more practical business tips. If you're considering alternative staffing solutions, schedule a free consultation with our Growth Experts to get started!
Target Leads in All Phases of the Buyer Journey
While it can be tempting to channel all your efforts to sales leads that are further into the buyer journey, you may miss valuable business opportunities. Make sure you have efforts to target leads in all phases of the sales funnel (awareness, consideration, and intent).
Targeting leads, even those at the top of the funnel, can help you secure future sales, even when it means you may need to have strong lead nurturing efforts. But remember, your communication and messaging should be personalized depending on where the leads are in their journey.
Map Out The Customer Journey Meticulously
Since the sales cycles for B2B deals are relatively longer, you will need more effort to keep sales leads warm. But as your database grows, you may need more and more time and effort to manage the lead nurturing efforts. A good way to handle this is by using marketing automation tools.
However, it's important to note that you should properly map the customer journey. You'd want to ensure you're sending the right emails to the right lead at the correct time or buying phase. If you're not yet sure if your automation is on point, try doing it manually first to make sure your approach is correct. Then, once you're able to map out the process manually, you'll be more confident with using digital marketing tools to help you automate and cater to more leads.
Read our article on the top automation tools for your marketing and sales teams. And if you're considering hiring a remote assistant to help you navigate your marketing automation tools, schedule your free consultation with us to get started on your remote staffing journey!
Evaluate Performance Through Lead Generation Metrics and KPIs
Getting more leads is the main goal, but you need to measure other key metrics. By tracking and analyzing these lead generation metrics, as well as conducting A/B testing, you can make more informed decisions and maximize your budget and efforts. Additionally, you gain actionable insights to help you further improve your lead generation processes.
To do this, create a robust KPI dashboard that tracks key performance metrics of your lead generation campaigns. Make sure to revisit your KPIs every now and then to ensure they're still aligned with your business goals.
Solicit Feedback
Soliciting feedback from both existing customers and potential ones is a great way to get qualitative data. Plus, you can get information straight from the source. The respondents can give valuable insights that can help you identify gaps, address pain points, and improve the customer experience. Ultimately, improving different parts of your efforts will result in a better lead generation strategy and more closed deals.
There are several ways to find feedback from your customer base. You can send a quick survey link via email or through your customer relationship experts. You can even get insights from users commenting directly on your website or social media profiles.
Stay Patient and Persistent
The B2B sales process can be as quick as a few days to a few months to close. It's important for you, your sales teams and other supporting departments involved to be patient and persistent. At the same time, it's also crucial to manage your time well, like putting in more time for more value-adding tasks.
However, routine, time-consuming tasks like cold-calling or data entry should never be left on the back burner. Make sure you have someone to handle these tasks so your lead generation process stays effective and efficient. This is where a lead generation virtual assistant (VA) can help.
Streamline Your Lead Generation Efforts with a Lead Generation VA
A lead generation VA is a remote professional who offers support on various tasks involved in lead generation, from admin and research to outbound and inbound marketing.
Why Hire a Remote Lead Generation Virtual Assistant?
Hiring a lead gen VA is not all about getting more leads. Doing so can also help you improve overall productivity and save money.
Generate High-Quality Leads
With the right tools and training, lead generation virtual assistants can channel all their efforts and attention into finding more leads for your business. Their main focus will be generating sales leads that your sales team can convert into actual paying customers.
And because you're hiring remote workers, you can choose from a vast global talent pool. This means you will only be concerned about finding the one with the most suitable skills and job fit instead of proximity to your location.
Manage the Workload of Your Sales and Marketing Teams
If you want to improve business productivity, hiring remote staff for lead generation is the way to go. You can delegate more routine, time-consuming tasks to your lead generation VA. Doing so allows you to check off more things from your to-do list and regain control of your time to do your core functions.
Save Money
Hiring remote talents helps save you more money. They can do just about everything in-office staff can but at a fraction of the price. Adding remote talents to your team can also mean saving up to 80% on labor costs, all while growing your business. You don't have to worry about spending on office equipment, supplies, travel allowances, and other expenses related to hiring full-time, in-office staff.
Want to know more about the different benefits of remote staffing solutions? Visit the 20four7VA blog or schedule a no-strings-attached consultation with our Growth Experts today!
What a Remote B2B Lead Generation Specialist Can Do For You
A B2B lead generation specialist or VA can work on various tasks in the lead generation process. Here are a few of them:
Admin and Research
Data entry
Database updating
Performance tracking
Email management
Calendar management
Appointment setting
Profiling target audiences
Market research
Competitor research
and other admin tasks
Outbound Lead Generation
Finding cold leads
Cold calling
Cold emailing
LinkedIn B2B lead generation
Inbound Marketing
Email marketing campaigns
Content writing
Creation of lead magnets
Landing page creation
Running ad campaigns
Your lead generation strategies require the right support to generate leads and allow your business to flourish. Hiring a lead generation VA can help you do just that!
Ready to hire a lead generation VA to give your B2B lead generation strategy a boost? Schedule a no-obligation consultation with our Growth Experts today to get started.