10 Ways to Reduce the Cost of Goods for Your Retail Business

When it comes to cost-cutting strategies, a lot of small businesses seem to be focused on reducing their daily operational costs. Their methods on how to reduce operating expenses in business include anything from reducing paper and toner usage in the office to cutting down the size of their staff.
However, if your business involves producing or manufacturing goods to sell in your store, it's just as important to look into ways on how to reduce the cost of production for your business.
The Cost of Selling
The cost of operating a retail business depends on what you're selling. If your retail business involves consigning, purchasing merchandise, or drop shipping, then reducing material costs and the cost of goods you sell is not even an issue for you. For these types of stores, how to control expenses in a company will pertain to other aspects such as outsourcing work to virtual assistants or collaborating with other businesses to reduce marketing costs.
To give you an overview of what it costs to open a retail business, take a look at this list of expenses according to The Balance Small Business: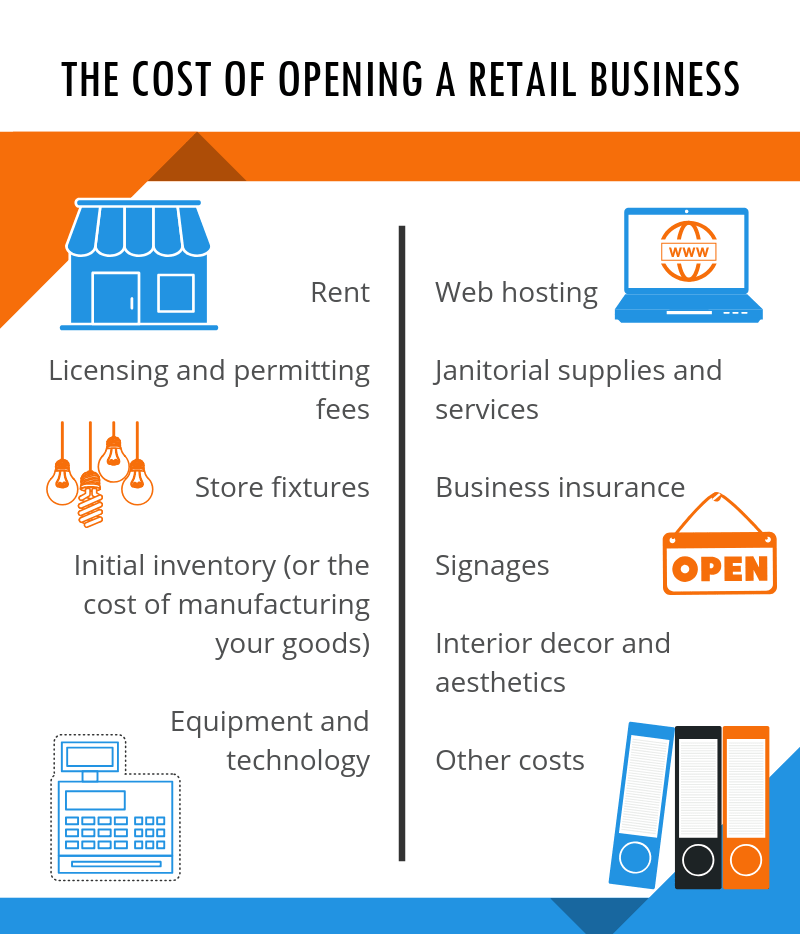 Rent

Licensing and permitting fees

Store fixtures

Initial inventory (or the cost of manufacturing your goods)

Equipment and technology

Web hosting

Janitorial supplies and services

Business insurance

Signages

Interior decor and aesthetics

Other costs (office supplies, security equipment, etc.)
It's already a pretty long list, and it doesn't even include other operational costs such as staffing costs, the cost of daily upkeep, the cost of repairs, and so on and so forth. For businesses that will also produce their own goods to sell, the cost of materials and machinery needed for manufacturing these products will take up a really large chunk of the budget.
Benefits of Reducing the Cost of Materials and Manufacturing
Reducing the cost of your products is important because of several things. For one, reducing the capital needed to manufacture your goods allows you to sell them at a lower price which in turn increases their saleability.
Another benefit of reducing the cost of manufacturing your products is that it allows you to allocate more of your budget to other business essentials such as marketing, staffing, and packaging.
Finally, reducing the cost of manufacturing lowers your bottom line and gives you more room to grow your business. This means that you're in a better position to scale your business and you have a higher chance of success for your retail store.
Ways to Reduce the Cost of Goods
Here are 10 ways to reduce material costs and the cost of goods you're selling for your retail business.
1. Do a complete assessment of your manufacturing process.
To identify the areas where you can minimize expenses, it's important to have a thorough understanding of everything about your manufacturing process. Where are you getting your materials? How much manpower and time goes into each step of the production line? How much material goes to waste for every product you make? These questions will help you see the big picture and know the good and the bad about your process.
2. Get rid of the dead weight.
Now that you've taken stock of everything, it's time to cut out the non-essential parts of the process. This can be anything from unused machinery, unnecessary materials, a surplus of staff, and so on and so forth.
3. Automate your processes.
Automation can make practically anything a lot more efficient and economical. However, many business owners think that investing time, effort, and resources to automate certain parts of their process should only be part of the list of cost-cutting ideas for large companies. Good news! Automation is possible for smaller-scale manufacturing too. You don't need to purchase advanced machinery, you just need to focus on automating specific parts of the process like ordering materials, generating reports, and so on.
Before you go trigger-happy with automation though, here's what Bill Gates himself has to say about automating processes in the business:

4. Simplify your products.
The simpler your products are, the less time, effort, and resources they will take to make. Get rid of unnecessary customization and focus on quality over trends. But how do you define unnecessary? Before removing any product features or customizations, it's important to assess your customers' wants and needs first.
Conduct a cost-benefit analysis of certain features of your product to know whether you can get rid of them or not. You will notice that tacking on more and more unnecessary features won't necessarily result in a more attractive end product. Listen to what your customers really want and focus on those things instead.
5. Reduce waste.
Scrap material can seem inconsequential, especially if the cost of the raw material isn't that big, to begin with. However, you need to keep in mind that everything has a cost, no matter how small. When these costs pile up, you will still end up losing a substantial amount. Have a chat with your product engineer and see if you can minimize the waste produced during the manufacturing process.
6. Sell what you don't use.
If you absolutely can't do anything about reducing your scrap material, consider selling them to other vendors! Remember that one man's waste is another man's treasure. There's a high likelihood of you finding someone who can make use of your scrap material for their own.
Aside from material, consider renting out any extra storage space you have as well. You can offer this storage space as a local warehouse for your supplier and have them give you discounts for materials in return. You can also rent out extra space for other local vendors who don't have the capacity to get their own storage space yet. Either way, it's a win-win for both parties involved; you give them the space they need and you get to recover some of your money back in return.
7. Go for low-cost materials as much as possible.
Unless you're a luxury brand and your main selling point is that you don't EVER scrimp on materials, then you have to consider finding cheaper alternatives to your usual materials to lower the cost of production.
Just remember that when sourcing lower-cost materials, you need to make sure that you're not sacrificing quality. Some materials are perfect cheaper alternatives for others, while some can really reduce the durability, comfort, or appeal of your products. Be sure to conduct a thorough study, and don't just decide to swap one material for another without any background research. Changing some materials might not just affect the end product, it could have an effect on your processes too such as requiring more time and effort or needing special tools to work with them.
8. Go bargain hunting.
Although big-time manufacturers already have plenty of suppliers lined up to give them the materials they need, the same cannot be said for startup retail businesses. That's why bargain hunting is a viable source of raw materials (and new ideas) for small manufacturers.
When you go bargain hunting, remember to be on the lookout for small-time suppliers too. There are many local suppliers who can offer you top-quality supplies at prices much lower than established suppliers. Not only will you be saving money on supplies, but you'll also be helping out a fellow small business. This can also be a great selling point for your products because more and more people are now very much into supporting high-quality products that are made locally.
9. Buy in bulk.
There are always savings to be made when you buy in bulk, so do so when your budget affords it. Many suppliers are happy to offer bulk discounts and discounts for regular deliveries, so consider scheduling your shipment of new materials carefully. This means that you have to be really particular when it comes to monitoring your stocks. You need to make sure that you schedule bulk deliveries just in time before your old stocks last. This is so that you won't waste money buying smaller quantities of materials in between deliveries.
10. Negotiate deals with your suppliers.
It's the most important rule you need to live by as a business owner: negotiate! Nothing is set in stone unless you've signed any contract, so always remember to negotiate prices, discounts, and deals. The first price offered is usually padded, so there's always room for suppliers to give you a much better rate. Suppliers are business owners too, and they understand the importance of negotiating when making deals. Still nervous about negotiating? Here's a little tip:

Here's a bonus tip: cultivate healthy professional relationships with everyone you're dealing with. Good connections will always be useful in business, and this doesn't just translate to having excellent connections with business partners or shareholders, or any other major stakeholder in your company. You have to have long-lasting, mutually beneficial relationships with everyone from the bottom up: from your delivery crew and production line staff to your big suppliers.
It can be challenging to minimize the cost of producing your goods when you're a small business. Many large suppliers and freight carriers push small businesses to the side in favor of bigger companies, but don't lose hope. As long as you persist, you're bound to find some amazing deals and cultivate excellent partnerships with suppliers who can help you with driving new business development.