12 Ways to Reward Your Remote Executive Assistant at Christmas Time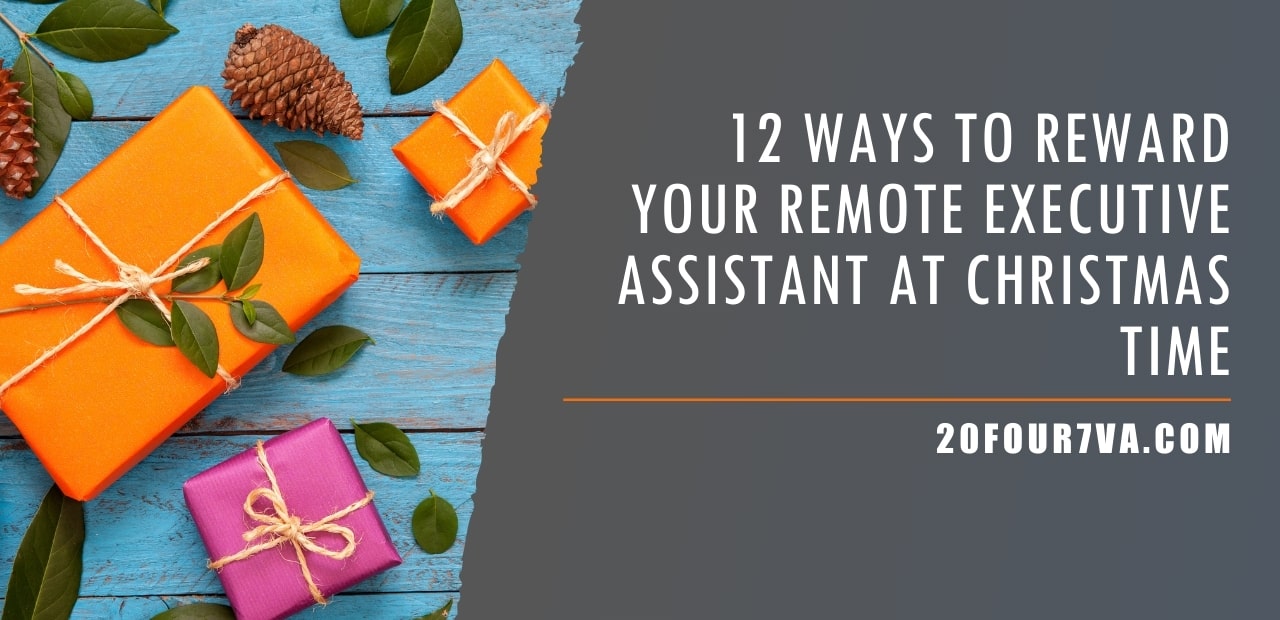 The holidays are just around the corner. While companies get fired up about gift-giving and Christmas celebrations in the office, virtual businesses seem to be in a pickle on how to show their holiday spirit. Still, that doesn't mean you or your virtual staff should miss out on the festivities. Luckily, there are many ways to celebrate and appreciate your remote executive assistant this holiday season.
12 Ways to Reward Your Remote Executive Assistant
The pandemic hit everyone in different ways. On the business front, companies have to pivot into online operations and adopt virtual solutions to keep going. Thanks to the remote workforce, these unprecedented shifts have been made feasible and efficient. Just check out the different ways virtual workers keep businesses afloat during the pandemic .
Whether you're working closely with a personal virtual assistant (VA) or a team of workers in varying remote executive assistant positions — there's no better time to show your appreciation to the people who have empowered your company during the toughest of times than this Christmas season.
Here are 12 ways to reward your remote executive VA this holiday:

A box of little home office essentials

There's nothing like receiving a box of goodies for Christmas. You can put together a box of home office essentials to send to your remote staff. Here are a few items that you can include:

Charging cables
Mouse and mouse pad
Power bank
Desktop camera
Headphones
Microphone
Laptop cooling pad
Desk lamp or light
Desk mat

If your remote executive assistant lives across the globe, check out online stores near their address for a more convenient (and affordable) delivery.

A box of self-care or wellness essentials

It's no secret that people who work from home are more productive and satisfied. Still, this unbelievably challenging year demands an extra touch of self-care. Put together a box of wellness goodies to help your remote VA unwind and relax. Here are a few self-care essentials for inspiration:

Scented candles
Bath bombs
Essential oils
Hand sanitizer
Hand lotion
Face mask
Lip balm

Spa voucher or gift card

If sending a box of wellness treats isn't feasible, send your VA to a pampering session instead! Find local spa or massage places and arrange for a voucher or gift card. You can personally send the e-voucher to your VA or have the spa deliver it instead.


Coffee products

Coffee is a work essential. Just because people work from home doesn't mean they have to settle with the same caffeine fix every day. Give your remote executive assistant a boost by gifting them with coffee products. Here are a few coffee products to perk them up:

Ground coffee or coffee beans
French press
Flavored syrup
Biscuits
Mug
Mason jar
Coaster
Biscotti
Chocolates
Coffee filters
Stirrers
Coffee scoop
Mug warmer

Streaming subscriptions or devices

Make your virtual assistants enjoy their free days a lot better. Treat them to free movies, TV shows, or ad-free music by taking out a subscription from different streaming platforms. Gift them with a Netflix, HBO, or Spotify subscription for a month or two. Some streaming platforms like Netflix and Spotify offer programs for multiple users to save on costs.
Streaming devices are another great gift idea. You can get Chromecast or Roku Streaming Stick for approximately $50 from Amazon.

Home workout subscriptions

There's no better time to promote physical and mental wellbeing. Help keep your remote staff healthy by booking home workout sessions for them. There's a multitude of fitness classes online ranging from yoga and full-body workouts to meditation. You can find fitness classes online for around $10/month such as Booya Fitness and Tone It Up.

Books

You can never go wrong with gifting books to your remote executive assistant. Books help people stay in the loop or expand their knowledge about a certain subject. Books can entertain and provide respite from an otherwise stressful schedule. Check out this list of inspiring books you can give your remote VA this Christmas season.

Life or business coaching sessions

Remote executive assistants work with the bigwigs of a company. In addition, they are entrepreneurs themselves who need continuous learning to expand and better their turf. You can help them in this capacity by giving them access to life or business coaching sessions. There are recorded and live web-based sessions that you can book for your remote VA.

Home office decor

A nice, comfy ambiance at work is great for keeping people inspired and cheered up during working hours. You can spruce up your remote executive assistant's workspace by giving them home office decors to give their home office a lift. Of course, home office decors can be as functional as they are aesthetic. Here are a few home office decors that would liven up anyone's workspace:

Succulents or other potted plants
Desk clocks
Pen holders
Stress balls
Change holder
Personalized desk nameplate
Footstool
Desk calendar
Phone holder


Restaurant or Starbucks gift cards

Being cooped up for long periods at home can be extra challenging for some people. Apart from work duties, household chores can be taxing. Treat your VA to a local restaurant meal or a Starbucks coffee. These little treats can be a nice break from homemade food and coffee.

Holiday cash bonus

A little extra pocket money never disappoints! If you're looking for a more practical — not to mention convenient — way to say 'Thank You' this holiday, then a cash bonus is always a good way to go!

Extra paid vacation days

Give your virtual staff more time to spend with their loved ones this Christmas season. Extra paid vacation days are always a welcome gift, especially around the holidays! You can also give your remote executive assistant the option to choose when to spend their paid personal days off.
Other Ways to Celebrate Christmas with Your Virtual Team
Are you working with a team of remote assistants? Apart from sending presents, you can also get your team together for a virtual Christmas celebration. Here are other ways to celebrate the Christmas season with your team:
Charity donations

The holidays are always a great time to give back to the community. Express gratitude and spread joy as a team by choosing a charity institution beneficiary. Your team can send gift packages, offer cash donations, or sponsor a cause.

Create a holiday newsletter

Help your team get to know your company better by putting together a holiday newsletter. Make it a collaborative work by sending out email prompts to each team member and compiling the responses.

Virtual Christmas party

The holiday celebrations won't be complete without Christmas parties, albeit a virtual one. There are platforms that host a virtual Christmas party for remote teams. Of course, you can always opt to host one yourself. Either way, liven up your virtual holiday party by playing icebreakers or team-building games.

Shared holiday playlist

December comes with a special soundtrack. Let your team share their favorite carols and Christmas songs by creating a collaborative playlist. You can create one in Pandora or Spotify and have each member add their favorite track to celebrate the season.

Holiday bingo

Bingos are always a hit in get-togethers. Host a virtual holiday version to get people together. It could be a stand-alone event or a part of your Christmas party games. Make the game more exciting by offering prizes such as e-vouchers or extra personal days off.

Desk-decorating contest

Get your team excited about the holidays by having them decorate their desk for the season. The more festive one gets a special prize. You can choose the winner yourself or have everyone put in their votes.
Why It's Important to Show Staff Appreciation
It's almost expected for business owners to give bonuses to their staff around the holiday season. However, there's more to staff appreciation than its traditional implications.
Just have a look at these findings from different studies*:
90% of employees report increased trust after being recognized or appreciated at work
69% of employees admit they will work harder if their work is appreciated
58% of workers say being given recognition will improve work engagement
40% of American workers admit to being more motivated when their efforts are recognized.
Companies that recognize employees have 31% lower voluntary turnover rates than those without.
Final Thoughts
This year has been the most challenging for businesses around the globe. In the wake of its unprecedented ordeals came many opportunities for growth. Remote executive assistant jobs rose. Virtual workers and entrepreneurs alike go beyond familiar territories to keep their brands afloat.
It's only befitting to give your team a boost of morale and a gesture of appreciation. Which of these gift ideas will you reward your remote executive assistant with?
*https://www2.deloitte.com/us/en/pages/human-capital/topics/hr-services.html
*https://hbr.org/2016/05/recognizing-employees-is-the-simplest-way-to-improve-morale
*https://www.forbes.com/sites/williamcraig/2017/07/17/3-reasons-why-employee-recognition-will-always-matter/?sh=704bdfe063c9