How Virtual Customer Service Keeps Businesses Afloat During The Pandemic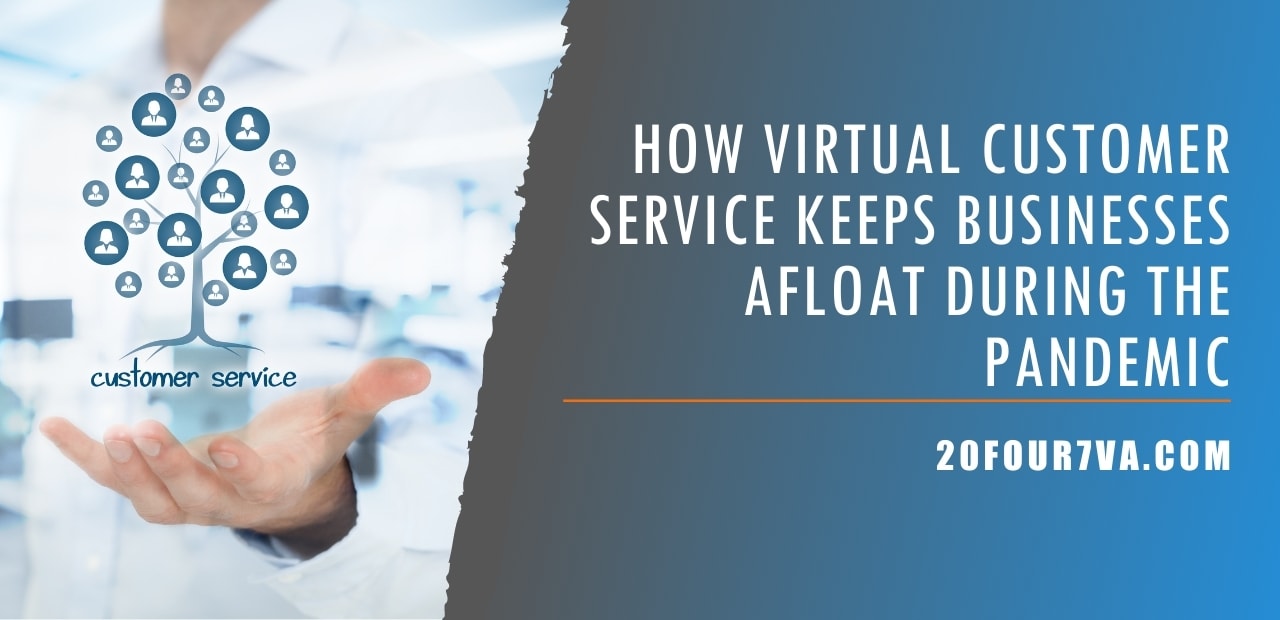 The pandemic has affected different industries in different ways. At the core of the new standards of business operations are two options: you can either let the pandemic estrange or strengthen your customer relations. While there are plenty of ways to ensure your business survives the economic downturn, establishing a virtual customer service needs to be on top of your list.
What is Virtual Customer Service?
Sometimes referred to as Digital Customer Service, Virtual Customer Service is providing customer care, assistance, and solutions over digital channels. Instead of helping customers face-to-face, brands answer queries or solve issues through: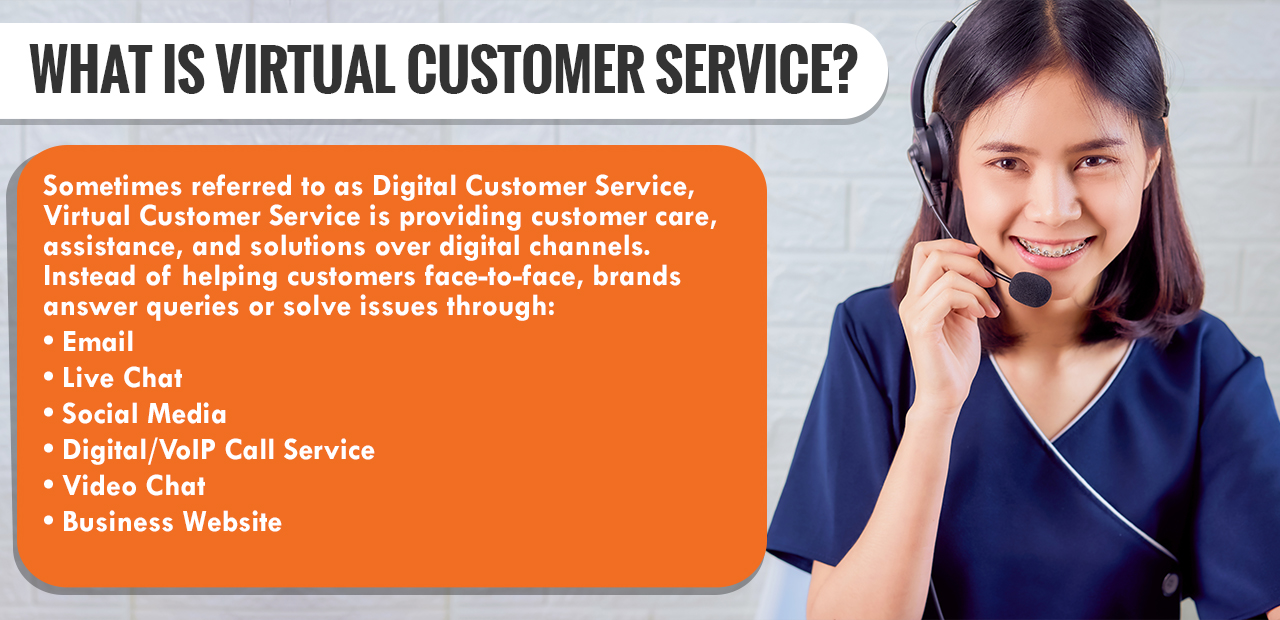 Email
Live Chat
Social Media
Digital/VoIP Call Service
Video Chat
Business Website
Other than answering customer questions or fixing problems, a virtual customer service associate can also handle other responsibilities.
Here are 27 other tasks that you can outsource to your customer service virtual assistant:

Voicemail Management
Inbox and Spam Management
Appointment Setting
CRM/Database Management
Data Entry
Order Processing and Tracking
Shipment Tracking
Product Promotions
Customer Acquisition
Transcription
Customer or Market Research
Cold Calling
Email AutoResponder Setup
Conversions Tracking
Product Review Request and Monitoring
Reputation Management
Account Reinstatement
Payment Processing
Refund Processing
Supplier Coordination
Listing Uploads and Management
Product Price Monitoring
Product Research
FBA Management
Logistics Coordination
Supplier and Discount Research
Competitor Research

Why You Need Virtual Customer Service Right Now
Even as brick-and-mortar stores are slowly coming back, people remain cautious about switching to their normal, outdoor routines. For one thing, positive cases still turn up every day. For another, many people are still grappling with unemployment or reduced work hours.
The pandemic is first and foremost a health crisis. Yet, it has inadvertently impacted consumer behavior along the way.
In the US:
40% of consumers say they are becoming more cautious about their spending
31% of customers have switched to less expensive brands
21% of consumers take time researching a brand or product before purchasing
Value, Availability, and Convenience have also been named as the top 3 reasons for choosing a brand. (Source)
Fortunately, these are also the top 3 benefits of virtual customer service. But how exactly can it help your business stay afloat during the pandemic?
7 Ways Virtual Customer Service Can Keep You In Business During The Pandemic
Here are 7 ways that virtual customer service can keep you in business:
It's preferred by customers.


Customer experience should be at the core of how you conduct business. A study by McKinsey has revealed that in most countries, over 70% of consumers admit that they are not comfortable going back to outdoor activities yet. But just because people are keen to stay at home doesn't mean the business has to stop. The same research also revealed that customers are now proactively looking for companies with visible safety measures and sustainable solutions. Many consumers have no qualms in switching to a different brand if such a brand can conveniently answer their queries or solve their problems without them having to leave the safety of their homes.

It expands your customer reach.


As the coronavirus pushed many establishments to close down or reduce operations, disruptions in supply chains have become inevitable. As a result, some products or brands are not readily available in the market. When customers cannot find or reach their regular service providers, they turn to other brands that offer the same products or services. Having a virtual customer service does not only ensure continuity for your business. It also offers you an opportunity to win over new customers by being readily available.

It can significantly reduce your operational costs.


The decline in sales as fewer people leave their homes, rising supplier costs, and extra expenses for safety materials such as masks for employees, regular disinfection, and store barrier installations — these are only a few effects of the pandemic that can greatly take a toll in your finances. As a business owner, you need to be strategic in handling your finances now more than ever. Virtual customer service can significantly reduce your operational costs without compromising brand value. By switching your customer service online, you no longer have to foot the bill for infrastructure, utilities, and other expenses that come with brick-and-mortar operations. Here are 5 business expenses you can reduce when you hire a virtual customer service representative.

It gives you access to expert service.


You have higher chances of finding more qualified people if proximity is taken out of the equation. Because customer service associates are the face or voice of your brand, it only pays to hire the best. Besides, customers nowadays are more knowledgeable and can spot amateur customer service easily. Hire people with the proper training and relevant work experience to get the job done well by finding customer service representatives virtually.
PRO TIP: Take it up a notch by working with a staffing agency to help you in the hiring and recruitment process. 20four7VA can help you find the best virtual customer service associate for your business. 20four7VA is a full-service staffing agency, which means that it will take care of employee training, supervision, management, and payroll for you. You have more breathing room in your finances and day-to-day operations if these responsibilities are taken off your plate.

It embodies a caring economy.


People now buy more from companies that care about their employees. This is yet another interesting and significant consumer behaviour that came about because of the pandemic. Buyers are generously supporting companies that do not risk their employees through face-to-face interaction. Switching to virtual customer service ensures you remain on the good side of your customers while keeping your employees safe at the same time.

It increases productivity.


The work-from-home setup has become even more popular because of the pandemic. As news of unemployment and health risks proliferate, people are becoming more driven and committed to working virtually. By hiring customer service associates online, you are more likely to end up working with motivated and dedicated people. What's more, people are bound to put in their best work when they have the flexibility of working in their hours and the convenience of working from home. If you are still working with regular, in-house staff, hiring virtual assistants can ease the workload from your local team. Apart from increased productivity, virtual customer service will inadvertently result in lower staff turnover.

It scales with your business.


The economy is on a turbulent trend. While many establishments and schools have already opened their doors, health and security risks still loom heavily in the air. Local and national governments can push new laws that will change business outlook overnight. With variabilities such as these, you can't afford to affix yourself in a frigid business solution. Virtual customer service is thankfully as flexible as it is reliable. Perhaps you need to reduce working hours because of curfews or low sales. Maybe you only need help on certain days a week. Your customer service VA can work on your schedule and only be paid by their clocked hours. If you're preparing for seasonal sales, you can also get an extra pair of hands to help with the expected increase in workload.
Final Thoughts On Virtual Customer Service
Although the pandemic has caused mass lay-offs and anxiety, it has also revealed the ingenuity of entrepreneurs as well as their affinity towards customers and employees.
Aside from offering curbside pickups and contactless deliveries, hosting virtual events, and sharing advocacies on social media, businesses have adopted creative ways to keep operations going, support employees, and cater to customer needs.
CareSignal went beyond providing their normal patient monitoring service and launched COVID Companion, a CDC-based educational and support program with location-specific health recommendations and resources.
Sal's Pizza offers make-your-own pizza kits so patrons can store up and enjoy their favourite pizzas while cooped up inside the house. In addition, the company also offers special pricing for customers that share photos of their favourite Sal's pizza using the hashtag #PizzaWithaPurpose.
A.K.A Kitchen shares online videos of how the business is keeping their employees and customers safe.
Although virtual customer service is a sustainable, scalable, and reliable business solution, you still need to be strategic on how to use it to strengthen customer relations and grow your brand. Simplifying order process and refund requests, pausing paid subscriptions or offering free trials, and being upfront about what customers can expect from your business are just some of the ways that you can inspire loyalty from people.
Virtual customer service is only one of many business solutions that you can adapt in response to the pandemic. Yet, the value it can add to your business will carry on into the future, even after you've resumed to normal operations. It will keep your brand relevant and keep your customers excited about your products or services. Through virtual customer service, people will identify you as a reliable brand that has responded and adapted to their needs in the trickiest of times.