How to Reduce Operational Costs for Small Businesses

For most business owners, the question of how to reduce operating expenses in business is probably one of the most important. It's definitely one of most often asked! It doesn't matter whether the business is a startup or a multinational corporation, every business owner wants more ideas on how to cut cost in a company without sacrificing productivity.
Although all sizes of businesses want to cut costs, reducing expenses is even more important for small businesses with obviously limited budgets. Many small business owners often take to doing as many tasks as possible just to reduce on staffing costs. While this is efficient in the very beginning, running your business by yourself for an extended period of time is detrimental to your health and your business' potential for growth.
The cost of doing business
According to an article by Fundera, some of the most common business startup operational costs are: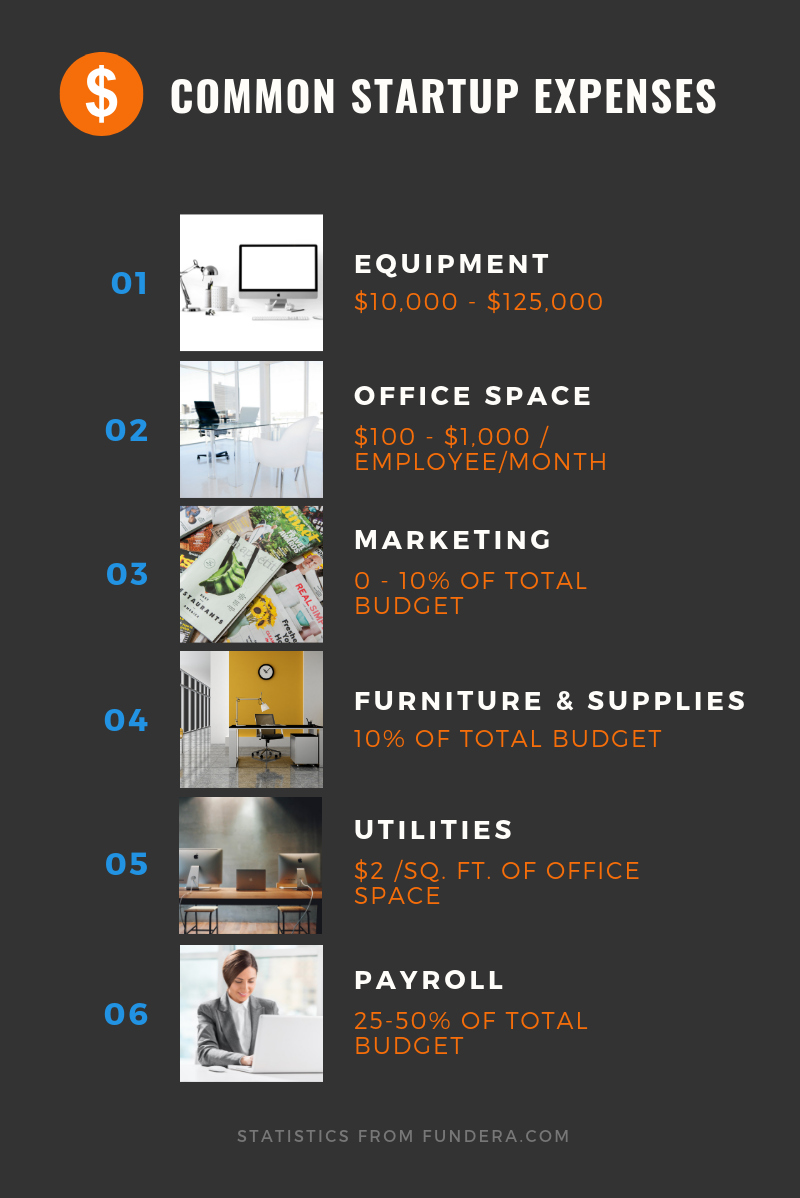 Equipment = $10,000 – $125,000

Office space = $100 – $1,000 per employee per month

Marketing = 0 – 10% of total budget

Office furniture and supplies: 10% of total budget

Utilities: About $2 per square foot of office space

Payroll: 25-50% of total budget
This doesn't even include the cost of inventory, taxes, insurance, professional consultants, business registration, and so on and so forth.
With so much at stake and no assurance of success, it doesn't come as a surprise that small business owners are so keen to reduce their business expenses as much as possible.
What can you do?
If you're looking for more unique but effective ideas about how to control expenses in a company that's just starting out, you have come to the right place. Here are 9 ways to reduce operational costs for small businesses.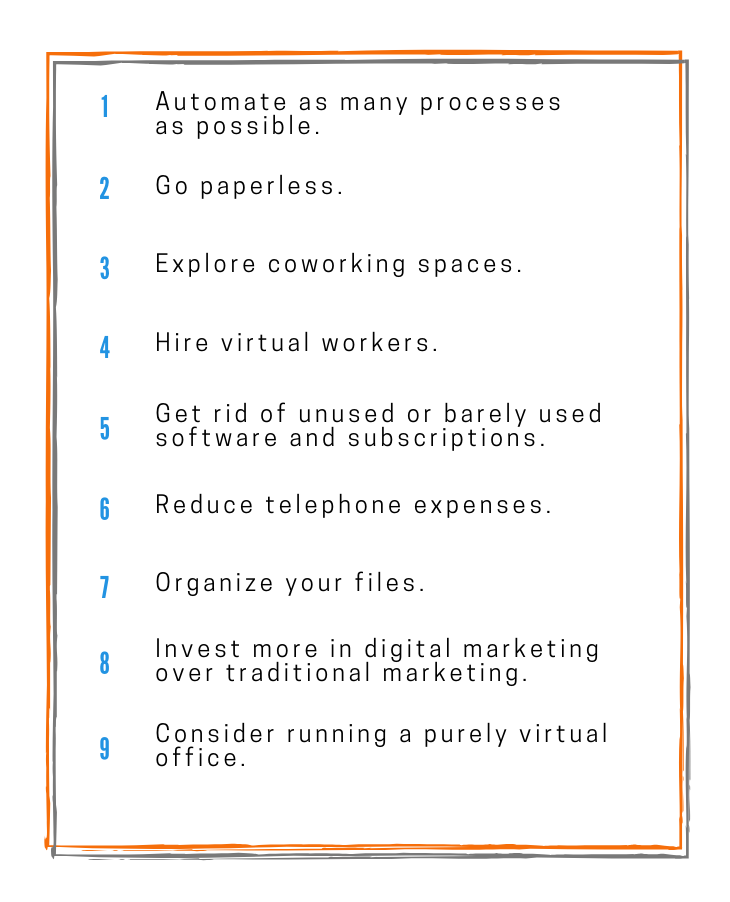 1. Automate as many processes as possible.
Automating processes saves you time, and when you save time, you save money. Instead of manually sending out an email to each potential customer just to tell them that you received their query, set up an automated email to go out. Instead of manually entering lead details in a spreadsheet, invest in a CRM software and automate the creation of leads or contacts when a form is submitted on your page or Facebook leads ad, and so on. When combined, all these little automations can save you and your employees a lot of time and effort.
Need more ideas on what you can automate for your business? Check out this article about 7 Sales And Marketing Automation Tools To Convert Leads And Retain Customers.
2. Go paperless.
Paper and toner — two seemingly insignificant expenses that actually amount to a sizeable sum when left unchecked. It's so easy to print transactional and other important documents, but do you actually need them? Most of the paperwork that businesses have can just be stored digitally. Instead of printing everything out, invest in an external hard drive or cloud storage backup to ensure that you don't lose any important files instead.
3. Explore coworking spaces.
Looking at the list of business expenses above, you can see just how expensive renting a permanent office space can get. So why not explore coworking spaces instead? With a coworking space, you won't be attached to a specific location which means that you can travel with your work. You can also pay for the space only when you or your employees need to get together and just work from home some days.
4. Hire virtual workers.
Payroll will always be one of the biggest expenses for any business, but it's impossible to grow your business and increase your profit without getting help. The best way to cut costs is not to reduce the number of employees you have but to outsource work to virtual assistants instead.
Why are virtual workers more cost-effective than regular office workers? Here are some of the benefits of hiring a virtual assistant:
Overseas virtual workers have lower hourly rates
You can hire virtual assistants from countries with a lower average cost of living because workers from these countries are able to offer lower rates compared to local workers.
You don't need to rent office space
Not having to pay $100 – $1,000 per employee for office space can definitely reduce your operational costs by a large margin, especially if you have several employees already.
Virtual assistants buy their own equipment
You don't need to buy expensive computers, headsets, and other essential equipment anymore. Your VA will have their own.
Remote workers pay for their own utilities
All virtual assistants are expected to pay for their own high-speed internet connection, so you won't need to worry about this. Of course, they pay for their other utilities as well. The only possible expense for you is VoIP software if you will require your VA to do phone calls like if you're hiring customer service VAs.
You pay only for the hours you need
Many freelancers and virtual assistants accept clients for as little as 10 hours per week. Some also do project-based jobs, so you won't be required to hire a full-time worker for every type of task you need done.
It's more practical to outsource seasonal work
Since you won't be tied to a particular VA for a long time, it's easy to hire several VAs for seasonal work and then let them go once the demand is gone.
When you hire from a virtual staffing company, you get free human resources and payroll help
Virtual staffing companies can help simplify the entire VA finding and hiring process for you. Virtual staffing companies usually handle the recruitment, onboarding, and payroll processes for you.
You don't have to worry about employee benefits
Most VAs don't expect to receive the usual employee benefits like health insurance, government payables, and leave credits, so that's another reduction to your business expenses.
Get rid of unused or barely used software and subscriptions.
Spend some time to check all the software and subscriptions that you have and take note of which ones you use most often and which ones you can easily get rid of. Even a $5/month subscription for some random software takes a big chunk of your budget if you have several of those types of subscriptions.
Once you've taken stock of the essential and non-essential software, make sure to check your subscriptions regularly. Keep a spreadsheet or some other sort of documentation so that you can easily keep track of things. Your business will definitely need more tools as it grows and you're going to subscribe to something that will be useless after some time, so make it a habit to clean up your subscription list.
Reduce telephone expenses.
Think about it: do you really need a landline? Many small business owners suggested that cutting their landline helped reduce their phone bills a lot. Most of your calls can be made by using your mobile phone. You can even ask your employees to use their own mobile phones to make any business calls and just reimburse them at the end of the month.
Can you imagine just how much time you and your employees have lost just trying to find a digital or physical file? Business has a LOT of documents, files, folders, and spreadsheets; this is inevitable. But the volume of files an average business has can be manageable as long as everything is organized. Save time, and consequently money, by keeping your files organized.  
Invest more in digital marketing over traditional marketing.
Traditional marketing still has its place, but when it comes to small businesses, digital marketing still offers a better return-on-investment, or ROI. Digital marketing is simply much cheaper than paying for ads on newspapers, magazines, and classifieds. Chuck in billboards, radio spots, and television ads, and there's just no question that digital marketing is something that small businesses should focus on.
Not sure what digital marketing strategies to invest on? Here are some highly effective ones:
                                  – Social Media Marketing
                                  – Email Marketing
                                  – SEO
                                  – Content Marketing
                                  – Paid Ads
Consider running a purely virtual office.
Is your business an eCommerce store or something else that can be run purely online? Then maybe you can get rid of a physical office entirely. By hiring virtual workers who have their own workspaces and equipment, you can cut out a major chunk of your initial and monthly business expenses.
The takeaway
Notice a pattern with the cost-cutting tips mentioned above? The most effective way to reduce operational expenses such as utility and equipment bills, office space rent, and office furniture and supplies is to NOT have a physical office at all. Considering how advanced technology is nowadays, it's definitely possible for small businesses to run purely online: think virtual workers, online marketing, and online stores. Of course, this is not a viable option for every business, but it's definitely something to consider.
If you can't run a purely virtual office, consider outsourcing some of your work at least. Virtual assistants definitely cost less than typical office workers, especially if you get your virtual assistant services from overseas.
Interested in hiring a virtual assistant for your company? Let us help! Click HERE to schedule a free, no-obligation consultation call with us .